Summary for 
 Friday, 13th 
November


People celebrating Diwali this weekend urged to stick to lockdown rules and only meet others online

It follows a jump in the UK daily recorded case rate of 10,500 on Thursday - to 33,470

Several European countries warn it's too early to say if people will be able to travel at Christmas

Number of UK job vacancies advertised back at pre-pandemic levels - with NW England and Wales recovering fastest

PHE report finds people with learning difficulties at six-fold risk of dying from Covid-19

Good morning and welcome to today's live coverage. Here's a look at the main headlines this morning to bring you up to speed:
Here are the key developments from the last few hours (The Guardian):


The US topped 140,000 daily cases, again breaking world record. As the US confirmed a world record 143,231 coronavirus cases in 24 hours, Dr. Anthony Fauci says he doesn't believe the United States will need to go into lockdown to fight the coronavirus if people double down on wearing masks and social distancing.The nation's top infectious disease expert says "the cavalry is coming" in the form of vaccines. He says, "Help is really on the way."

UK confirms record new cases. Britain hit a new daily high of 33,470 confirmed coronavirus cases on Thursday. That's an increase of 10,520 more positives reported Wednesday and pushed the total number of cases in the UK to nearly 1.3 million, AP reports.

Five passengers test positive for Covid-19 on Caribbean cruise ship. One of the first cruise ships to ply through Caribbean waters since the pandemic began ended its trip early after five passengers tested positive for Covid-19.The SeaDream is carrying 53 passengers and 66 crew, with the majority of passengers hailing from the US, according to Sue Bryant, a cruise ship reporter who is aboard the ship.

California becomes second state in US to surpass 1m Covid-19 cases. California crossed a grim milestone in its battle against the coronavirus, as the state became the second in the US to surpass 1m cases of Covid-19 on Thursday. With 1,000,631 total cases as of Thursday, California saw nearly 7,000 cases in the past 24 hours, with a seven-day test positivity rate at 5%.

Japan confirmed a record daily case increase. Japan's prime minister, Yoshihide Suga, has said there is no need to declare a second state of emergency after the country recorded a record number of daily coronavirus cases. Japan reported 1,660 infections on Thursday - including 393 in Tokyo - beating the previous record set in early August. The surge prompted the president of the Tokyo Medical Association, Toshio Nakagawa, to warn that the country had entered a "third wave " of infections.

New Zealand reopened downtown Auckland on Friday after contact tracing of a new coronavirus case revealed it was linked to a known case from a border isolation facility, reversing an earlier call for people to work from home.

Australia will not allow foreign students to return as Canberra prioritises the return of locals stuck overseas, Prime Minister Scott Morrison said on Friday. Australia has since March closed its borders to all non-citizens and permanent residents in a bid to slow the spread of Covid-19.

Sunak urges Hindus to 'stick with this' during Diwali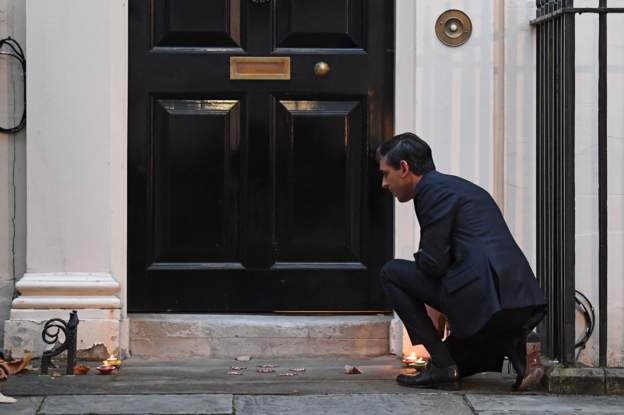 The chancellor lit candles for Diwali outside 11 Downing Street
"Diwali is special, and it's going to be difficult this year," Chancellor Rishi Sunak told the BBC.
A practicing Hindu, he has
urged people to stick to lockdown regulations
throughout the five-day Festival of Lights - celebrated by millions of Hindus, Sikhs and Jains.
Many councils are providing online events on Saturday, the main celebration of the festival, as England's lockdown continues.
Sunak said: "We've got Zoom, we've got the phone, and most importantly, we've got each other. Whether you can see someone or not the bond of family, that bond of love is always going to be there."
He urged families to "stick with this for a couple more weeks".
How to celebrate a lockdown Diwali
With lockdown restrictions in place in England, going to the temple for group worship or bringing together family members from different households are all out of the question for many during Diwali this year.
So how are Britain's Hindus, Sikhs and Jains planning to celebrate the festival of lights this weekend?
Harish Malhi runs Diaspo, an online platform offering cooking classes, so he plans to make use of his experience of bringing people together with food - even when they're far apart.
He says cooking together online means people can be "transported home and have the smells and tastes they would usually have on Diwali".
Francesca Bhavisi, a 21-year-old Hindu, says she's going to enter online competitions to make rangoli (traditional Indian decorations) and mithai (sweets).
"Celebrating in this pandemic has meant we can connect to people in ways we never thought would normally be possible," she says.
Amandeep Turna, who is 25 and a Sikh, is spending the first Diwali away from her family. She says she plans to connect to her faith by teaching her housemates about the celebration and what it means.
Read more
Did cases surge in England because lockdown plans were leaked?
Pubs and restaurants were busy on the night before lockdown
With the UK seeing it's highest-ever coronavirus cases yesterday, there have been questions about whether the spike was caused by people rushing out for a last social gathering before lockdown plans were announced.
But Prof Steven Riley from Imperial College told BBC Radio 4's Today programme that the timing of the cases meant this was "not a good explanation" and the leaking of the plans is not likely to be to blame.
He said "the day that that news came out is probably too late in the sequence of data we have for it to be a primary driver of the uptick".
Instead, he suggested that people are more likely to have contracted the illness in the days before news of the lockdown leaked out, perhaps because they were anticipating greater restrictions anyway and changed their behaviour earlier.