Summary for Thursday, 12th November


The UK's economy bounced back from recession with record growth of 15.5% in July to September - but is still 8.2% smaller than before Covid

It is also the first country in Europe to pass 50,000 coronavirus deaths - the fifth country worldwide after the US, Brazil, India and Mexico

Spain's coronavirus death toll has surged to more than 40,000, with infections passing 1.4m

Germany's health minister has he expects coronavirus restrictions there to continue through the winter

The US has confirmed its highest 24-hour infection total to date – a world record of more than 144,000 cases

New restrictions being introduced in New York - described as the city's "last chance" to stop a second Covid wave

Welcome to our live coverage - latest UK headlines
Good morning - if you are reading us in the UK.
Welcome to our coverage of the coronavirus pandemic and thanks for joining us. We will bring you the latest updates from the UK and around the world throughout the day.
Here's a round-up of the main coronavirus headlines from across the UK this morning:
What's happening around the world?
Here are some of the latest key developments from around the world:


The US has reported 144,270 new coronavirus infections, a record rise over a 24-hour period, a tally by the Covid Tracking Project says .

Cases in Texas have topped one million, with California not far behind

In New York, new restrictions have been imposed, with Mayor Bill de Blasio warning it was the city's "last chance" to stop a second wave

Brazil's health regulator has announced that the trial of a Chinese coronavirus vaccine can resume , after it was suspended over a "severe adverse incident"

The death toll in Spain surpassed 40,000 on Wednesday. The country will demand a negative Covid-19 test for all travellers arriving from countries with a high risk for coronavirus from 23 November

The Swedish government, which initially took a relatively relaxed approach to coronavirus restrictions, has unveiled plans to ban the sale of alcohol after 22:00 to curb the spread of the disease

A similar measure has been taken in Turkey, where smoking has been banned in crowded public spaces

Encouraged by the progress of a Covid-19 vaccine, Organisers of next year's Tokyo Olympics are becoming more confident fans will be able to attend
. Athletes will be exempt from the 14-day isolation period in Japan, they said Worldwide, there have been 52 million infections and 1.2 million deaths since the pandemic began, data shows.

Ukraine president taken to hospital with virus
Ukrainian President Volodymyr Zelensky has been taken to hospital to be treated for Covid-19, as coronavirus cases surge in the country.
Zelensky, 42, announced on Monday that he had tested positive for the virus and would be working in self-isolation.
Top Ukrainian officials, including two ministers and Zelensky's most senior aide, were also reported to be infected.
A presidential official told Reuters news agency Zelensky went to hospital to "accurately isolate and not expose anyone". The move was "nothing serious", the official said.
Zelensky is latest in a long line of world leaders to contract the virus, including US President Donald Trump, UK Prime Minister Boris Johnson and Polish President Andrzej Duda.
Coronavirus infections have risen sharply in Ukraine since the beginning of October. A further 10,611 cases were recorded on Wednesday, bringing the total number to 489,808,
World Health Organization (WHO) data shows
.
On Wednesday, the Ukrainian government approved a weekend lockdown that will force non-essential businesses to close on Saturdays and Sundays for the next three weeks.
UK newspapers headline on Covid
Several of today's UK newspaper front pages cover developments in the coronavirus pandemic.
The Metro and the Daily Mirror both lead on Professor Jonathan Van-Tam saying he is confident the coronavirus vaccine is safe and is encouraging his own mother to take it once it's cleared for public use.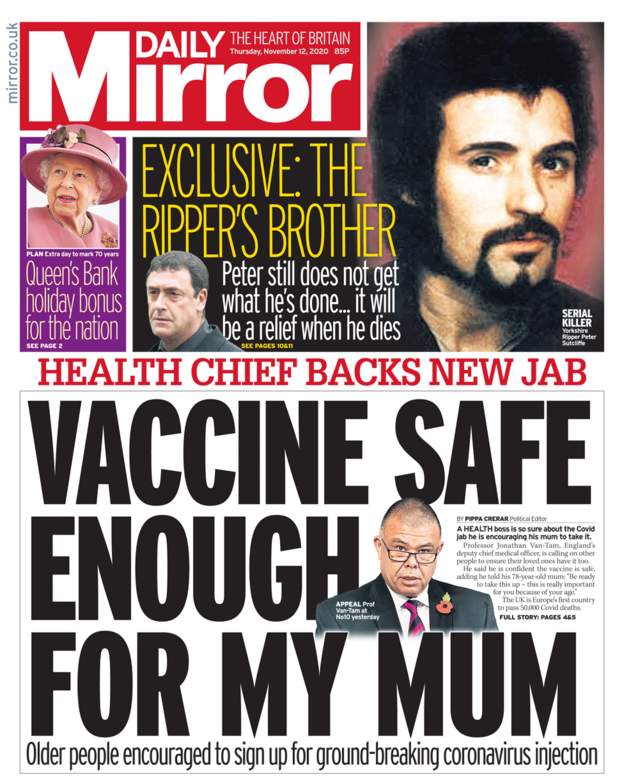 The i newspaper carries a warning from Prof Van-Tam - England's deputy chief medical officer - that distribution of a vaccine should be based on those who need jabs "to stop wealthy jumping the queue".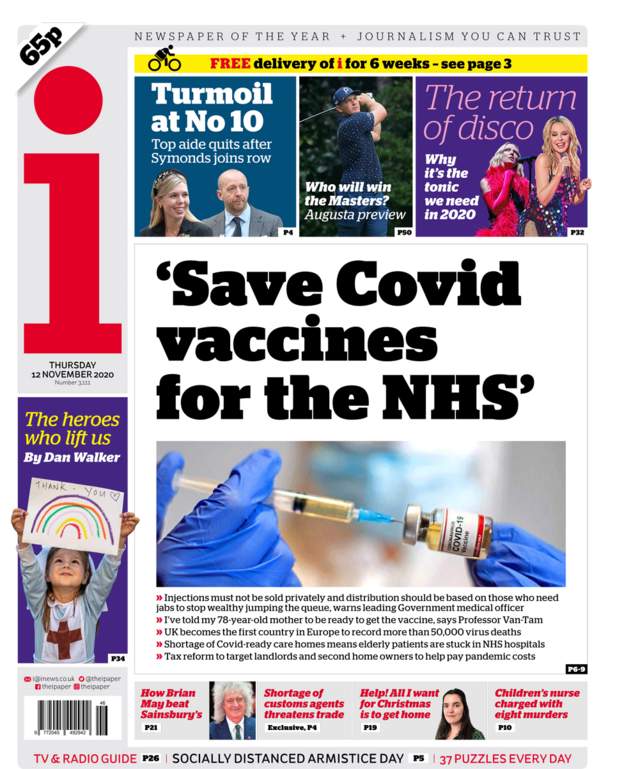 The Guardian has a different take, saying that government scientists have admitted that millions of British people could potentially be given "a less effective vaccine than the highly promising frontrunner if it helps to save lives".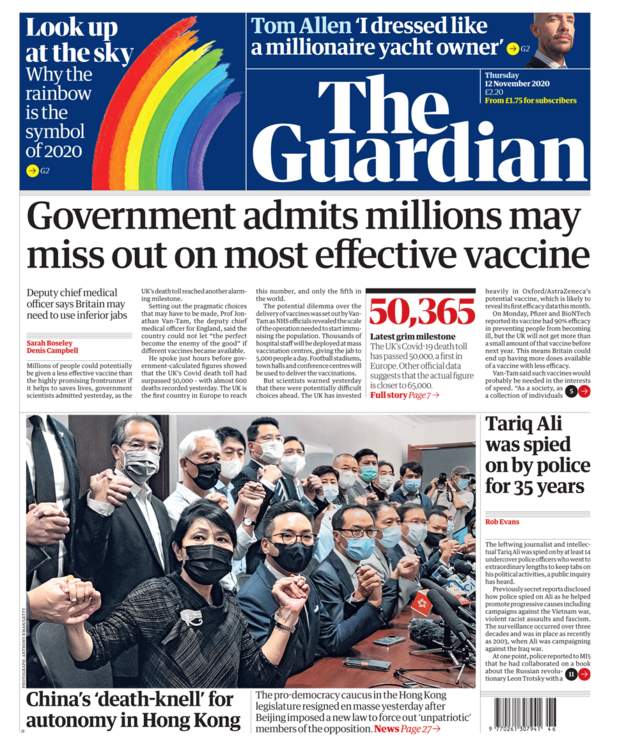 The Daily Mail front page calls on government ministers to allow care home residents to reunite with their loved ones in time for Christmas.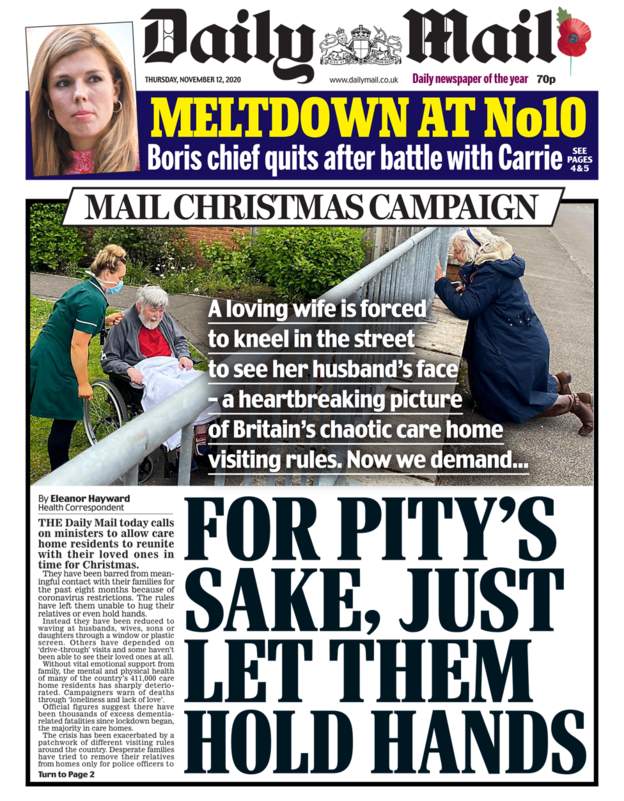 The Financial Times leads on the review of capital gains tax, commissioned by Chancellor Rishi Sunak, which it says has recommended "slashing the annual allowance". The paper says the move "could raise billions of pounds" as the chancellor looks to fill the "fiscal hole" left by the coronavirus crisis.