Summary for Wednesday, 11th November


The UK has staged the first of what will be a weekly data briefing, examining latest Covid-19 figures

Science 'just at the beginning of our journey' on vaccines, says England's deputy chief medical officer Professor Jonathan Van-Tam

University students in England will be asked to return home for Christmas in the week after the lockdown ends

As many students as possible will be offered rapid result Covid tests, and teaching should move online by 9 December

Details of how university students in Scotland should be able to return home for Christmas will be announced later

The US is seeing a record number of Covid patients in hospital - nearly 62,000 - as a surge shows no signs of slowing

Many countries are scrambling to get hold of the Pfizer vaccine awaiting authorisation - the EU is expected buy 300m doses

NHS England says GPs will need to cut back on their regular work so they can help deliver vaccines when ready

Conservative backbenchers have formed a group to oppose any extension to the lockdown in England

A study has concluded that the north of England has been hit harder than the rest of the nation by the pandemic

What's the latest in the UK?
Good morning and welcome. Here are the latest coronavirus headlines from around the UK:
Coronavirus in the UK
You can see the most recent coronavirus figures for the UK below.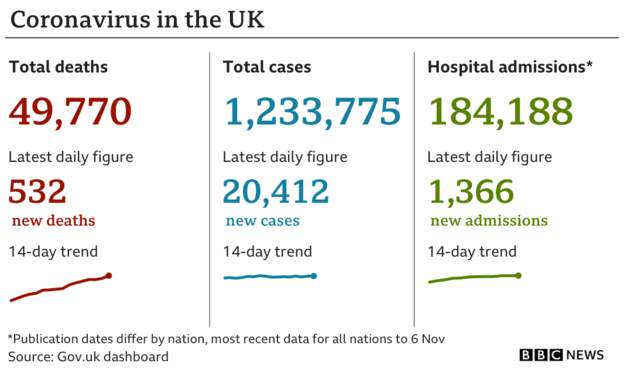 UK newspaper headlines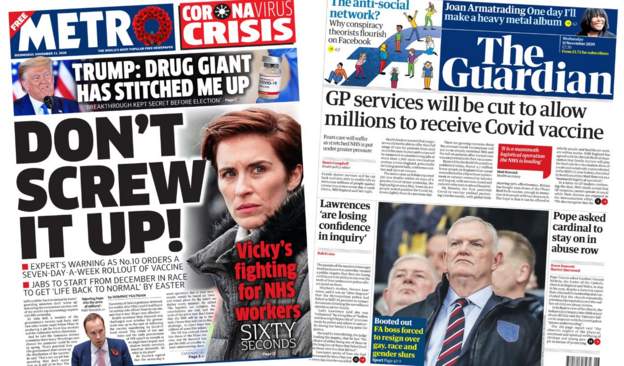 Most of the papers lead with the UK's vaccination plans - and they are in little doubt about the daunting scale of the task.
View them in full
here
.
Vaccine hopes, 'salami lockdowns' and other Europe news
Like the UK,
Spain and Italy
are seeing their highest numbers of deaths since the second Covid wave began. Spain has recorded another 411 deaths over 24 hours and Italy 580. Both countries will benefit from the rollout of the BioNTech-Pfizer vaccine in early 2021, if it gets safety approval. The European Commission expects to adopt a deal today to buy 300 million doses for the whole of
the EU
.
Spain says it hopes to get enough doses for 10 million people by the start of 2021. BioNTech, a German firm, hopes to have 70% of Germans covered by next summer.
You can read more about the couple behind the firm here
.
Hungary
has just imposed a night-time curfew and closed secondary schools, bars and restaurants as it fights soaring infection rates. Prime Minister Viktor Orban has warned of a potential shortage of medics to treat patients.
Meanwhile, some 300,000 schoolchildren in
Germany
and 30,000 teachers are currently self-isolating, according to tabloid Bild. A teachers' association leader has warned German schools are experiencing a "salami lockdown" - in other words, the gradual closure of more and more schools due to outbreaks.
US sees record number in hospital with Covid-19
The number of people in US hospitals with Covid-19 now stands at 61,964, an all-time high, new figures from the Covid Tracking Project show.
The number of new daily cases also broke records, with 130,989 reported on Tuesday. More than 10.2 million people have been infected and 239,000 have died overall in the US epidemic.
Several states, including Texas and Colorado, are seeing record numbers of new cases and many have tightened restrictions as the country confronts a new surge that is showing no signs of slowing.
The Centres for Disease Control and Prevention has also taken a stronger stance on the wearing of face masks, issuing guidance that says numerous studies have demonstrated the benefits of "universal masking policies".
University plans in England will give students 'certainty' - minister
BBC Breakfast
Plans to get students home for Christmas will give them and their parents "the certainty that if they choose to go home they can do so," Universities Minister Michelle Donelan has said.
Universities in England have been told to switch from in-person teaching to online classes by early December and set staggered departure dates between 3 and 9 December to allow families to be reunited.
Ms Donelan told BBC Breakfast this would be "complemented" with rapid testing for certain groups, such as universities with higher infection rates.
She said the 9 December deadline had been created to give students "enough time to isolate and then return home for Christmas", although she acknowledged that not all students would want to go home.
And she stressed that "this is a choice", but added: "If they choose to leave after the 9th they run the risk of potentially not getting home because of that isolation window."
Hong Kong and Singapore agree 'travel bubble'
Flights are set to resume between Hong Kong and Singapore after the two governments agreed a "travel bubble".
From 22 November, one flight a day carrying some 200 residents will be able to travel into each city from the other, Hong Kong's commerce minister Edward Yau told a news conference.
Travel will be restricted to those who have been in either city for at least two weeks and have tested negative for Covid-19 in the 72 hours before the flight.
Mr Yau said the bubble would be suspended for two weeks if coronavirus cases began to rise. But if no spike was reported then they would consider increasing flights to two per day each way from December.
Rapid Covid tests 'not as accurate'
We've heard this morning that an
evacuation-style operation
will take place to get students home safely for Christmas after England's lockdown.
The key part of the plan is the mass distribution of rapid result Covid tests, beginning at the end of November, which will then be followed by a "travel window" in early December for students to return home.
Jacqui Rammage, executive dean for the science faculty at Durham University, which has been piloting a mass testing programme, welcomed the plan.
"I think mass testing is absolutely essential because... so many people in the age group that our students are in are asymptotic carriers of the virus," she told BBC Radio 4's Today programme.
Ellen Brooks Pollock, an infectious diseases modeller at the University of Bristol, said the government's new plan was "an improvement" but she warned about the restrictions of the type of rapid testing to be used on students.
She told Today that the self-administered "lateral flow" tests were not as accurate as PCR testing - the type of tests that has been used at the NHS Covid tests.
"Although a positive test is a good indicator of infection, a negative test does not guarantee that you're not infected," she said.
Read more
here
about the dilemma students face.