Summary for Tuesday, 10th November


UK Health Secretary Matt Hancock says the NHS will be ready by December to roll out vaccines, if approved

Mass testing for coronavirus will be rolled out to 67 more areas in England, following a programme in Liverpool

Three Scottish council areas are will have tougher coronavirus rules imposed amid concern over increasing cases

Welsh Government cancels GCSE, AS and A-level exams next summer 2021, with grades to be based on classroom assessments

Record redundancies recorded in the UK in the three months to September

The second wave has pushed UK death rates over the five-year average, the Office for National Statistics says

In Brazil, a clinical trial for a Chinese Covid-19 vaccine is suspended after a "severe adverse" incident

Globally there are now nearly 51 million confirmed cases and more than 1.2 million deaths, according to a tally by Johns Hopkins University

Good morning and welcome to today's live coverage. Here's a look at the main headlines this morning to bring you up to speed:


The NHS is "ready to deploy" the breakthrough Pfizer-BioNTech vaccine as soon as it is proven clinically safe, Health Secretary Matt Hancock has said. Doctors' leaders say they are ready to run Covid-19 immunisation clinics seven days a week , after initial results suggested the vaccine is 90% effective.

But the health secretary urged people to continue following public health guidelines, saying "this is a deadly disease and it's not over yet".

Redundancies hit a record high in the last quarter of 314,000, the Office for National Statistics reported.

Children have slipped back in their learning, with some forgetting social skills such as how to use a knife and fork , according to Ofsted inspectors. Older children have lost their "stamina" for reading, the inspectors warned.

One in 17 Covid-19 patients could be diagnosed with anxiety, depression or insomnia for the first time, a study of millions of US patient records suggests. The Oxford University study says the risk is about double that of other illnesses.

The husband of NHS Test and Trace chief executive Dido Harding is self-isolating after receiving an alert on the app she is responsible for. Tory MP John Penrose said he had no symptoms so far.

"Lockdown" is the word of the year , according to the Collins Dictionary, with usage shooting up during the pandemic. Other terms in the dictionary's top ten for 2020 include "furlough", "key worker", "self-isolate" and "social distancing" as well as "coronavirus".

NHS is 'ready to deploy' vaccine, says Hancock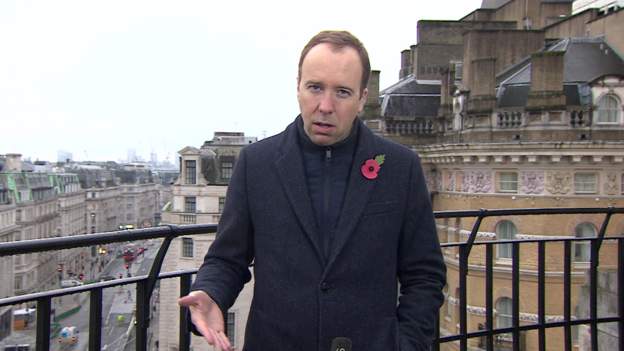 The health secretary said he would announce £150m of support to roll out the vaccine in GP surgeries
The first results of the Pfizer-BioNTech vaccine trials showing it is 90% effective were "promising, promising news", Health Secretary Matt Hancock says.
He tells BBC Breakfast he is "cautious about putting a date on it" but as soon as it is confirmed as clinically safe "we're ready to deploy it in the NHS".
Earlier, he told Sky News he has asked the NHS to be ready to deploy the Pfizer-BioNTech vaccine from the start of December.
He said care home residents and staff would be the first priority for vaccination, followed by the NHS, with the vaccine then being distributed down the age range of the population, starting with the over-80s.
Vaccinations would take place in care homes, at dedicated vaccination centres set up in places such as sports halls, at GP surgeries and at pharmacies.
Later he will announced £150m of support for GPs for the roll-out, he said.
Children will not be vaccinated
The health secretary also said that children would not be vaccinated, as they had a very low susceptibility to the disease. "This is an adult vaccine," Matt Hancock said.
Vaccination would not be compulsory, the health secretary said, but he pointed to surveys that showed the UK had some of the highest levels of enthusiasm for a Covid-19 vaccine.
He said the roll-out would be complex and would take time, with each person receiving two doses, 21 days apart and full protection only coming a week or two after the final dose.
"We still appeal this morning to people's patience to follow the existing rules.
"This is still a deadly disease and it's not over yet," he said.
Brazil halts trials of China's Sinovac vaccine
Brazilian health authorities have suspended clinical trials of the Chinese Covid-19 vaccine, Coronavac, because of what they called a "severe adverse" incident.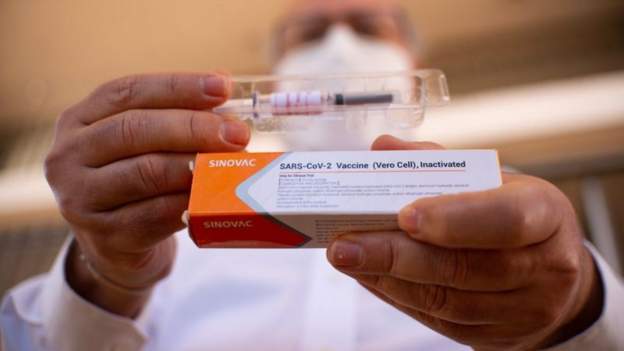 Brazilian health regulator Anvisa said the incident happened on 29 October, but did not give further details. Butantan, the medical research institute conducting the trial, is to hold a news conference on Tuesday at 11:00 local time (14:00 GMT).
The Sinovac vaccine is one of several in final-stage testing globally. But China has already been using it to immunise thousands of people at home in an emergency programme. There was no immediate response from Sinovac.
Read more on this story here
.
Record UK job losses in last three months
Redundancies rose by a record 181,000 in the period to reach a record high of 314,000, the Office for National Statistics (ONS) said.
It brings
the unemployment rate up to 4.8%
, from 4.5% the previous quarter.
Firms made more workers redundant in anticipation of the end of the furlough scheme, which was originally supposed to finish at the end of October. It will now last until 31 March.
The ONS said that the redundancies in the last three months were slightly higher than those at the height of the 2008 financial crisis.
Young people were particularly hard-hit with the number of 16 to 24-year-olds in employment falling by 174,000 to a record low of 3.52 million.