Summary for Monday, 9th November


Wales' 17-day 'firebreak' lockdown has ended and new rules have come into force

From Monday, businesses in Wales including pubs, restaurants, gyms and hairdressers can reopen

In the US, President-elect Joe Biden is to make tackling the pandemic his top priority following his win over Donald Trump

Meanwhile some disabled people are struggling to obtain medication and breathing equipment, research suggests

The global number of confirmed cases passes 50 million, while 1.5 million people have died

In the UK, 20,572 new cases were announced on Sunday and 156 further deaths

Good morning and welcome to our live coverage on the coronavirus pandemic.
We'll be bringing you live updates from the UK and around the world.
Our top story in the UK this morning is on Wales where a 17-day national lockdown has ended and people are waking up to new rules.
You can read our full story from Wales here.
Cafes and restaurants in NI 'to reopen with no alcohol'
We're also getting some news from Northern Ireland, where it's looking like the executive are going to agree to partially reopen the hospitality sector - although alcohol-only pubs will remain closed.
Ministers will meet to finalise the plan on Monday morning.
Pubs, restaurants and cafes across NI
closed their doors to sit-in customers on 17 October under stricter Covid-19 restrictions
.
Hair and beauty salons also had to shut for four weeks.
On Sunday,
Deputy First Minister Michelle O'Neill suggested cafes and restaurants could be allowed to reopen, but not pubs.
She said the sale of alcohol was a factor in reaching a decision because "defences come down when alcohol is taken".
It is understood restaurants may be allowed to reopen but not serve drink.
Cafes and coffee shops were a different matter, she said.
Read more here.
People in Wales 'can't simply go back to behaviour we had before'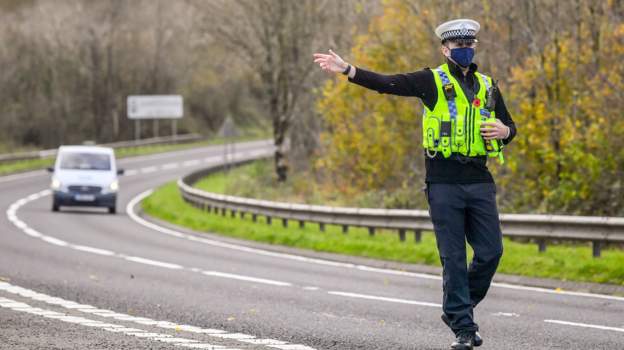 Wales' chief medical officer has been on BBC Radio 4's Today programme, as the nation
comes out of the 17-day national lockdown.
He says there were some "early signs of stability" - but people can't relax too much.
People have been travelling "significantly less" he says, and this has been reflected in some of the testing rates.
But he adds: "As we come out of this firebreak we can't simply go back to the behaviour we had before. We still need to work differently."
When asked if people could be stopped travelling between England and Wales, Dr Atherton says that with England under national lockdown there was no reason to cross the border.
"As England comes out of its lockdown we will absolutely have to reconsider how people travel."
US president-elect Biden to name coronavirus task force
President-elect Biden will call on every American to wear a mask in public spaces
US President-elect Joe Biden has pledged to make tackling the coronavirus pandemic his top priority as he prepares to take office in January.
He is expected later on Monday to name a 12-member coronavirus task force made up of "leading scientists and experts".
President Trump's handling of the pandemic was one of the key issues during the presidential campaign.
The US has seen record single-day rises in infections in recent days; and has the world's highest number of infections at over 9.9m and highest death toll at more than 230,000.
Mr Biden also wants to see more testing and has said he will call on every American to wear a mask in public spaces.
Monday will also see Vice-President Mike Pence reconvene a meeting of President Trump's own coronavirus task force, which has not met for weeks because of the election campaign.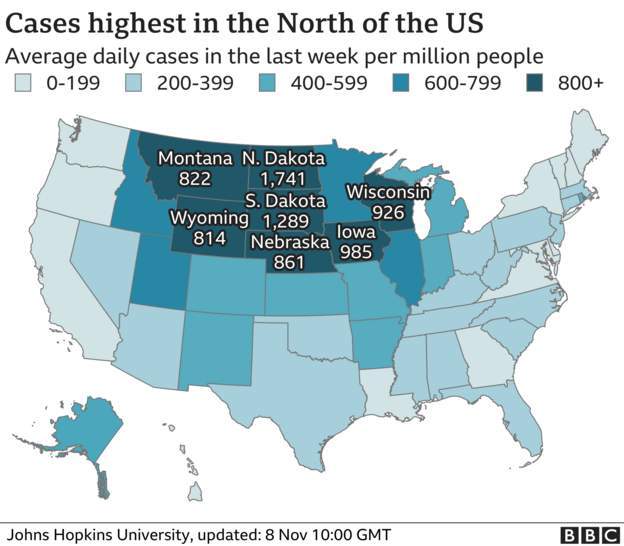 And
(from The Guardian)
a summary of key developments from the last few hours :


The US, the world's worst-affected country in terms of the number of confirmed Covid-19 infections, is about to pass 10m cases, according to Johns Hopkins. According to Reuters calculations, the latest seven-day average shows global daily infections are rising by more than 540,000, and October was the worst month of the pandemic so far. The US currently has just under a fifth of the global total – 9,96m cases – and in recent days has often registered over 100,000 cases a day. America has lost at least 237,542 people to the pandemic this year. The global death total is 1,254,453.

Pandemics expert says half of positive cases in UK not being identified . Around half of the positive coronavirus cases in the UK are not being identified, according to a pandemics expert. Mark Woolhouse, professor of infectious disease epidemiology at the University of Edinburgh, said these cases mean attempts to control the virus are being done "with one hand behind our back". Mr Woolhouse sits on a sub-group of SAGE and is a member of the Scottish Government's Covid-19 advisory group.

October was worst month for pandemic so far. A Reuters tally has calculated that October was the worst month of the coronavirus pandemic so far, with its second wave in the past 30 days accounting for a quarter of all cases.The last month saw the spread of the virus accelerate at a rapid pace: while it took 32 days for cases to rise from 30 million to 40 million, it only took 21 days to add another 10 million.

China reports 33 new cases. China reported 33 new Covid-19 cases on 8 November, up from 28 cases a day earlier, the national health authority reported on Monday. The National Health Commission said 32 of the cases were imported in people returning from overseas. The number of new asymptomatic cases fell to nine from 36 a day earlier, the commission said. The total number of confirmed Covid-19 infections in mainland China now stands at 86,245, while the death toll remains unchanged at 4,634.

The number of coronavirus cases worldwide has passed 50 million, according to the Johns Hopkins University tracker , which shows that the US, India and Brazil have the highest figures.

The economic fallout during the coronavirus pandemic has made the prospect of a third world war "a risk", the UK's most senior military commander has said . General Sir Nick Carter, the chief of the defence staff made the comments when asked by Sky News in the run-up to Remembrance Sunday whether he feared the global economic crisis brought on by coronavirus could lead to war.

France reported a further 38,619 coronavirus cases on Sunday,bringing the country's total to 1,787,324. It follows a record daily increase on Saturday, when a staggering 86,852 cases were logged.

Algeria's president, Abdelmadjid Tebboune, has responded well to coronavirus treatment after being hospitalised 13 days ago. Algeria's government has also extended a night-time curfew already in place in 20 of the country's 48 regions to a further nine areas. The curfew will start at 8 pm (1900 GMT), three hours earlier than previous restrictions, but will still end each morning at 5 am (0400 GMT).The new measures will come into effect from Tuesday for 15 days.