Summary for Thursday, 5th November


A new four-week lockdown has begun in England, with people told to stay at home and non-essential shops, pubs and gyms ordered to close

Chancellor Rishi Sunak is to make a statement in the Commons at around 11:30 GMT on economic support for businesses and individuals

The Bank of England is to pump an extra £150bn into the economy while UK interest rates are held at 0.1%

An inquiry is under way by the UK's human rights watchdog into why lower-paid health and social care workers from ethnic minorities are at greater risk from Covid-19

The US recorded more than 100,000 new coronavirus cases on Wednesday – a record one-day increase

As many as 17 million minks are to be culled in Denmark after a mutated version of the coronavirus that can spread to humans was detected on mink farms

Good morning, and welcome to today's live coverage of the pandemic, on the day that England's lockdown begins. Here's a quick summary of the main headlines:
What's happening around the world?
Shops, pubs and gyms close as England's lockdown begins
England's new four-week lockdown has started, with people told to stay at home and non-essential shops ordered to close, along with pubs and gyms.
Households are not allowed to mix indoors or in private gardens - unless a single adult has formed a support bubble with another household.
Police have warned that those who commit the most "egregious" breaches of the rules will face tough fines.
Prime Minister Boris Johnson has said the lockdown, voted for by MPs yesterday, would "expire automatically" on 2 December.
Chancellor Rishi Sunak is set to make a statement in the House of Commons later outlining what economic support will be available to businesses and jobs during the lockdown.
He is expected to confirm employees on furlough will receive 80% of their salaries if their workplaces have been shut down, and likely to guarantee furlough funding for Scotland, Wales and Northern Ireland if the devolved administrations bring in their own lockdowns.
Read more here
.
What's different about this lockdown?
England has gone into a second lockdown, which started at midnight. There are lots of similarities to the first lockdown that started in March - with households being told not to mix, and pubs, bars and restaurants closing their doors.
But there are also some key differences this time around.
They include the fact schools and universities are staying open, that people can meet another person outside and their child if they're under school age, and that dentists are staying open. And this time, you're allowed to sit on benches outside, which were taped off in many areas during the first lockdown.
Here's a look at
what's different about this lockdown
.
The papers: 'Sunak under pressure on furlough'
The US election leads many of the newspaper front pages, but the Daily Telegraph also features a story saying Chancellor Rishi Sunak is under pressure from business leaders to extend the furlough scheme into the new year to prevent job losses.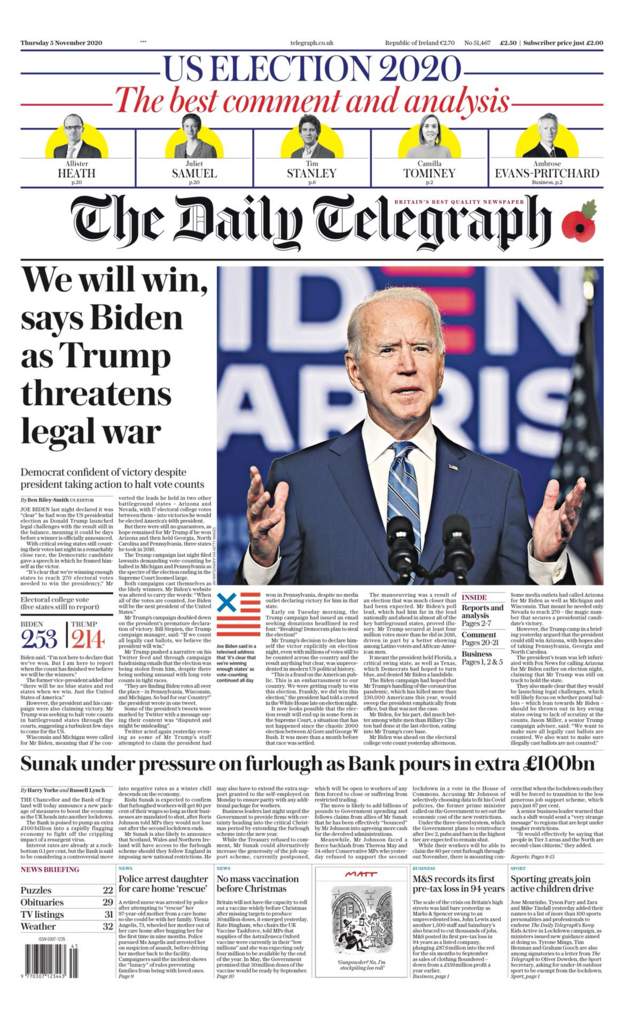 The Daily Express carries a warning from Health Secretary Matt Hancock about the pressures hospitals are under, as England begins its lockdown. "We can't let Covid break our NHS" is the headline.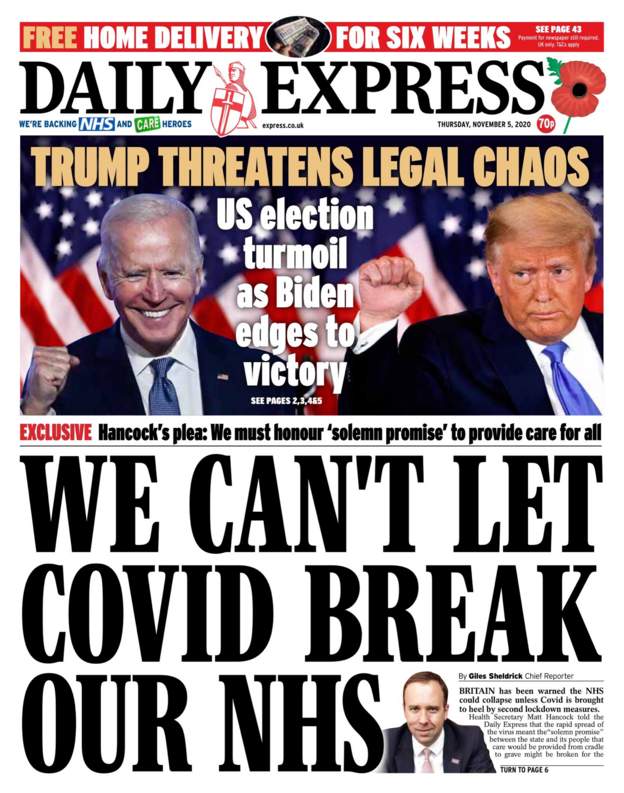 A story on the front of the Guardian says Tory MPs are in a "rage" over the lockdown in England, describing the Commons vote as "bruising" for Prime Minister Boris Johnson and reporting that several MPs say they will not be able to support any extension beyond 2 December.
In the Scotsman, First Minister Nicola Sturgeon defends legislation under consideration which would introduce regional travel bans. She denies such a ban was "state over-reach".
And the Daily Star casts an eye over what shoppers are supposedly panic-buying. It features a front page picture of one woman's shopping on the conveyor belt, which almost entirely consists of tortilla chips.
Minister warns of crackdown on 'tiny minority' who break rules
Justice Secretary Robert Buckland pledged to use the lockdown time to improve test and trace
As the four-week lockdown in England gets under way, Justice Secretary Robert Buckland told BBC Radio 4's Today programme that he backs a police pledge to "deal severely" with those who break the rules.
"The fines system is clear, it is already working," he said. "The majority of people do brilliantly but we have to deal with that tiny minority who do not wish to support other people."
People caught breaking the coronavirus regulations face a £200 fine for every breach, doubling on every subsequent offence up to a maximum of £6,400. Anyone found to be organising large gatherings can face a fine of £10,000.
Buckland also told BBC Breakfast that the government would use the four weeks to "redouble our efforts" to improve the test-and-trace programme, particularly improving the turnaround time for results.
He said it would also be preparing for the availability of a vaccine. Those at greatest risk would be prioritised, he said, "so we can avoid a stop and start scenario where we're having to go in and out of lockdowns".
'Perspex bubble' not the answer for care home residents
Campaigners and care home bosses have criticised the lack of information on
new rules for visitors
, saying they had only seen a press release rather than any detailed guidance as England's second lockdown begins.
But Julia Jones, from dementia rights organisation John's Campaign, told BBC Radio 4's Today programme that it was "terribly, terribly sad" that many relatives would be "pathetically grateful" even for visits behind floor-to-ceiling screens as the guidance suggests.
"When people are in the later stages of dementia, when people love each other, when people are approaching the end of their lives, they need to hold hands – they don't need to be in a Perspex bubble," she said.
Sam Monaghan, chief executive of charity care provider MHA, said routine testing of at least one visitor per resident was a better solution, adding that regular testing of staff and residents was "really lessening" the impact of the virus in care homes in the second wave.
Justice Secretary Robert Buckland defended the guidance, saying he expected it to be "very much the beginning of a process where, with sensible ideas and local initiatives, we can come up with sensible ideas for seeing our loved ones".
You can read
more about the guidance here
.
Captain Sir Tom Moore launches walking campaign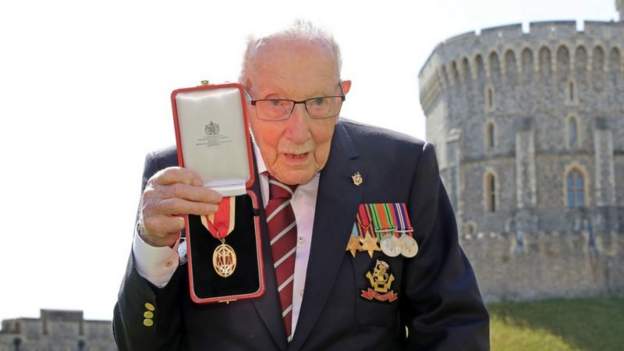 Captain Sir Tom Moore has launched a new campaign to coincide with England's lockdown to get people walking, supporting those who feel "lonely and frightened" during this time.
He raised £33m for the NHS by walking 100 laps of his Bedfordshire garden before his 100th birthday.
Capt Sir Tom said: "We are in a difficult situation but we'll get through it if we all join together."
The challenge encourages people to log their walking on social media using the hashtag
#WalkWithTom
over the next week.
Capt Sir Tom hopes to raise money
for his foundation
, which aims to combat loneliness and support those facing bereavement.
Read more here
.