Summary for Monday, 2nd November


Boris Johnson is addressing MPs over his plan for a new four-week lockdown across England from Thursday

The NHS could be overwhelmed if no action is taken, with medical staff having to choose who to treat, he warns

Pubs, restaurants, gyms, non-essential shops and places of worship will be affected by the lockdown

England will return to the regional tier system on 2 December when the measures end

Several senior Tory MPs oppose the move but Labour says it will back the new measures

Leaders from across the UK say they will "work together" on a "joint approach to the Christmas period" after diverging over Covid restrictions in recent weeks

Wales' First Minister Mark Drakeford says two households can form a "bubble" when its firebreak lockdown ends on 9 November

Scotland's five-level system of Covid restrictions has come into force

Morning everyone! Welcome to Monday's coronavirus live page. We will be bringing you updates on the latest pandemic news throughout the day.
Here's a recap of some of the major developments from the weekend and this morning:


The prime minister has announced England will be going into a four-week national lockdown from 00:01 on Thursday, closing pubs, restaurants, gyms, non-essential shops and places of worship

Mayors of some of the areas hardest hit by Covid-19 have called for England's schools and colleges to close during the lockdown to reduce the spread of the virus more quickly. But the government has insisted it wants to keep schools open

There were 23,254 confirmed cases of Covid-19 in the UK on Sunday and 162 further deaths. Of those deaths, 132 were in England, 16 in Wales, eight in Northern Ireland and six in Scotland

Boris Johnson will warn MPs later today that Covid-19 deaths could be twice as high over the winter as they were in the first wave of the pandemic unless he – and the whole country – acts now by taking a nationwide lockdown approach

Palace sources have told the BBC the Duke of Cambridge contracted Covid-19 earlier this year. It is believed he tested positive in April at a similar time to his father, the Prince of Wales

Scotland's new Covid restrictions comes into force today. The regional system has five levels but each of the country's 32 local authorities has initially been graded between levels 1 and 3

'Earlier lockdown would've saved thousands of lives'
A two-week circuit-break lockdown over half term would've saved "thousands of lives" and done "less damage" to the economy, according to one professor.
Professor Andrew Hayward says countries like ours have "repeatedly underestimated" the virus and done "too little too late" to control its spread.
The government's scientific advisory committee – Sage – met on the 21 September where it recommended imposing a two-week circuit breaker over the school half term.
But ministers chose to adopt a regional lockdown approach – with tougher restrictions in areas hit hardest by the virus.
Prof Hayward, from the Infectious Disease Epidemiology department at UCL, says it's with a "high degree of certainty" he can say lives would've been saved with an earlier lockdown.
He says the national action being taken now will affect the deaths from Covid-19 in three or four weeks' time.
"Early action is essential and waiting to see if less intense measures are going to work is really quite a dangerous way of doing things," he told Radio 4's Today programme.
The papers: 'Nightmare without end' and 'PM faces Tory fury'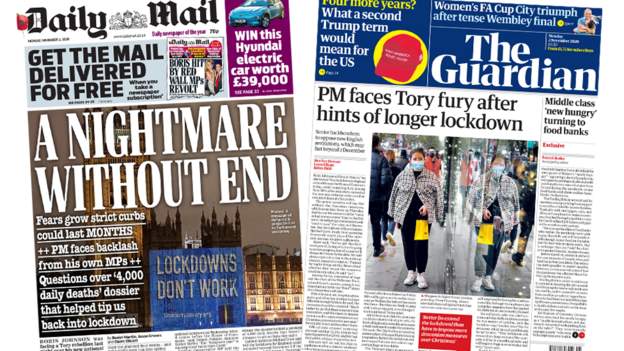 Unsurprisingly the fallout from Boris Johnson's weekend announcement continues to dominate many of today's front pages.
The Daily Mirror says Christmas is
"hanging in the balance"
after Cabinet Office minister Michael Gove admitted the four-week lockdown in England could be extended if the country fails to "get a grip" on Covid-19.
The Times suggests the new shutdown
could last until next year
, with a brief relaxation over the Christmas period for people to see their families.
And The Daily Telegraph warns that
up to 80 Conservatives
are considering rebelling when the new measures are put to a vote in Parliament on Wednesday. You can see the front pages and read our full newspaper review
here
.
Virus spreading 'even faster' than anticipated
Chancellor Rishi Sunak has said the coronavirus has been spreading across England "even faster" than anticipated, which is why a four-week national lockdown has to be introduced.
He said the data suggested that unless the government took more action, deaths would be running at levels "in excess" of where they were in the spring.
Mr Sunak said what was particularly concerning was the rapid rise in cases in areas which currently had lower levels of the virus.
"It would mean in a matter of weeks the NHS would be overwhelmed with the consequent turning away of non-coronavirus patients and doctors having to make very difficult decisions."
He told Radio 4's Today programme that bringing in a national lockdown was "the last thing" the government wanted to do.
"We're dealing with a virus that has clearly moved at a pace faster than we had anticipated and feared," he added.
Furlough is being introduced again "in the interest of simplicity and to give businesses that ease at this difficult time", he added.
The restrictions would end on 2 December "as a matter of law" but he said he could not give a "precise day" on which the restrictions would be reviewed, as they would be "constantly" reviewed.
Shops, gyms and schools to reopen in Wales from 9 November
Shops, gyms, schools and places of worship will reopen when Wales' firebreak lockdown ends on 9 November, First Minister Mark Drakeford has said.
He said people will still be asked to work from home whenever possible but when the lockdown was lifted "large parts of life will be able to resume as they were on 22 October".
"We went for a 17-day firebreak and explained to people that if we were going to make it short, we'd have to make it really sharp," he told Radio 4's Today programme.
Mr Drakeford said "early indications" show that travel in Wales over the firebreak period has been much lower, which suggests people have been following the rules.
But he said it will take a couple of weeks from the end of the firebreak before it is clear whether it has succeeded in bringing the virus numbers down.
Read more here
.
Coronavirus latest across the world
Here are some of the main coronavirus developments from around the world:


The White House has accused a leading infectious disease expert of playing politics days before the presidential election, in an interview about the coronavirus pandemic. Dr Anthony Fauci told the Washington Post the US was in for a "whole lot of hurt". He also offered an assessment of how both President Donald Trump and his Democratic rival, Joe Biden, are approaching the pandemic

Machu Picchu has reopened after nearly eight months of closure due to the coronavirus pandemic. But the ancient city high in the Andes mountains will restrict visitor numbers to 675 a day - about 30% of previous capacity – for safety reasons

Staff at funeral homes in Spain have gone on strike to demand more workers as coronavirus deaths continue to rise. Unions say more staff are needed to prevent the delay in burials that was seen during the first wave of the pandemic in March. Spain has recorded more than 1.1 million cases and 35,800 deaths since the outbreak began, according to data from Johns Hopkins University

Slovakia is testing everyone over the age of 10 for Covid-19 to try to stop the spread of the virus. The operation to test four million people is to last over two weekends. Infections have soared in Slovakia and officials argue the only alternative would be a total lockdown. But the president has said she thinks the idea is "unfeasible"

The head of the World Health Organization (WHO) is self-quarantining after someone he had been in contact with tested positive for Covid-19. Tedros Adhanom Ghebreyesus said he had no symptoms but would be working from home over the coming days in line with WHO protocol