Summary for Sunday, 1st November
(Today's latest updates from The Guardian)


The UK prime minister, Boris Johnson, has announced a second month-long national lockdown for England as the UK surpassed 1m infections on Saturday.

Scotland's first minister, Nicola Sturgeon, has urged Scots not to travel to England.

The number of Covid-related hospitalisations hit record numbers in at least 14 European countries this week as the second wave of the pandemic hit.

Austria announced a night-time curfew and the closure of cafes, bars and restaurants on Saturday amid "exploding" coronavirus infections .

In cities across Spain, where a state of emergency was introduced this week, protesters opposing coronavirus measures clashed with police on Saturday.

Brazil's health minister, Eduardo Pazuello, is in stable condition in a hospital after being diagnosed with Covid-19.

The trial over the 2015 Charlie Hebdo massacre has been suspended until Wednesday, after the main suspect tested positive for coronavirus.

England's Catholic church has criticised the government for banning communal worship under new lockdown measures, saying such gatherings helped wellbeing.

In the Philippines, almost 1 million people have been evacuated from the projected path of Super Typhoon Goni, prompting concern over the possible spread of the virus in emergency centres.

Australia has recorded a day of no new community cases for the first time in nearly five months.

'Shockdown': what the Sunday papers say about England's new Covid-19 lockdown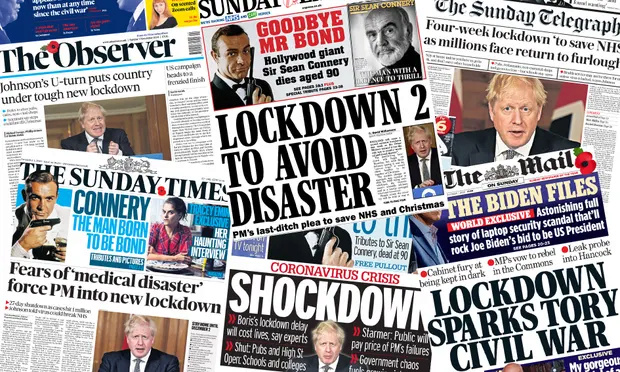 In the
UK
, Sunday's front pages are dominated by the news that month-long national lockdown measures will be imposed across England from Thursday. Here's a
roundup of this morning's coverage
.
Global overview: where are we now?
Around the world, more than 46 million cases of coronavirus have been recorded, with a global death toll of 1,195,930.
Of the lives lost, 230,556 were in the
US
. The country has the highest death toll from coronavirus, and the highest number of cases, at more than 9 million.
In order of case number, the next most severely hit are:


India, which has counted more than 8.1 million cases and has lost 122,111 lives.

Brazil, which has recorded over 5.5 million cases and 159,884 deaths.

Russia, which has confirmed 1.6 million cases and 28,026 deaths.

France, which has recorded 1.4 million cases and 36,826

The UK has the ninth-highest number of cases, at more than 1 million, and has recorded 46,645 deaths.
These figures come from Johns Hopkins University, whose coronavirus tracker you can find
here
.
Russia reports record 18,665 new cases
Russia
's daily tally of coronavirus cases hit a record high of 18,665 on Sunday, including 5,261 in Moscow, taking the national tally to 1,636,781, Reuters reports. Authorities also reported 245 deaths in the last 24 hours, bringing the official death toll to 28,235.
The
Czech Republic
recorded a further 11,428 cases of coronavirus on Saturday, and a further 173 new deaths.
This takes the total number of cases in the country, which has a population of 10.7m, to 335,102. It also increases the death toll to 3,251.
Indonesia
has reported 2,696 new coronavirus infections, taking the total number of cases to 412,784, according to data from the health ministry.
A further 74 deaths were recorded, taking the country's total coronavirus death toll to 13,943.
Indonesia has the highest number of coronavirus cases and deaths in south-east Asia.
Parts of
Portugal
are set to enter a "state of calamity" on Wednesday, following a spike in coronavirus cases in the country.
The prime minister, António Costa, told the nation on Saturday that they "must stay at home", unless shopping, exercising or providing assistance to elderly or disabled people.
People must work from home if they can.
All commercial establishments and services, including shopping centres, must close at 10pm, but restaurants can allow a maximum of six people per table (except family groups) until 10.30pm.
The measures will be applied to 121 municipalities where there have been more than 240 cases per 100,000 inhabitants for the past 14 days, and will last until 15 November.
Dozens of people were arrested in
Spain
last night as anti-lockdown protesters clashed with police for a second night.
The largest protests were in Madrid, with demonstrators shouting "freedom!" setting rubbish bins alight and constructing makeshift barricades on the city's main thoroughfare, the Gran Vía. Police were pelted with stones and flares as they tried to disrupt the assembly.
According to emergency services, twelve people – including three police officers – were injured. Police said they made 32 arrests.
Last week, Spain imposed a nationwide nighttime curfew to limit the spread of the virus. Almost all of Spain's regions have imposed regional border closures to prevent long-distance travel.
Malaysia
has reported 957 new cases of coronavirus, but no new deaths.
This brings the total number of infections in the country to 32,505, while the death toll stays at 249.
Israel begins human trials for coronavirus vaccine
Israel
has today begun testing its coronavirus vaccine on humans.
Eighty volunteers will initially take part in the trial, and it will be expanded to 960 people in December. If these trials are successful, the vaccine will move to a third stage with 30,000 volunteers in April or May.
If these stages are successful, it could be ready for the general public by the end of next summer.
The trials are being run by the Israel Institute for Biological Research, whose director general said the organisation was "in the final stretch".
The institute, which is overseen by the Defense Ministry, began animal trials for its "BriLife" vaccine in March. Last week, it announced that it had received regulatory approval to take the vaccine to the next stage.
India
's gasoil consumption rose 6.6% this October from a year earlier, the first such increase since coronavirus restrictions were introduced.
The preliminary findings indicate an increase in industrial activity.
Diesel sales by the country's three state fuel retailers totalled 6.17 million tonnes in October, according to provisional data compiled by Indian Oil Corp, the country's biggest refiner and fuel retailer.
India is the world's third biggest oil consumer and importer, so this uptake will be a boost to refiners, who had to cut crude-processing runs as a result of the coronavirus pandemic. It should also support other markets hit by slow demand recovery.
Nearly half of Slovakia's entire population tested for Covid-19 in one day
Nearly half of
Slovakia
's entire population were tested for coronavirus on Saturday, as the country began a two day testing programme which it hopes will bring the virus under control without further lockdown measures.
Of the 2.58 million Slovaks who took the test, 25,850, or 1%, tested positive and must go into quarantine.
More than 40,000 medics and support teams of soldiers, police, administrative workers and volunteers staffed around 5,000 sites to administer the antigen swab tests. The country, which has a population of 5.5m, is aiming to test as many citizens as possible, except those under the age of 10.
The scheme is the first in the world in a country of a comparable size, and is being carefully watched by countries around the world to see if it might offer an alternative approach to the pandemic.
While the testing was free and technically voluntary, Slovakia's government will impose a lockdown on those who do not participate, which includes a ban on going to work.
"Freedom must go together with responsibility toward those who ... are the weakest among us, oncology patients, old people, people with other diseases," prime minister Igor Matovic told a news conference.
During the first wave of the virus, Slovakia recorded just a few thousand cases of coronavirus after swiftly imposing restrictions, but cases have soared in recent weeks.
On Sunday, Slovakia reported 2,282 new cases, bringing the total to 59,946 - not including those identified in the nationwide scheme. The country has lost 219 lives.
Iran marks highest daily increase in deaths
A bit more information on the situation in
Iran
here ...
The daily tally of coronavirus deaths reached 434 on Sunday, marking the highest daily increase on record.
The record comes a day after the county announced strict new restrictions to curb the spread of coronavirus, including the closure of schools, universities and mosques in most of the country.
President Hassan Rouhani said on Saturday that new restrictions would take effect on Wednesday in 25 of Iran's 31 provinces, and last for 10 days.
The government has also banned weddings, wakes and conferences in the Iranian capital until further notice.
Italy
's health minister has described new data on coronavirus pandemic as "terrifying", saying that the country had two days to approve further restrictions to curb the spread of the virus.
On Saturday, Italy recorded almost 32,000 new coronavirus cases, its highest daily record since the start of the crisis. It also confirmed just under 300 deaths, bringing the total death toll to 38,618.
"We have 48 hours to try to approve a further tightening (of the rules), there are too many people around," health minister Roberto Speranza was quoted as saying in the daily Corriere della Sera.
He said another lockdown, though not as extended as the one introduced in March, seemed to be the only option.
"The epidemiological curve is still very high. What worries me the most is the absolute data, which shows a terrifying curve," Speranza said.
Last week, Italy introduced restrictions on business activity, ordering bars and restaurants to close at 6pm and shutting gyms, cinemas and theatres in an attempt to limit the spread of coronavirus. Many cities and regions, including Lombardy, which has been at the heart of the nation's outbreak, also adopted local curfews.
While prime minister Conte has repeatedly said he wants to avoid a new national lockdown to prevent further economic damage, the localised measures have not been enough to bring transmissions rates under control.
Today, the prime minister is meeting with representatives from the regional government and the opposition parties to discuss further measures. Limits on travel between regions, the imposition of local lockdowns in areas with a high rates of transmission, and an increase the use of remote learning is expected to be announced as early as Monday.
As Europe's governments lose control of Covid, revolt is in the air
"Europe,
once again, is the centre of the global pandemic
, accounting for almost half the world's infections last week.
But as desperately needed financial support fails to materialise, and track and trace systems fail to cope with the surge, there is public exasperation and, in some cases, open rebellion."
Read the full report on the rise in anti-lockdown demonstrations from The Guardian's
Julian Coman
here
.
An image showing a shop in France covering up books, apparently to prevent people buying them, is being widely shared on social media.
Starting on 30 October, non-essential shops and venues, as well as bars and restaurants, were closed in France, but essential shops including grocery stores, supermarkets and pharmacies remain open.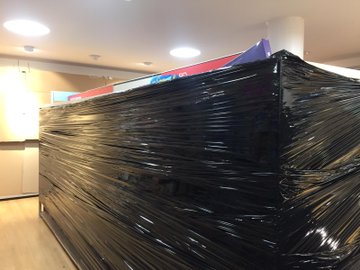 It follows an incident in Wales in which the supermarket chain Tesco was forced to apologise after it mistakenly told a woman on Twitter that sanitary items were classed as non-essential so were not for sale. They had been cordoned off in a Tesco store because of a break-in in that area, leading to reports that they had been classed as non-essential.
Fauci says Biden is taking virus seriously, as he warns of bleak winter for US
The
US
is "in for a whole lot of hurt" under the coronavirus pandemic, the senior public health expert Anthony Fauci has said, predicting a winter of 100,000 or more cases a day and a rising death toll.
Fauci has regularly appeared with president Trump at press conferences on the coronavirus pandemic.
"It's not a good situation. All the stars are aligned in the wrong place as you go into the fall and winter season, with people congregating at home indoors. You could not possibly be positioned more poorly," he told the Washington Post.
Fauci said that Trump's challenger, the Democratic presidential candidate Joe Biden, was "taking it seriously from a public health perspective". Trump, he said, was "looking at it from a different perspective … the economy and reopening the country".
Unsurprisingly, this has caused outrage in the Trump administration, who have accused Fauci of "playing politics".
Judd Deere, a White House spokesman, said: "It's unacceptable and breaking with all norms for Dr Fauci, a senior member of the president's coronavirus taskforce and someone who has praised President Trump's actions throughout this pandemic, to choose three days before an election to play politics."
You can get more information in
this report
from The Guardian's
Martin Pengelly
in the US.
The prime minister of
Spain
, Pedro Sánchez, has called for an end to "the violent and irrational behaviour" of a minority of people after a weekend of angry demonstrations in cities around the country against further lockdown restrictions.
Last week, the Spanish government announced a six month state of emergency which would allow them to implement further measures to limit the spread of the virus.
Madrid saw the largest demonstrations last night, with thirty-two people arrested and 12 injured. There were also protests over the weekend in Barcelona, Málaga, Vitoria, Valencia, Santander and Burgos.
Read the full report
here
from Sam Jones, who is in Madrid.