Summary for Friday, 30th October


More than 11 million people - 19.6% of the population - will be living under England's tightest restrictions - tier three - from Monday

Nottinghamshire has now moved into the top tier of Covid-19 restrictions after an overall rise in infection rates

Foreign Secretary Dominic Raab defends localised measures - he says the government is "striving to avoid" a "blanket approach"

Infection rates are rising rapidly, with an estimated 100,000 people a day catching the virus

North East of England at "critical point" in virus fight, say heads of seven local authorities in the region

Germany and France reintroduce strict measures amid dire warnings for winter

Business leaders in Glasgow warn of "damaging impact" of Scotland's latest Covid curbs

UK's latest daily figures show 23,065 further positive cases and 280 more deaths as of Thursday

Welcome to our live coverage of the coronavirus pandemic in the UK and around the world.
As we start our rolling updates, here's a quick look at the main headlines this Friday morning:
What's happening across Europe?
From today, every time you leave your home in
France
you need to have a good reason and usually a downloaded document. You can go to school, buy food, go to work or go for a jog or walk the dog close to home and go to the pharmacy. But masks are now required from the age of six. France declared 47,637 new infections last night and 235 deaths.
European Commission
president Ursula von der Leyen has promised all 27 EU countries will get vaccines at the same time based on their size of population. She wants borders to remain open but mainly to essential travel.
Thirteen of
Spain's
17 autonomous regions have now stopped movement in and out of their areas. Valencia is the latest to close its borders for the next week.
Almost all of
Austria
has turned red on its four-level at-risk traffic light system. That means outbreaks are out of control and the virus is widespread. Austrians will expect new measures to emerge tomorrow.
Greeks
are waiting to hear what PM Kyriakos Mitsotakis will announce today – with medical experts warning that tough measures are required. Thessaloniki is one of three areas now in the "red" zone – courts, museums, cinemas, restaurants and gyms have closed.
Belgians
will hear later what's in store for them today and things aren't looking good. Health minister Frank Vandenbroucke says "I reckon it's inevitable we'll toughen restrictions". More than half the country's 2,000 intensive care beds are full and hospitals in French-speaking Wallonia it's now 60%.
Russian
infections have surged to a record 18,283 with 355 new deaths and
Poland
is facing record infection numbers of over 20,000 a day.
Ukraine
has declared a record high 173 deaths and 8,312 new cases – but officials say another 3,394 people have recovered which is also a new high.
'We're always ready for further measures' - Raab
Every area of England is now in
one of three coronavirus alert categories
- medium (tier one), high (tier two) or very high (tier three).
People living in tier three areas for example, are banned from mixing with other households indoors and outdoors - including in private gardens - and pubs and bars not serving substantial meals must shut. Further restrictions can be introduced for individual areas.
But Foreign Secretary Dominic Raab has not denied suggestions that the government is considering bringing in an even higher fourth tier of restrictions.
Asked about reports, he told BBC Radio 4's Today programme: "We're always ready for further measures that we can take. But I think the most important thing about further measures is that we continue on the track we're on of targeting the virus."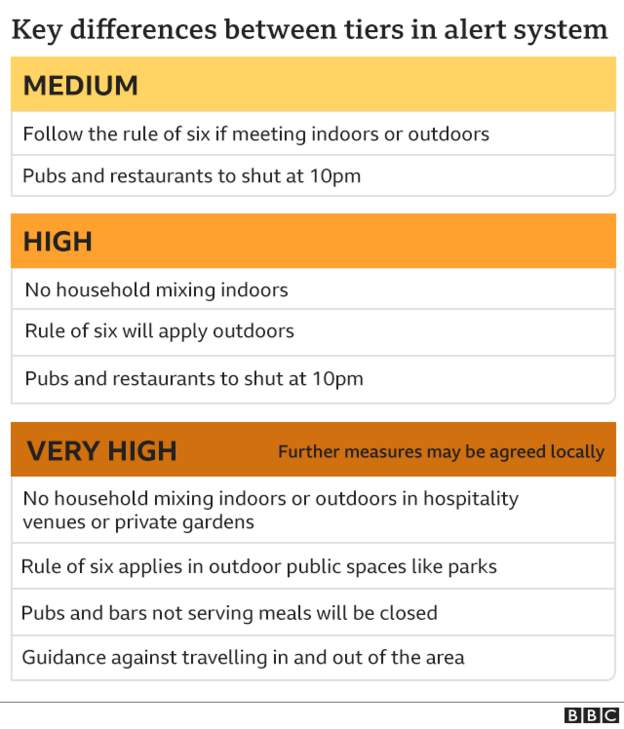 Current tier measures not 'strong enough' - Starmer
Labour leader Keir Starmer says he is calling on the prime minister to "look again" at the tier system, and that he is concerned it is "not strong enough" to deal with the rise in coronavirus cases.
When asked if he still wanted to see a
short national lockdown - known as a "circuit-breaker"
- he said he was "deeply concerned" by the rise in infection rates, hospitalisations and deaths, and "that's why we called for a circuit break over half-term" as it would have been the "ideal opportunity" to do it while schools would be closed - but the "prime minister didn't choose that".
Speaking to BBC Breakfast, Starmer said: "My concern is that the tier system is not strong enough to stop the infection rate going up and the alternative now is weeks or months of agony in the tier system. So I do call on the PM to look again."
Fancy dress fun before tier three measures start
Nottinghamshire has become the latest county to move into the top tier
of Covid-19 restrictions after an overall rise in infection rates.
But before the new rules came into force, young people took to the streets in fancy dress on Thursday night.
Youngsters were seen posing for photographs in fun attire in Market Square in the city centre, while others were seen drinking alcohol in large groups.
The new rules mean:


Residents must not socialise with anyone outside their household or support bubble in any indoor setting - including homes and private gardens - or at most outdoor hospitality venues

People must not socialise in a group of more than six in an outdoor public space, such as parks

Pubs and bars that do not serve substantial meals as a restaurant must close

Residents are advised to avoid travelling outside the area, unless for essential journeys, such as work or caring responsibilities

Auction houses, car boot sales, betting shops, saunas and tattoo parlours must close

Hotels, gyms and leisure centres can remain open.

West Yorkshire will join the third tier
from Monday.
That will take the total number of people living in very high restrictions in England to just over 11 million - 19.6% of the population.
Record Paris traffic ahead of second France lockdown
Traffic hit record levels
in Paris just hours before a new national lockdown came into force across France.
Parisians were reportedly leaving the capital - and their often cramped apartments - to spend lockdown in the countryside.
Jams stretching to a cumulative 430 miles (700 km) in the Ile-de-France region were reported by local media on Thursday evening, ahead of new measures coming into force at midnight (23:00 GMT) on Friday.
People have been ordered to stay at home except for essential work or medical reasons as daily Covid-19 deaths in France hit the highest level since April.
French authorities reported 47,637 new cases and 250 new deaths as of Thursday.
  Michael E. Webber:

Incredible traffic jam in Paris as people try to leave the city before 9 pm curfew and before confinement begins at midnight. Traffic is barely moving in every direction as far as the eye can see. Lots of honking and frustrated drivers.

Watch video here