Summary for Friday, 23rd October


Scottish First Minister Nicola Sturgeon sets out a new five-tier alert system to come into force from 2 November

Tough new measures are in place in Greater Manchester, with South Yorkshire also moving to tier three on Saturday

Warrington will move to England's highest tier from next week as talks continue with Nottingham about a similar move

A 17-day national lockdown described as a "firebreak" will begin in Wales at 6pm

US President Donald Trump and his White House challenger Joe Biden clash over Covid in their final live TV debate

US regulators given full approval for the antiviral drug remdesivir to treat Covid-19 patients in hospitals

France is extending an overnight curfew to dozens more areas

Good morning and welcome
Friday is finally here! Thanks for joining our live coverage of coronavirus developments in the UK and around the world. We'll be bringing you updates throughout the day.
The latest from the UK
Here's what you need to know to kick off your day:
Curfews increasing across Europe amid record infections
Millions of people face new restrictions on movement after record infections were reported in several European countries.
Some 46 million people in
France
will come under 21:00 to 06:00 curfew – with 38 new areas added to the list. More than 41,000 new cases have been reported. Jean Rottner, head of the north-eastern
Grand Est
region, says the situation has worsened "in big cities like Reims and Strasbourg - but also a number of more rural areas like the Ardennes".
Slovakia
is to impose a partial lockdown for a week from tomorrow, allowing travel to work, basic shopping and school for younger children; four areas near the Polish border will face almost total lockdown. Nineteen further deaths have been reported.
Elsewhere:


Portugal is imposing a lockdown on three northern districts affecting 150,000 people – and the whole country will have restrictions on movement for next week's holiday weekend

Denmark is closing its border to German tourists after both countries reported record infections. Work and family visits will be allowed

Italy's Lazio and Campania regions begin night-time curfews tonight - Lombardy started last night

The Belgian government is set to announce fresh virus restrictions

Spain's regional authorities have failed to reach a broad curfew agreement but a number of areas are imposing them anyway. Navarre and Rioja have already moved and Madrid will decide its next step today

But there's good news too: The
Canary Islands
have been removed from Germany's risk list and are being added to the UK's travel corridor from Sunday.
The latest from around the world
Elsewhere in the world:
Why is Wales going into lockdown?
Wales' 17-day "firebreak" lockdown will start at 18:00 BST - but why is such action being taken?
Wales has the lowest reproduction, or R number, in the UK at between 1.1 and 1.4 - but the number of patients in hospital with Covid-19 is the highest it has been since June.
Ministers say they need to act now so the NHS can keep essential hospital services and treatments running on top of expected winter pressures, and not get overwhelmed.
The rules - brought in to coincide with half-term holidays - mean pubs, bars and restaurants, gyms, and all non-essential shops will be closed. While food shops, off-licences and pharmacies can stay open, First Minister Mark Drakeford has made it clear that
supermarkets will only be able to open parts of their business that sell "essential goods".
The health minister, Vaughan Gething, has also said that delaying lockdown measures would have impacted December trade for businesses - so part of the aim of the break is to allow "a much more normal Christmas season".
If you still want to know more about what the measures mean for you...
Read our guide here.
Why is coronavirus so deadly?
James Gallagher - Health and science correspondent, BBC News
A simple virus has brought life as we know it to a screeching halt.
So what is it about this coronavirus? What are the quirks of its biology that pose a unique threat to our bodies and our lives?
In the early stages of an infection the virus is able to deceive the body.
Coronavirus can be running rampant in our lungs and airways and yet our immune system thinks everything is a-ok.
Our body's cells start releasing chemicals - called interferons - once they are being hijacked by a virus and this is a warning signal to the rest of the body and the immune system.
But the coronavirus has an "amazing capability" of switching off this chemical warning, says Prof Paul Lehner from the University of Cambridge - "it does it so well you don't even know you're ill".
Read more here.
Treasury will 'respond' to changes in virus - Barclay
The chief secretary to the Treasury says the government will "respond where the path of the virus has changed", after
the chancellor announced big changes to the Job Support Scheme
set to replace furlough in November.
"What is clear from our discussions with business leaders is that the situation has deteriorated over the last few weeks," Steve Barclay tells BBC Radio 4's Today programme.
"That is why we've listened and we've [acted] quickly to strengthen the package of measures, as part of this overall balanced approach between tackling the virus but also taking decisions that are in the longer-term fiscal interests of the country."
The increased support for jobs and workers hit by Covid restrictions follows growing clamour from firms in tier two areas.
Under the revised scheme, employers will pay less and staff can work fewer hours before they qualify for support.
At the same time, the taxpayer subsidy has been doubled.
Find out more about the changes here.
Labour calls for job support clarity
Labour says ministers need to be clearer about how they decide what financial support areas moving into tighter restrictions will get, and how long this will be for.
"Initially it was suggested there was some kind of a negotiation going on between government and local areas about support for businesses," shadow chancellor Anneliese Dodds told BBC Radio 4's Today programme.
"Now it looks like actually there's a formula that's being used by government but they haven't published it anywhere, they've not discussed it, it hasn't been voted on for government."
Her comments follow
a breakdown in talks between the government and local leaders in Greater Manchester
over financial support offered under tier three restrictions.
Local leaders originally requested £90m for businesses affected by new restrictions, but lowered their demand to £65m.
In the end, they were given a £60m support package, which will be distributed across the region.
This week, the government is talking to local leaders in Nottingham
and Warrington
about the introduction of tier three restrictions.
Happy to be home after 61-day Italy quarantine
A man who spent two months in isolation in an Italian coronavirus facility has spoken of his joy of being home with his family.
Britons Rhys James, 23, from Pembroke Dock, Quinn Paczesny, 20, from Sheffield, and Will Castle, 22, from Brighton, had been teaching in northern Italy before they tested positive for Covid-19 in August.
They were kept in separate rooms at a facility in Florence and told they needed two consecutive negative tests - or a double negative - before they could leave the rooms.
Only Will Castle got a double negative while the other two tested positive and were facing another week in isolation, before the law changed.
Last Friday, after 61 days of having food left outside their doors and staying in touch via video calls, they were told they could leave.
Rhys James and Quinn Paczesny flew back to the UK where they were greeted by their parents holding a "welcome home banner".
"It's been so lovely, they are treating me like royalty at the moment - we will see how long that lasts for," James said.
Read more here.
Which parts of England are facing tougher rules?
We've heard that people in Nottinghamshire
and Warrington
are waiting to find out whether they'll be subject to tier three restrictions.
Which other parts of England are facing "very high" tier three rules? And which places are about to change tiers?
Greater Manchester
moved into England's highest level of coronavirus restrictions overnight, joining
Liverpool City Region
and
Lancashire.South Yorkshire
will also move into tier three restrictions from 00:01 on Saturday.
And what about tier two?
Millions of people in
London
,
Essex
,
York
and other areas are already under the "high alert" Covid measures.
Rising infections mean that
Coventry
,
Stoke
and
Slough
will move into
tier two restrictions at 00:01 on Saturday
.
You can find out what the rules are in your area by
entering your postcode here.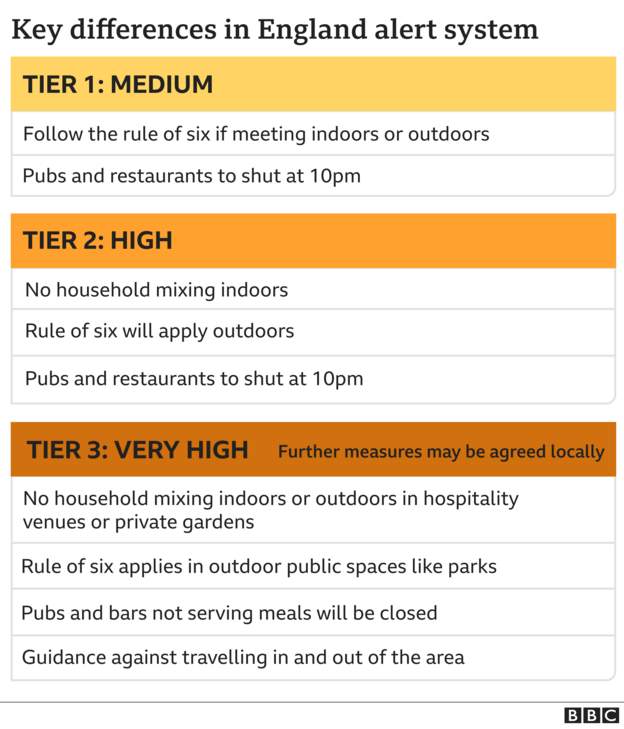 Sewage sites to test for traces of virus
Testing sewage for Covid-19 has been shown to give local health teams an early warning of outbreaks, before they spread.
Scientists established earlier this year that fragments of the virus's genetic material could be identified in human waste. And crucially they can be detected even when there are only asymptomatic Covid-19 cases in the community.
Now a testing scheme is being extended across the UK after a pilot in south-west England.
Ninety waste-water treatment sites in England, Wales and Scotland will be testing sewage for Covid-19 traces.
The technique is already being used elsewhere in the world. The University of Arizona in the US, for example, tests waste from its student residences twice a week.
Britain is also looking to advise developing countries on the practicalities of this method, as many low-income countries do not have enough testing machines for their populations.
Read more here.
Scotland waits for news of five-tier alert system
In Scotland, First Minister Nicola Sturgeon is due to publish details of a new five-tier alert system of Covid-19 restrictions.
The system - which will add two levels to the three tiers already used in England - is expected to come into force from Monday 2 November.
Sturgeon has said the middle tiers will correspond roughly to England's three, and there will be a lower tier that is "closest to normality" as possible without a vaccine.
She said an additional top tier would be "closer to a full lockdown" - and was added because England's chief medical officer had acknowledged tier three restrictions were not necessarily enough to reduce infections in all circumstances.
The new "strategic framework" will also include details of support for businesses hit by restrictions and a new testing strategy.
Temporary restrictions targeting the hospitality industry in the central belt of Scotland in particular [url=https://www.bbc.co.uk/news/uk-scotland-54631004#:~:text=Covid in Scotland%3A Hospitality curbs extended for another week,-21 hours]have been extended to cover the gap[/url] until the new system comes into force.
Sturgeon will hold a virtual coronavirus briefing at 12:15 BST with deputy chief medical officer Nicola Steedman.
Read more on this story.
How do new post-furlough changes work?
Yesterday,
the chancellor unveiled increased support for jobs and workers
hit by Covid restrictions, which will replace the furlough scheme from November.
Some businesses in
tier three
areas have to close - including pubs and bars that don't serve substantial meals, and betting shops.
If you work for one of these businesses and your workplace has to shut, you'll be paid 67% of your wages - up to a maximum of £2,100 a month - through the government's Job Support Scheme (JSS).
You must be off work for a minimum of seven days to be eligible. Your employer doesn't have to pay towards your salary.
In areas under tier
two rules
, like London and Essex, places like pubs and cafes have been less busy because household mixing indoors is banned.
Staff at businesses such as these - which can open but only have enough work for employees to return part-time - can also get help under the JSS, regardless of which tier the business is in.
To be eligible, you have to be paid by your employer to work a minimum of 20% of your hours per month.
Your employer must pay an extra 4% of total wages to cover some of the hours not worked, and the government will pay 49% of your total salary to cover hours not worked.
So, overall, you would get at least 73% of salary. The maximum contribution the government will make is £1,541.75.
Make sense? Here's a handy graphic to help...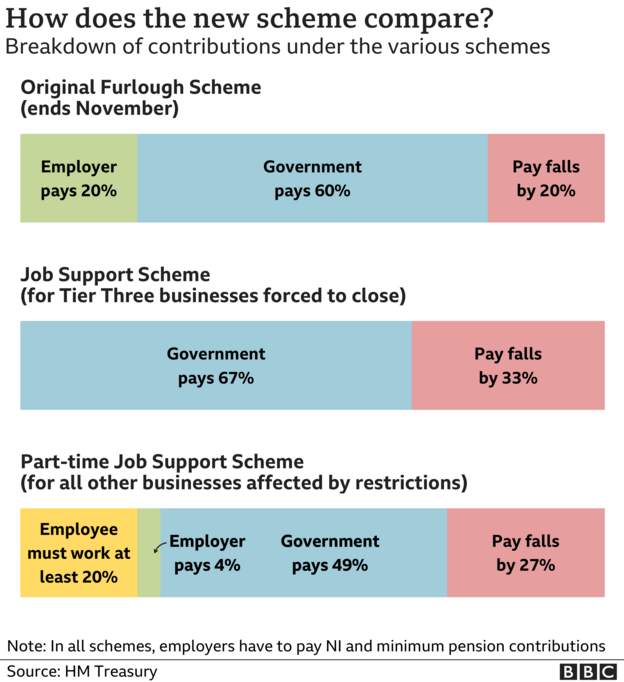 Nottingham hospitals postpone surgery amid Covid rise
A "dramatic increase" in the number of patients with Covid-19 has led hospitals in Nottingham to postpone some non-urgent operations.
More than 200 patients at the hospitals have tested positive for coronavirus - 16 are in a critical condition, and some have died.
Nottingham University Hospitals NHS Trust's chief executive Tracy Taylor said a "full ward of people" were arriving to the Queen's Medical Centre and City Hospital each day.
She said the surge in patients was "similar to April" and some non-urgent surgery will be postponed until at least 6 November.
It comes as officials in Nottingham and Nottinghamshire are in discussions about whether the areas will move into tier three restrictions.
Read more.