Summary for Tuesday, 20th October


Greater Manchester to move to tier 3 - very high- alert level from 00:01 on Friday

Measures imposed by government after collapse of talks to agree deal with local leaders

Manchester Mayor Andy Burnham calls move "brutal" and asks Parliament to intervene

Region to get £22m for testing and tracing but no funding agreed for business support

But Health Secretary Matt Hancock says an offer of £60m is "still on the table"

Number of UK deaths with Covid on the certificate up 38% in a week, ONS figures show

Republic of Ireland moving to a new, very high, level of coronavirus restrictions

France has reported more than 2,000 people in intensive care - the first time since May

The clock is ticking for Greater Manchester...
There are less than four hours to go until the noon deadline that Greater Manchester leaders have been given to reach a deal with the government over moving the region into tier three coronavirus restrictions.
Talks are ongoing this Tuesday morning. The local leaders want more financial support before agreeing to the move.
But it's thought Prime Minister Boris Johnson could step in to impose the top tier rules if no agreement is reached. We'll bring you the latest on what is decided.
How did Greater Manchester get to this point?


There have been 10 days of talks so far between the government and local leaders, including mayors and MPs

They have so far resisted the area's 2.8m population moving to the "very high" alert level of tier three, which would mean additional restrictions on households mixing, and the closure of pubs and bars that do not serve meals

The local leaders want more financial support before agreeing to the move, with Greater Manchester Mayor Andy Burnham saying the governments needs to better protect low-paid people

Last Friday, the prime minister warned he "may need to intervene" if an agreement was not reached

And Communities Secretary Robert Jenrick has since said he would be advising the PM if there is no deal, and that he would decide on the next steps

There is a noon deadline to get to any such agreement, which would include what funding and support was available for people in the region

Ultimatum is a 'provocative' tactic, says Burnham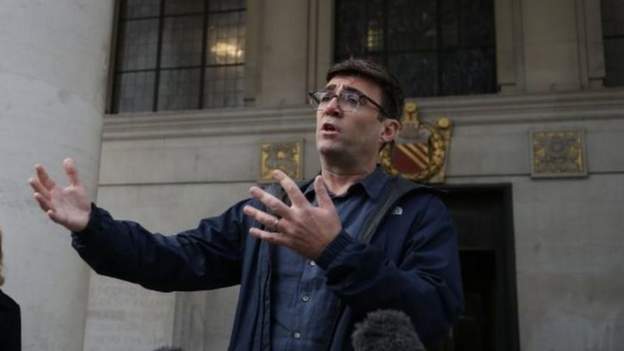 Greater Manchester Mayor Andy Burnham has been talking this morning about the upcoming deadline.
He said a "late-night ultimatum" of the noon deadline was "slightly provocative" - but that he was "not going to rise to that".
Mr Burnham told BBC Radio 4's Today programme: "It is fair to recognise if you put a place under restrictions for as long as we've been under restrictions, it grinds people down, it pushes businesses closer to the brink.
"I've noticed in recent days how London is calling out for support being in tier two - I support people in that call - but I hope people will support us, recognising the position we are in."
It is about "standing up for people and businesses that otherwise are going to be seriously harmed by a lockdown that at this point in time is not fully funded", he said.
"This is about people who work in pubs, who work in bookies, people who drive taxis - generally the people who Westminster politicians ignore," he added.
What are the latest UK figures?
Here are the latest figures, as of Monday afternoon. We'll have another update on the number of UK cases later today.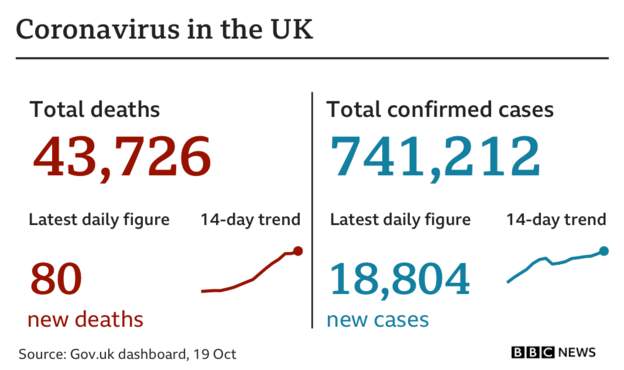 Burnham: 'Public support' to fight Covid could be lost
When he was speaking on BBC Breakfast a little earlier, Andy Burnham said he was seeking a resolution with the government - and was not posturing.
The Greater Manchester mayor saidt: "I'm coming along today to say I still want to work to try and get a resolution, but I just hope your viewers will understand that this is not about politics.
"I have the support of Conservative MPs here for what I am saying - it is not posturing."
He confiirmed that - if tougher local restrictions are imposed - he would tell people to follow the law.
But he said: "I do worry that if the government is going to go down this route of imposing these punishing lockdowns on local areas, I think it will lose the public support that it will need to try and help us all as a country rise to the fight against this pandemic this winter."
What else is happening in the UK today?
Hopefully that brings you up to speed with the latest situation in Greater Manchester (and Whitehall). But there is also plenty of other coronavirus news in other parts of the UK.
So what are those other headlines?
Analysis: Friends and enemies in the North
Laura Kuenssberg - Political editor
On Monday evening, the two sides couldn't even agree on what they actually discussed earlier.
Believe the local leaders, and on Monday morning there seemed to be hope in the air. Officials from central government had mooted the possibility of a hardship fund to help support low-paid workers who stand to lose out if businesses close their doors under tighter restrictions.
The message local leaders took from their meeting was that, while the Treasury is adamant they are not going to extend their national furlough scheme - nor increase the level of cash available from its replacement, the Job Support Scheme - Westminster might sign off extra money that could be spent that way, if local politicians saw fit.
There was no concrete agreement on the numbers, but sources in Greater Manchester suggest the cost of supporting those who need the extra help comes in at around £15m a month.
After that call, the consensus among North West leaders was moving in the direction of signing on the dotted line, with another call planned with Communities Secretary Robert Jenrick for the afternoon.
But rather than ushering in a new spirit of co-operation, that meeting went south.
Read more here
.
New restrictions planned around Europe
Bavaria has imposed strict measures in several areas to contain the virus
So how does the UK compare with anti-coronavirus measures being ramped up in other European countries. Here's a round-up of the latest developments in six of our continental neighbours.
A district in
Bavaria
will go under lockdown from 14:00 (12:00 GMT) this afternoon, the first area of
Germany
to do so since the spring. You can only leave home in
Berchtesgadener Land
for shopping, work or other valid reasons. The local infection rate over the past week has hit 272.8 per 100,000.
Compare that rate with
Spain's Navarre
region, where infections have hit 945 cases in 100,000 residents. From Thursday, movement in and out of the area will be barred for two weeks and bars and restaurants will close, but takeaways will still be allowed.
Ireland's
strict level 5 measures come into force from midnight tomorrow and the cabinet meets today to consider what extra measures need to be taken. People across the country are being asked to stay at home -
you can read more here
.
Belgium
has had its first night of curfew, allowing only essential movement from midnight to 5am. Another 269 Belgians have been admitted to hospital with Covid-19 in the past 24 hours.
The
Italian
region of
Lombardy
has asked the national government to impose a regional curfew from Thursday, amid predictions of a steep rise in use of intensive care beds.
France
has reported more than 2,000 people in intensive care for the first time since May. More than half the intensive care beds in the Paris region are in use.