Summary for Friday, 9th October


Several European countries register record spikes in new daily cases; bars are shut in four more French cities

President Donald Trump is ready to return to public duties at the weekend, according to his doctor

UK output expanded by 2.1% in August, lower than expected and despite government help for restaurants

Chancellor Rishi Sunak is expected to announce more help for UK jobs and businesses later

China is joining the international Covax scheme to get vaccines to developing countries

Nearly 37 million cases have been confirmed globally with more than 1.06 million deaths, according to Johns Hopkins University

Good morning to those of you in the UK who are just waking up. Here are the top stories on the pandemic in the UK:
Here are the latest global developments:


US President Donald Trump is ready to return to public events, his doctor says

Germany and the Czech Republic both see further infection spikes

India reports more than 70,000 confirmed daily cases and nearly 1,000 deaths

China joins the global Covax initiative to help pay for and distribute vaccines

World infections cross the 36.5-million mark, with over 1.06 million deaths

Stay with us - we'll be bringing you experts' analysis, first-hand eyewitness accounts, and reports from BBC correspondents around the world.
Madrid lockdown tussle as infections rise in Europe
Spain's
government imposed a partial lockdown on 4.78 million people in
Madrid
last Friday night but a court has overturned it, intensifying a political row with the capital's political leaders. For now Madrid regional president
Isabel Díaz Ayuso
says residents should stick within the city limits. But she rejects the state of alert PM Pedro Sánchez insists on. He's given her an ultimatum ahead of a long holiday weekend.
Brussels
Premier Rudi Vervoort has tested positive as
Belgium
today begins new measures to control the spread. The whole Brussels regional government went into self isolation on Wednesday night and a Flemish minister's office colleague has died of the virus. Belgians can now keep only three close contacts, let four people into their homes at the same time, and cafes have to close at 23:00.
Chancellor Angela Merkel will hold video talks with the mayors of 11 of
Germany's
biggest cities today – 4,516 new cases have been reported today and 487 more people are in intensive care.
Czech
health officials have recorded 5,394 new infections – the third time this week the republic has seen a record number since the pandemic began. More than 100 deaths have been recorded this week and there has been a big jump in hospital admissions. Restaurants and pubs will start closing at 20:00 from tonight, and gyms, swimming pools and zoos are shutting.
As infections rise sharply in the
Netherlands
, dozens of people have been arrested during a protest against Covid measures in
The Hague
. Twenty staff have tested positive at a hospital in the south-eastern province of Limburg.
Four more French cities to shut bars
The French government has imposed tighter coronavirus restrictions in four more cities with high infection rates.
Lyon, Lille, Grenoble and Saint-Etienne will become zones of maximum alert from Saturday.
Bars and restaurants will have to close, as they did in the capital Paris earlier this week and Marseille last month.
The measures were announced as France reported a near-record 18,129 new cases on Thursday.
Read our full story
How did some UK areas come off the Covid-19 watchlist?
In the UK, the government has a Covid-19 watchlist which categorises different local councils as "areas of concern", "areas of enhanced support" or "areas of intervention".
The number of areas on the watchlist has swelled over the past three months to 96.
Some, like Leicester and Greater Manchester, have been under tighter restrictions than the rest of England since the summer, while other areas have come off the watchlist altogether.
Four areas - Hertsmere, Northampton, Peterborough and Swindon - all came off the watchlist recently. Officials identified three key reasons why this may have happened for them but not for others.
So what are those reasons? And how can an area get itself off the list?
Our reporter has looked into it.
Why are infections rising again in US?
With about 7.5 million coronavirus cases, the US has the highest number of confirmed infections in the world - about one fifth of the global total despite having only 4% of the population.
After the initial spike in late March, social distancing restrictions gradually brought infections to heel. By May, case numbers had stabilised. But as states peeled back lockdown measures, cases began to rise, reaching a countrywide high in July.
As summer hotspots - like Arizona, Florida and California - brought their outbreaks under control, surges have developed elsewhere, with fast-moving outbreaks in North Dakota, South Dakota and Wisconsin.
In recent weeks, infections have risen steadily, with national cases increasing for three weeks in a row.
Read our full story here
End of government handouts 'could push 15 million' into poverty in Brazil
President Jair Bolsonaro of Brazil managed to alleviate the economic impact of the pandemic by introducing monthly emergency payments to more than 67 million people.
A study by the FGV higher education think tank said the monthly handouts - which started at £83 ($107) but have now been cut by half - pushed the number of poor Brazilians to a new low of around 50 million people.
But the handouts are due to expire in December and, unless the government manages to approve the extension of subsidies, 15 million people will be thrown back into poverty, according to FGV.
Bolsonaro - who saw his popularity rise thanks to the payments - is trying to keep income support. But efforts are stalled in Congress amid disagreements over how to fund them without breaking a constitutional spending cap and worries about the country's budget deficit.
"We're between a rock and a hard place," FGV economist Marcelo Neri told Reuters news agency.
There are also fears that the pandemic will lead to a sharp rise in unemployment amid a deep recession.
Brazil has been hard hit by Covid-19, with Bolsonaro being widely criticised for his handling of the pandemic. He downplayed the virus at the beginning, saying it was just a "little flu", and opposed measures suggested by health experts, such as social distancing.
The country has confirmed nearly 5.03 million cases - the world's third-highest number - with 148,957 deaths, according to the health ministry.
Dutch 'intelligent' lockdown fails to contain virus
Anna Holligan - BBC News Hague correspondent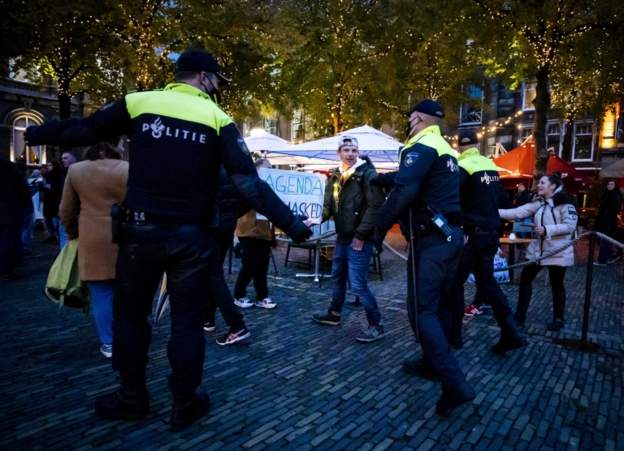 There have been protests against emergency coronavirus bills in front of the parliament in The Hague
Arrests at protests, intensive care doctors turned patients - these certainly weren't the intended effects of the Netherlands self-proclaimed "intelligent" lockdown.
As the number of new coronavirus cases sky-rocketed to almost 6,000 overnight, the figures are surpassing the Dutch government's own predictions.
On Thursday evening, about 80 demonstrators were arrested near the parliament building in The Hague, gathered in protest against an emergency law designed to give the government's Covid-19 measures a legal foundation.
Tensions are intensifying among those concerned about losing their civil liberties and others worried the liberal government's reluctance to curtail freedoms has resulted in the country now having one of the world's most rapidly rising infection rates.
Twenty operating theatre staff tested positive after an outbreak at a hospital in Limburg province, including three surgeons. One of them is now being treated in the intensive care unit of their own hospital.
No modifications to the existing rules - which include bars closing at 22:00 local time and wearing a face covering "strongly advised" in enclosed public spaces - are expected until next week when the impact of current measures can be assessed.
One headline on the Dutch public service broadcaster's website this morning reads "Where are you still welcome as a Dutch person this autumn holiday?"
You may be surprised to discover six countries in Europe are still prepared to accept residents from what's now the European coronavirus hotspot.
Australian parliament backs tax cuts plan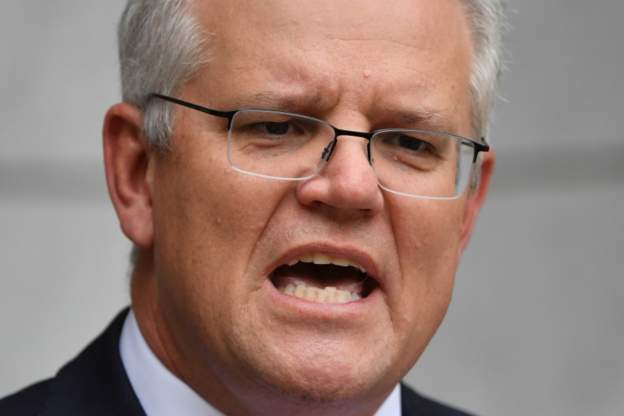 PM Scott Morrison's government presented the federal budget earlier this week
The Australian government's tax cuts programme affecting millions of people has been backed by parliament.
The cuts, initially due to kick in in 2022, have been backdated to July this year as part of the government's coronavirus budget unveiled three days ago.
The tax office will now update the Pay As You Go tables, meaning employees will get more money in their paypackets "before the end of the year", Treasurer Josh Frydenberg was quoted as saying.
China in 'vaccine diplomacy' push
Robin Brant - BBC News, Beijing
There's diplomacy, there's mask diplomacy and then there's vaccine diplomacy.
China is determined to increase its influence at multilateral - and often regulatory - bodies like the United Nations and the World Health Organization.
This pledge to support Covax is fresh evidence of that commitment.
The scheme is aimed at distributing two million doses of a vaccine across the world, particularly to developing nations, by the end of next year.
The move is also though an element of what is certain to be "vaccine diplomacy", as China seeks to repair its image across a world dealing with a pandemic which originated in its borders.
We don't know the specifics of the financial commitment to Covas - but it's a commitment that the US has not made.
President Donald Trump has labelled the organisation behind it, the WHO, "corrupt".
Stepping in where the US, and Russia, have so far refused to go demonstrates China's wish to ensure what it called an "equitable" distribution of a vaccine.
But there are plenty questions that remain: will China, or indeed others, act unilaterally to give a vaccine to favoured nations?
Will it reveal more about the vaccines it says it's given to thousands of key workers who are not part of the official human trials?
Balkan nations record infection spikes
Guy De Launey, BBC Balkans Correspondent
Countries in the Balkans are scrambling to limit the spread of coronavirus after many of them reported record numbers of new cases in the past 24 hours:


Croatia - 542

Bosnia - 453

Slovenia - 387

North Macedonia - 364

Even where records remain unbroken, there is cause for serious concern.
Almost a third of tests carried out in Montenegro came back positive.
In comparison, just 2.5% of Serbia's coronavirus tests confirmed an infection.
Slovenia's authorities had already been alarmed by the rising numbers of cases in the country. Police are enforcing new restrictions from Friday, including a ban on gatherings of more than 10 people.
But some events will still be allowed to go ahead with as many as 500 people if they secure a licence - including religious services and sports fixtures.
Croatia's authorities say they are preparing new measures, including the compulsory use of facemasks indoors.
But in the meantime, there was one piece of good news: Italy is removing Croatia from its travel "red list". That means crossing borders will be possible without a negative coronavirus test or quarantine for the first time since August.