Summary for Sunday, 4th October


President Trump, who is spending a second night in hospital after being diagnosed with Covid-19, says: "I'm doing well"

Earlier, doctors said he was responding well to treatment but the White House chief of staff then spoke of "critical" days ahead

Trump's doctor says he misspoke when he said the president had been diagnosed more than a day before he told the nation

Meanwhile the UK announced more than 10,000 new cases on Saturday - but the spike was partially blamed on a technical issue with counting

US First Lady Melania Trump is among a growing group of people around Mr Trump who also have the virus - she is recuperating at the White House

Trump, 74, has been criticised for playing down severity of virus and often spurning masks and social distancing

If you're just joining us...
If you're just waking up and joining our live page, here's a recap of the main stories on Sunday:


Donald Trump has spent a second night in hospital near Washington DC after falling ill with coronavirus

He posted a video on Twitter from the Walter Reed hospital in which he said he was feeling "much better" and he was looking forward to resuming the election campaign

The president's doctor said on Saturday night that the medical team is "cautiously optimistic" but that Trump is "not out of the woods yet"

His statement came after mixed messages from the hospital and the White House - the president's chief of staff said earlier on Saturday that the president's vital signs over the last 24 hours had been "very concerning" and that the next 48 hours would be critical

A well-attended event on the White House lawn is coming under scrutiny after eight people there, including Trump and his wife Melania, are confirmed to have tested positive. Many attendees sat close together and did not wear masks, while some bumped fists, shook hands or even hugged one another in greeting

Trump's election campaign has announced it will continue at full speed with politicians and family members standing in for the president while he is hospital. Democrats Joe Biden and Kamala Harris have continued their campaigning

Republicans say that the hearings for Trump's Supreme Court pick Amy Coney Barrett will go ahead from 12 October, despite a rising number of coronavirus cases among senators. Democrats have called for the hearings to be re-scheduled

Who has tested positive around Donald Trump?
The number of people who work with Donald Trump who have tested positive for coronavirus has been growing since the president confirmed he had contracted the virus. Late on Saturday night in Washington one of Trump's personal assistants said he had Covid-19, according to US media.
Among those who tested positive are:


First Lady Melania Trump

Campaign adviser and former New Jersey Governor Chris Christie

Close aide Hope Hicks (believed to be the first to show symptoms)

Campaign manager Bill Stepien

Former White House counsellor Kellyanne Conway

Republican Senator Mike Lee

Republican Senator Thom Thillis

Ronna McDaniel, Republic National Committee chairwoman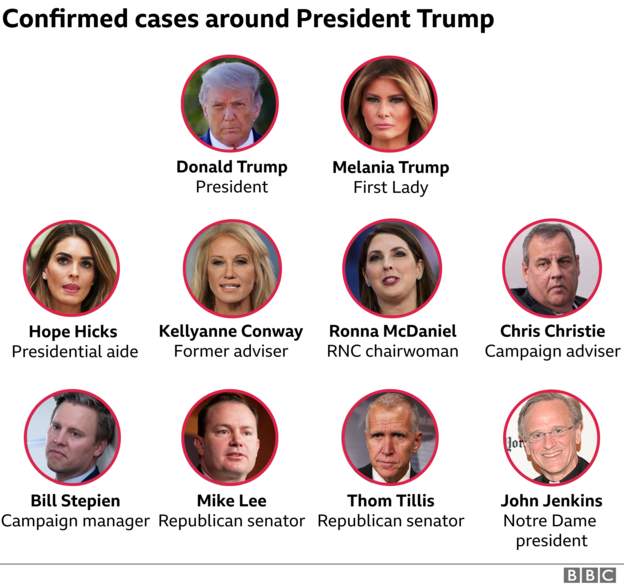 What's happening in the UK?
Good morning and a very warm welcome to our live coverage if you're just joining us. Here's a round-up of the main headlines from the UK:
What's happening around the world?
Unsurprisingly, the news around President Trump is dominating headlines this morning. But let's take a look at what else is happening with the pandemic around the world:


Thousands of Israelis have protested against Prime Minister Benjamin Netanyahu and his handling of the coronavirus crisis. The street protests took place in defiance of a new law imposing curbs on public gatherings, with the largest crowds seen in Tel Aviv

The human rights group Amnesty International has said Australia risks action at the United Nations if it fails to bring home thousands of its citizens left stranded overseas because of travel restrictions in place due to the pandemic

Also in Australia, daily infections in the hotspot state of Victoria rose on Sunday. But officials there said restrictions are still likely to be eased if the broader trend of falling cases continues

And more than 3m people in Madrid have had new restrictions imposed on their lives as Spain tries to control the most serious second wave of infections in Europe. People there can travel outside their home districts for essential journeys only

There have been almost 35m confirmed cases of coronavirus worldwide with more than 1m deaths, according to Johns Hopkins University in the US which is tracking the data