Summary for Tuesday, 29th September


The world's coronavirus death toll crosses one million, with the US, Brazil and India making up nearly half of the total, according to Johns Hopkins University

The UN secretary general calls it a "mind-numbing" figure and "an agonising milestone"

But the number is likely to be much higher as testing rates in many countries remain low, with virus-related deaths not being recorded

More than 33 million cases have been confirmed around the world, Johns Hopkins University says

The UK government reported 4,044 new cases on Monday, the third day in a row the daily total has fallen

Covid and the measures associated with it are putting the UK's health service under stress, its bosses warn

The WHO agrees a deal to provide a test that can diagnose Covid-19 in minutes to low- and middle-income countries

The Netherlands introduces new curbs, including working from home where possible, and limits on groups

One million deaths and a 'milestone' new test - The latest coronavirus news
Welcome to our rolling coverage of the coronavirus pandemic, on the day we learn the virus has now killed more than one million people around the globe.
Covid-19 researchers at the University of Johns Hopkins
now record a death toll of 1,001,646 with a total of 33,353,615 confirmed cases.
Stay with our live page to follow all the reaction, as well as other Covid-19 news and updates. You can find out more about how the virus spread across the world
here
.
The situation today:


The US remains the country with both the most reported infections and highest number of deaths. Brazil has the second highest number of recorded deaths, followed by India, Mexico and the UK

A $5 (£3.80) test that can detect Covid-19 in minutes will transform efforts to track the illness in less wealth countries, World Health Organization (WHO) Director General Tedros Adhanom Ghebreyesus said. He hailed it as a major milestone

Scientists meanwhile continue to work towards a vaccine, with nine potential vaccines already in the final stage of testing. You can read more about the hunt here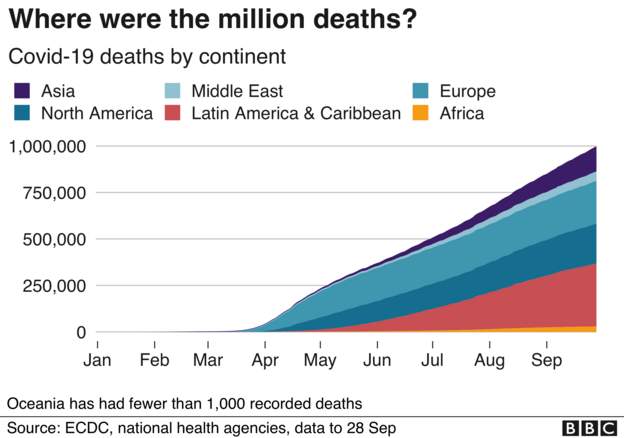 Where in the world are cases rising?
Many countries are seeing a surge in cases right now.
For some this is a second surge, after an initial peak in spring. For others, cases have been rising steadily through the year.
In Europe, including the UK, cases initially peaked in Spring.
They have started to increase again, and many countries are now reintroducing restrictions.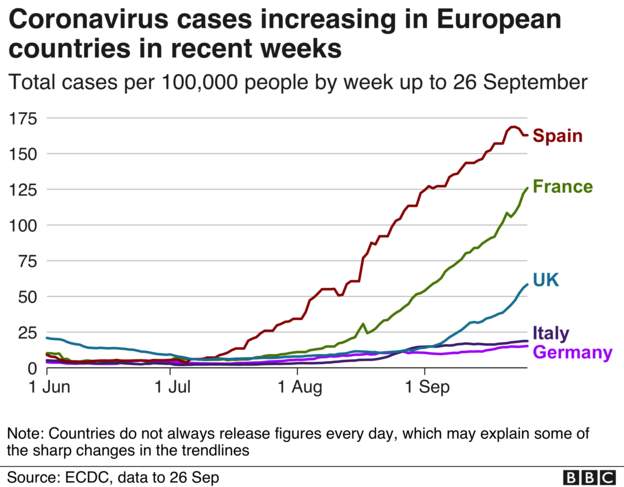 In the US, which still has the highest number of infections and deaths, the virus has surged in different states at different times throughout the year.
At the start the outbreak was centred on northern states such as Washington and New York, and in the summer cases were concentrated in southern states. Now, cases are surging in the mid-west.
And here in the UK - what's the situation like?
Amid sombre assessments as the one-million-death milestone is passed, here's a look at the coronavirus situation in the UK:
North-east England facing stricter curbs
A law prohibiting households from mixing in any indoor setting is to be introduced in the most populous parts of north-east England from 00:01 BST on Wednesday.
The Department of Health said existing local lockdown measures for Durham, Gateshead, Newcastle, North Tyneside, South Tyneside, Northumberland and Sunderland are being tightened at the request of the local councils in response to high and increasing infection rates.
Current guidance only advises residents not to mix with people outside their household or bubble in indoor settings, such as pubs and restaurants.
The DoH says the guidance will now be enforceable and subject to fines, although the law will not apply to Covid-secure schools and workplaces.
A funding package is being agreed with councils to support the measures and the rising infection rate.
Quick Covid-19 test to roll out in 133 nations
A test that can diagnose Covid-19 in minutes will dramatically expand the capacity to detect cases in low- and middle-income countries, the World Health Organization (WHO) has said.
The $5 (£3.80) test could transform tracking of Covid-19 in less wealthy countries, which have shortages of healthcare workers and laboratories.
A deal with manufacturers will provide 120 million tests over six months.
The WHO's head called it a major milestone.
The hunt for a vaccine
Scientific research is progressing rapidly. As things stand there are about 240 potential vaccines in early development worldwide, with 40 in clinical trials and nine in the final stage of testing on thousands of people.
One being developed by the University of Oxford - already in an advanced stage of testing - has shown it can trigger an immune response and a deal has been signed with AstraZeneca to supply 100 million doses in the UK alone.
A potential vaccine
has been show to produce antibodies in China, but there are concerns about the speed at which it's being made. Russian scientists also say early test of the Sputnik-V potential vaccine
showed signs of an immune response
, but again experts have questioned the speed and the small size of the earlier trials.
The WHO does not think there will be widespread vaccination until the middle of 2021, and has warned that the death toll could hit two million before on becomes widely available.
NHS faces 'triple whammy' over winter
The NHS is facing a "triple whammy" of rising Covid-19 cases, a major backlog in treatment and reduced capacity due to infection-control measures, according to health bosses.
The NHS Confederation report on the health service in England said more investment was desperately needed.
NHS bosses also called on ministers to be "honest and realistic" about waiting lists for treatment.
The government has promised an extra £3bn this winter, which is intended to help hospitals cope with the extra-infection control measures required and pay for patients to be treated privately for routine treatments, such as knee and hip replacements.
And services in other areas, such as cancer care, are running at about three-quarters capacity.
Read the full story here
.
Experts warn of fresh bout of austerity for UK
The government must choose this autumn between more austerity and permanently higher spending, experts warn.
Although the Autumn Budget has been cancelled, the Treasury is still set to publish a Spending Review containing government expenditure plans.
Because of Covid-19, public spending is likely to rise to the highest share of national income in more than a decade, says the Institute for Fiscal Studies.
If not, another bout of austerity will hit many public services, it warns.
Read more here.
'No sign of slowing death rate'
Roughly 10 months after the virus was first spotted in the Chinese city of Wuhan, the world has reported more than one million deaths. Health authorities have learnt a great deal about the virus since then, but officials fear that the rise in deaths is set to continue.
"We see no sign of slowing of the death rate," Nancy Baxter, an epidemiologist and head of Melbourne's School of Population and Global Health, told the BBC.
"There's been over a thousand deaths per day worldwide since 18 March and what seems to happen is as Covid-19 becomes controlled in one jurisdiction it gets out of control elsewhere.
"So I think that unfortunately we are looking at a similar number of deaths before a vaccine is actually found and distributed."
New restrictions a 'bolt from the blue' for Newcastle
The leader of Newcastle City Council says new coronavirus measures for his area, put in place by central government, are a "bolt from the blue".
From midnight tonight,
two million people in north-east England will see tougher measures
as a result of a surge in cases.
Labour's Nick Forbes says he had been in the midst of discussions with central government about potentially introducing some localised restrictions - but that Health Secretary Matt Hancock's announcement "threw everything up in the air".
Forbes says the "knee-jerk" announcement was made without the right local messages being in place to back it up.
"As a result, confusion and chaos spreads, which actually undermines the very messages that we're trying to get across to the public," he tells BBC Breakfast.
He issues a "plea" to the government not to announce future measures until it has spoken to local authorities.
"My worry is we've had so many messages, it's so confusing, people are now scratching their heads and saying 'well, what does it mean for me?'"
He says messages to the public should be simplified to two main points: that people should maintain social distancing wherever they go, and should try not to come into contact with anyone unnecessarily.
Pandemic to push millions into poverty, World Bank warns
For 20 years, poverty has dramatically dropped throughout most of east Asia. But now, the US-based World Bank has warned that the coronavirus pandemic could keep or push up to 38 million people in the region into poverty.
Without rapid government action the "triple shock" of the virus, lockdown measures and the global recession could cause harm for years to come.
"Sickness, food insecurity, job losses and school closures could lead to the erosion of human capital and earning losses that last a lifetime," the bank said in
a release
.
Of those 38 million, the bank said an additional five million who were not previously in poverty would fall into the bracket. They define poverty as anyone living on less than $5.50 (£4.28) a day.
In May, the World Bank warned that global growth could shrink by 5% and that
up to 60 million people worldwide could be pushed into extremepoverty
– meaning living on less than $1.90 (£1.48) a day.
State of emergency expected in two countries: Latest across Europe
The
Czech Republic
and
Slovakia
are set to declare states of emergency this week. Most big events will be banned in Slovakia from tomorrow and Czech Health Minister Roman Prymula will present proposals to the cabinet today. Czech infection rates are among the highest in Europe but have fallen in recent days.
Mein Schiff 6
was the first cruise ship to enter
Greek
waters since the pandemic lockdown – but it's now arrived in the port of Piraeus for a health inspection after 12 crew members tested positive. The 922 passengers had to provide negative test certificates before boarding. Greek reports say those crew who tested positive have now tested negative.
Facemasks are being advised in the biggest
Dutch
cities, and cafes and restaurants will have to shut early, under
new measures coming into force
.
Fourteen players and staff have tested positive at Serie A club Genoa in an outbreak that
Italy's
top football league will be watching carefully. Genoa played Napoli on Sunday and their next match on Saturday is at risk – but there are fears for top club Napoli's Sunday match against Juventus, too.
Moscow's
mayor has extended the autumn school holiday in October from one week to two because of rising infections. Sergei Sobyanin has asked parents to tell children to avoid shopping centres and not use public transport.
Minister defends virus rules as 'really simple'
More now on the local coronavirus
restrictions coming in for parts of north-east England.
Newcastle City Council says the "knee-jerk" way central government announced the further restrictions will leave people confused by what they can and can't do.
But Skills Minister Gillian Keegan says the government is trying to simplify the message as much as possible.
"There are some different rules for different areas, but by and large the main rules are really simple. Hands face space, rule of six, and be finished with your socialising before 10 (22:00)," Keegan told BBC Breakfast.
Here are some of our useful explainers if you want to check the rules: