Summary for Friday, 25th September


Industries hit hard by the pandemic in the UK are facing further uncertainty with the government's new jobs scheme

Hospitality, events and retail workers and businesses have expressed concern over job losses

Chancellor Rishi Sunak said employees must be in "viable" jobs to benefit from the wage top-up scheme

This means people working in industries currently closed, such as nightclubs, may lose out

European health officials say further restrictions may be needed to curb a sharp rise in infections

New, stricter rules are due to come into force later as Israel enters its second week of lockdown

In hard-hit Brazil, the 2021 edition of the world-famous Rio carnival parade has been postponed indefinitely

More than 32 million virus cases have been confirmed globally with almost 983,000 deaths, according to Johns Hopkins University

Good morning if you are joining us in the UK, and hello to all of you around the world. Thanks for joining us for our live coverage of this Friday's top coronavirus developments.
First, let's take a look at the top stories around the world:


Rio de Janeiro's world-famous carnival parade, which usually takes place in February, has been postponed indefinitely, organisers say. Brazil has confirmed nearly 4.7 million cases and more than 139,000 deaths, which is the second-highest number in the world after the US

New, stricter rules come into force in Israel as the country enters its second week of nationwide lockdown. On Thursday, daily cases reached yet another record high, with more than 7,500 new infections

The European Union's health commissioner has warned that Europe is at a "decisive moment" in the pandemic

France's prime minister has warned of the possibility of a second lockdown as daily cases in the country passed 16,000 on Thursday

The spread of cases in the Spanish capital Madrid have brought the country's total number of cases to above 700,000. Health authorities have warned of difficult weeks ahead for the city

More than 32 million cases have been confirmed worldwide, with almost 983,000 deaths, according to figures from Johns Hopkins University

News across UK
Workers and businesses in hospitality, events and retail have expressed concern after
they missed out on help from the chancellor's emergency jobs support
. Rishi Sunak has said jobs must be "viable" to get support, meaning businesses that remain closed, such as nightclubs, may lose out.
Here are some of the other top stories in the UK this morning:
Latest across Europe
Restaurateurs and cafe and bar owners in
France
's second city Marseille are taking part in a protest against closures imposed by the government that come into force on Saturday because of the rise in infections. A record 16,096 new infections were announced nationally on Thursday, and Prime Minister Jean Castex was confronted on TV by a Marseille restaurant owner. "We will compensate you for the losses you suffer," he promised.
Italy
has been the poster child so far for preventing a second surge - but there was a 1,786 rise in new cases on Thursday, with 10 new deaths. Health Minister Roberto Speranza has warned "we must keep our feet on the ground and carry on adopting a prudent approach".
Around a thousand Willem II football fans in the
Dutch
city of Tilburg celebrated their first European football for 15 years with a big party and a big screen - but no hint of any social distancing. Local authorities say it was better having an organised event than house parties. Willem II lost 4-0 to Rangers.
There is concern about the spread of the virus in
Greece
too - 342 new cases and nine deaths in 24 hours. Prime Minister Kyriakos Mitsotakis says Greeks must do all they can to protect themselves to avoid an unwanted new lockdown.
UK 'going back to 1980s' levels of unemployment
Labour's shadow chancellor Annelise Dodds said she was "concerned" that Rishi Sunak's Jobs Support Scheme may not offer employers enough incentive to save jobs rather than making redundancies.
She told BBC Radio 4's Today programme that was the "million dollar question".
"It looks currently like at some levels of pay it may not provide that level of incentive," she said.
Dodds said unemployment levels were rising "very substantially" and "going back to 1980s levels".
She welcomed the measures to extend government-backed loans to business and to continue VAT changes, but said the government needed to do more on retraining and was "quite far behind other countries" on stimulating green jobs.
We have more details about the scheme here.
How will UK's Job Support Scheme work?
Chancellor Rishi Sunak set out plans on Thursday to help workers and businesses hit by new coronavirus restrictions. Here are the key points:


The government will subsidise the pay of employees who are working fewer than normal hours due to lower demand

It will apply to staff who can work at least a third of their usual hours

Employers will pay staff for the hours they work

For the hours employees cannot work, the government and the employer will each cover one third of the lost pay

The grant will be capped at £697.92 per month

All small and medium-sized businesses will be eligible

Larger business will be eligible if their turnover has fallen during the crisis

It will be open to employers across the UK even if they have not used the furlough scheme

It will run for six months starting in November

Israel prepares to tighten lockdown
New, stricter rules are due to come into force later as Israel enters its second week of lockdown. On Thursday, Prime Minister Benjamin Netanyahu warned that the country was at "the edge of the abyss".
The new rules, which are still being finalised by parliament, are due to come into effect from 14:00 local time (11:00 GMT) and will include closing non-essential private businesses and further restrictions on movement.
Synagogues are expected to only open for small groups on Sunday for Yom Kippur, Judaism's holiest day, and the size of protests would be limited.
Israel has recorded 214,000 cases and 1,378 deaths since the pandemic began - one of the highest rates in the world given its population of around 8.9 million.
Life for students on lockdown
Students across Scotland are being asked to self isolate due to outbreaks, and a major outbreak at the University of Glasgow University has led to 172 testing positive with 600 students in isolation.
Lucy Owens is one of them, telling BBC Breakfast that she has lost her sense of smell but is otherwise "fine". She said it was "strange" adjusting to life away from home under these circumstances. "We don't know what uni life is supposed to be like. We know it's not meant to be like this."
Lucy said the outbreak "happened so quickly" and now she did not know of any student flats without a positive case.
Her flatmate Nell Manson added: "It's kind of scary because some people have worse symptoms than others, no one has the same symptoms even in our flat. It's quite worrying that you might develop the worse ones."
But asked if they would have done anything differently to prevent the outbreak, Lucy said: "I think it was inevitable bringing this many students."
Glasgow student: Freshers' week was quite out of control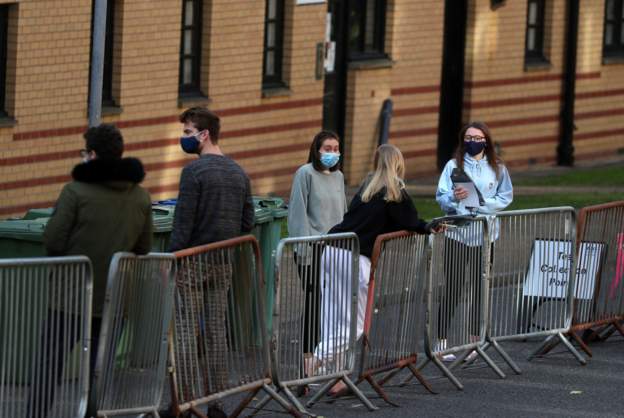 Test centres have been set up at Glasgow University after a major outbreak among students
Sam, a first year student at Glasgow University who has tested positive for coronavirus and is among 600 self-isolating after a major outbreak, told BBC Radio 4's Today programme that "there were many people breaking the rules, there's no denying that".
"I'm pretty sure if you asked any student they would say that freshers' [week] was quite out of control," she said.
But Sam, who lives with nine flatmates, said there was little support for students or enforcement of social distancing rules at university. She said when her flatmate first tested positive, they were unable to get food delivered from the supermarkets and the university did not respond to requests for help.
"There wasn't really much security and the only real threat of discipline was repeated emails telling us to stay in the flat," she said, adding that crowds of people gathered outside their building and no attempt was made to disperse them.
Since the interview, Glasgow University has got in touch with the student to offer support.