Summary for Wednesday, 23rd September


UK PM Boris Johnson has urged people to observe the new coronavirus restrictions announced on Tuesday

The measures in England and Wales include a 22:00 curfew for pubs and, in Scotland, a ban on households mixing

The PM warned that the government would go further if the measures were ignored

Hundreds of students in Dundee have been told to self-isolate following a suspected outbreak in a halls of residence

US President Donald Trump has described the 200,000 US deaths from coronavirus as "a shame"

Speaking at the UN General Assembly, President Trump blamed China for the spread of Covid-19

The latest figures collated by Johns Hopkins University show there have been at least 970,000 deaths from the virus worldwide

Hello and thanks for joining us as we bring you live updates of the latest coronavirus news from the UK and around the world.
Here's a reminder of the top stories so far:


More than 200,000 people are known to have died from coronavirus in the US, according to figures collated by Johns Hopkins University – the highest death toll of any country. More than 6.8 million Americans have also been infected

US President Donald Trump said the deaths were a "shame", and accused China of "unleashing" the virus

New coronavirus restrictions have been announced in England and Wales, including earlier closing times for pubs and encouraging people to work from home wherever possible. Prime Minister Boris Johnson said the measures were likely to remain in place for the next six months

Scotland has also introduced new measures, including a ban on meeting inside other people's homes. Northern Ireland has already banned households from mixing indoors

The EU leaders' summit – which was due to begin on Thursday - has been postponed until October after a security guard tested positive for Covid-19

UK morning summary
Here's a more detailed look at this morning's main headlines from around the UK to bring you up to speed:
Trump attacks China as US deaths pass 200,000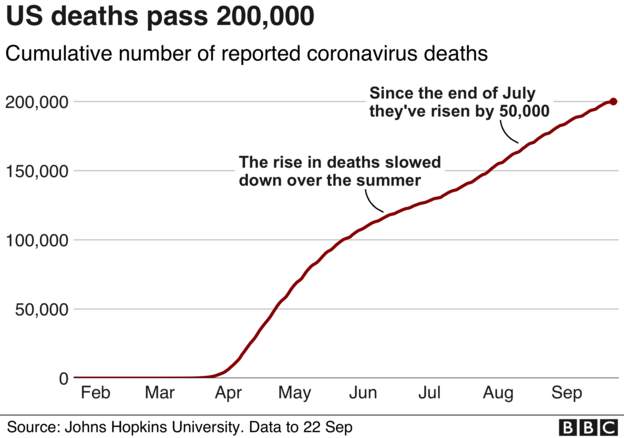 As we've already reported, coronavirus deaths in the US passed 200,000 on Tuesday – the highest death toll in the world.
President Donald Trump said the new figure was a "horrible thing" and repeated his previous claims that China "should have stopped" the virus.
He also defended his record on the pandemic, claiming that had the US not taken action, "you could have two million, 2.5 or three million" dead.
But the president has faced strong criticism for his handling of the crisis.
"Due to Donald Trump's lies and incompetence in the past six months, [we] have seen one of the greatest losses of American life in history," Democratic presidential candidate Joe Biden said earlier this week.
"The idea of 200,000 deaths is really very sobering, and in some respects, stunning," the US's top infectious disease expert, Dr Anthony Fauci, told CNN on Tuesday.
Latest around Europe
Austria
's VSV consumer association launches a class action lawsuit today on behalf of 6,000 ski tourists who say they caught Covid-19 at Ischgl and other Alpine resorts in late February and early March. Lawyer Alexander Klauser told the BBC that "had they been warned. they would not have come to Austria".
You can read more about the outbreak here
.
In
Germany
, Bavarian Premier Markus Söder is warning of a potential "football Ischgl" ahead of tomorrow's Uefa Super Cup final in Budapest between
Bayern Munich and Sevilla
. Although many of the two teams' allocated 6,000 tickets aren't being taken up, 20,000 fans are expected in the stadium, and Germany's health watchdog sees the
Hungarian
capital as an area of risk.
Spain
has reported 241 more deaths in 24 hours – the highest number since 6 May – and 10,799 new infections.
France
has seen 10,008 new cases in the past 24 hours, and new measures are expected later for Paris in particular.
Eyes in
Belgium
are on this morning's security council meeting where the country's unpopular five-person social bubble, in place since July, is likely to be relaxed. They've been looking at a colour-coded system for each province which would depend on hospital admissions.
Hundreds of students told to self-isolate
More now on the development in Scotland, where hundreds of students have been told to self-isolate after a suspected Covid-19 outbreak in a university hall of residence.
NHS Tayside is investigating a single positive case and a small number of suspected cases linked to Parker House in Dundee.
Close contacts of the positive case, who is a student of Abertay University, are being contacted.
All 500 residents at the accommodation have been asked to self-isolate until contact tracing has been completed.
Read more
here
.
Saudi Arabia to resume Umrah pilgrimages
Muslims will once again be able to visit the holy city of Mecca for the Umrah pilgrimage, Saudi authorities have announced, seven months after it was suspended because of the pandemic.
People living inside the kingdom will be able to undertake the pilgrimage from 4 October, the country's state news agency SPA reports.
Pilgrims from certain other countries will be allowed from 1 November, with the numbers of pilgrims allowed to take place each day rising from 6,000 to 20,000.
Full restrictions on numbers will only lifted after the threat from coronavirus has ended.
The Umrah is the lesser of two pilgrimages that exist in Islam and can be performed at any time of the year.
The annual Hajj pilgrimage, on the other hand, is a requirement of all Muslims who are physically and financially able to take part and normally attracts around two million people.
This year, only a very small number of pilgrims already residing in Saudi Arabia were allowed to attend due to the pandemic.
Middle school classes resume in Pakistan
M Ilyas Khan - BBC News, Islamabad
Middle school students in three of Pakistan's four provinces have returned to their classes this morning, kicking in the second phase of the government's planned three-phase reopening of educational institutions that have remained closed for over six months due to the coronavirus pandemic.
If all goes well, nursery and primary school classes will reopen on 30 September. Sindh province has meanwhile decided to delay the reopening of middle schools until 28 September.
Officials in the federal capital, Islamabad, said yesterday that middle schools were allowed to resume as the reopening of the higher classes on 15 September did not lead to any uptick in new infections.
During the first phase, safety precautions were enforced and more than 20 educational institutions were closed for various durations when some of their students or staff members tested positive for Covid-19.
Officials say such monitoring will continue in the second phase as well. Pakistan's decision to reopen educational institutions has come amid a steep decline in new infections since June.
UK 'about to repeat' the mistakes of March - scientist
Prof John Edmunds, a member of the UK's Sage scientific advisory group but speaking to BBC Radio 4 in a personal capacity, said "we haven't learned from our mistake" in delaying action in March and "we're unfortunately about to repeat it".
The scientist from the London School of Tropical Medicine and Hygiene told the Today programme: "I don't think the measures have gone anywhere near far enough."
"I suspect we will see very stringent measures coming in place throughout the UK at some point, but it will be too late again," he said.
He said that we will have let the epidemic "double and double and double again" before stricter measures are introduced, which will mean "the worst of both worlds" because it will mean "putting the brakes on the epidemic for a very long time, very hard".
Health chief hails African leadership in Covid-19 fight
The head of the Africa Centres for Disease Control (CDC) has praised African leaders for supporting a joint continental strategy to deal with the coronavirus pandemic.
John Nkengasong told the BBC's Newsday programme that public health initiatives on the continent, including increased testing, contact tracing and wearing of face masks, had led to a drop in new coronavirus cases.
The World Health Organization (WHO) previously said the Covid-19 outbreak in Africa may have passed its peak. On Monday it released fresh data that indicated Africa had reported a 12% drop in new virus cases.
Dr Nkengasong said:
 Our numbers reflect the public health efforts and leadership as the continent has rallied around a joint continental effort scaling up testing and following up contact tracing and very importantly masking.Our numbers reflect the public health efforts and leadership as the continent has rallied around a joint continental effort scaling up testing and following up contact tracing and very importantly masking.
He said the continent's experience with diseases like Ebola had helped countries to develop contact tracing measures that have helped in dealing with the coronavirus pandemic.
He said the early interventions put in place by different countries also helped in containing the virus.
Read:
  This virus is in the community and without a strong community response and engagement there's no chance that we can fight and that is what we are doing.
This virus is in the community and without a strong community response and engagement there's no chance that we can fight and that is what we are doing.