Summary for Monday, 14th September


A record one-day rise in the number of new coronavirus cases around the world has been recorded

The World Health Organization (WHO) says 307,930 confirmed infections were reported over 24 hours

Israel has become the first country to announce it will reimpose a second nationwide lockdown later this week

Restrictions banning social gatherings of more than six people have come into effect in England and Scotland

New Zealand's PM Jacinda Ardern says restrictions will be lifted across the country on 21 September - except for Auckland

Thousands of health workers took part in a protest in Brussels, urging the government to invest in the healthcare system

President Trump held his first fully indoor rally in months in Nevada, despite officials warning that it violated Covid restrictions

Good morning - if you are joining us in the UK - and welcome to our live coverage of the coronavirus pandemic.
We will bring you the latest updates from the UK and around the world throughout the day.
Here is a recap of the latest key developments worldwide:


In parts of the UK, new rules come into force today banning social gatherings of more than six people. In England, the "rule of six" applies both indoors and outdoors and includes children of all ages - but the rules vary in Scotland and Wales

On Sunday, the World Health Organization (WHO) reported a record daily increase in cases, with 307,930 reported over a 24-hour period

The same day, US President Donald Trump held his first indoor rally in nearly three months - despite warnings that the gathering could violate Covid restrictions - as coronavirus deaths in the country approach 200,000

Israel has announced a second lockdown starting this Friday, after recording 4,000 new infections. But the three-week restrictions will coincide with the Jewish New Year and one Ultra-Orthodox minister has resigned in protest

Prime Minister Jacinda Ardern says New Zealand will lift coronavirus measures across the country from 21 September – although restrictions will remain in place in Auckland, which has recorded a spike in cases

In Italy – the first country to be seriously struck by the pandemic in Europe – children are returning to school for the first time in six months

Record number of daily global cases
The number of daily infections worldwide reached a new record on Sunday, with 307,930 new confirmed infections, according to the World Health Organization (WHO).
More than 5,500 new deaths were also recorded, bringing the global total to 917,417.
The biggest increases in infections were reported in three countries, with 94,372 in India, 45,523 in the US and 43,718 in Brazil.
The news comes as a WHO official has warned that Europe is likely to see a rise in the number of daily deaths in October and November.
"It's going to get tougher... in October, November, we are going to see more mortality," WHO Europe director Hans Kluge told the AFP news agency today.
The number of cases has been rising in a number of European countries in recent weeks, with Spain and France experiencing the largest spikes
What are the new rules on socialising in parts of the UK?
New rules for England, Wales and Scotland have come into force this morning, banning people from meeting socially in groups larger than six - in response to recent rises in Covid-19 cases.
The restriction, known as the "rule of six", applies both indoors and outside in England and Scotland. But it only affects indoor gatherings in Wales.
And in Wales and Scotland the restriction does not include children under 11 and 12 respectively.
In Northern Ireland no rule change has been announced - up to six people from two households can meet indoors in private homes and up to 15 people can meet outdoors.
The new measures will mean groups larger than six can be broken up by police and they can be fined.
Find out more:
What are the new rules?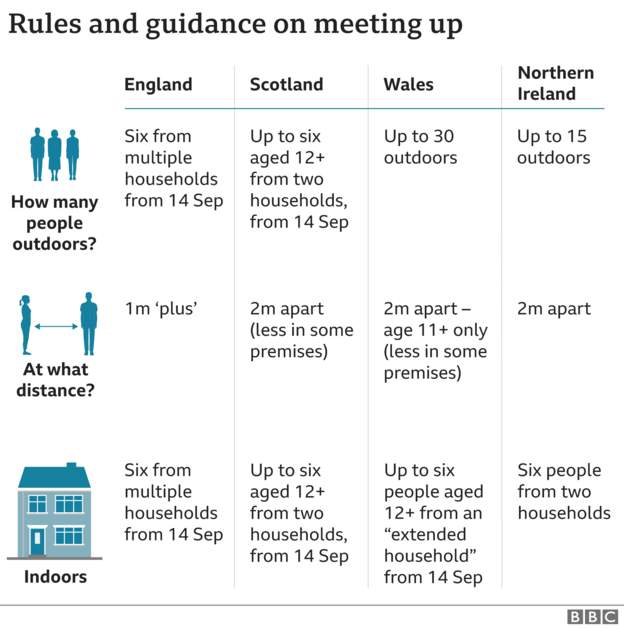 NHS tells GPs they must offer patients face-to-face appointments
Half of the 102 million GP appointments from March to July were by video or phone call, NHS Digital says.
Now NHS England is writing to all practices to ensure patients know doctors can be seen in person if necessary.
It says research suggests nearly two thirds of the public were happy to have a phone or video call with their doctor - but that, ahead of winter, they wanted to make sure people knew they could see their GP if needed.
Meanwhile, the Royal College of GPs says any implication doctors had not been doing their job properly was "an insult".
Prof Martin Marshall, chairman of the Royal College of GPs, says: "The college does not want to see general practice become a totally, or even mostly, remote service post-pandemic.
"However, we are still in the middle of a pandemic. We need to consider infection control and limit footfall in GP surgeries - all in line with NHS England's current guidance."
Read more here
.
Israel announces new nationwide lockdown
Israelis are now preparing for their second lockdown since the pandemic began, but the decision is proving to be controversial.
Cases in the country, which has a population of just nine million, have risen to around 4,000 per day, according to Prime Minister Benjamin Netanyahu.
The new measures come into effect on Friday
and will last for three weeks.
One minister has resigned over the new lockdown, which will overlap with key Jewish festivals.
Trump's indoor rally angers local officials
As the November presidential election approaches, US President Donald Trump has held his first indoor campaign rally in three months.
But the event angered local officials, who said the size of the crowd violated state rules banning gatherings of more than 50 people.
Participants at the rally in Henderson, Nevada, were seated close together and most did not appear to be wearing face masks. A number of media outlets, including CNN, did not send their crews for safety reasons.
The president's last major indoor rally in Tulsa, Oklahoma, in June caused controversy, with a number of staffers testing positive for coronavirus just hours before the event began.
The US has confirmed almost 200,000 Covid-19 deaths since the pandemic began, the highest figure in the world.
First-time 'rule of six' offenders 'should be encouraged to comply'
Today Programme - BBC Radio 4
First-time offenders found to have breached the "rule of six" restrictions - brought in in England today - should not be fined, a policing minister says.
Kit Malthouse says those who have gathered in groups of seven or more, from different households, should first be encouraged to comply by police.
Fines are £100 for a first offence, doubling on each further offence up to £3,200.
Malthouse says concerned neighbours should ring the non-emergency police phone number to report violations.
Martin Hewitt, chairman of the National Police Chiefs' Council, says he accepted that rule changes were "confusing for the public", telling BBC Breakfast it had been "challenging" for police.
"We are part of the group that are trying to explain to members of the public what the rules are and encouraging people to comply with them," he says.
Find out more:
What are the new rules?
Australian health official under police protection
Queensland's chief health officer, Jeannette Young, says she's been placed under police protection after receiving death threats.
Young said today she felt "safer" with the guard.
There has been growing anger over Queensland's decision to close its borders with neighbouring Australian states in a bid to prevent the spread of coronavirus.
Last week, four Australian children desperate to travel from Sydney, New South Wales, to Brisbane to see their dying father were told the family must pay A$16,000 (£9,000) in hotel quarantine fees to see him.
"We are in the midst of a global pandemic and we need to protect our communities, especially the most vulnerable members," Queensland Health said in response.
Read
more about that story here
.
Beijing's back and forth lockdown
Much of China has returned to a more normal pace of life after authorities began easing coronavirus lockdowns in late spring. But, as many cities have found out, the relaxed measures can be short-lived.
In June, Beijing experienced a sudden surge of cases linked to a wholesale market, leading authorities to immediately quarantine close contacts, lockdown nearby areas, and mass test residents.
So how are residents in the Chinese capital coping with the new "normal"?
Public 'should take responsibility over rule of six' - police
Today Programme - BBC Radio 4
More from Martin Hewitt, chairman of the National Police Chiefs' Council, who says that if police are called to a violation of England's "rule of six" on social gatherings, officers will speak to the group in the first instance.
"We will then encourage people to comply," he says.
"Only in circumstances when people refuse to comply we will fine."
There is a fine of £100 for a first offence, doubling on each further offence up to £3,200.
Hewitt says he is "not encouraging anybody to shop their neighbours", but if people are deliberately breaking the law "we would expect members of the public to take responsibility to report that".
But former Supreme Court justice Lord Sumption says the new regulations are "unenforceable", and are "only enforceable with an army of snoopers and informers and that is the kind of thing the police rightfully abhor".
Where are the UK's local lockdowns?
As of 11 September, parts of north-west England, West Midlands, West Yorkshire, Leicester, Scotland, Wales and Northern Ireland are under local lockdown.
You can find out which places in
England
,
Scotland
and
Wales
have imposed extra restrictions in our online coverage.
No return to school in Venezuela until at least 2021
Venezuelan President Nicolás Maduro announced on Sunday that schools wouldn't reopen until 2021 at the earliest.
"It's not helpful for the control of the pandemic," Maduro said about face-to-face classes, which had been due to resume this month.
He said teaching would be moved online and lessons would also be broadcast on a state TV channel.
But many parents have warned that with Venezuela's internet speed one of the slowest in Latin America, further interrupted by frequent power cuts, neither online nor TV classes are a viable alternative.
Critics of Maduro also say they fear lessons broadcast on state channels will be used by the socialist government to "indoctrinate" children.
Venezuela has more than 60,000 confirmed cases of coronavirus - a much lower figure than its neighbours Colombia and Brazil - but health workers say a lack of widespread testing means the real figure is likely to be much higher.