Summary for Friday, 11th September


French authorities are meeting on Friday to decide on toughening measures to combat the virus

France's confirmed cases jumped 9,843 on Thursday - the highest single-day count since the start of the outbreak

India has registered the world's highest-ever number of daily cases: 96,000

The UK economy grew by 6.6% in July, but the country's output remains far below pre-pandemic levels

British MPs are urging the government to extend its furlough scheme to support people unable to work

The number of confirmed coronavirus cases worldwide has topped 28 million, with more than 900,000 deaths

A round-up from around the globe
Thank you for joining us. Here's a round-up of the biggest coronavirus stories from around the world this morning.


France has recorded almost 10,000 new cases in 24 hours , marking its highest single-day count since the start of the outbreak

French ministers and health experts are meeting on Friday to discuss toughening measures to combat the virus

India has recorded the world's highest number of daily cases at more than 96,000

The pandemic has hit poorer countries harder than the rest of the world, sowing inequality globally, a BBC poll has shown

A drop in income was reported by 69% of respondents in poorer countries, in comparison to 45% in richer ones, the poll found

The United Nations has called for a "quantum leap" in funding for international initiatives to combat the the pandemic and kickstart economic recoveries

Secretary-General Antonio Guterres has called for $15 billion (£11.5 billion) to fund the ACT-Accelerator programme, an international project to find for a vaccine and treatments led by the World Health Organization

Democratic presidential nominee Joe Biden has called rival Donald Trump's handling of the pandemic "almost criminal". Biden was speaking to CNN about claims the president played down the severity of Covid-19

Dr Anthony Fauci, the top infectious disease expert in the US, has told Americans they will need to "hunker down" through autumn and winter months, adding "it's not going to be easy"

France plans tougher measures as cases surge
France is planning tougher measures to combat coronavirus after experiencing a record number of daily cases.
The country registered 10,000 new cases in a 24-hour period, according to Thursday's figures.
A key meeting between ministers and health experts to decide on new measures is happening today.
The head of the scientific council advising the government on the pandemic, Jean-Francois Delfraissy, has warned that "tough" decisions may be required.
President Emmanuel Macron said the meeting would give the public a clear idea of what can be expected in the coming weeks.
"We need to be as transparent and clear as possible," he said on Thursday, according to AFP news agency.
"We need to be demanding and realistic without giving in to any kind of panic."
France has the seventh-highest Covid-19 death toll in the world. More than 30,800 people in the country have died with coronavirus.
What's happening in the UK this morning?
Good morning - here is the latest coronavirus news from the UK this morning.
Six months since the pandemic was declared
Today marks six months since the coronavirus
was labelled a pandemic by the World Health Organization (WHO).
On 11 March, WHO chief Dr Tedros Adhanom Ghebreyesus said he said he was "deeply concerned" by "alarming levels of inaction".
He called on governments to change the course of the outbreak by taking "urgent and aggressive action".
"Several countries have demonstrated that this virus can be suppressed and controlled," he said.
Hours later, Italy announced the toughest lockdown seen in Europe at that point. Italy and Iran were the epicentres of the outbreak back then, while China and South Korea were already well past their peak.
Exactly six months later, cases of the disease are continuing to surge in many countries. Some that had apparent success in suppressing initial outbreaks have seen infections rise again.
More than 27 million cases have been confirmed globally and the death toll is edging closer to a million. The US has by far the highest death toll at more than 191,000, followed by Brazil, India and Mexico.
However, the number of confirmed cases during the spring peak is likely to be an underestimate of the true level of infection, as widespread testing was not available in many countries earlier in the year.
See here for an overview of where we are at six months after the pandemic was declared.
Wales announces new rules on face coverings and gatherings
Here's some more about Wales - which has just announced that
people will have to wear face coverings in shops and other indoor public spaces
from Monday.
First Minister Mark Drakeford said the change came as 20 people in every 100,000 in Wales now had coronavirus - the threshold used when deciding if people have to quarantine when coming back into the UK from abroad.
He said: "Lots of people in Wales do choose in any case to wear face coverings when they are out and about, what they will see now is that it will be compulsory for people to do that in shops."
Wales has also said it is banning indoor meetings of more than six people from an extended household from Monday.
Since August, up to four households have been allowed to form an extended household to meet up, with no legal limit on how many could be in such a unit. The new rule won't apply to children aged 11 and under.
Up to 30 people from different households will still be able to meet up outside.
And all extended household meetings are currently banned indoors in Caerphilly due to the local lockdown in place there.
The new Welsh measures come as England and Scotland also prepare to make changes after the weekend. In England, the new limit of six people from multiple households will apply to social gatherings from Monday.
And in Scotland, the limits are being reduced to a maximum of six people from two households from Monday. Unlike England, children under 12 will not be included.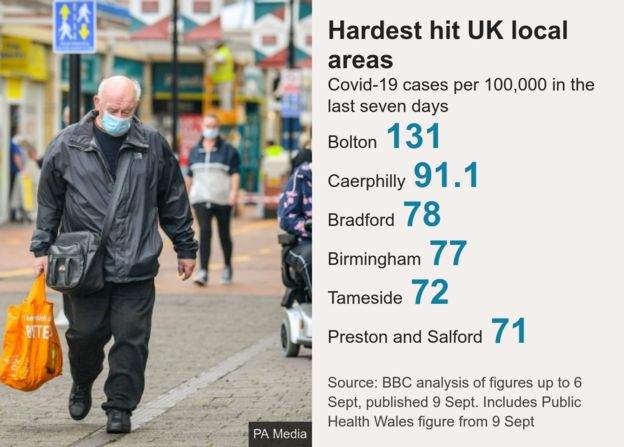 India reports world's highest daily case toll
India has recorded the world's highest-ever daily number of cases, with more than 96,000 reported on Friday.
The Federal Health Ministry has now reported more than 4.5 million cases in the country.
The amount of cases is rising faster in India than anywhere else on the planet, but the death rate is lower than some countries.
Despite this, more than 1,000 deaths have been reported for the last 10 days.
The current death toll in India sits at more than 76,000 - the world's third highest behind the US and Brazil.