Summary for Saturday, 29th August


Protesters are due on the streets of Berlin to voice opposition to coronavirus restrictions

In France, a further 7,379 cases were confirmed on Friday in an "exponential rise"

A leaked report for the UK government predicts 85,000 Covid deaths this winter in a worst case scenario

South Korea sees another day of triple-digit rises, with 308 new cases registered on Saturday

Children can carry coronavirus in their noses for up to three weeks, a study from South Korea suggests

The Tour de France finally gets under way today, after a two-month delay

More than 24.7 million cases registered worldwide, over 837,000 deaths - Johns Hopkins University

Hello and welcome to our continuing coverage of the coronavirus pandemic around the world. First a round-up of the main points:


Later on Saturday an "anti-corona" march is expected to attract thousands in Berlin. Protesters won the final stage of a legal battle last night for it to go ahead – police say they will strictly enforce mask-wearing and social distancing

The French health ministry says cases are rising "exponentially " as President Macron warns that another lockdown may be coming. A further 7,379 cases were confirmed on Friday, the country's largest rise since mid-May

Children may be carrying the virus in their noses for up to three weeks and spreading the disease without realising, according to research carried out in South Korea.

South Korea, seen as good at controlling the spread of Covid-19, is now facing rising infections with more than 300 cases reported on Saturday

In the UK a leaked government report presents a worst-case scenario of 85,000 deaths due to Covid this coming winter

The Tour de France cycling tournament starts today in Nice – it has been delayed for two months due to the pandemic. But officials are worried about the challenges of managing the huge crowds the Tour normally draws

Protesters begin gathering in Berlin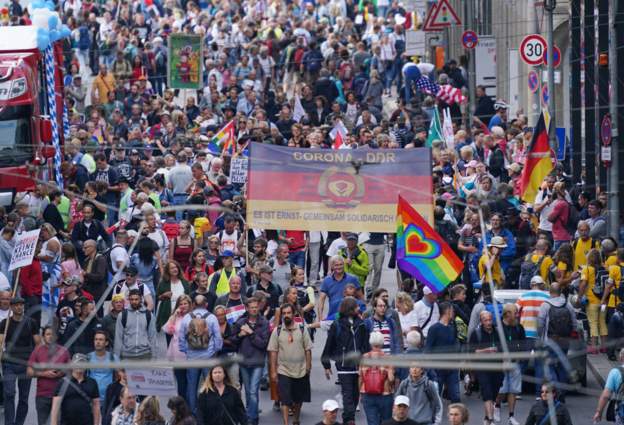 Some demonstrators carry a flag referring to the German Democratic Republic, which was communist-controlled East Germany from 1949-1990
Organisers are predicting around 22,000 people will be on Berlin's streets to protest against restrictions put in place to control the spread of Covid-19. A similar march several weeks ago attracted anti-vaccination campaigners, conspiracy theorists and self-described "free thinkers".
It was broken up after protesters deliberately flouted safety regulations.
Berlin authorities had banned this event from going ahead, fearing participants would not be able to keep a safe distance from each other. But a court sided with the organisers, saying there was no indication demonstrators would deliberately ignore social distancing guidelines. Some 3,000 police are being deployed, and authorities warn the march will be broken up "very quickly" if rules are violated.
Although Germany has not so far seen the waves of cases seen in some parts of Europe, it does have a growing infection rate. New case numbers are reaching highs last seen in April.
Robert F Kennedy Jr at Berlin march
The son of Robert F Kennedy and nephew of former US president John F Kennedy has tweeted that he will speak at the protest in Berlin today against coronavirus restrictions.
Robert F Kennedy Jr is an anti-vaccination campaigner, criticised by members of the Kennedy family for his views.
The crowd gathering near Berlin's Brandenburg gate includes families with children. "I'm not an extreme right-wing sympathiser, I'm here to defend our fundamental freedoms," one participant wearing a t-shirt reading "Thinking helps" told AFP news agency.
One of protesters' concerns is rules about mandatory mask-wearing in Germany.
Robert F. Kennedy Jr:   In #Berlin launching @ChildrensHD Europe. Tomorrow, I will speak to largest crowd in #German history. We are expecting 1 million+ people protesting Bill Gates' bio security agenda, rise of authoritarian surveillance state + Pharma sponsored coup d'etat against liberal democracy.
Police patrolling beaches in Australia
Phil Mercer - BBC News Sydney
A burst of balmy weather in Sydney this weekend will test the city's ability to keep its beaches safe as the warmer months approach. Police, lifeguards and council rangers will try to ensure there's no repeat of the mass flouting of Covid-19 regulations that forced the closure of several beaches, including Bondi, in March.
Groups of more than 20 people are not permitted, and beachgoers should stay a towel-length apart from each other.
While several coronavirus clusters are causing concern in Sydney, the number of daily new infections in Victoria has fallen to below 100 for the first time since early July.