Summary for Tuesday, 25th August


Argentina registers a record 8,713 new cases and 381 deaths as Latin America struggles to contain the virus

A 48-hour lockdown is in force across the Gaza Strip after the first infections were recorded among the public

Head teachers in England want to know whether staff and pupils will be allowed to wear face coverings when schools re-open

In Scotland's secondary schools, face coverings will be used in corridors and shared areas

Hundreds of thousands of young people receive vocational BTec qualifications after results were delayed

Scientists in Hong Kong say they've seen the first confirmed case of re-infection

More than 23.6m cases of Covid-19 have been reported globally, and 813,000 deaths

Welcome to today's live updates on the coronavirus pandemic and thank you for joining us. Here are the main international headlines so far:


Argentina has confirmed a record 8,713 new cases of coronavirus and 381 more deaths in 24 hours. Cases have been rising rapidly in Argentina along with other countries in the region

Dr Anthony Fauci, the top US virus expert, has warned against rushing out a Covid-19 vaccine before it has been proven to be safe and effective. President Trump is reportedly mulling plans to put out a vaccine before it has been fully tested

World-record sprinter Usain Bolt has tested positive for the coronavirus, Jamaica's health ministry confirmed. The eight-time Olympic gold medalist is self-isolating at his home in Jamaica

Schools in and around the South Korean capital, Seoul, have been ordered to switch to online classes as authorities try to tackle an increase in coronavirus cases. The country was widely praised for controlling its initial outbreak but cases linked to a church have caused a new spike in infections

In Mexico, the new school year has begun with lessons for state school students taking place on television. Children haven't been allowed to enter classrooms since March. Although barely half of homes have access to the internet, more than 90% have a TV

The Gaza Strip has imposed an immediate 48-hour curfew after the first locally transmitted coronavirus infections were recorded. Four members of a family at a refugee camp tested positive

Hong Kong scientists have reported the first confirmed case of an apparently healthy patient being re-infected with Covid-19, four months after the first infection

UK morning summary
Here's a quick round-up of the main stories from the UK this morning, to bring you up to speed:
Argentina battles fresh outbreaks
More now from Argentina where health officials have confirmed a record 8,713 new cases of coronavirus and 381 more deaths over 24 hours.
The health ministry has warned that although quarantine measures have been tightened in the capital Buenos Aires and its suburbs, cases are now increasing in other regions.
The province of Buenos Aires saw 5,656 of the new infections with Jujuy province the next worst affected with 352. Santa Fe had 209, Córdoba 208, Mendoza 172 and Entre Ríos 124. In total, Argentina has seen more than 350,000 infections and 7,366 deaths, according to Johns Hopkins University.
Latin America and Asia are the regions that currently have the highest number of daily confirmed cases.
Argentina recently joined Peru, Morocco and the United Arab Emirates in moving forward with clinical trials for a coronavirus vaccine developed by China National Biotec Group (CNBG).
Usain Bolt isolating after positive test
The world-record sprinter Usain Bolt has tested positive for the coronavirus, Jamaica's health ministry confirmed.
It comes just days after the eight-time Olympic gold medalist celebrated his 34th birthday with a lavish party.
Bolt posted a short video message on Twitter in which he said he had taken a test on Saturday and that he was now self-isolating at his home in Jamaica. He said he would call his friends "and tell them once they came in contact with me to be safe, quarantine and take it easy".
One in eight virus patients 'infected in hospital'
A study of 10 UK hospitals and one in Italy found at least
one in eight patients who were treated in hospital for coronavirus had been infected on-site
.
The King's College London researchers said it was a relatively low rate of hospital-acquired infection and showed that effective infection controls were in place.
They analysed 1,500 cases up to 28 April, covering the peak of cases in the UK.
"The majority of these patients had already been in hospital for a long time," said lead author
"They were older, frailer and had pre-existing health conditions."
The patients who caught the virus in hospital also had better outcomes than those who were admitted with the virus, probably because they were diagnosed and treated more quickly.
Empty Kenya school fills classrooms with chickens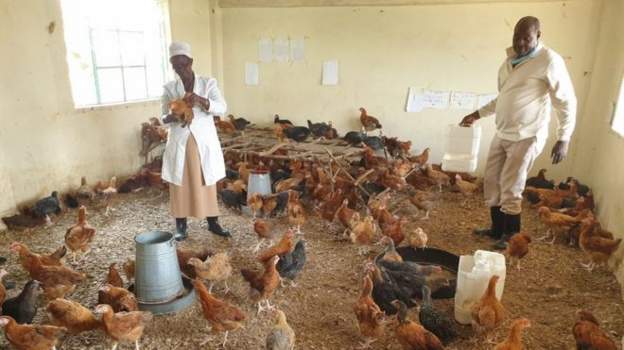 The closure of all schools in Kenya until next January has left the owners of many private facilities struggling to survive, our colleagues Basillioh Mutahi and Mercy Juma report.
At Mwea Brethren School, owner Joseph Maina has filled the classrooms with chickens to bring in some much-needed income.
"We decided that we must do something [with the school] for survival," he told the BBC.
Roka Preparatory, another school in central Kenya, also converted its premises into a farm and is growing vegetables in the former playground.
"Things have never been this bad," said James Kung'u, who founded the school 23 years ago.
You can read more on this story here
.