Summary for Saturday, 22nd August


India records more than 69,000 new cases, with its overall tally now close to three million

South Korea extends new coronavirus restrictions nationwide in an attempt to control a resurgence of the virus

UK tourists have been dashing home as new coronavirus travel rules kick in for Croatia, Austria, and Trinidad and Tobago

WHO head says the pandemic could be over within two years

The global death toll is just under 800,000, with close to 23 million registered cases worldwide, according to Johns Hopkins University

More than 14 million people have recovered from the virus

It's early in the morning here in London, and we've just begun our weekend.
A lot has happened in the world while we've been asleep - to help you catch up, here are some of the main coronavirus headlines:


India has reported a record daily rise of 69,652 in infections, bringing the total to close 3m confirmed coronavirus cases. The death toll in the country is 55,794, according to Johns Hopkins University (JHU). The rise comes as Hindus in India celebrate the major festival Ganesh Chaturthi.

British tourists have been rushing home from Croatia, Austria and Trinidad and Tobago to try and beat new quarantine travel rules, which kicked in at 04:00. As of today, travellers in these countries will need to self-isolate for 14 days on their return to the UK. However, Portugal has now been added to the safe list - and searches for flights there have risen.

Meanwhile, tighter restrictions in parts of Blackburn and Pendle in north-west England have also come into force today. Residents in those areas are now not allowed to socialise with anyone from outside their household - although workplaces, childcare facilities and businesses will remain open.

Still in the UK, the pandemic has forced student travel agent STA Travel out of business. About 500 UK jobs are thought to be at risk from the collapse.

Tedros Adhanom Ghebreyesus, Director-General of the World Health Organization, has said he hopes the pandemic will be over in under two years. Speaking in Geneva, he said the Spanish flu pandemic of 2018 took two years to overcome - but that thanks to advances in technology, we could halt the coronavirus "in a shorter time".

The US has now passed 175,000 deaths linked to coronavirus - the highest death toll in the world. It has also had more than 5.5m confirmed cases.

The number of confirmed cases of the virus in South Africa has now passed 600,000, according to the country's Department of Health. A single-day increase of 3,398 new cases has pushed its total up to 603,338. More than 12,000 people have died.

The total number of people confirmed to have had the virus worldwide is almost 23m, while the global death toll is almost 800,000, according to figures kept by JHU.

UK tourists in rush to beat new quarantine deadline
British tourists have been hurriedly re-arranging their travel plans to get back home from three tourist destinations that have been pulled off the "safe" list of tourist destinations.
As of 04:00 BST on Saturday, travellers returning to the UK from Croatia, Austria and Trinidad And Tobago must quarantine for 14 days.
Children in families who did not return in time will miss the start of the new school year in England, Wales and Northern Ireland.
Meanwhile, bookings for Portugal are on the up with the popular holiday destination now added to the safe list.
The quarantine measures for Croatia, Austria and Trinidad and Tobago were imposed after of a spike in coronavirus cases in those countries.
Read more.
India to pass 3m cases as Hindus celebrate festival
India is about to reach 3m total confirmed cases of coronavirus, after a record single-day increase of more than 69,000.
The country has the third-highest number of infections in the world, after the US and Brazil. It also has the fourth-highest death toll.
However India's health ministry notes hat one million tests are being carried out every day, and that the rate of recovery had increased too.
   Ministry of Health

          @MoHFW_INDIA

#IndiaFightsCorona
India crosses the milestone of 1 million #COVID19 tests a day.


More than 10 lakh people tested in the last 24 hours.
"Early identification through testing, prompt and effective treatment through supervised home isolation and quality medical care, and innovative graded policy measures have resulted in almost 100% increase in recovered cases in the last 21 days," the ministry tweeted.
The spike comes as Hindus celebrate one of their biggest festivals, Ganesh Chaturthi - a holiday that in normal years is celebrated with large public processions, after which idols of Ganesh are submerged in water.
Different states have released guidelines on how to celebrate the festival safely.
Coronavirus will be present 'forever'
Coronavirus will be present around the world indefinitely and people are likely to need regular vaccinations, a leading UK scientist has warned.
Professor
Sir Mark Walport
, a member of government's Scientific Advisory Group for Emergencies (Sage), told to BBC Radio 4's Today programme that Covid-19 could not be eradicated in the way smallpox has been.
He added: "This is a virus that is going to be with us forever in some form or another and almost certainly will require repeated vaccinations. So a bit like flu, people will need re-vaccination at regular intervals."
Bratislava counts the cost of closed borders
Rob Cameron - BBC Prague Correspondent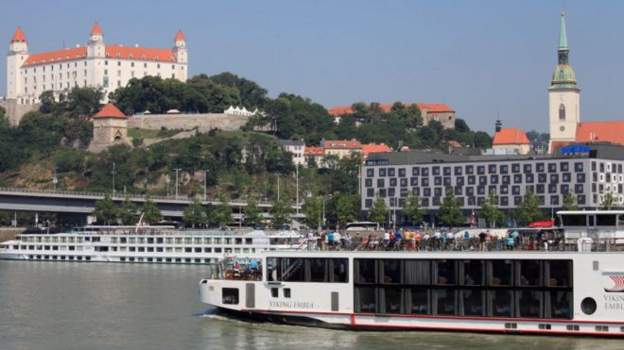 Visits from British partygoers and other tourists were an early casualty of the coronavirus pandemic for the Slovak capital Bratislava - and now it is struggling to claw back its depleted industry.
Slovakia was praised for its swift, decisive response to the virus, which included shutting its borders to tourists, but it has come at a price.
I spoke to speedboat captain Frantisek "Frank" Fabian.
"We've recorded a significant drop in demand this year," he told me. "It's growing again now, but April and May were down to zero. June - maybe 5% compared with last year. July might have been 15%, August 20-25%."
The speedboats are just one part of a wider tour operator business which, according to Frank, has only been able to survive thanks to state aid and cuts to investment, marketing and salaries.
Read the full story here