Summary for Friday, 21st August


South Korea sees 324 new cases of coronavirus, its highest single day total since March, with most cases traced to churches

US Democratic White House nominee Joe Biden attacks Donald Trump's coronavirus response, saying "he failed to protect us"

UK holidaymakers race to return home before quarantine rules kick in for Croatia, Austria and Trinidad and Tobago

A ban on landlords evicting tenants in England and Wales ends this weekend, sparking concern from homelessness charities

Australia's PM hails "a week of increased hope" after its lowest increase in cases in five weeks

Hello and welcome back to our live coverage of the coronavirus pandemic.
Here are some of the main global headlines:


South Korea has seen its highest daily rise in coronavirus cases since early March, recording 324 new cases, as a cluster of cases in the capital Seoul are linked to churches

In a speech accepting the Democratic presidential nomination, Joe Biden criticised Donald Trump's handling of the pandemic, saying he "has failed in his most basic duty to the nation: he has failed to protect us"

The Australian state of Victoria has seen daily cases drop under 200 for the first time in over a month. Prime Minister Scott Morrison called it "a week of increased hope" - but officials said it was still too early to ease lockdown restrictions

Morocco has tightened restrictions on movement in Casablanca and Marrakesh, while the king has warned there could be a full lockdown if cases continue to surge.

More than 22.5 million cases have now been reported globally and there have been more than 790,000 deaths linked to Covid-19, according to data collated by Johns Hopkins University.

UK morning summary
Here's a quick summary of the main stories from the UK to bring you up to speed this morning:
Croatia calls for 'more nuanced approach' from UK
Croatia's ambassador to the UK, Igor Pokaz, has expressed "regret" over
the government's decision to impose quarantine rules
for tourists returning from Croatia.
He told BBC Radio 4's Today programme his country is in "constant dialogue" with the UK to "see whether it would be possible to have a more nuanced approach", such as imposing quarantine restrictions on a regional basis.
The ambassador says that Croatia's virus cases are concentrated in areas such as the capital, Zagreb, while popular tourist destinations for Britons, including Dubrovnik and the islands, have few infections.
This approach is already taken by Germany, Mr Pokaz said. Alternatively, he called for the UK to allow people to take tests before travelling so that people with negative results could avoid quarantine.
Croatia has 7,329 confirmed Covid-19 cases, and 168 deaths linked to the virus, according to Johns Hopkins University.
'There is a case' for regional quarantine, says UK minister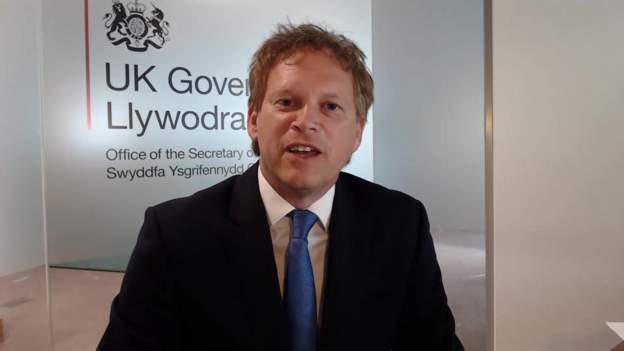 The transport secretary said his wife had been called by the Border Force to check she was quarantining
More now on the story dominating UK headlines this morning - the government's decision to impose quarantine rules on tourists returning from Croatia, Austria, and Trinidad and Tobago.
Transport Secretary Grant Shapps tells BBC Breakfast the UK is investigating options such as targeting specific regions of foreign countries or airport testing to reduce the impact of mandatory self-isolation on travellers.
But these selective approaches were "not straightforward", he says, adding that evidence suggests a single test on entry to the UK would only catch 7% of asymptomatic cases.
There is "a case for regionalisation", and the UK would be interested in exempting islands, which are more geographically isolated - but the lack of access to detailed regional data could make it difficult to make more targeted decisions, he argues.
Asked about multiple people telling the BBC that quarantine rules were being flouted at airports, with arrivals "openly bragging about not filling in the forms", Mr Shapps said it was not true that no one was checking, adding that his own wife had been called by Border Force officials to check she was quarantining.
He said some people had been penalised for breaking quarantine but said detailed figures were not yet available.
"You can end up with a criminal record by not doing the right thing here," he warned. "You're putting other people's lives at risk."
Why is Spain seeing a 'second wave'?
Things aren't looking good in Europe. France has reported a sharp rise in the number of coronavirus cases, while Spain, Germany and Italy have also recorded their highest numbers of cases since late April or May.
Spain had one of the most draconian Covid-19 lockdowns in Europe, so why is the virus now spreading faster than in any neighbouring country?
James Badcock tries to unravel the different factors leading to what's been described as Spain's "second wave".
You can read more here.
UK tourists: 'I feel safer here than I do at home'
British tourists in Croatia are trying to rush back before the new rules kick in
Some British travellers in Croatia have told BBC Radio 4's Today programme that they cannot return in time to beat the quarantine deadline and face missing work.
Chris Everson said it would cost more than £400 ($530) in flights and require a seven-hour coach journey to return home via Italy.
He said he could work his office job from home, but would be unable to work shifts in his second job in the emergency services.
"I feel absolutely more safe here than I do at home," he added, because he is currently in a remote area where people seem to observing social distancing well.
Catherine Bartlett, who is in the coastal town of Sibenik, said she also faced missing work at her job, which involves face to face contact with customers.
"I am by nature a cautious, and even anxious, person. I was monitoring all the news, all the travel advice. Croatia was highlighted by a lot of people as absolutely fine."
Transport Secretary Grant Shapps was quizzed about whether Britons were less at risk in Croatia, compared to UK hotspots such as Oldham.
However, he argued that virus rates in Croatia had more than doubled in a week, rising from 10.5 cases per 100,000 people, close to the UK average, to 27.5 per 100,000 people - higher than other quarantine countries such as France.
Why is South Korea experiencing a spike in virus cases?
Let's dig deeper into our headline story this morning - South Korea reporting its biggest increase in Covid-19 cases since March.
The country managed to control the pandemic early on, and was viewed as one of the world's success stories. But a new spike in cases in and around the capital Seoul has led to fears the country could be on the brink of a major outbreak.
What's behind the spike?
One factor could be that
some church members are reluctant to comply with Covid-19 measures
- many new cases have been linked to Sarang Jeil Church, where members have attended rallies despite warnings from health officials.
It's also a reminder that the virus is hard to contain - many countries in the world are experiencing a second rise in cases.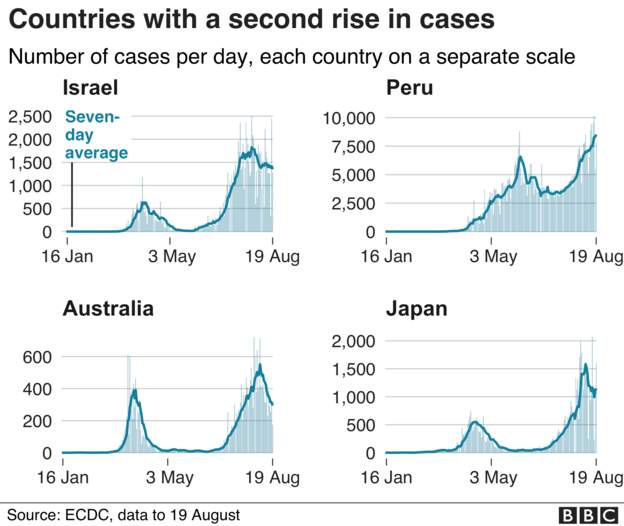 South Korea added 324 cases on Friday, bringing it to a total of 16,670 confirmed cases.
It has already tightened restrictions by closing museums, nightclubs and karaoke bars. Now health officials are warning they may have to go further, limiting gatherings to no more than 10 people and closing school premises.