Summary for Monday, 17th August


Some 315 people connected to South Korea's Sarang Jeil Church test positive in the county's biggest outbreak for months

New Zealand's general election is postponed by a month because of a fresh Covid-19 outbreak

UK Prime Minister Boris Johnson is under pressure to end row over A-Levels in England amid growing anger

Japan's economy - the world's third biggest - suffers the biggest contraction in modern history

The scaled-down Democratic party convention begins later in the US, largely held online

Globally more than 775,000 people have died and 21.6m cases have been reported, according to Johns Hopkins University

Hello and thanks for joining our live coverage of the global pandemic. We'll be following the latest stories and other things you need to know about coronavirus around the world. Here are the main headlines on Monday:


South Korea is tackling a new outbreak linked to a church where some 300 infections have caused the country's worst rise in cases in five months. The government has accused the Sarang Jeil Church pastor of flouting self-isolation rules

New Zealand has postponed its general election , moving it by four weeks to 17 October. The country, which had the virus under control, is seeing a cluster of cases spread through the city of Auckland, despite a lockdown imposed last Wednesday. Nine new cases were confirmed there on Monday, bringing the total number of active cases to 58

More than 50,000 people in India have now died from Covid-19, according to the health ministry. It's the fourth country to pass the milestone, after the US, Brazil and Mexico. The country has counted 2.6 million cases, but authorities say the growth in cases is now slowing

Japan's economy – the world's third biggest - has seen its largest contraction in modern history. The country's GDP shrank by nearly 8% in the second quarter this year

Hundreds gathered in Madrid for anti-mask protest
Crowds of protesters gathered in the Spanish capital on Sunday to voice their opposition to the mandatory use of face masks and other measures imposed to contain the spread of coronavirus.
It came two days after the government introduced a swathe of new restrictions, including a ban on smoking in public.
Spain has seen a surge in new infections since lifting its three-month lockdown in late June. The national death toll stands at more than 28,600 people.
What's happening in the UK?
In the UK, the row over the awarding of A-level grades is continuing,
with grammar school heads and sixth form colleges calling for action
.
Students, who were not able to sit exams this year because of the coronavirus pandemic had their grades predicted by teachers instead, but 280,000 results were downgraded.
Hundreds of students held a demonstration in central London on Sunday to demand clarity over the appeals procedure.
Elsewhere:
Authorities accuse South Korean church of fuelling outbreak
Around 3,400 members of the Sarang Jeil Church have been asked to quarantine
Authorities in South Korea are accusing the leader of Sarang Jeil Church of ignoring coronavirus restrictions, including by organising a large anti-government rally on Saturday when gatherings are still not permitted. In two complaints filed by authorities, Jun Kwang-hoon is also accused of obstructing testing of church members by refusing to provide a list of followers.
Social distancing rules across the country were tightened on Sunday.
The incident is
reminiscent of the country's largest outbreak, which was traced back in February to a secrective religious cult in Daegu.
Elsewhere smaller clusters have been identified, including 30 cases linked to a Starbucks cafe in the city of Paju, north of Seoul.
Northern Ireland's GCSE results 'will be based on teacher predictions'
Northern Ireland's Education Minister Peter Weir says GCSE results there
will be solely based on grades provided by teachers
.
It follows controversy last week after
more than a third of A-level and AS-level grades provided by schools were lowered by the exams board CCEA.
Schools in Northern Ireland were asked to give predicted grades but then other data was used by CCEA to standardise the results.
Weir says GCSEs taken with exams body CCEA - which provides about 97% of GCSE exams in Northern Ireland - would be covered by the decision.
"Having received advice from CCEA and listened to the concerns of school leaders, teachers, parents and young people, I have decided that all GCSE candidates will now be awarded the grades submitted by their centre," he says.
Apology over Australia cruise ship outbreak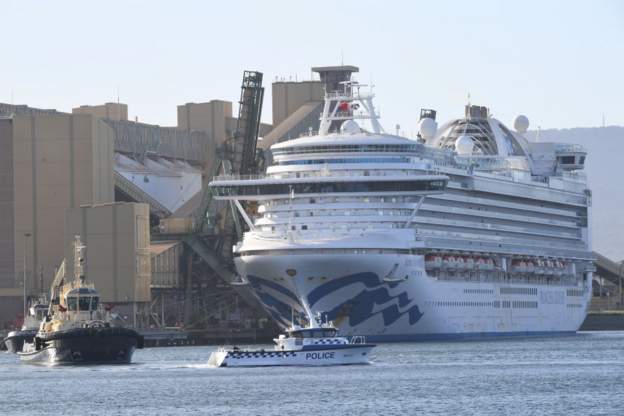 Around 2,650 passengers were allowed to disembark in Sydney and catch public transport, and domestic and overseas flights home
In early spring, cruise ships globally became a significant source of coronavirus infections.
Among those was the Ruby Princess cruise ship, from which about 2,650 passengers disembarked in Sydney, Australia, in March.
State officials in New South Wales have now issued an apology after an inquiry found that health authorities made "serious mistakes" in allowing the passengers onshore without testing for the virus. That was despite suspected cases aboard.
The ship was ultimately linked to at least 900 infections and 28 deaths, and until June was the country's biggest coronavirus cluster.
Read more about the story here
.