Summary for Thursday, 13th August


India registers more than 47,000 deaths, overtaking UK to become fourth-worst affected globally for fatalities

After more than 100 days infection-free, New Zealand city of Auckland, under lockdown, records 13 more cases

60% of North Korea's population facing food insecurity, worsened by coronavirus, US says

Number of civilians killed in conflict falls during coronavirus, UK charity says

Globally, now nearly 20,622,000 cases and over 749,000 deaths - latest Johns Hopkins University tally

Hello and welcome to our coverage of the coronavirus pandemic. Our news teams are here to bring you the latest developments from the UK and around the world.
First, a summary of the top stories:


India has passed the UK to become the country with the fourth-most deaths linked to Covid-19, registering more than 46,000

New Zealand has reported 14 new Covid-19 cases , a day after its biggest city, Auckland, went back into lockdown

Hard-hit Australian state of Victoria has recorded its lowest daily increase in coronavirus cases in more than three weeks, with 278 new infections

A-level and vocational results are arriving for students in England, Wales and Northern Ireland after exams were cancelled by the pandemic

Kamala Harris, the US Democratic presidential candidate's running mate , said President Donald Trump's failure to take the pandemic seriously had worsened America's outbreak

As it stands, there have been 20.6 million infections and 749,000 deaths related to the coronavirus pandemic globally, according to a tally by Johns Hopkins University

India's death toll surpasses the UK's
As mentioned in our opening summary, India has become the country with the fourth highest number of deaths linked to Covid-19 in the world. Its fatalities jumped by 942 on Thursday, taking its total to 47,033.
The rise in deaths pushed India's toll past that of the UK, which had recorded 46,791 fatalities to date,
according to data collated by Johns Hopkins University
.
The UK toll was revised down further on Wednesday to 41,329 due to a new method of counting being introduced.
India also recorded its biggest single-day spike in cases with 66,999 new infections on Thursday, pushing the total to nearly 2.4 million.
Experts say the virus has been spreading rapidly within communities across India. Because India is such a densely populated country, tracing the chain of transmission is difficult, they say.
India brought in Covid-19 restrictions in March. It stopped all international flights and entered a strict lockdown that lasted nearly two months.
But the restrictions came at a devastating economic and human cost, and after India reopened at the end of June and testing increased, case numbers soared.
Many states are continuing to enforce lockdowns in specific areas as clusters of the virus emerge.
New Zealand's outbreak will 'get worse', PM says
New Zealand's coronavirus outbreak will "get worse before it gets better", the country's prime minister has said, after 13 new locally transmitted infections were confirmed.
Jacinda Ardern ordered the country's biggest city, Auckland, back into lockdown after four new cases, all family members, were found earlier this week.
The new infections have shocked a country that
had recorded no locally transmitted cases for 102 days
, a feat it was praised for internationally.
A three-day lockdown was imposed in Auckland on Wednesday.
"We can see the seriousness of the situation we are in," Ardern said in a news conference. "It's being dealt with in an urgent but calm and methodical way."
Of the new cases, 13 have been linked back to this family, while one is an overseas arrival who was in quarantine.
Dr Ashley Bloomfield, the director-general of health, said Covid-19 may have been circulating in Auckland for several weeks, as the original case started displaying symptoms as early as 31 July.
Victoria sees drop in new infections
The Australian state of Victoria has recorded 278 new coronavirus cases, its lowest daily increase in more than three weeks.
The state has also recorded eight more deaths, lower than the 21 seen on Wednesday, Australia's deadliest day of the pandemic yet.
The Victorian government declared
a state of disaster earlier this month
after Covid-19 restrictions failed to curb a spike in new infections.
Victoria Premier Daniel Andrews said the decline in the number of new infections on Thursday showed that the state's lockdown measures were working.
"What this shows you, not just today's numbers as a single day, but if you look at the trend over the last seven days or so, these stage 4 restrictions - as heartbreaking, as challenging as painful as they are - are working," he said.
"We would just caution against any Victorian thinking that we aren't in the midst of a real marathon."
VicGovDHHS: #Covid19VicData

for 13 August 2020. 278 new cases of

#coronavirus

(

#COVID19

) detected in Victoria in the last 24 hours. Sadly, 8 lives have been lost. More detail will be provided this afternoon.
Students braced for A-level results day
It's A-level results day in England, Wales and Northern Ireland. That means joy for some, and disappointment for others.
There are always highs and lows on every results day, but this year, the Covid-19 pandemic has raised the stakes for those, mainly 18 year olds, finding out how they did.
This year, results have been estimated after exams were cancelled by the pandemic.
The exam watchdog has already announced a 2% rise in A* and A grades this year at A-level - close to record levels.
Controversy has surrounded how results have been decided - with head teachers angry at the use of grades from mock exams taken earlier.
Read more about A-level results day here
, and watch the video below to see what students think about finishing college during a pandemic.
Another Indian cabinet minister tests positive
Indian cabinet minister Shripad Naik has tested positive for the coronavirus, he has announced on Twitter.
Naik, whose briefs include defence, said his vital signs were normal, adding he would isolate himself at home.
He is the latest of Indian Prime Minister Narendra Modi's ministers to test positive for Covid-19. Home Minister Amit Shah and Petroleum Minister Dharmendra Pradhan are among those who have contracted the virus.
Naik's positive test comes as India's coronavirus deaths passed 47,000, the fourth-highest toll in the world.
Trump didn't take pandemic seriously, Harris says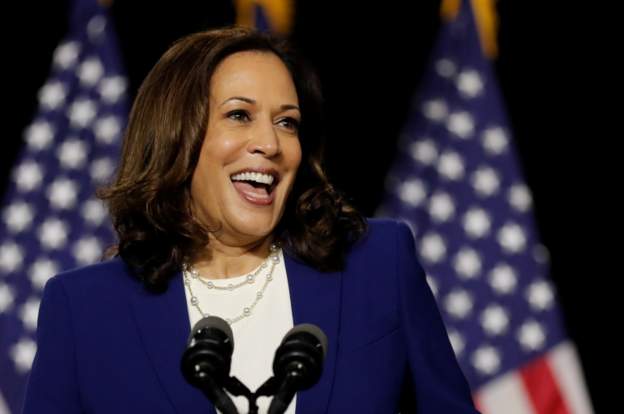 Kamala Harris said President Trump was to blame for the scale of the coronavirus outbreak in the US
Kamala Harris, the US Democratic presidential candidate's running mate, has blamed President Donald Trump for America's mounting Covid-19 death toll, accusing him of failing to take the pandemic seriously.
Harris lambasted Trump
at her first election campaign event with Joe Biden
since being chosen as his running mate for November's presidential election.
The California senator spoke in Wilmington, Delaware.
"This virus has impacted almost every country, but there's a reason it has hit America worse than any other advanced nation. It's because of Trump's failure to take it seriously from the start," Harris said.
She said Trump's "refusal to get testing up and running" and "his delusional belief that he knows better than the experts" had cost American lives.
The White House is yet to respond to Harris's accusations.