Summary for Monday, 10th August


French police say face masks will be required at busy tourist sites and over 100 streets in Paris, as infections rise

The UK sees more than 1,000 new daily infections for the first time since late June

Australia records its deadliest day of the coronavirus pandemic, although new infections are falling

The US has passed 5m cases, while Brazil has had more than 100,000 deaths linked to Covid-19

However, New Zealand has passed 100 days without a local infection, and plans to open a travel bubble with the Cook Islands

Hello and welcome to our coverage of the coronavirus pandemic. Thanks for joining us - it's Helier Cheung, Josh Nevett and Alice Evans with you today.
Here is a summary of the top global stories:


Wearing a face mask outdoors has become compulsory in busy parts of Paris , amid a rise in coronavirus infections in and around the French capital

Australia has recorded its deadliest day of the coronavirus pandemic , but new infections appear to be slowing down in Victoria state, which is under a strict lockdown following a second spike in infections

Brazil has recorded more than 100,000 deaths linked to Covid-19 , the world's second-highest figure, as the outbreak in the country shows no sign of easing

New Zealand has gone mote than 100 days without recording a locally transmitted case of Covid-19, but officials have warned against complacency

US Health Secretary Alex Azar has hailed Taiwan's Covid-19 response as "the most successful in the world" during a rare visit to the island

As it stands, there have been 19.8 million infections and 731,000 deaths related to the coronavirus pandemic globally, according to a tally by Johns Hopkins University

Of the total number of infections worldwide, more than five million of them have been recorded in the US

What's happening in the UK today?
Meanwhile, here are the main coronavirus developments in the UK this morning:


There is little evidence of coronavirus being transmitted in schools, Education Secretary Gavin Williamson has said

Prime Minister Boris Johnson, who is expected to visit a school later, is understood to have made it clear that schools should be the last things to close in any future local lockdowns – that is, after businesses like shops and pubs

The PM said over the weekend that getting children back to school was a "national priority"

In Wales gyms, swimming pools, leisure centres and children's play centres are allowed to reopen as lockdown eases

It is now compulsory to wear a mask in shops and other enclosed public spaces in Northern Ireland .

Daily coronavirus cases across the UK have risen above 1,000 for the first time since 26 June

Masks outdoors become compulsory in many parts of Paris
A face mask must be worn in many parts of Paris from Monday, after authorities imposed new measures to curb a rise in infections in the French capital.
The order applies to people aged 11 and over in crowded areas, such as the banks along the River Seine and open-air markets, police said.
More than 100 streets are covered by the order
, according to a list sent out by the police.
However, some popular tourist hotspots, such as the Eiffel Tower, the Arc de Triomphe and the Champs-Elysees, are exempt from the new rules.
Face masks are already compulsory in enclosed public spaces in France. Those who flout the rules risk of a fine of €135 (£121).
After a strict lockdown, France had flattened the curve of new infections but, since the start of July, cases have been on the rise again.
On Friday, the country reported 2,288 new coronavirus infections in its daily figures, marking a new post-lockdown high.
Experts have warned that France could lose control of Covid-19 "at any time".
Australia sees deadliest day, but new infections slow down
Australia has reported a further 19 deaths linked to Covid-19, its deadliest day of the pandemic yet, as the country grapples with a resurgence of the disease.
The deaths were all recorded on Monday in the state of Victoria, which has become the epicentre of Australia's coronavirus outbreak.
Victoria has now seen about two-thirds of Australia's total 314 deaths and approximately 21,400 cases.
But the number of daily infections - though still in the hundreds - has dropped in recent days, prompting hope that a strict lockdown in Melbourne is working.
Victoria reported 322 new cases on Monday, down from a high of 725 recorded five days ago. Other states reported few or no cases.
Victorian Premier Daniel Andrews said it was too early to tell if the state's lockdown, which was imposed last month, was turning the tide.
Infections have been on the rise since June in Australia
England's schools must stay open during local lockdowns - minister
The UK government is trying to reassure people that schools in England will be safe to reopen fully in September.
Social care minister Helen Whately told BBC Breakfast that the government wants to keep schools open in the event of local lockdowns, adding that staff and pupils will "immediately have access to testing" if they show symptoms.
Schools in local lockdown areas such as Manchester and Leicester "should be still going back" in September as it is "essential that children get back into schools this autumn term", she adds.
Parents and teachers "have made huge efforts to keep children's education going" during lockdown, it's "just not the same thing" as children being in school, Whately says.
Asked about the possibility of teaching students on a week-on, week-off basis for areas with localised lockdown restrictions, she adds: "Our priority is to make sure that children are fully back in school come the autumn."
Brazil and the US hit grim milestones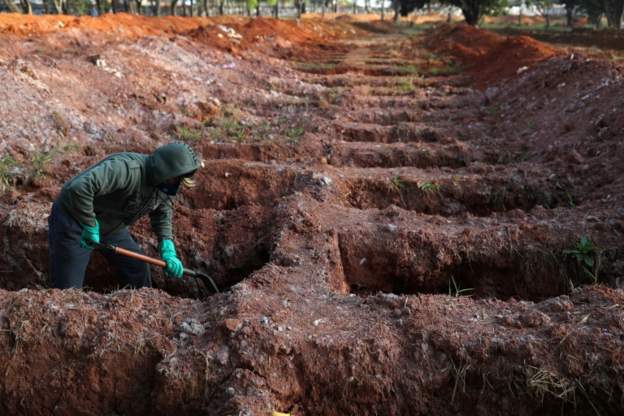 Brazil's coronavirus-linked deaths have risen above 100,000
The number of infections and deaths linked to the coronavirus pandemic have reached new heights in Brazil and the US, two countries that have struggled to bring their outbreaks under control.
Brazil has now recorded more than three million infections and 100,000 deaths, the second-highest figures on both counts in the world.
Those figures are only surpassed by the US, which has seen more than five million infections and 162,000 deaths to date.
The presidents of both countries, Brazil's Jair Bolsonaro and the US's Donald Trump, have at times downplayed the impact of the virus and opposed measures that could damage the economy.
Still, it is worth remembering that
there are challenges in comparing coronavirus numbers from different countries
, due to factors including how widely they test for Covid-19 and whether they count deaths from the virus in the same way.