Summary for Monday, 27th July


Covid-19 is "easily the most severe" global health emergency the World Health Organization (WHO) has ever declared, the agency has said

The total number of confirmed Covid-19 cases reaches more than 16 million - up by a million in just four days

Hong Kong has reported 145 new cases, setting a new daily record - hours after announcing its toughest measures yet to contain the spread

A doctor who diagnosed early infections in China says local officials covered up the scale of the initial outbreak

Clusters in China lead to 61 new cases recorded on Monday - the highest daily figure since April

Australia also records its biggest daily spike, with more than 530 new cases in Victoria state

Vietnam has closed the city of Da Nang to tourists after four new locally transmitted coronavirus were recorded - the country's first since April

Spain insists it is a safe for tourists after the UK ordered people coming from the country to quarantine

Hello and welcome to our live coverage.
We'll be bringing you the latest from the UK and around the world throughout the day.
For our audience in the UK who are just waking up,
have a look at what today's newspapers are reporting.
There's a lot of reaction to the announcement over the weekend that people coming to the UK from Spain will have to quarantine for 14 days.
Here are some of the latest developments from around the world:


In the UK, there have been calls for support for people returning from Spain to quarantine - where there is no guarantee their employers will allow them to work from home for two weeks

The total number of confirmed cases has now reached more than 16 million - up by a million in just four days

In the last 24 hours, there have been more than 55,000 new infections in Brazil, 53,000 in the US and 48,000 in India, Johns Hopkins University data shows

Australia has recorded its biggest daily spike, with more than 530 new cases in Victoria State

Vietnam has closed the city of Da Nang to tourists after four new locally transmitted coronavirus cases were recorded - the country's first since April

North Korea has reported what it describes as its first suspected case of coronavirus. State media said a person who defected to South Korea three years ago returned across the demarcation line last week with symptoms

Israel, which had previously had a good record on limiting the spread, is also experiencing a spike with more than 1,700 new infections reported.

Spain insists infections under control after UK quarantine
One of the biggest stories in the UK this morning is on Spain. On Saturday evening, the UK government removed Spain from the list of travel destinations where you can come back from without self-isolating for 14 days.
It came after a spike in the number of new cases in Spain. The country says the outbreaks of new cases are isolated and under control, with its foreign minister
saying Spain "is safe for Spaniards and tourists".
The change to the quarantine rule came into effect on Sunday, and travellers already in Spain – who went thinking they wouldn't have to return and self-isolate -
have reacted in shock to the news.
The airline industry also reacted with dismay, calling it a big blow.
Now Labour
has said the short notice of the announcement
has "created a sense of panic". The party called for support for people who are arriving back, where there is no guarantee from their employers that they can work from home for two weeks.
The UK government has stood by its decision to put Spain back on the list.
(Also, it's worth noting that the UK government's list applies to England, Wales and Northern Ireland. Scotland had its own, slightly different list which didn't include Spain for many weeks. Spain is now off both lists.)
Vietnam coma pilot warns people 'not to be blasé'
A Scottish pilot, who has returned to the UK after more than two months on a ventilator in Vietnam, has warned Britons "not to be blasé about coronavirus" as lockdown eases.
Stephen Cameron, 42, from Motherwell, was Vietnam's sickest patient and became known across the country as Patient 91.
"I'm a living example of what this virus can do and how serious it is," he told the BBC in an exclusive interview from his hospital bed at University Hospital Wishaw.
"I don't think the NHS could cope if there was a wave of people who needed the amount of care and life support that I needed."
Vietnam raises alarm after first cases in months
Vietnam has closed the city of Da Nang to tourists after four new locally transmitted coronavirus cases were recorded, the country's first since April.
No tourists can enter the city for 14 days and extra flights are being laid on to fly out up to 80,000 visitors.
Vietnam has been lauded as a success story after acting early to close borders and enforce quarantine and contact tracing. It has recorded just over 400 cases and no deaths.
But nearly 100 days after its last locally transmitted case, four new cases emerged in Da Nang, a central coastal city popular with domestic tourists.
Prime Minister Nguyen Xuan Phuc on Monday ordered Da Nang residents to re-implement social distancing and close all non-essential services.
He said the response had to be "decisive" but that he was not yet ordering a total lockdown of the city.
Read more here.
Australian state of Victoria hits new national case record
The virus-hit state of Victoria has reported six deaths and 532 new cases – surpassing the national daily high of 502 registered last week.
Melbourne, Victoria's state capital, is halfway through its six-week lockdown. But with 350-450 new cases being reported per day, officials warned lockdown may need to be extended.
Last week they noted that sick people going to work, or not isolating properly, were contributing to the virus' continued spread.
However, critics of the government say that the sheer spread shows authorities were too slow to realise the extent of the problem in the community back in June.
Authorities in neighbouring New South Wales (NSW) are also grappling to contain clusters around restaurants and a pub in Sydney. NSW reported 17 new cases today.
Australian hardware store customers refuse to wear masks
Several videos went viral in Australia over the weekend featuring women arguing with shop staff and police officers against having to wear a mask in Melbourne.
The virus-hit city is currently in lockdown and reporting hundreds of new cases a day. Last week, as part of efforts to halt the spread, officials ordered face coverings to be mandatory in public.
That has sparked altercations, with two women in separate incidents both filming their journeys to a Bunnings hardware store, where they harangued staff who requested they wear a face covering.
Swimming defector was not infected, says South Korea
The man suspected of being North Korea's first confirmed Covid-19 patient did not have the virus, South Korea says.
The man apparently defected from North to South three years ago, before seemingly deciding to return last week.
South Korea said the man reached the North by crawling through a drainpipe on a southern island, and then swimming around a mile.
At the weekend, North Korea reported its first suspected case of Covid-19.
It said the patient was a North Korean who had "re-defected" from the South.
Read more here.
China doctor accuses Wuhan officials of cover-up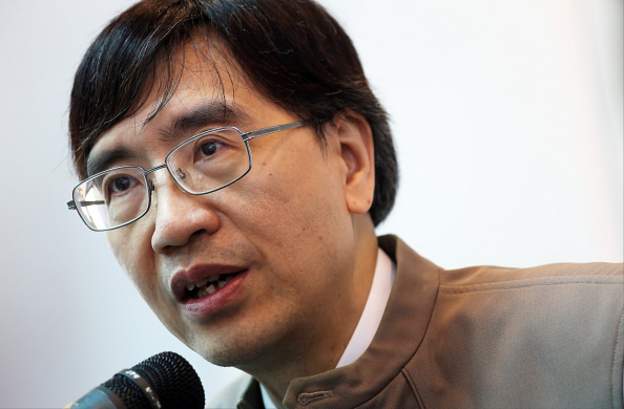 A doctor who diagnosed early coronavirus cases in China has told the BBC he believes local officials covered up the scale of the initial outbreak.
Professor Kwok-Yung Yuen, who helped to investigate in Wuhan, says physical evidence was destroyed and the response to clinical findings was slow.
"When we went to the Huanan supermarket, of course, there was nothing to see because the market was clean already. So, you may say that the crime scene is already disturbed because the supermarket was cleared we cannot identify any host which is giving the virus to humans," said Professor Yuen.
"I do suspect that they have been doing some cover-up locally at Wuhan. The local officials who are supposed to immediately relay the information has not allowed this to be done as readily as it should," he added.
China has been criticised for its initial response to the outbreak, and for penalising a doctor who tried to warn colleagues about the virus in late December. In response, China has repeatedly denied accusations that it withheld information about the severity of its outbreak.