Summary for Friday, 17th July


Boris Johnson announces next steps for easing lockdown in England from 1 August

Employers given more discretion over office working and indoor performances allowed to resume

PM says local authorities will get more powers to bring in lockdowns in their areas to contain future outbreaks

Health Secretary Matt Hancock calls for urgent review into data on deaths in England

There have now been more than 1m confirmed cases in India, and 2m in Brazil

The total in both countries has doubled in less than a month

Despite an increase in daily infections, the death rate in Brazil is largely flat

But in India, the number of people dying with Covid-19 each day is increasing

In the US, the daily total of new cases hits another record

With infections rising, Japan is now recording more daily cases than Italy

The UK, US, and Canada accuse Russian spies of targeting vaccine researchers

Globally there have been 13.8 million cases since the outbreak began, with 589,000 deaths

Welcome back to the BBC's live coverage of the coronavirus pandemic and the impact it's having around the world.
Here are some of the latest developments:


There have now been more than two million people infected in Brazil with the total doubling in the last month

In the US the daily total of new cases breaks another record-hitting 75,000 cases, according to Reuters

It comes as the top US infectious diseases expert has pleaded with young people not to go out to crowded places like bars

Tokyo is another hotspot we are watching after it reported the highest number of new case since the start of the pandemic

And Victoria in Australia also reported a record daily increase in infections while neighbouring New South Wales said it was banning dancing, singing and mingling at weddings.

India virus infections cross one million - reports
Infections have passed the one million mark in India, where more than 30,000 daily cases were confirmed on Thursday, local media report.
For months now cases have been swelling in the country, which has the third highest caseload in the world after the US and Brazil.
India's health ministry website, which publishes the total tally and state breakdowns, does not yet reflect the new numbers.
Japan domestic travel campaign to exclude Tokyo
A campaign aimed at increasing domestic travel across Japan will not include trips to Tokyo, Japan has said.
The capital saw 286 cases on Thursday - a record high - sparking concerns that the virus could resurge.
The "Go To Travel Campaign", which is due to kick off next Wednesday, will also exclude residents who live in Tokyo who want to travel outside the prefecture.
The campaign will provide local travellers with subsidies for domestic travel - but not everyone is happy.
"I wonder if it's all right for the program to begin during this period," Yamagata's Governor Mieko Yoshimura
said, according to a Japan Times report
. "It will contribute to the economy, but I cannot welcome it entirely."
Brazil passes two million virus cases
Brazil has now tallied more than two million confirmed virus cases.
It was less than a month ago that Brazil reached one million cases - and there is little sign that the rate of increase is slowing.
Brazil, which is home to around 210 million people, is the second worst affected country behind the US. But President Jair Bolsonaro, who tested positive for the virus, has continued to play down its health risks and fought against social distancing orders.
More than 74,000 people have died from the virus - and the true figures are believed to be even higher.
This is how the virus swept through the country, in pictures
.
US sees biggest daily infection spike
The US has reported more than 74,500 new cases on Thursday – the highest daily rise since the pandemic began in the country.
This brings the total number of infections to more than 3,570,000, according to Johns Hopkins University.
Covid-19 cases are now on the rise in 30 US states.
Nearly 1,000 people have died in the past 24 hours, bringing the overall deaths to more than 138,000.
More US states issue mask orders
More than half of the 50 US states have now issued mask orders, as the outbreak continues to rage across the country.
The latest to do so was Louisiana, where it is now mandatory to wear face coverings indoors. Democratic Governor John Bel Edwards also said bars across the south-eastern state would be closed.
Earlier, Colorado Governor Jared Polis, also a Democrat, ordered everyone in the western state from age 10 to "wear a mask or face covering whenever they are in public".
However, this continues to be a divisive issue.
In Georgia, Republican Governor Brian Kemp filed a lawsuit challenging the authority of the Democratic mayor of Atlanta, Keisha Lance Bottoms, to require wearing masks in the city.
Russian spies targeting Covid-19 data
Russian spies are targeting organisations trying to develop a coronavirus vaccine in the UK, US and Canada, security services have warned.
The UK's National Cyber Security Centre (NCSC) said the hackers "almost certainly" operated "as part of Russian intelligence services".
It did not specify if any information had been stolen, but said vaccine research had not been hundred by the hackers. Russia has denied all responsibility saying it had "nothing to do with the attempts".
Read more here
How did India get to one million cases?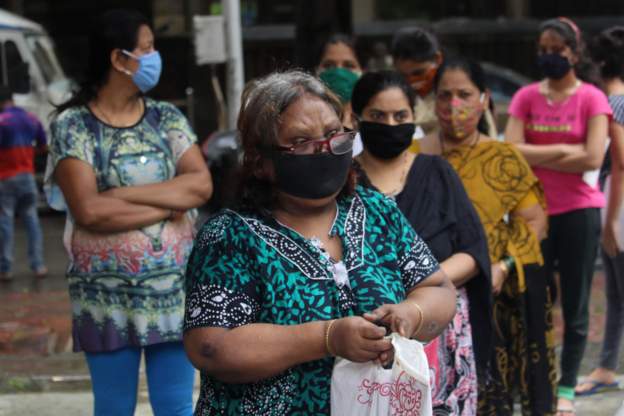 Women queue for a health check-up in India's worst-hit state, Maharashtra
The Health Ministry has now confirmed that with more than 34,000 new infections in the last 24 hours, India has breached the one million mark. The number of deaths reported has now crossed 25,000.
When India first went into lockdown, back in March, cases were hovering around 500. And when it started to gradually exit out of its lockdown on 8 June, confirmed cases had increased rapidly across states.
With more than 1.3 billion people, the country was always a point of concern. With its densely populated cities, most experts anticipated India to become a big hotspot when cases were still in the thousands.
From the first case, which was confirmed in January, to now, it took nearly 170 days to cross a million infections. Over the months, it raced past China, Europe's worst-hit countries, and most recently, Russia, to confirm the third-highest caseload in the world.
In the past two months, we've heard
heart-breaking stories of people unable to get care
and
hospitals overwhelmed
. Simultaneously, testing across states has increased which could help explain the rise in numbers too.
But it's worth noting that India's active cases are still relatively low at around 340,000. The number of people recovering from the virus is optimistic -
for every 100 confirmed cases, 63 have recovered
. And
the mortality rate
, at 2.55%, remains encouraging.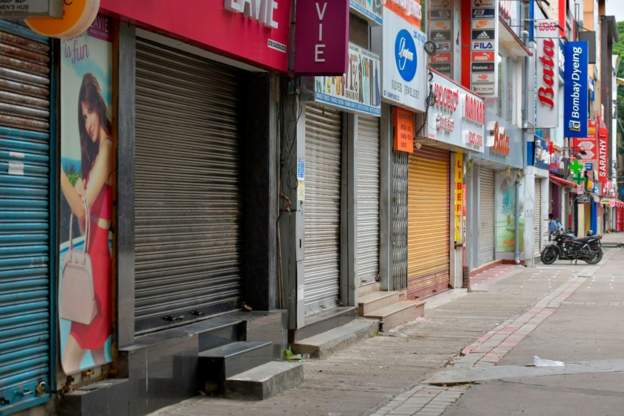 Closed shops and empty streets in Bangalore city, which is back under lockdown due to rising cases
Beijing sees no new cases for more than 10 days
The Chinese capital of Beijing has recorded no new cases for an 11th consecutive day, around a month after a new outbreak emerged in the city- linked to one of its biggest markets.
The outbreak, which eventually went on to infect more than 250 people, prompted a partial lockdown. But the chief epidemiologist from China's CDC has now said Beijing's outbreak has been
"basically reined in".
Overall China reported 10 new cases on Friday - nine of which were imported.
Another record day of cases in Melbourne...
with 428 new infections confirmed today (all except five of which are in the city). This follows the 317 reported Thursday, and around 200 per day for a week before that for the entire state of Victoria.
Officials described the number as "disappointing", and urged residents to abide by lockdown rules. Police have issued hundreds of fines to people visiting other households and lingering outside.
"We have not turned the corner here," said chief health officer Dr Brett Sutton. He added that the next few days would be crucial to see if lockdown is working.
The rest of Australia closed its borders to Victoria to stop the virus' spread. However, around 40 cases have emerged in Sydney, in the neighbouring state where concern is growing. Officials are urgently tracking a cluster of cases centred around a pub visited by a Melbourne man.
Three more people have also died - taking Australia's death toll to 116.