Summary for Thursday, 16th July


The UK shed more than half a million jobs during the coronavirus lockdown

The total was not as big as many feared with many workers on furlough

China announces a year-on-year increase in GDP as its economy rebounds

Another 317 cases were confirmed in Melbourne on Thursday

In the US, a new daily record number of cases are confirmed, according to Johns Hopkins data

Tokyo announced 280 cases on Thursday - a daily record

Globally, there have been 13.5m cases since the outbreak began, with 583,000 deaths

Hello and welcome to today's rolling news coverage of the global coronavirus pandemic.
Six months ago, the world didn't know about Sars-Cov-2 at all - now it has affected almost every corner of the Earth, causing unprecedented damage to the global economy and changing the way most of us live and work, possibly for ever.
Throughout the day we'll be bringing you the latest news about the virus's impact, scientific developments and advice, analysis from experts in the BBC and elsewhere, tips on how to keep yourself and your community safe and also stories of people supporting each other during very tough times.
As ever, thank you for joining us.
Melbourne and Tokyo cases rise, China bounces back
Here are some of the main stories so far this Thursday 16 July;


Melbourne in Australia has warned it may not have hit its peak of new cases. Victoria's capital is under lockdown, but the state has reported 317 new cases in the past day

Record numbers of new cases have been confirmed in the US, according to John Hopkins University - it says there were 67,632 new cases in the past 24 hours

Japan's capital, Tokyo, has also seen a new wave of infections - Governor Yuriko Koike has told local media she expects more than 280 cases to be reported on Thursday

US infectious disease expert Dr Anthony Fauci has described recent efforts by the Trump administration to discredit him as "bizarre" and "nonsense"

There's positive economic news from China - it says its economy grew 3.2% in the second quarter of the year, a sign it could be bouncing back

UK unemployment reached 1.3 million in April, but think tank Resolution Foundation has warned that doesn't show the true scale of the problem

Melbourne has driven Australia's curve back up
From April to mid-June, Australia had been celebrating its relative success in suppressing the virus.
It had moved quickly to limit the virus on the island nation – with early border closures, quarantining overseas arrivals and enforcing a tough social distancing regime.
However, the Melbourne outbreak – which became apparent last month – has now driven the nation's virus curve right back up.
Around a quarter of the country's 10,500 cases have come from the city in the last two weeks alone.
Here more on that:
Why has Melbourne's virus outbreak worsene
Hundreds of cases reported per day in Melbourne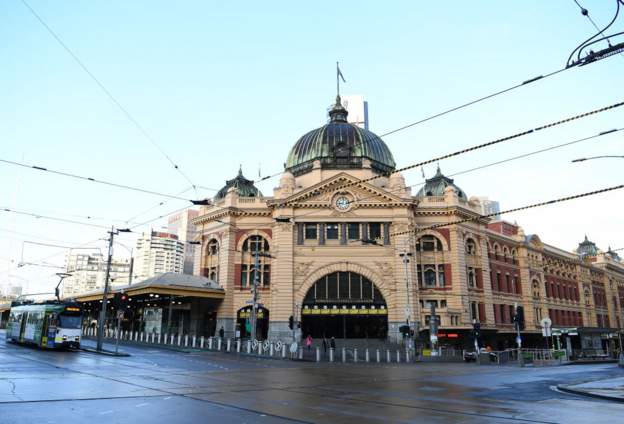 Melbourne's iconic Flinders St-Swanston St intersection is usually teeming with people
Infections are still rising in Australia's virus-hit city Melbourne, with 317 new cases confirmed in the state of Victoria today – a new national record.
The past week has seen on average more than 200 infections a day recorded amid aggressive testing in Melbourne.
Australia's second-largest city was forced back into a six-week lockdown last week in attempt to halt the spread.
There's been some optimism this week that the lockdown may cause numbers to plateau soon, but it's too early to tell, officials say.
"An out of control outbreak is one where no matter what you're doing, you're seeing an exponential increase. We're seeing an increase, but it's relatively slow," said chief health officer Dr Brett Sutton.
He's urged all Melburnians to comply with the lockdown. As reported yesterday, [url=https://www.bbc.co.uk/news/live/world-53413107?ns_mchannel=social&ns_source=twitter&ns_campaign=bbc_live&ns_linkname=5f0e777cbac8f90655aa9ef1%26Melburnians fined for KFC and]hundreds of people have been fined for breaking restrictions.[/url]
Tokyo warns of new daily record to come
Tokyo's Governor Yuriko Koike has said the Japanese capital is likely to report its highest ever number of daily cases today.
She told reporters: "I'm hearing that the numbers will be above 280."
Japan had lifted its nationwide state of emergency in April, but Tokyo has put one back in place as a new surge began in mid-June.
Many of the news cases emerged from the nightclub district, as it reopened, and a lot of those affected are younger people. Tokyo is also carrying out widespread testing to try to rein in the spread.
Oklahoma governor tests positive for Covid-19
The governor of Oklahoma, Kevin Stitt, has announced he has tested positive. He is one of the highest-ranking elected US officials to get the virus, and the first state governor.
In a video conference, he said he "felt fine" - "I felt a little bit achy yesterday. I didn't have a fever."
Gov Stitt, a Republican, has been an advocate of reopening his state, despite rising numbers. He was also seen recently at President Trump's rally in Tulsa - in his state in late June - not wearing a mask, but doesn't believe he caught the virus there.
He said he wanted planning to pull back on the reopening of the state, and was "not thinking about a mask mandate at all".
Stitt, in a blue suit at the bottom of the image, was at the Tulsa rally in June
South Korea sees new spike, most cases imported
South Korea on Thursday reported 61 new cases - a sharp rise from 39 infections a day earlier.
The country's health authorities said 47 infections were imported from overseas, including 20 cases confirmed among a group of South Korean construction workers who had returned from Iraq.
The authorities warned that the number of imported cases coming from Iraq could increase further as more workers were set to return home, South Korea's Yonhap news agency reported.
Latin America's death toll tops 150,000
In Latin America, the number of coronavirus-related deaths has now exceeded 150,000, with the World Health Organization warning that the outbreak is expected to peak next month in the region.
The worst hit country by far is Brazil, where nearly 2 million people have been infected and more than 75,000 have died - the word's second-highest death toll behind only the US.
Meanwhile, Peru - where nearly 340,000 cases have been confirmed - has appointed a new health minister to tackle the growing crisis.
Mexico and Chile are also struggling to contain the pandemic.
IMF chief: 'World economy not out of the woods yet'
Despite showing some signs of recovery, the global economy is "not out of the woods yet", International Monetary Fund (IMF) chief Kristalina Georgieva has said.
In a message to G20 finance ministers, she said the economy faced continued challenges - including the possibility of a second wave of Covid-19 - encouraging governments to keep their support programs in place.
The IMF now expects global GDP to fall by 4.9% this year, and only a "tepid recovery is expected for next year".
The $11 trillion in stimulus provided by the G20 nations helped to prevent a worse outcome, but "these safety nets must be maintained as needed and, in some cases, expanded,"
Georgieva said in a blog post.