Summary for Monday, 13th July


More than 230,000 cases were recorded on Sunday, the WHO says

Most new cases were in the Americas, followed by South East Asia

Mexico now has the fourth-most virus deaths, passing Italy

In England, nail bars, beauty salons, spas, and tattoo parlours can reopen today

The Palestinian Authority imposes a curfew on the West Bank

Bolivia's economy minister tests positive, days after the interim president did

Globally there have been 12.9m confirmed cases since the outbreak began, with 568,000 deaths

Welcome back to our rolling coverage of the coronavirus outbreak. The start of the week has brought with it a new grim milestone - the World Health Organization reported a record daily increase in global virus cases, with more than 230,000 new infections on Sunday.
Most of the new cases were in the
Americas
- where about 140,000 infections were confirmed.
Mexico
now has the fourth-most virus deaths, surpassing Italy which was once the epicentre of an outbreak in Europe.
Mexico has recorded over 35,000 deaths, behind the US, Brazil and the UK, according to Johns Hopkins University data.
And in more Latin American news -
Bolivia
's economy minister has now tested positive for the virus, days after its interim president tested positive. This makes Oscar Ortiz the fourth cabinet member to be infected.
The number of cases worldwide has now reached more than 12.8 million, with about 568,000 deaths.
Mexico deaths surpass Italy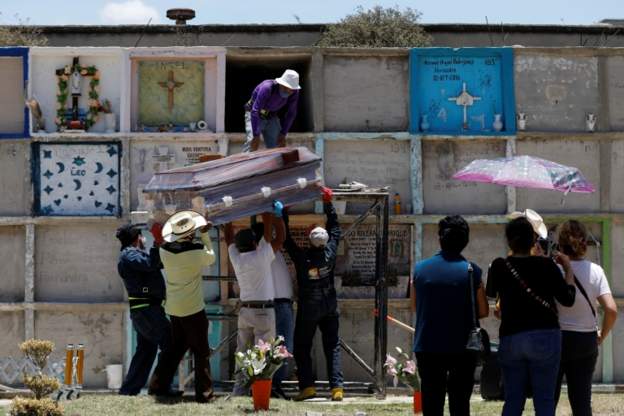 More than 35,000 people have now lost their lives in Mexico to Covid-19. The Latin American country now has more deaths than Italy - one of the first countries to raise global alarm over the virus.
But President Andres Manuel Lopez Obrador said on Sunday that the pandemic was "losing intensity" in the country and put the blame on "conservative media" for causing alarm.
The country recorded 276 deaths on Sunday and 4,482 new infections bringing total cases to almost 300,000.
The US still counts the most number of Covid-linked deaths globally. Brazil and the UK have the next highest tolls.
Record rise in global cases - WHO
Some 230,370 new cases were recorded in 24 hours - a record daily increase, said the World Health Organization on Sunday.
Most of the new cases were in the Americas, but here's a specific breakdown of where some of the other cases were from:


Americas - 142,992

South East Asia - 33,173

Europe - 18,804

Africa - 17,884

Eastern Mediterranean - 15,361

Western Pacific - 2,156

Around 5,285 new deaths were also reported - again, with the majority of them coming from the Americas.
South Africa bans alcohol sales again
This is the second ban on alcohol sales since South Africa's outbreak began
South Africa has introduced new restrictions, including another ban on alcohol sales, to help contain the spread of coronavirus.
A night-time curfew has been imposed, and the wearing of masks outdoors is now compulsory.
President Cyril Ramaphosa said the alcohol ban - South Africa's second this year - would take pressure off the national healthcare system.
It comes as total infections exceed a quarter of a million.
Deaths resulting from coronavirus have also risen to more than 4,000, and government projections estimate this could rise to 50,000 by the end of the year.
Virus hotspots grow in Indonesia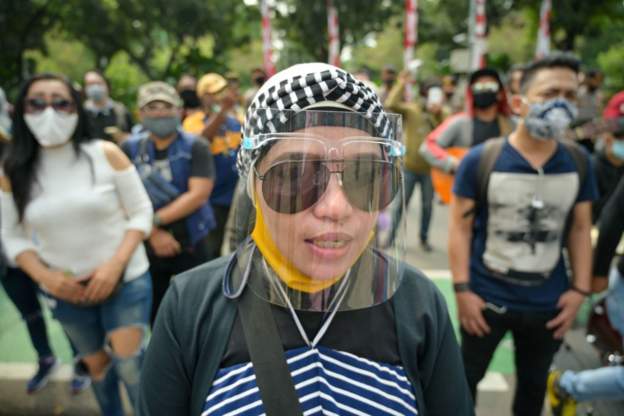 The number of virus cases in the South East Asian country of Indonesia has now exceeded 75,000 - as virus hotspots continue to grow.
Jakarta - the capital of Indonesia and one of the country's biggest hotspots - saw its highest daily record on Sunday with 404 new cases.
Indonesia has struggled to stem the outbreak after it eased social distancing rules - and the country appears to be moving towards opening more sectors of its economy even as the outbreak rages on.
A major cinema chain in the country said it was preparing for a public reopening later this month - saying it would keep to social distancing measures and reduce capacity, according to a
Jakarta Post report.
And in other parts of the country like tourist hotspot Bali, beaches have already reopened - though also, with restrictions in place.
Palestinian Authority imposes curfew on West Bank
The Palestinian Authority has imposed a night-time and weekend curfew on the West Bank in an effort to bring down the number of infections.
Travel will be prohibited daily from 20:00 to 06:00, said Palestinian government spokesman Ibrahim Melhem.
Major cities like Ramallah, Hebron and Bethlehem will also be under total lockdown until Thursday evening - and travel between districts will be banned for two weeks.
The West Bank is home to more than two million Palestinians.
According to the Times of Israel citing authorities, there were 378 new West Bank cases over the past 24 hours.
Some 5,575 people in the West Bank have been infected by the virus said Israeli paper Haaretz.
Three generations of Bollywood Bachchan family infected
Amitabh Bachchan, 77, has starred in hundreds of films
Indian megastars don't come bigger than the Bachchans, a family considered acting royalty.
At the helm of the dynasty is Amitabh Bachchan, one of the most famous people on the planet, with billions of fans spanning continents.
Over five decades, the 77 year old actor has starred in hundreds of Bollywood films, fronted prime time television shows and is revered, even worshipped - by his die-hard followers.
Little wonder then, that news he has coronavirus is massive news in India and beyond. In 1982, the nation stood still as Amitabh Bachchan spent months in hospital after a film stunt went horribly wrong.
This time he is said to be stable, with only mild symptoms. The star who has 43 million Twitter followers, has been tweeting thanks to his well wishers from hospital.
His son Abhishek Bachchan, and daughter-in-law Aishwarya Rai Bachchan who both tested positive, are big stars in their own right too.
As attention is focused on this one family, thousands of other Indians are contracting Covid-19 every day. The country is seeing a sharp rise in cases, now the third highest number in the world after the US and Brazil.