Summary for Sunday, 12th July


The US - the country hardest hit by the coronavirus - on Saturday posted more than 66,000 new cases, a daily record

President Donald Trump finally wore a mask in public for the first time since the pandemic began

Amitabh Bachchan, one of India's best known film actors, has tested positive for Covid-19

India has seen another surge in infections, rising to over 820,000

MPs have called for the government to clarify its position on face coverings in England

A Scottish pilot who spent more than two months on life support in Vietnam with coronavirus is on his way home

More than 12.7m cases of Covid-19 have been reported globally, and 565,000 deaths

Good morning and welcome to today's coverage of the coronavirus pandemic.
We'll be bringing you the latest updates from the UK and around the world.
Here are some of the latest headlines:
Brazil football match cancelled after 14 players test positive
One of Brazil's biggest football derbies was cancelled just hours before kick-off after 14 members of one of the teams tested positive for Covid-19.
Chapecoense had been set to play Avai in the second leg of the quarter finals of the Santa Catarina state championship.
The infected team was not announced, although Avai said all of its players had tested negative. Chapecoense did not comment on reports that it was the affected club.
The Santa Catarina state championship restarted on 8 July. Many clubs have expressed their concern at playing with such high levels of coronavirus in the country.
More than 1.8 million people in Brazil have tested positive for the virus and more than 71,000 people have died.
Under 30s drive resurgence of cases in Tokyo
Japan's capital Tokyo reported 206 new infections on Saturday, the fourth straight day of more than 200 cases.
The city is struggling with a resurgence in cases after the government lifted the state of emergency there.
About 80% of the new infections in Tokyo were under 30 years old, according to
Kyodo news agency
. Forty-eight cases were linked to nightclubs.
Saturday's figure for Tokyo is more than half of the total of 383 cases reported in the whole country on that day.
In Okinawa, 61 US marines tested positive for the virus this week - although that figure is not included in Japan's cases. Two US military bases have been placed under lockdown.
Virus infectious for 'more than an hour' when airborne
Prof Wendy Barclay, chairwoman in influenza virology at Imperial College London, says coronavirus particles can remain infectious in the air for more than an hour.
Earlier this week the World Health Organization said there was
"emerging evidence" of airborne transmission.
Prof Barclay told the BBC's Andrew Marr Show: "It is the first time that the World Health Organization has acknowledged that the airborne route contributes to the spread of this disease.
"Of course, there are other routes as well... but what this new acknowledgement means is that the route through the air probably also contributes in some circumstances."
Prof Barclay said the virus could remain suspended in the air and travel some distance away from the person who'd breathed them out, with laboratory studies showing it could remain infectious in the air for more than an hour.
She added that replenishing the air in a room was important to avoiding spreading the virus, rather than recirculating the air like some air conditioning systems do.
Labour 'would support mandatory face coverings' in shops
It's time for the Sunday morning political TV shows in the UK.
So far we've heard Labour's shadow business minister say her party would support the mandatory wearing of face coverings in shops in England.
Lucy Powell told Sky News' Sophy Ridge On Sunday programme that if the mandatory wearing of face coverings in shops would help people feel more confident about visiting them, "then we absolutely support it".
Her comments come after PM Boris Johnson said on Friday
a "stricter" approach to the use of face coverings was needed in England,
where they are only mandatory on public transport and in hospitals.
Ms Powell added: "We think the government - instead of just showing a bit of leg occasionally on these things by briefing newspapers or saying things that are not clear in press conferences, as the prime minister did on Friday - [should] get some clarity.
Trump pictured wearing a mask for the first time
US President Donald Trump has previously said he would not wear a mask and mocked Democratic rival Joe Biden for doing so.
But on Saturday that changed. He met with wounded soldiers and staff at the Walter Reed military hospital outside Washington DC - where he was pictured wearing a mask in public for the first time.
"I think when you're in a hospital, especially in that particular setting, where you're talking to a lot of soldiers and people that, in some cases, just got off the operating tables, I think it's a great thing to wear a mask," he said.
The US saw another 66,528 infections on Saturday, a record for one day. Almost 135,000 people have died in the US since the pandemic began, according to Johns Hopkins University data.
Read more here
Indian film star Amitabh Bachchan in hospital with virus
Amitabh Bachchan, one of India's best known actors, has tested positive for coronavirus. He is currently in hospital in Mumbai.
The 77-year-old is being treated in the hospital's isolation unit and is stable with mild symptoms, news agency ANI reports.
His son Abhishek is also in hospital after testing positive for the virus.
Other family members have all tested negative, according to local media.
Amitabh Bachchan has been involved in more than 200 films since becoming a star five decades ago. His son is also a successful actor.
A number of major Indian figures have taken to social media to wish the pair well including actors Prianka Chopra and Sonam K Ahuja.
Scottish pilot returns from Vietnam after two months on life support
A Scottish airline pilot, who contracted coronavirus in Vietnam and spent more than two months on life support in a hospital in Ho Chi Minh City, is on his way home.
Stephen Cameron, 42, was admitted to hospital in March, shortly after completing his first flight for the national carrier Vietnam Airlines.
Doctors had given him a 10% chance of survival.
In a country with very few cases of the virus - and no official Covid-19 deaths - every detail of his recovery was reported in the national press.
Mr Cameron said he was humbled by the experience and would return to Vietnam as soon as he was well enough.
Read more
about how Vietnam saved Mr Cameron and kept a clean Covid-19 sheet.
Vaccine could be rolled out in UK 'early next year'
Prof Robin Shattock, who leads Imperial College London's vaccine team, says its Covid-19 vaccine could be rolled out across the UK in the first half of next year if everything goes "really well".
He told Sky News' Sophy Ridge On Sunday that 15 volunteers had been vaccinated so far, and another 200-300 participants would be vaccinated in the "coming weeks".
"We anticipate if everything goes really well that we'll get an answer as to whether it works by early next year. And we have put in place the infrastructure to make that vaccine for the whole of the UK.
"So, assuming that the funding is there to purchase that vaccine, we could have that vaccine rolled out across the UK in the first half of next year."
Read more
from the BBC's James Gallagher about when we might have a vaccine.
Scotland taking 'close look' at how to avoid importing cases from England
Scotland's First Minister Nicola Sturgeon says her government must take a "very close look" at how to avoid people from rest of the UK bringing coronavirus into Scotland.
On Saturday the number of new coronavirus cases in Scotland
fell to single figures.
Ms Sturgeon told the BBC's Andrew Marr show that Scotland was not planning to impose a quarantine on people arriving from England at the moment, but would take the decision if necessary.
She said: "We have to take a close look at making sure the virus doesn't come in from other parts of the UK."
Ms Sturgeon added that it was "not about saying to people from England they are not welcome in Scotland" but it was about "taking decisions to try and protect people in Scotland".
Gove 'not in favour' of face coverings in shops being mandatory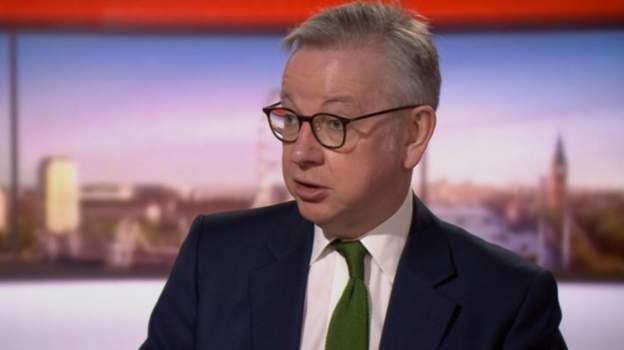 UK Cabinet Office minister Michael Gove says he is not in favour of making face coverings mandatory in shops in England.
He told the BBC's Andrew Marr Show that he would "encourage people to wear face masks" when they are inside in an environment where they are likely to be mixing with others and where there is not very good ventilation.
He said wearing one in a shop was "basic good manners", but he added: "My view is it is always better to trust people's common sense. Individuals and businesses are responding well to that lead."
Labour's Rachel Reeves told the same programme that she believed making face coverings mandatory in shops was "a sensible way forward".
The discussion has been sparked by comments from PM Boris Johnson on Friday, when he said
a "stricter" approach to the use of face coverings was needed in England,
where they are only mandatory on public transport and in hospitals.
Thousands of Israelis protest over virus handling
Thousands of Israelis in Tel Aviv took to the streets on Saturday to protest against the government's handling of the coronavirus crisis.
Many people are experiencing economic hardships and are angry at coronavirus measures, which have taken their livelihoods away.
The demonstration was organised by small businesses, self-employed workers and performing artists' groups.
They say government compensation payouts have been slow to arrive with some people waiting months.
Protesters were pictured mainly wearing masks but not observing social distancing.
The country has seen a spike in coronavirus cases with nearly 1,500 new cases reported on Friday. A total of 354 people have died from Covid-19 in Israel, according to Johns Hopkins University data.
Read more here