Summary for Saturday, 11th July


The US recorded 63,643 new cases on Friday and experts fear there will soon be a spike in deaths.

Belgium has made the wearing of masks compulsory in shops, cinemas and other indoor settings

It is understood the UK government is looking at whether to make face coverings compulsory in shops in England

France has officially come out of its state of 'health emergency'

India has seen another big spike in infections, rising to over 820,000

Globally the number of cases has passed 12.5 million with more than 560,000 deaths

The head of the World Health Organization has called for an aggressive approach to fight the virus

Welcome to our coverage
We'll be bringing you updates from around the world on the latest developments as the Covid-19 virus continues to spread.


In the US, nine states have reached records for single-day infections

World Health Organization chief Tedros Adhanom Ghebreyesus has called on countries to adopt an aggressive approach to fighting the virus

But cases continue to climb in India, which has seen a spike of 27,114 cases in 24 hours, taking the national number to 820,916

Belgium has made the wearing of masks compulsory in cinemas, shops and a number of other indoor settings

UK Prime Minister Boris Johnson has said "we need to be stricter" in England in insisting people wear face coverings.

US records highest daily infections
The US has recorded its highest daily number of coronavirus cases, with more than 63,643 infections confirmed on Friday.
Friday also saw 774 covid deaths, according to data from Johns Hopkins University.
More than three million people have tested positive for the virus in the US since the pandemic began.
Twenty-nine states have seen an increase in new cases compared to last week,
according to CNN
. Nine have had record single-day infections: Alaska, Georgia, Idaho, Iowa, Louisiana, Montana, Ohio, Utah and Wisconsin, Reuters reports.
Texas and Florida are among the worst hit states in the country.
Florida recorded 11,433 new cases on Friday. In Miami-Dade county, 28% of people who took tests were confirmed to have the virus.
Last week, leading US health official Dr Anthony Fauci warned that daily confirmed cases could reach 100,000.
We need clarity over face coverings in England - Labour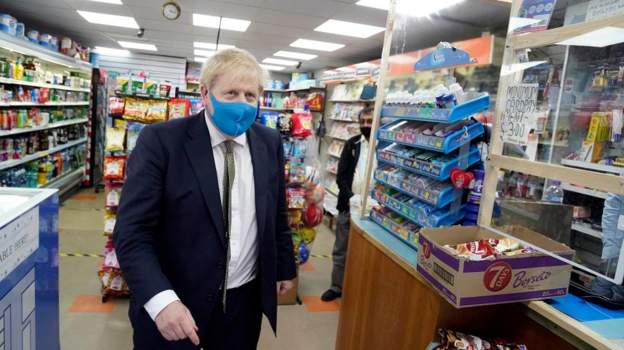 Boris Johnson visited businesses in his constituency on Friday
The UK government should be clearer about its stance on face coverings,
the opposition Labour Party has said.
Face coverings are currently compulsory on public transport in England, but not in shops. They're advised to be worn in enclosed spaces where social distancing isn't possible.
In Scotland - where the Scottish government is in charge of the face mask rules - coverings are required in shops and on transport.
On Friday, Prime Minister Boris Johnson was pictured wearing a face covering for the first time and said "we need to be stricter" in insisting people wear them in confined spaces.
Shadow health secretary Jonathan Ashworth said "strong and clear guidance" was needed. His colleague, Labour shadow minister Wes Streeting, added that "at the moment people are hearing different messages from different quarters".
Other politicians have resisted making masks mandatory. Tory MP and former cabinet minister Andrea Leadsom said she didn't want masks to be mandatory but "people should be considerate of others" and start to think about carrying one wherever they go.
Wearing masks now compulsory in Belgian shops
Belgium has made the wearing of masks in public places such as shops and cinemas compulsory and those who flout the rule face a €250 (£223, $282) fine.
The new rules have come in today and include locations such as museums, libraries, courts and casinos. Supermarkets are placing staff at entrances, reminding customers to put them on - and some of them are handing them out free of charge.
You already have to wear face coverings on public transport in Belgium or when working in a job that requires you to come into close contact with customers, such as hairdressers.
Businesses that fail to comply with the rules
will face a €750 fine
.
Repeat offenders can be fined up to €4,000 euros - and in some cases could be jailed for between eight days and three months.
Belgium enforces quarantine for travellers from Leicester
Gavin Lee - BBC Europe reporter
The Belgian government is enforcing a two-week mandatory quarantine period for any travellers who have recently been in Leicester. A lockdown has been imposed on the East Midlands city after a spike in infections.
The city has been added to a small list of so-called Red Zones, which include areas of Portugal and northern Spain. Parts of Greater Lisbon are under lockdown and 200,000 people in the Segrià area have also had movement restricted.
Signs are expected to be placed around Brussels airport, including at arrivals today, for travellers to indicate if they have been in Leicester before arriving in Belgium. You can find
details of the red zones here
Walt Disney World begins to reopen despite Florida spike
Walt Disney World in Florida is set to open to members of the public today for the first time in months, despite a surge of cases in the Sunshine State.
There will be a phased re-opening of the theme parks in Orlando with a smaller visitor capacity than usual.
Florida recorded 11,400 coronavirus cases on Friday, and cities and counties have been reinstating restrictions that had been lifted two months ago. Ninety-three days were recorded yesterday, far higher than the initial peak of the pandemic in May.
From Saturday, you will need to book in advance but you can visit Magic Kingdom and Disney's Animal Kingdom. Epcot and Hollywood Studios will open on 15 July.
Visitors and employees will have to wear masks and undergo temperature checks before entering the parks.
Parades and fireworks are cancelled over fears that crowds could gather.
Other theme parks such as Universal Studios and SeaWorld opened in June.
'Cricketers excited to wear their whites again today'
Groundstaff prepare the pitch at Uplyme and Lyme Regis Cricket Club
It's a big day for recreational cricket today,
as it's allowed to resume
in England for the first time since lockdown.
Former England captain Charlotte Edwards said it was "so important" that it was returning.
"Club cricket's the heartbeat of cricket in this country," she told the Today programme.
"You know, there will so many excited cricketers out there this morning, I'm sure, waiting to get on their whites again.
"I'm just thankful it's back, I think everyone's really missed it. It plays such an important part of cricket in this country."
She hopes that getting it back up and running will build "on the momentum of last year's World Cup win and getting young children into the sport".
Why aren't more UK politicians wearing face masks?
UK politicians are rarely spotted wearing face masks. Earlier this week, Chancellor Rishi Sunak went without one. On Friday Boris Johnson was photographed wearing one for the first time. Scotland's First Minister Nicola Sturgeon has been seeing wearing a tartan face-covering - it's now mandatory in shops in Scotland.
But leaders around the world - from Angela Merkel in Germany, to Shinzo Abe in Japan - have all been pictured donning facial coverings in public.
So why aren't more of the UK's politicians wearing face coverings?
Dr Claudia Pagliari, a psychologist at the University of Edinburgh, suggests it may have been a deliberate move to avoid masks.
Some politicians may want to give the impression coronavirus "doesn't pose much of a threat". Or in the case of Mr Sunak's restaurant cameo, she says they could be trying to hammer home the message that the country is "open for business".
Read the full piece here.