Summary for Thursday, 9th July


Charity Oxfam says 12,000 people a day could die from hunger than from the disease itself

It identified 10 countries as potential hotspots, including Yemen, DR Congo and Afghanistan

Australia's second-largest city, Melbourne, has begun a second lockdown

In the UK, public spending to tackle the crisis has risen to nearly £190bn ($240bn)

But Leicester, the first city in the UK to be put in local lockdown will not receive special financial support

The Trump administration says US schools should reopen on schedule, despite a surge in several states

Globally there are now 12 million confirmed cases and almost 549,000 deaths

Welcome to our rolling coverage of the Covid-19 pandemic. The latest headlines:


Australia's second-biggest city, Melbourne, has entered a second lockdown, due to last six weeks

The city has seen a spike in cases - the state border between Victoria and New South Wales also closed this week

As the US has another daily record for infections, there's a row about when to reopen schools

In Belgrade, people protesting against a curfew clash with police for a second night

Oxfam says hunger caused by Covid-19 could kill more people than the virus itself

Globally, there have been more than 12 million confirmed cases since the outbreak began, with 550,000 deaths linked to Covid-19

'Ring of steel' around Melbourne for Lockdown 2.0
Five million people in Melbourne are barred from leaving their homes for the next six weeks, except for essential reasons.
Police say they are setting up a "ring of steel" around the city, with "checkpoints anytime and anywhere".
The lockdown was announced on Tuesday, after the state saw 191 new infections - its highest daily number since the pandemic began.
The new restrictions began at midnight (14:00 GMT Wednesday). In the days before, supermarkets imposed purchase limits after panic-buying.
Second night of clashes in Belgrade
Protesters clashed with police for a second night in the Serbian capital, Belgrade, on Wednesday evening.
The protests began peacefully on Tuesday, after a weekend curfew from Friday evening until Monday morning was announced.
But Tuesday's protest turned violent, and there was more trouble on Wednesday, with another ten officers injured.
It's not certain the curfew will go ahead - with a final decision expected on Thursday.
Another record tally in the United States
There was another daily record of infections in the US on Wednesday, according to tallies from Reuters and the New York Times.
Reuters said more than 60,000 cases were confirmed, as a number of states deal with a surge in infections.
President Trump says the cases are a reflection of mass testing, and the death rate - which is down on the mid-April peak - is a better reflection of how the country is coping.
For the second day in a row, Reuters said, the reported number of people with Covid-19 who died was over 900.
The rolling seven-day average of daily deaths is 585 - down from a peak of 2,255 in April, according to
Worldometers
.
Police to guard NZ isolation after escapes
New Zealand has announced there will be a permanent police presence at every isolation and quarantine facility.
It comes after a 32-year-old man was found to have left isolation to visit a supermarket in central Auckland.
He had reportedly escaped through a fence section which was being replaced.
A woman previously escaped by climbing over a fence - she was found nearby around two hours later.
Megan Woods, the minister in charged of managed isolation facilities, said: "Anyone who chooses to break out of these facilities is committing a reckless act of selfishness and we will come down on them with the full weight of the law."
What are the new rules in Melbourne?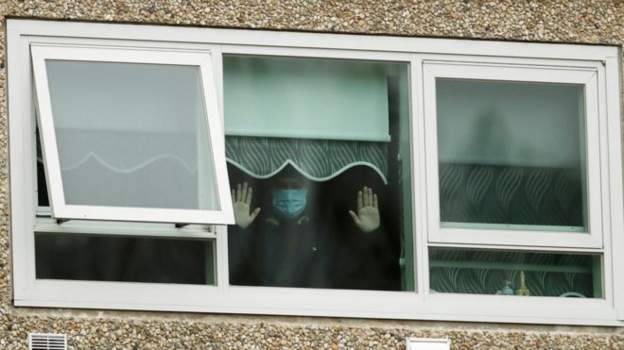 Residents can leave their home
for four reasons
:


To study or work, if it is not possible to do so from home

To exercise

To shop for essentials

To give or receive care or medical assistance

Gyms, swimming pools, beauty salons and cinemas are among the venues to close. Some pupils will return to school as planned next week, but others will be delayed by a week.
Restaurants and cafes are closed, but can offer takeaway food and drinks.
The figures behind India's outbreak
The coronavirus took hold slowly in India, but the country now has the world's third highest number of infections, behind Brazil and the US.
But although confirmed cases are rising sharply, as more tests are carried out, deaths are not rising as quickly.
India has just over 20,000 Covid-19 linked deaths. That, for example, is less than half the UK's total, even though India has had almost three times as many cases.
Australian border communities split in two
The border between New South Wales and Victoria in Australia has been closed to prevent the spread of Covid-19.
The cities of Albury and Wodonga on either side of the border are usually divided by just the Murray River. But now the communities are separated by a police checkpoint and residents need a permit to cross it.
Families have been separated and businesses are struggling as a result. This new lockdown measure could last "weeks not days".