Summary for Wednesday, 8th July


California and Texas report more than 10,000 new cases in a day - Reuters tally shows

President Trump says he thinks the US is "in a good place"

UK Chancellor Rishi Sunak set to announce £2bn ($2.5bn) to create jobs for young people

Serbs angered at the government's handling of the pandemic clash with police in Belgrade

WHO says there is emerging evidence the virus can spread through particles in the air

Melbourne is set to go back into a second lockdown after a surge in cases

There are now almost 11.8 million confirmed cases globally and more than 540,000 deaths

Welcome back to our rolling coverage of the pandemic. Here are the headlines:


The US states of California and Texas have each reported more than 10,000 new cases for the past day, a record for both

US President Trump said the US was "in a good place", disagreeing with the adviser Dr Anthony Fauci who said country was "knee deep" in the pandemic

Brazilian President Jair Bolsonaro - who was confirmed positive on Tuesday - said he wasn't surprised he got infected and insisted his symptoms were mild

In Australia, Melbourne will go back into a second lockdown later today. The decision came after the wider state of Victoria recorded a record number of cases on Tuesday

California and Texas see record cases
The 10,201 new cases reported in California took the state's total to nearly 284,000.
The surge led to the state last week rolling back the reopening of the economy, banning indoor restaurant dining, closing bars and stepping up social distancing.
Meanwhile, Texas reported 10,028 new infections on Tuesday.
Around 6,500 people have died in California while in Texas, just under 3,000 fatalities have been linked to the virus.
The death rate in California has been flat for weeks, but in Texas, there has been a recent increase to a rolling average of 47 a day.
In total, there have been almost 3 million positive cases recorded in the US - and more than 131,000 deaths have been linked to the virus.
Risk of virus spread from Melbourne 'extremely high'
The border closed overnight between virus-hit Victoria and New South Wales - and only permit-holders will be able to travel across state lines.
However the NSW government has also warned that it may isolate border towns and enforce quarantine of people returning from Melbourne to prevent the virus travelling further east.
"I do want to give a strong warning," Premier Gladys Berejiklian said. "The probability of contagion in New South Wales, given what's happening in Victoria, is extremely high."
It comes after a case was found on the NSW side of Albury-Wodonga, one of the towns straddling the border.
NSW reported eight new cases on Wednesday, compared to 134 in Victoria.
WHO says virus may be airborne
Imogen Foulkes - BBC News, Geneva
For months, the WHO has insisted that Covid-19 is transmitted via droplets emitted when people cough or sneeze.
Droplets that do not linger in the air, but fall onto surfaces - that's why handwashing has been identified as a key prevention measure.
But 239 scientists from 32 countries don't agree: they say there is strong evidence to suggest the virus can also spread in the air: through much tinier particles that float around for hours after people talk, or breathe out.
Now the WHO says there is evidence to suggest this was possible in specific settings, such as enclosed and crowded spaces.
That evidence will have to be thoroughly evaluated, but if it is confirmed, the advice on how to prevent the virus spreading may have to change, and could lead to more widespread use of masks, and more rigorous distancing, especially in bars, restaurants, and on public transport.
City of five million braces for second lockdown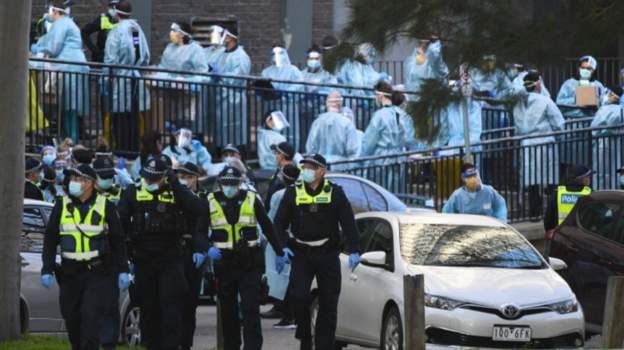 The outbreak in Melbourne began just three weeks ago
From midnight (14:00 GMT), Melbourne will be plunged back into lockdown for six weeks after a second wave of cases emerged.
Residents have expressed their dismay and sadness about Lockdown 2.0, while small businesses wonder if they'll be able to survive another shutdown, which is estimated to cost the state A$1bn (£0.55bn; $0.8bn) a week.
"It will test you and it will strain. But you have done it once before and you will be able to do it again," Prime Minister Scott Morrison said.
"The nation is with you and we will be with you every day."
He said Victoria was essentially "self-isolating" from the rest of the nation, which has recorded very few infections recently.
Victoria's Premier Daniel Andrews apologised for the renewed restrictions but said "simply, there's no other choice."
He confirmed 860 active cases in the state on Wednesday, and 134 new infections.
US cases rise past 3 million
More then 3 million coronavirus infections have been recorded across the US since the beginning of the pandemic, according to both the New York Times and NBC.
NBC reports that more than 46,500 new cases were added to the tally on Tuesday.
The US has by far the highest number of confirmed infections in the world.
Where are US cases rising and falling?
As California and Texas report record numbers of infections, where else in the US is the infection rate rising? And where is it falling?
According to
New York Times data
, the seven-day average of new infections has
increased in the past two weeks in 37 states
, including California, Texas, Florida, Nevada, Alaska, and Hawaii.
New infections are
flat in 12 states
, including New York, New Jersey, and Maryland.
And they are
falling in just one state
- New Hampshire - as well as Washington DC.
It's worth pointing out that in some places - such as New York, New Jersey, and other north-eastern states - even though the infection rate is not falling, it is way down on the peak earlier in the year.
Bolsonaro: Catching virus like getting caught in rain
Brazilian President Jair Bolsonaro has said he wasn't surprised
he tested positive for coronavirus.
He compared the virus to the rain and said everyone would eventually get wet. He also pointed out his symptoms were mild and said he was now feeling fine.
Bolsonaro has repeatedly dismissed the severity of Covid-19, which has been linked to the deaths of 67,000 Brazilians while nearly 1.7m infections have been recorded.
On Sunday the president was pictured without a face mask at an Independence Day celebration at the US embassy.
Several cabinet ministers are now self-isolating while they wait for the results of their tests.
Serbian protesters clash with police after curfew decision
Thousands of protesters have clashed with riot police in the Serbian capital, Belgrade, after the government announced a weekend curfew in the city in response to a rise in coronavirus infections.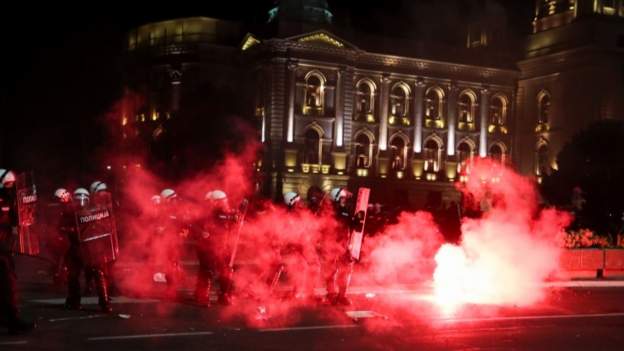 They demanded the resignation of the president, accusing him of mishandling the crisis.
The government lifted restrictions ahead of an election in June which was won by the president's party amid a boycott by an opposition alliance. Serbia recorded 13 virus-related deaths on Tuesday, its highest number so far.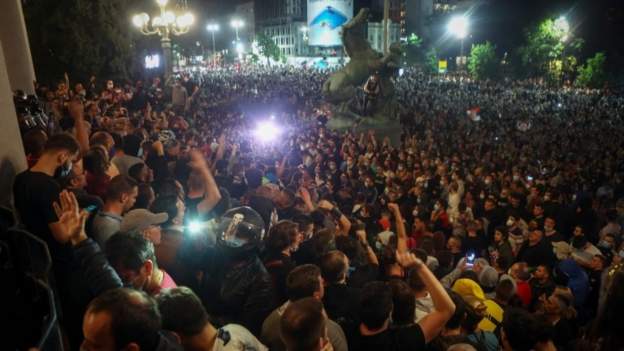 Shoppers flock to Melbourne supermarkets
Melbourne residents have flocked to supermarkets to stock up on supplies as they brace for a new six weeks of lockdown.
The restrictions follow a surge in coronavirus cases - and there have been reports of long queues, panic buying, and empty shelves - just like in the early days of the pandemic.
Coles and Woolworths, two major chains, have responded by reintroducing purchase limits on some products.
Coles chief executive Steven Cain said: "Our thoughts are with the many Victorians who will now be required to isolate at home, and we will continue to work with the state government to provide whatever assistance they need."
Public areas are being sealed off for a second time during the pandemic