Summary for Sunday, 5th July


The Australian state of Victoria warns that an outbreak in Melbourne has "genuinely explosive potential"

Some 3,000 residents of densely populated tower blocks in the city have been placed under lockdown

Pub-goers in England have enjoyed their first night out in three months after some restrictions were lifted

A police federation official says it is "crystal clear" drunk people cannot socially distance

US President Donald Trump touts the country's "progress" against Covid-19 despite a spike in cases

Mexico records more than 30,000 deaths as the disease ravages one of Latin America's worst-hit countries

More than 11.2 million cases of Covid-19 have been recorded worldwide with nearly 531,000 deaths

Good morning from our team in the UK and welcome back to our continuing live coverage of the coronavirus global pandemic.
In Australia, the state of Victoria is locking down housing estates in Melbourne in an effort to stem a local outbreak.
Mexico has now recorded more than 30,000 deaths as Covid-19 continues to move across the Americas.
In England, pub-goers in England are waking up from their first night out in months after lockdown restrictions were eased.
Stay with us through the day as we bring you all the latest news and analysis.
'Naked men, happy drunks, angry drunks'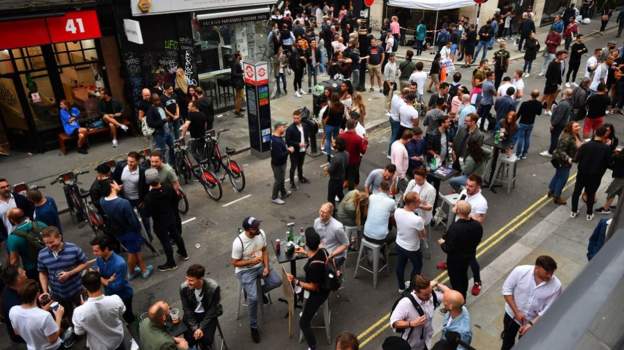 It's the morning after the night before for many people in England after the country saw pubs, bars and restaruants fully reopen for the first time since March.
Overall, it was a relatively calm picture across the country. But the Police Federation chairman said it was "crystal clear" that drunk people are unable to socially distance.
John Apter dealt with "naked men, happy drunks, angry drunks, fights and more angry drunks" on shift in Southampton.
Read more
here
People 'very largely' acted responsibly - Hancock
Health Secretary Matt Hancock has told Sky News' Sophy Ridge people largely acted responsible as pubs and bars reopened fully in England on Saturday.
"I think from what I've seen – although there's some pictures to the contrary – very, very largely people have acted responsibly
"This balanced message is so, so important: people should enjoy summer safely.
"And of course the emphasis is both on enjoy and safely.
"Of course everybody knows we are doing everything we can to get back to normal but only to do that where it is safe to do so.
"Overall I'm pleased with what happened yesterday. It was really good to see people out and about and very largely social distancing."
'Significant concerns' over Leicester clothing factories - Hancock
Matt Hancock also confirmed there had been coronavirus outbreaks at clothing factories in Leicester - which has been subjected to a local lockdown amid a surge in Covid-19 infections.
He said there were "some quite significant concerns" regarding employment practices in the city.
Asked if there was a link between employment practices in Leicester and the outbreak there, the health secretary told Sky News guidance for employers was "statutory" and backed up by fines.
"We also have the authority to shut down the business if it doesn't follow the guidance," he said.
Melbourne lockdown: 'This is not about punishment but protection'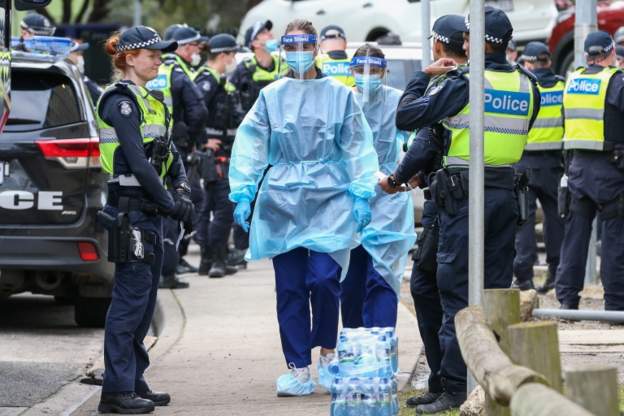 In Australia, the state of Victoria has reported 67 new infections since Saturday, as the authorities struggle to contain the outbreak.
State Premier Daniel Andrews defended his earlier decision to put nine tower blocks in Melbourne into a complete lockdown, promising support for about 3,000 residents there.
"This is not going to be a pleasant experience for those residents, but I have a message for those residents: this is not about punishment but protection," Andrews said.
Victoria's Chief Health Officer, Brett Sutton, warned that the communal nature of the facilities, which house people on low incomes, had "genuinely explosive potential" for the spread of the virus.
Why Melbourne?
For months Australia had felt optimistic about containing Covid-19 but then came the resurgence of the virus in Melbourne.
Why has the city been affected so dramatically?
Victoria State Premier Daniel Andrews has linked the origin of many infections to workers overseeing hotel quarantines breaking the rules but there are other factors such as possible poor communication between health services and migrant communities in the tower blocks affected.
Read our explainer
UK needs 'back to work Budget', Labour says
Annaliese Dodds, the shadow chancellor, has told Sky News that Labour is hoping for a "back to work Budget" from the UK government next week.
She said ministers should end a "one size fits all" approach and come up with targeted support for industries and businesses particularly affected by the coronavirus.
The MP said the UK was behind lots of other countries in implementing economic measures to save jobs amid the recovery and she linked recent redundancies to the looming end of the government furlough scheme.
Dodds added that another wave of coronavirus infections was a possibility and she called for sustainable funding for the NHS to help it prepare for winter.