Summary for Wednesday, 24th June


More than 100,000 people have now died in Latin American and the Caribbean as the pandemic accelerates

Health experts are saying infection rates still haven't peaked in many countries

Covid-19 has "brought this nation to its knees" said the director of the US CDC

Robert Redfield's comments came as about half of US states are seeing a surge in new cases

Health official Anthony Fauci warns of a "disturbing surge" in infections, and calls for increased contact tracing

An outbreak in Germany has sparked fresh lockdowns

World number one tennis player Novak Djokovic has said he is "so sorry" after testing positive

Globally there are now 9.2m cases and almost 477,000 deaths

Welcome to our rolling coverage of the Covid-19 pandemic. Here are the latest headlines:


The director of the US Centers for Disease Control and Prevention, Robert Redfield, says the virus has brought the US "to its knees"

Meanwhile top US adviser Anthony Fauci warns of a "disturbing surge" in infections in parts of the US

The number of deaths linked to Covid-19 in Latin America and the Caribbean passes 100,000

World number one tennis player Novak Djokovic apologises after testing positive following a tournament he organised

The Maldives will reopen its tourist resorts in mid-July

US official warns of 'disturbing surge'
The director of the US Centers for Disease Control and Prevention has told a Congress hearing that the virus has brought the US "to its knees".
"We have all done the best that we can do to tackle this virus," Robert Redfield said. "And the reality is that it's brought this nation to its knees."
He also said the cost of "one little virus" could be $7 trillion.
At the same hearing, top White House adviser Anthony Fauci said there was a "disturbing surge" in infections in parts of the US.
He said it was crucial for states to have "the manpower, system, and testing" to identify, isolate, and contact trace new patients.
Where is the 'surge' in US cases?
In some parts of the US, the outbreak seems to be under control.
In the north-eastern states of New York, New Jersey, Massachusetts, and Connecticut, for example, the daily number of new cases is way down from the peak in March and April.
But according to the latest
New York Times data,
at least 26 states are seeing increases in the seven-day rolling average of new cases. They are:


California, Texas, Florida, Georgia, Arizona, North Carolina, Louisiana, Ohio, Tennessee, Alabama, South Carolina, Washington, Mississippi, Missouri, Utah, Arkansas, Nevada, Kansas, Oklahoma, Delaware, Oregon, Idaho, West Virginia, Wyoming, Hawaii, Montana

Australia sees first death in a month
Australia's death toll now stands at 103, after an elderly man in Victoria died overnight.
It's the first fatality in over a month and comes as an outbreak continues in the state capital Melbourne.
Almost all of Australia's new infections have come from six suburban "hotspots" in the city, some of which have large migrant populations. Most clusters had come from family gatherings, officials said.
Authorities have defended their messaging to non-English speaking communities, after leaders pointed out non-English warnings were inadequate or had been patchy.
Eight new community transmissions were reported overnight – slightly lower than the average reported in the past week, officials said.
However the state is still scrambling to tackle the spike and confine it before it spreads further.
'Sorry' Djokovic also tests positive
The world's number one tennis player Novak Djokovic has said he is "so sorry" after he, and a number of other players, tested positive for Covid-19 after playing at his Adria Tour competition.
Djokovic set up the event as a way of helping players get back to match fitness after several weeks without competition.
Djokovic, Grigor Dimitrov, Borna Coric and Viktor Troicki have all tested positive.
Pictures on the tournament's social media site from Friday showed Dimitrov playing basketball with Djokovic, Alexander Zverev and Marin Cilic, while he also put his arm around Coric before their match.
In a post on Twitter, Djokovic admitted that it had been "too soon" to stage the tournament.
"I am so deeply sorry our tournament has caused harm," added Djokovic.
NYC to open beaches for swimming
Beaches in New York City will be open for swimming from 1 July, its Mayor Bill de Blasio has announced on Twitter.
"Let's keep playing it safe, social distance and face coverings, even at the beach," he tweeted.
The city's beaches have been open to sunbathers, but swimming has been prohibited.
UK must prepare for second wave - health leaders
Health leaders are calling for an urgent review to determine whether the UK is properly prepared for the "real risk" of a second wave of coronavirus.
In an open letter published in the
British Medical Journal
, ministers were warned that urgent action would be needed to prevent further loss of life.
The presidents of the Royal Colleges of Surgeons, Nursing, Physicians, and GPs all signed the letter.
It comes after Boris Johnson announced sweeping changes to England's lockdown.
On Tuesday, the prime minister said pubs, restaurants, cinemas and hairdressers will be able to reopen from 4 July.
Mongolia holds election amid outbreak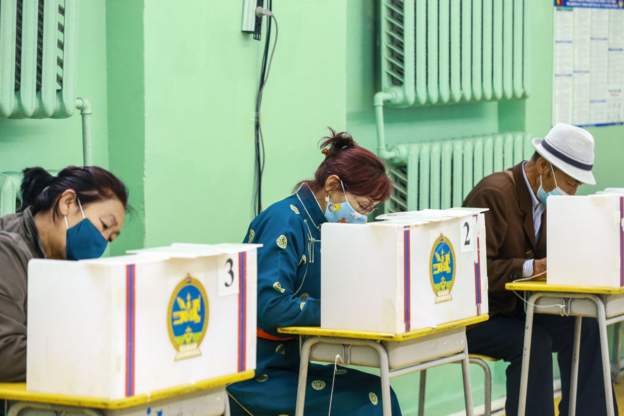 A polling station in Ulaanbaatar, the capital of Mongolia, on Wednesday
Mongolia is today voting for a new parliament - making it the second country in the world to hold national elections during the virus outbreak, after South Korea.
It's taking several measures to keep people safe, including checking voters' temperatures, disinfecting voting stations, and providing voters with disposable gloves.
The country's two main parties flouted bans on large gatherings during their campaign rallies.
The governing Mongolian People's Party is hoping to retain the vast majority of the parliament's 76 seats it won four years ago.
The huge but sparsely populated Asian democracy has been strict in its response to the pandemic with no deaths, and only around 200 cases.
Inside a Mumbai critical care unit
The state-run KEM hospital in Mumbai is at the forefront of the city's fight against Covid-19.
With more than 60,000 cases, Mumbai is the worst-affected Indian city. Hospital staff are overrun with patients and are struggling under the workload.
So how do they cope?
BBC Marathi's Mayuresh Konnur and Sharad Badhe obtained exclusive access inside the hospital.
Maldives to reopen to tourists
The Maldives will reopen tourist resorts from 15 July, its President Ibrahim Solih has said - adding that international tourists would be welcomed.
Foreign visitors will not need to undergo virus tests to enter the country.
Tourism is one of the biggest sources of income for the Maldives, which banned arrivals in March in a bid to stop the spread of the virus.
The Maldives, which has a population of around 340,000, has reported around 2,200 virus cases.