Summary for Monday, 22nd June


World Health Organization records highest one-day increase in total cases, with 183,000 added in one day

Most came from Brazil, followed by the US and India

The high level of confirmed cases is partly down to a global increase in testing

Brazil passes 50,000 Covid-19 deaths; only the US has more

UK PM Boris Johnson will discuss reducing the 2m rule, with a decision expected on Tuesday

South Korea is going through a 'second wave' of coronavirus, officials say, even though new infections are falling

France is re-opening cinemas, swimming pools and holiday centres. All children up to 15 are back at school

Globally, there have been almost 9m confirmed cases since the outbreak began, with 467,000 deaths

Welcome back to our rolling coverage where we keep you posted on all things coronavirus from around the globe.
Here's what you need to know this morning.


The World Health Organization (WHO) has recorded the biggest global daily rise in infections, with the Americas accounting for most of the new cases

Brazil's death toll has risen above 50,000 - which is second only to the 120,000 fatalities in the US

The number of confirmed infections in Mexico has risen beyond 180,000

In China, fears of a new wave have eased with only nine new cases recorded in Beijing

In the UK, the government is looking at reducing the "two-metre distance" rule as it moves out of lockdown

Brazil deaths rise above 50,000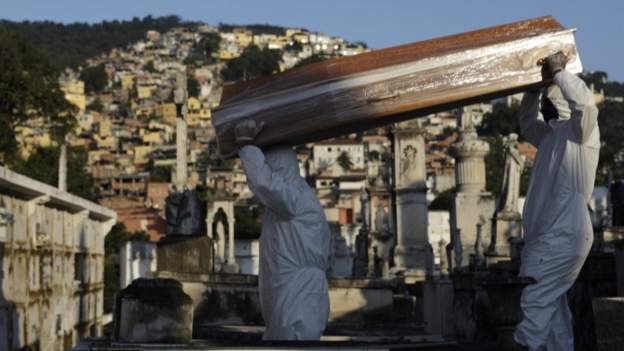 Brazil has become the second country, after the US, to register more than 50,000 deaths linked to Covid-19.
The grim milestone comes amid growing political unrest, and days after the country confirmed more than one million coronavirus infections.
Experts warn that the peak of the outbreak in Brazil is still weeks away.
On Sunday, the ministry announced that 641 more deaths had been registered in the past 24 hours, taking the total to 50,617.
Only the US has fared worse, with 2.2 million cases and nearly 120,000 deaths.
WHO records highest global cases in 24 hours
The World Health Organization (WHO) has recorded the biggest one-day increase in coronavirus cases, with the Americas responsible for most of the new infections.
The WHO said more than 183,000 new cases were reported in the past 24 hours.
Most - more than 50,000 - came from Brazil, followed by the US and India.
The number of confirmed cases is partly a reflection of increased testing around the world.
Australian 'setbacks' cause concern
Australia has been among the most successful places to tackle the virus – some states have gone weeks without a new case.
But a spike in infections in Victoria is providing the country's biggest concern for some time.
The south-eastern state has recorded more than 100 cases in the past week, mostly in Melbourne. Twelve of the 16 detected today were transmitted inside Australia, unlike many recently which have been infected overseas.
Victoria has extended a state of emergency declaration, re-imposed some lockdown measures, and issued warnings for six virus "hotspots".
"This is part of living with Covid-19," Prime Minister Scott Morrison told reporters today.
"
There will be setbacks from time to time, but we have systems to deal with the setbacks."
Stricter measures reimposed in South Korean city
Laura Bicker - BBC News, Seoul
Pupils in Daejeon, South Korea, pictured in class last month - schools will remain open despite the new, stricter guidelines
South Korea's fifth largest city, Daejeon, is going back to stricter social distancing measures after clusters of coronavirus cases.
The country has actually just reported its lowest number of new infections in nearly a month, with 17 cases reported in the past 24 hours, six of them from overseas.
But officials are still concerned about sporadic outbreaks, particularly in the city of Daejeon, around 50 miles south of Seoul.
All gatherings in public spaces such as museums, sports halls and libraries have been banned. Twenty-two churches used by the Christian sect, the Shincheonji Church of Jesus, have also been closed.
The church was at the centre of the country's biggest outbreak in February when over 6,000 members were infected.
The Seoul city mayor said he was also making preparations in case there was a second wave of the virus.
Officials are recruiting more contact tracers and securing more hospital beds in case the infection takes hold in the capital.
Beijing infections drop after 'market spike'
China has reported nine new cases in Beijing over the past 24 hours.
That's down from 22 the previous day, and the first time it has been in single figures for more than ten days.
More than 230 cases have been recorded in the recent Beijing "spike". The outbreak was linked to a large food market, and triggered lockdowns and travel bans in neighbourhoods across the city.
Face masks now compulsory on Scottish public transport
In Scotland,
face masks become compulsory on public transport
from Monday as the country continues to ease its way out of lockdown.
The new rule covers buses, trains, the Glasgow Subway, Edinburgh trams, aircraft, enclosed areas onboard ferries, taxis and private hire cabs.
The Scottish government is also urging people to continue to limit travel.
Last week, First Minister Nicola Sturgeon said face coverings could "help to reduce the risk of transmission", but stressed that physical distancing, hand washing and "good hygiene" were still necessary to prevent infection.
The same rule was imposed in
England a week ago
, but they are not mandatory on
Welsh
or
Northern Irish
public transport.
Deaths down, but cases stubbornly high in US
These two charts show the number of confirmed cases and deaths in the US since February.
While deaths are decreasing, the number of cases shows a slight increase.
French schooling now compulsory
In France, going to school is now compulsory from Monday for everyone up to the age of 15.
Only lycées – or high schools, which cover the last three years of school education – are not affected.
Schools have been open for several weeks, but only on a voluntary basis.
Read more on how France and other European countries are easing their way out of lockdown.
UK PM to announce on Tuesday if pubs can reopen
British PM Boris Johnson is expected to announce on Tuesday whether the hospitality sector - including pubs, restaurants and hotels - can reopen on 4 July and if the two-metre (6.5ft) distancing rule in England can be relaxed.
Mr Johnson has commissioned a review into social distancing guidelines
that require people to remain two metres apart.
Health Secretary Matt Hancock has said England is "clearly on track" to further ease lockdown restrictions. But No 10 warned the moves would be reversed if they led to a virus surge.
Businesses and many MPs from Mr Johnson's own party have warned that large parts of the hospitality industry won't be viable unless the rule is changed.
They're calling for the distance to be reduced to one metre, in line with World Health Organization advice and countries including France and Denmark.
Read more here
New Zealand extends ban on cruise ships
New Zealand on Monday said it was extending its ban on cruise ships arriving in the country.
"We are extending the current cruise ship ban which was due to expire on 30 June," Prime Minister Jacinda Ardern told a press conference.
New Zealand has been one of the world's most successful countries in fighting the coronavirus. It has lifted all internal restrictions but measures at the border remain.
In the early stages of the pandemic, cruise ships have often been hotbed for the virus spreading and several of them have spent weeks at sea or quarantined in a harbour before passengers were allowed to disembark.
'Deadly masks' claims debunked
Reality Check
With face masks now mandatory on public transport in England and Scotland, as well as in various other settings around the world, the BBC's anti-disinformation team has investigated misleading claims about masks.


There is no evidence of harmful carbon dioxide exposure

Masks will not deprive your body of oxygen

Click here to read our full take
on some of the most widely seen examples on social media.
Yoga, the socially distanced way
A yoga company in Toronto, Canada, has come up with an inventive way to allow people to return to group practice.
LMNTS Studio has set up a series of bubbles in its outdoor pop-up studio for a few weeks.
Canada has reported some 100,000 cases of the virus and more than 8,480 deaths.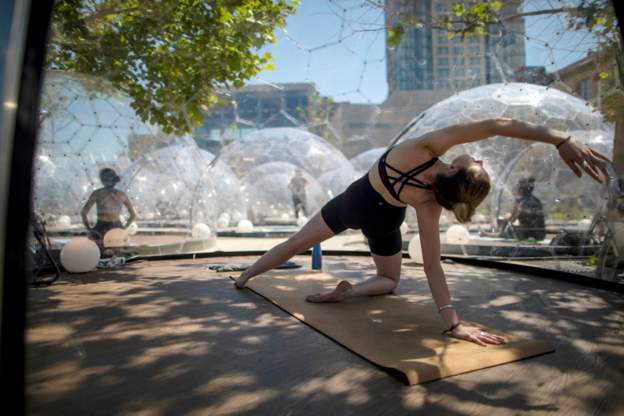 Japan pushes saliva test
If you've had a coronavirus test done, you might know that the nasal swab is not exactly the most pleasant of things to go through. Although harmless, many people find it very uncomfortable to have a swab going far up their nose.
A team of researchers in Japan say they have developed a saliva test that can give a result in as little as 25 minutes.
Medical firm Shionogi said its working with Japanese universities to develop the test and that it would even allow people to take the test at home.
In the UK, there's currently a trial for a similar saliva test underway, with more than 14,000 front-line workers taking part
Latest headlines from the UK
If you're just joining us this morning, here are the latest coronavirus developments from the UK:


PM Boris Johnson will discuss England's approach to the changes with the Covid-19 Strategy Committee on Monday. On Tuesday, he is to announce if the hospitality sector can reopen on 4 July and if the 2m distancing rule in can be relaxed. Scotland, Wales and Northern Ireland will decide on these issues separately.

Lower-income households are using savings and borrowing more during the lockdown, while richer families are saving more as eating out and trips abroad are banned, according to research by the Resolution Foundation.

The Children's Foundation has warned children are developing serious mental health conditions, including post-traumatic stress, because of the pandemic.

Face coverings are now compulsory on public transport in Scotland.

Non-essential shops are reopening in Wales for the first time since coronavirus restrictions began.

A new "no swab" saliva coronavirus test that lets people collect their own sample at home by spitting into a pot is being trialled in the UK. More than 14,000 GP staff and other key workers, along with the people they live with, will take part

Pope worried by 'hypocrisy of certain political personalities'
The coronavirus crisis should lead to more integrity and less hypocrisy in politics and society, Pope Francis has said.
In an excerpt from a recent interview with his biographer,
the head of the Catholic church said: "This crisis is affecting us all, rich and poor alike and putting a spotlight on hypocrisy.
"I am worried by the hypocrisy of certain political personalities who speak of facing up to the crisis.
"Of the problem of hunger in the world, but who in the meantime manufacture weapons.
"This is a time to be converted from this kind of function of hypocrisy. It's a time for integrity. Either we are coherent with our beliefs or we lose everything."
Police deploy water cannon at The Hague's anti-lockdown protest
Police deployed mounted officers and water cannon when unrest broke out
Hundreds of people were arrested in The Hague in the Netherlands on Sunday, after a peaceful protest in the city turned violent.
Mayor Johan Remkes allowed demonstrators to gather at 13:00 local time (11:00 GMT) on Sunday after originally banning the anti-lockdown protest amid fears that people would not observe social distancing.
Police then said a small number of "troublemakers", who they identified as football fans, threw stones and smoke bombs at officers after the demonstration broke up. Mounted officers and water cannon were deployed to tackle the unrest.
"The atmosphere is grim," the official police Twitter account posted.
Mayor Remkes later said a small group was "deliberately aiming to disturb public order". "This has nothing to do with demonstrating or freedom of expression," he wrote.
The largely peaceful anti-lockdown demonstration later turned violent
Trump was 'joking' about slowing down testing - White House
At his first campaign rally for months on Saturday, President Donald Trump told his supporters it was the "double-edged sword" of comprehensive testing that had led to the US having the world's highest number of coronavirus cases.
"When you do testing... you are going to find more people, you will find more cases," he told attendees in Tulsa, Oklahoma. "So I said to my people: 'Slow the testing down.'"
The White House later said his comments were meant as a joke.
But he revisited the issue on Monday with a new tweet in which he argued that the more tests a country carried out, the more cases it was likely to find. However,
some health experts have said this is not the case
.
The US has nearly 2.3m reported cases of the virus and the highest number of deaths worldwide with nearly 120,000.
  Donald J. Trump:

Our Coronavirus testing is so much greater (25 million tests) and so much more advanced, that it makes us look like we have more cases, especially proportionally, than other countries. My message on that is very clear!
Children 'developing post-traumatic stress' from pandemic
Children are developing serious mental health conditions, including post-traumatic stress, because of the coronavirus pandemic, a charity has warned.
In a report
the Childhood Trust says
disadvantage is leaving children extremely vulnerable.
As well as anxiety about their loved ones' health, many children are facing social isolation and hunger. Lack of internet access is also setting disadvantaged children back.
You can read the full story here
Second player tests positive at tennis tournament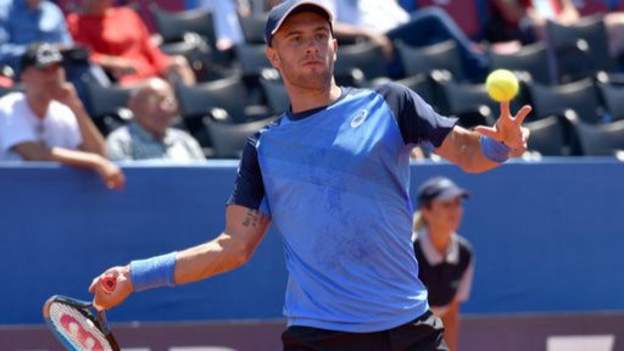 Following world No.19 Gregor Dimitrov's withdrawal from the Adria Tour tournament due to his positive Covid-19 test, a second player has now tested positive.
Dimitrov, 29, pulled out of the tournament in Zadar, Croatia, on Saturday with sickness after losing to 23-year-old Borna Coric, who played again on Sunday.
Now,
Coric has revealed he too has Covid-19
, albeit without any symptoms.
With Croatia easing lockdown measures before the event, players were not obliged to observe social distancing rules and were seen embracing at the net at the end of their matches.