Summary for Thursday, 18th June


   There are more than 240,000 virus cases in Peru, which puts the total over hard-hit Italy

   The Americas have become the new focus of the global coronavirus outbreak

   A BBC investigation finds at least 130,000 more people than expected died during the pandemic

   In the UK, there is some uncertainty about when a contact tracing app might launch

   Thousands of people in Germany have been told to go into quarantine after an outbreak at an abattoir

   Globally there are 8.3m recorded cases with more than 448,000 deaths

Welcome back to our live coverage of the global coronavirus crisis. With our teams based around the world, we are keeping you informed of all the latest developments.
Here's what you need to know:


Peru has overtaken Italy with more than 240,000 confirmed cases. Italy was initially the hardest-hit country in Europe

The rising toll in Peru confirms that Latin America has now become the epicenter of the pandemic and that while some countries are easing restrictions, the global pandemic is far from over

There are nearly four million infections in the region and more than 200,000 deaths that have been linked to Covid-19

New cases are also rising in several US states including in Oklahoma where US President Donald Trump is about to launch his re-election campaign with a rally in Tulsa on Saturday

A BBC investigation has found that at least 130,000 more people than reported have died during the pandemic

Thousands of people have been told to quarantine in Germany after a new outbreak in an abattoir

Most Qantas flights cancelled until October
Qantas has cancelled all international flights until late October except for those to New Zealand.
The news comes as the Australian government said its border would remain closed into next year to slow the spread of the coronavirus.
The airline and subsidiary Jetstar are now boosting domestic flights as travel restrictions within Australia ease.
Qantas has seen domestic passenger numbers double to 64,000 this week, compared to last week's 32,000.
Read our full story here
Peru has more confirmed cases now than hard-hit Italy
Peru's number of confirmed infections now stands at 240,908, higher than in Italy - which for a long time was Europe's worst-affected country.
Peru now has the second-highest number of cases after Brazil's total of almost a million. Peru's death toll stands at 7,257, still far behind Brazil's more than 45,000.
Latin America is the current epicentre of the pandemic, with more than four million confirmed infections - the worst-hit countries are Brazil, Peru and Chile. Health experts believe the actual numbers in all those countries to be much higher.
Peru has just extended a lockdown until 30 June and numbers of daily infections seem to be on a downward trend. The latest daily figure of around 3,700 cases is only half of what it was in late May at the peak of the crisis.
Amazon indigenous chief dies of coronavirus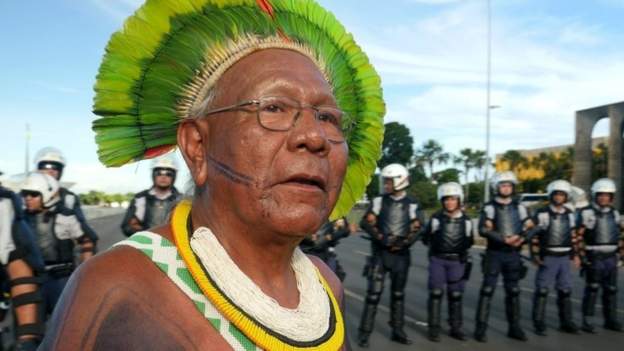 Paiakan was a chief of the Kayapo people
Paulinho Paiakan, one of the best known indigenous defenders of the Amazon rainforest, has died of coronavirus.
Paiakan, who was around 65, was a chief of the Kayapo people.
He came to international attention in the 1980s in the fight against Brazil's Belo Monte hydroelectric project - the world's third largest dam.
In 1998, Paiakan was convicted of the rape of an 18-year-old. His wife was found guilty of assisting him in the attack.
His allies argue that the case was fabricated to tarnish his reputation and silence him.
Read our full story here
I want to meet five friends. How can I stay safe?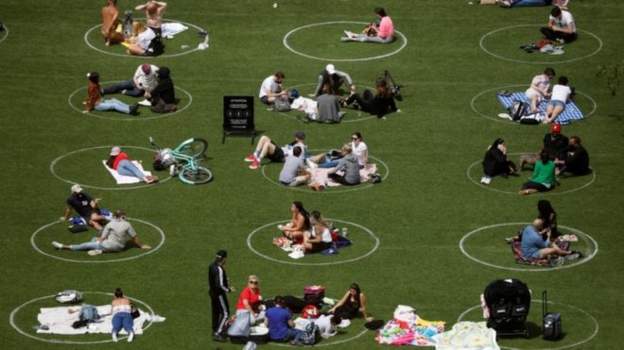 After two months at home - two months of virtual happy hours, socially distanced hangouts, and learning when to unmute yourself on Zoom - all 50 US states and the District of Columbia have begun the process of reopening.
But even as lockdowns are lifted, without a vaccine - which is likely still a year away - the risk remains.
"I would tell most people: just because places are opening, does not mean the virus is under control," Dr Abraar Karan, physician and public health researcher at Harvard Medical School tells the BBC.
"The virus is still out there," he says. And every social interaction is an opportunity for the virus to catch and spread.
India sees highest one-day case surge
Much of the global focus is on Latin America, but India is also seeing huge numbers and a healthcare system struggling to cope.
With 12,881 new cases reported on Wednesday, India has seen a new record for daily infections, according to the health ministry
Here are the other updates from the hard-hit country:


In the national capital of Delhi, health minister Satyendar Jain has tested positive for Covid-19 after he complained of breathlessness and a high fever earlier this week

And the financial capital Mumbai accounts for more than half of coronavirus cases in Maharashtra state, the worst-hit in the country with over 100,000 infections so far

India eased out of one of the harshest lockdowns last week despite cases spiking - with more than 350,000 cases, the country currently has the fourth-highest number of infections in the world

Thousands quarantined after Germany abattoir outbreak
Thousands of people in Germany have been told to go into quarantine after a coronavirus outbreak at an abattoir.
More than 650 people have tested positive for the virus at the meat processing plant in Gütersloh, in the north-west of the country.
Operations at the site have been suspended since Wednesday afternoon.
Over 1,000 workers have been tested so far, with thousands of others still awaiting testing.
Read our full story here
Local transmissions rise in Australian state
We know Australia has been highly successful in suppressing the virus, having essentially eliminated it in many areas.
But community transmission is still present in Victoria, the second-most populous state - the numbers have grown in recent days but remain "tiny", health officials stress.
Officials recorded 12 such cases today, and six yesterday. This has raised some concern, given in neighbouring New South Wales, no community transmissions have been found for weeks.
"I know it can seem like large numbers compared to what we've had... but we've been tracking quite well in Victoria in recent weeks," said state Health Minister Jenny Mikakos. "We look for the trends rather just the numbers on a particular day."
Australia's daily infection rate has stayed below 0.5% since April. It has only about 500 active cases - mostly quarantined people who have returned from overseas.
Scotland lockdown decision due - and other UK developments
If you're just tuning into our live coverage now, here's a quick rundown of the latest headlines in the UK.


Scotland's First Minister Nicola Sturgeon is expected to announce a further easing of the lockdown today. The decision is likely to include a date for when shops selling non-essential goods can reopen and people are set to be allowed to meet in larger groups than the current limit of eight. People could also be allowed to meet another household indoors for the first time since the lockdown was imposed across the UK on 23 Marc

HM Revenue and Customs has told the BBC that it has received more than 3,000 reports of furlough fraud since April, with some workers complaining that they have been made to work while furloughed. Under the scheme, the government pays 80% of a worker's salary up to £2,500 a month, and they cannot do any work that would help their employer make money

Leaders of social services in England have warned that increased spending due to coronavirus - on items such as personal protective equipment (PPE) - could see some care providers go out of business and local councils run out of cash. A report by the Association of Directors of Adult Social Services (ADASS) warns there will be "catastrophic consequences" without immediate investment in the sector

Thousands of homeless people put up in places like hotels and B&Bs due to coronavirus are still in emergency accommodation - as charities warn there are just weeks to stop them returning to the streets as premises prepare to reopen. BBC research found three quarters of homeless people in 17 areas are still in temporary accommodation with some already sleeping rough again

Unregulated social media platforms like Facebook and YouTube may present a health risk to the UK because they are spreading conspiracy theories about coronavirus, according to a new study by researchers at Kings College London. They suggest social media news sites may need to do more to regulate misleading content

Beijing records another 21 local cases
China has reported 28 new virus cases for the past day with 21 of them again in the capital. Beijing has seen a sudden spike over the past days.
The new cluster in the capital has lead to new restrictions being put in place and whole neighbourhoods getting sealed up again. The new outbreak is thought to have started in a large food market.
Before the new spike, Beijing had gone 57 days without a local case.
WHO halts hydroxychloroquine study
The World Health Organization (WHO) says it has stopped its research looking at the potential of malaria drug hydroxychloroquine as a treatment for coronavirus.
The UN health agency said that recent findings "showed that hydroxychloroquine does not result in the reduction of mortality of hospitalized COVID-19 patients".
There's been widespread interest in hydroxychloroquine as both a preventative measure and for treating patients with coronavirus. It has long been used to treat malaria, lupus and arthritis, but there is no evidence of its efficacy against Covid-19.
Trials around the world were temporarily derailed when a study published in medical journal The Lancet claimed the drug increased fatalities and heart problems in some patients.
The results prompted the WHO and others to halt trials over safety concerns. However, The Lancet subsequently retracted the study when it was found to have serious shortcomings and the WHO resumed its research - until this week.
Here's what we know about the drug
Social media 'may present health risk to UK'
Mark Easton - Home editor
Social media platforms like Facebook and YouTube may present a health risk to the UK because they are spreading conspiracy theories about coronavirus, according to a new study by researchers from Kings College London.
The paper, published in the journal Psychological Medicine, found people who get their news from social media sources are more likely to break lockdown rules.
"One wonders how long this state of affairs can be allowed to persist while social media platforms continue to provide a worldwide distribution mechanism for medical misinformation," the report says.
The study analysed surveys conducted across Britain in April and May this year.
People were asked if they believed Covid-19-related conspiracy theories, such as the virus being made in a laboratory or that symptoms were linked to 5G radiation.
None of these theories has any basis in verifiable fact but those who believed such conspiracies were significantly more likely to get their news from unregulated social media.
China, Russia and Iran exploiting pandemic - UK government
UK Foreign Secretary Dominic Raab has accused Russia, China and Iran of attempting to exploit the coronavirus pandemic to further their global interests.
Speaking to Sky News, he said the virus had "created an opportunity or a perceived opportunity for various different state and non-state actors through cyber, through other means.
"I think we've seen it in relation to Hong Kong, I think some people are arguing...
the national security legislation that is being put forward
, is being done at a time when the world's attention has been on coronavirus."
Raab also accused Russia of engaging "systematically in misinformation and propaganda, through cyber and other ways".
But he said what foreign actors were doing had not had a significant impact in the UK, adding: "I don't think they've made a material difference to our response in health terms."
UK will discuss France travel corridor on Macron visit
UK Foreign Secretary Dominic Raab has said the government will discuss the idea of travel corridors with France to enable the easing of the 14-day coronavirus quarantine measures currently in place for all arrivals to the UK.
Discussing French president Emmanuel Macron's visit to London today, Raab told the BBC: "We'll look at conversations with the French and others about the so-called travel corridors and the exemptions to quarantine that can allow that to be done."
He said the UK wanted to open up internationally, but it had to be done "safely" and "responsibly" with public health "front and centre" of decision making.
He also warned there was a risk of legal challenges if the UK tries to form travel bridges with particular countries to the exclusion of others.
He told the BBC: "If you open up the airports and don't open up the Eurotunnel or if you open up to one country but not in relation to others there is always a risk of legal challenge."
Kazakh leader, 79, tests positive for virus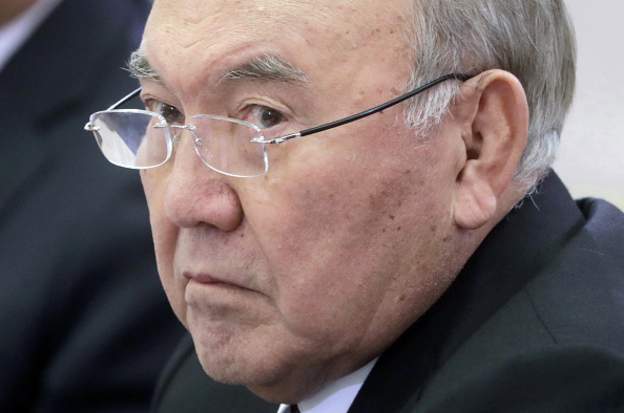 Nazarbayev still holds significant power as Yelbasy, or national leader
Kazakhstan's influential former president Nursultan Nazarbayev has begun self-isolating after testing positive for coronavirus.
His spokesman Aidos Ukibay, who made the announcement on Twitter, said there was "no reason for concern" about the news.
Nazarbayev, 79, resigned from the presidency last year after three decades in power. But he still holds sweeping powers as Yelbasy, or national leader, and as chair of Kazakhstan's security council.
He is one of several government figures to self-isolate in Kazakhstan, where an outbreak is worsening. The government ended a nationwide lockdown last month, but restrictions are being reintroduced due to a sharp rise in infections.
Nearly 16,000 cases have now been reported - the figure has more than tripled since the lockdown was eased last month
What are the UK's travel quarantine rules?
Prime Minister Boris Johnson is expected to discuss the UK's coronavirus quarantine measures with French President Emmanuel Macron during his visit to London today.
There are hopes that travel corridors or "air bridges" can be set up with countries with low infection rates, including France, so some travellers can avoid having to quarantine.
But what are
the current rules?
Passengers arriving in the UK from abroad by plane, ferry or train
are asked to provide an address
where they will self-isolate for 14 days. They can be fined £100 for failing to fill in a form with these details.
Anyone arriving from the Common Travel Area (CTA) - the Republic of Ireland, the Channel Islands or the Isle of Man - is exempt from quarantine (provided they have been in the CTA for the last 14 days), as are certain workers.
The rules are controversial. The government has come under fierce criticism from the travel industry and other businesses for only now imposing a quarantine on arrivals at a time when other parts of Europe are opening up to international travel.
Pakistan imposes 'smart lockdown' on Lahore
Tarhub Asghar - BBC Urdu, Lahore
A "smart lockdown" was imposed on Wednesday in several cities of Pakistan's Punjab province, an area home to more than 100 million people. The city of Lahore is among those under fresh restrictions.
The decision follows a spike of new infections. So far Punjab has recorded almost 60,000 cases.
Pakistan is now focusing on a strategy of local "smart" lockdowns in hundreds of places around the country in a bid to control the virus while minimising the economic impact.
Officials said lockdowns lasting at least two weeks would come into force wherever at least 300 cases of Covid-19 had been confirmed.
Police are guarding the entry and exit points of locked-down areas. In an emergency, only one person in a household will be allowed to leave.
Markets, shopping malls and restaurants, including government and private offices, will remain closed in the sealed areas but grocery shops and pharmacies are allowed to open. Public and private transport is banned.
EU facing biggest challenge in its history - Merkel
German Chancellor Angela Merkel has urged the European Union to quickly agree a multi-year budget and get a recovery fund for weaker EU economies under way.
In a speech to Germany's parliament, Merkel said it was crucial that EU states act in solidarity to survive the economic damage caused by the coronavirus pandemic.
"The pandemic has revealed how fragile the European project still is," said the chancellor. "Cohesion and solidarity have never been as important as they are today."
She continued: "To make it very clear: the pandemic, and the economic downturn it brings, are the biggest challenges in Europe's history."
Germany begins a six-month stint as EU president on 1 July.
Cases and deaths: The picture in the UK
There have been nearly
300,000 confirmed cases
of coronavirus in the UK and
more than 42,000 people have died
, government figures show.
However, these numbers only include people who have been tested
, and the total number of deaths relating to coronavirus is likely to be significantly higher.
Latest figures from the Office For National Statistics (ONS) show that the weekly number of recorded deaths has returned to close to normal levels for the time of year.
The number of newly confirmed cases each day has been falling since a peak in April but the seven-day rolling average has begun to level off.
You can see more charts and graphs here
, and find the figures for your local area.
French scrap social distancing in pre-schools
Social distancing rules are to be relaxed in French pre-schools and nurseries to allow all children to return from 22 June, education minister Jean-Michel Blanquer said on Wednesday.
"We know that it's not easy to enforce this physical distance and the scientific advice says that at this age we can [lift restrictions] according to the data that we have," Blanquer told a French TV programme.
Though some pre-schools and primary schools have been open since 11 May, strict controls have been imposed on class sizes and parents had the choice to keep children at home.
French President Emmanuel Macron announced on Sunday that a return to school would now become compulsory for all pupils.
Primary schools in the country will retain a 1m social distancing rule but Blanquer said that certain classes "will have to have a little less than 1m"
Passenger removed from US flight for not wearing mask
A passenger has been removed from an American Airlines flight after refusing to wear a mask, in what's believed to be a US first.
Brandon Straka was asked to disembark before the plane began its journey from New York to Dallas.
The conservative activist - who has a large following on Twitter -
detailed his experience in a video
, calling the incident "insane."
In response, Astead Herndon - a New York Times reporter who was on the same flight - challenged what Straka was tweeting about the incident and
shared a video where audio of the exchange can be heard.
There is currently no US law requiring travellers to wear face masks on planes, but airlines are allowed to enforce their own policies. Earlier this week American Airlines and five other carriers announced that they would bar anyone from travelling on their flights without a mask.
There are certain exemptions, however, including for those who should not wear a mask due to a medical condition.