Summary for Wednesday, 17th June


New Zealand PM Jacinda Ardern orders the military to oversee the country's quarantine and border operations

It comes after two people allowed out early later tested positive for coronavirus

Any visitors for Russian President Vladimir Putin must pass through a special disinfection tunnel, state media report

Beijing's virus spike continues, as restrictions on travel are tightened

Three US states have reported record new infections

Brazil reports almost 35,000 new cases - its highest daily figure

In England, Premier League football resumes on Wednesday evening

Globally, there have been 8.1m confirmed cases since the outbreak began, and 441,000 deaths

Welcome back to our rolling coverage of the coronavirus outbreak. Here's what you need to know to bring you up to speed:


A "disinfection tunnel" has been set up to protect Russian president Vladimir Putin from the virus. Anyone visiting him at his residence must pass through this special disinfection chamber.

Russia now has more than 500,000 confirmed virus cases – making it the country with the third highest number of cases behind Brazil and the US.

Over in New Zealand – PM Jacinda Ardern has said the two new cases from the UK were "an unacceptable failure of the system". Two women who had travelled from the UK – had been given special permission to visit a dying parent

And Brazil reported almost 35,000 new cases on Tuesday - its highest daily figure yet. It comes as one of Brazil's top officials said the situation was under control

Globally, there are now more than 8.1 million confirmed cases, and the death toll stands at 441,000.
New Zealand PM: 'An unacceptable failure of the system'
Simon Atkinson - BBC News, Sydney
After doing a stellar job of limiting the health impact of Covid-19 - New Zealand is beating itself up over a lapse that saw two women test positive for the virus.
The country has had about 1,500 coronavirus cases and only 22 deaths – thanks largely to strict lockdown and rapidly shut borders. In that context, today's humble press conference by Prime Minister Jacinda Ardern's was all the more remarkable.
On Tuesday we learned that
two New Zealand citizens had returned home from the UK to visit a dying parent
. And having been allowed to leave an isolation facility early– then tested positive for Covid-19.
Now it has emerged procedures hadn't been followed, meaning the women – who'd been staying in an Auckland hotel under isolation - had not been tested for the virus. A serious, embarrassing blunder, no doubt.
But in the global context – where hundreds of people are still dying each day in countries like the UK, the US and Brazil, often without obvious government remorse - the swiftness of the response is notable.
This is a blow for a country which had such pride in getting down to zero cases of coronavirus for about a month. And from the PM, there was no attempt to play things down or to put any blame on the women involved.
"This represents an unacceptable failure of the system," Ms Ardern said. "It should never have happened and cannot be repeated".
An investigation is under way. A senior military figure has been drafted in to oversee and review procedures for those arriving in New Zealand. And the policy allowing people to leave isolation or quarantine early on compassionate grounds has been suspended.
That, Ms Ardern said, was a "hard and unpopular position to take". But was also "the right one for our country".
"I can't afford to let the gains we have all made, be squandered by processes not being upheld," the PM told the news conference.
"This is a growing pandemic, not a slowing pandemic. We have to be cautious."
Australia and UK formally start trade talks
Australia is relying heavily on its international trade to help lift its economy out of recession. And while its relations with China - its largest trading partner - are under severe strain, the big exporter is eagerly seeking markets elsewhere.
Brexit has thrown up the opportunity for a free trade agreement between the UK and Australia. While agreements for certain sectors have already been hammered out, a larger deal still needs to be worked on.
Today, Australia's trade minister announced the nation was formally starting those negotiations with the UK.
"Australia will be looking to secure better market access to goods exports especially in agriculture, and high-standard rules on digital trade and investment," Simon Birmingham said.
Australia's economy has endured the virus far better than many others - partly because the health impact was contained. Australia is also a large exporter - and trade in its commodities has continued during the crisis.
Disinfection tunnel set up to protect Putin
A special disinfection tunnel has been set up to protect Russia's President Vladimir Putin from the virus.
Anyone visiting his official Novo-Ogaryovo residence outside Moscow, where he receives visitors, has to pass through this tunnel, said state-controlled RIA news agency.
The agency described the disinfectant as a fine cloud of liquid that covers people's clothes and any exposed upper body flesh.
It comes after Putin's spokesman, Dmistry Peskov, earlier in April said that anyone meeting Putin in person was tested for the virus. Peskov revealed that he himself had been infected a month later, reported Reuters.
Russia has reported more than 500,000 infections, the third highest number of cases in the world after Brazil and the United States, which it says is down to its mass testing programme.
WATCH: How the disinfection tunnel works
This is what visitors will have to go through before they can step forward into Putin's official residence according to state news agency RIA:
Watch video here
The breakthrough, cheap, life-saving drug
A reminder that yesterday saw one of the most positive developments so far of the pandemic, with the news that a cheap and widely available drug had a remarkable effect on critically ill patients.
In hospital trials, the low-dose steroid treatment dexamethasone cut the risk of death by a third for patients on ventilators. For those on oxygen, it cut deaths by a fifth.
Researchers say it could have saved the lives of 5,000 people in the UK had it been used earlier.
Read more from our health editor Michelle Roberts here
English Premier League set for comeback
Football fans rejoice! The English Premier League is set to return today - but not exactly as you might know it.
Fixtures will be played behind closed doors to prevent any further spread of the virus - and for the first 12 matches of the campaign, all player names on the back of shirts will be replaced by "Black Lives Matter" - a reference to protests happening worldwide.
Today's game between Aston Villa and Sheffield United - will be the first of 92 league games packed into a frantic 40 days before the season ends on 26 July.
All games will be broadcast live, with four matches to be shown on the BBC.
Here's all you need to know about the return of the Premier League
Beijing takes action as cases continue to rise
The number of virus cases has continued to rise in Beijing, with 137 cases in the past week alone.
Beijing had, prior to this, gone 57 days without a single locally-transmitted case.
The outbreak is believed to have started in the massive Xinfandi food market that supplies 80% of the city's meat and vegetables.
And now the government is taking quick action to make sure it doesn't spread further. At least 27 neighbourhoods have been classed as high or medium risk. Those living in such areas cannot leave the city.
People in low-risk areas can leave, but need to test negative first.
A number of flights have been cancelled and railway services have also been reduced until at least 9 July.
Primary school, middle school, and college classes are suspended, sports teams cannot play, and swimming pools and gyms are closed.
Read more about the situation in Beijing here
What has happened in the UK?
If you're just joining our live coverage, here's a quick roundup of the main headlines in the UK this morning.


Yesterday, a major breakthrough was announced in the UK, with news that a cheap and widely available steroid treatment called dexamethasone can help save the lives of critically ill patients

A campaign by the England and Manchester United footballer Marcus Rashford prompted the government to yesterday reverse its original decision not to extend the free school meal voucher scheme in England over the summer holidays

The English Premier League is set to return today , but not quite as we know it, with football matches played behind closed doors to prevent any spread of the virus and games broadcast live to fans at home

Some of England's biggest councils could see "large-scale reductions" to services as they attempt to balance the books, new analysis by the County Councils Network suggests

Prince Charles has still not fully regained his sense of smell and taste after having coronavirus in March, he revealed on a visit to NHS staff

Brazil sees almost 35,000 new cases in 24 hours
Brazil has reported a staggering 34,918 new virus cases on Tuesday - its highest daily figure yet.
It comes on the same day that one of its top officials said the situation was under control.
Walter Braga Netto, head of the office of the president's chief of staff, said: "There is a crisis, we sympathise with bereaved families, but it is managed."
Brazil has the second highest number of cases in the world after the US, with more than 923,000 cases.
WHO to update guidance after breakthrough trial
The World Health Organization (WHO) has said it will update its clinical guidelines after a trial showed that a cheap and widely available drug can help save the lives of patients seriously ill with coronavirus.
The low-dose steroid treatment dexamethasone is a major breakthrough in the fight against the deadly virus, UK experts say.
The WHO's clinical guidance is meant to keep doctors and other medical professionals informed with the latest data.
"This is the first treatment to be shown to reduce mortalityin patients with Covid-19 requiring oxygen or ventilatorsupport," WHO chief Tedros Adhanom Ghebreyesus said on Tuesday.
Results from Tuesday's trial are still preliminary, but it showed that dexamethasone cut death rates by by a third for patients on ventilators. For those on oxygen, it cut deaths by a fifth.
Had the drug had been used to treat patients in the UK from the start of the pandemic, up to 5,000 lives could have been saved, researchers said.
The BBC spoke to a patient who survived Covid-19 after taking part in the trial. She said she feels "eternally grateful" and believes she would have died without it.
Deaths cross 10,000 in India
India added more than 2,000 deaths on Tuesday, which takes the total number to 11,903. The country has confirmed more than 340,000 infections, making it the fourth-highest in the world.
India's case fatality rate (CFR) - or the proportion of Covid-positive people who have died -
jumped from 2.9% to 3.4%
, reported the Hindustan Times newspaper.
But that number is contentious as experts say it doesn't account for unreported cases or the delay from illness to death. Some have pointed out that the CFR at this stage of the pandemic can lull governments into complacency.
What is worrying in India is that around
three-quarters of the Covid-19 deaths have been reported from three states
- Maharashtra, Gujarat and Delhi.
Prince Charles's sense of smell and taste still not back
Prince Charles has still not fully regained his sense of smell and taste after having coronavirus in March, he revealed on a visit to NHS staff.
The 71-year-old was diagnosed with Covid-19 near the start of the outbreak after suffering mild symptoms. A loss of smell is thought to be one of
the key symptoms.
He later said he had
"got away with it quite lightly"
.
Read more here
Rashford's 'shock' at government U-turn
In an interview with the BBC, England and Manchester United footballer Marcus
Rashford said he was "grateful" the UK government had reversed its decision on extending its free school meal voucher scheme
over the summer holidays.
The 22-year-old's successful campaign saw him draw on his own experience of relying on free school meals and food banks growing up in Manchester as part of an emotional open letter to MPs posted on Monday.
Mr Rashford said he spoke to the PM on the phone and thanked him for changing his decision.
Honduras President tests positive for virus
Honduran President Juan Orlando Hernández has said that he, his wife two of his two aides have tested positive for coronavirus.
In a televised address, said he began feeling unwell over the weekend, and his condition was confirmed yesterday.
Mr. Hernández said he was feeling better and would continue to work remotely.
"I feel enough strength and energy to continue forward and beat this pandemic," he said. "We are going to get ahead of this. I trust in God, Honduran doctors and medicine."
Honduras has confirmed more than 9,600 cases of coronavirus and 330 deaths, according to Johns Hopkins University in the US.
Its economy began to reopen last week after nearly three months of lockdown measures including border closures and curfews.
Beijing turned into 'virus prevention bubble'
Stephen McDonell - BBC News, China correspondent
The Chinese capital is in effect, being turned into a coronavirus prevention bubble.
If you haven't done a test within the last seven days you're not allowed to leave the city.
However, virus testing capacity is limited and priority is given to the hundreds of thousands of people who have either been to the Xinfadi wholesale market or live nearby - all of these residents are prohibited from leaving Beijing under any circumstances.
Anyone in the neighbourhoods immediately adjacent to the market must also stay inside their housing compound at all times.
Read more here
Military put in charge of New Zealand quarantine facilities
Shaimaa Khalil - BBC News, Sydney
New Zealand military will now run the country's border and quarantine operations after two people who were allowed out early later tested positive for coronavirus.
Assistant chief of defence Darryn Webb will be able to use military resources and personnel, if needed, Prime Minister Jacinda Ardern said.
Ms Ardern said that border controls must be rigorous and disciplined, and needed to have the confidence of ministers as well as all New Zealanders. She added that the two new Covid-19 cases represented "an unacceptable failure of the system".
The two women who came from the UK via Australia had not been tested on the third day of their arrival or before they left quarantine as per the government's rules. They were granted a compassionate exemption to leave managed isolation in Auckland to visit their dying parent in Wellington.
Health Minister David Clark has temporarily suspended all exemptions after the incident.
Shielding of extremely vulnerable 'could soon end'
Today Programme - BBC Radio 4
In England, more than two million people deemed at greatest risk of severe illness from coronavirus could soon be told that they no longer need to isolate themselves at home.
The Health Service Journal (HSJ) is reporting that
the shielding programme for those deemed to be extremely clinically vulnerable which began in March will stop at the end of July
; however there is yet to be a formal government announcement.
Steven McIntosh, policy director at Macmillan Cancer Support, which has been involved in discussions with the government, said the charity was expecting an announcement this week.
He told BBC Radio 4's Today programme the government would need to be "clear" in its communication with those who were vulnerable by setting out "what the rationale" was, why it would be safe for any relaxation of the shielding guidance and what would happen if the infection rate rose again.
He said people had told nurses on the charity's support line of the "increasing pressure" from their employers to return to work "even though it [was] not yet safe to do so". He stressed the guidance on shielding remained in place and the charity was seeking a government guarantee that support for shielding people - such as food and medicine deliveries - would not end until it was safe.
Brazil likely to see a million cases by end of week
Katy Watson - BBC South America correspondent
Brazil has set a new record of daily cases – 34,918 patients were registered as having coronavirus in the past 24 hours. There are now more than 920,000 cases in the country, second only to the US. And nearly 1,300 deaths were registered, taking the death toll to 45,241.
The infection rate is showing no signs of slowing – at this rate, Brazil is likely to register a million cases by the end of the week. The country is the new epicentre of the coronavirus pandemic – a crisis that is worsening by the day.
With so little testing in Brazil, it's thought that the true number of infections is far higher than official figures suggest.
But under pressure from the country's President, Jair Bolsonaro, who has criticised quarantine measures as economically damaging, major cities are starting to re-open – all before the country is believed to have even reached the peak.
Three US states see record infection numbers
Authorities in Arizona, Florida and Texas have reported their largest daily increases in coronavirus infections.
On Tuesday Florida reported 2,783 new cases, Texas 2,622 and Arizona 2,392.
Testing has been increased in all three southern US states, and lockdown restrictions have been eased to help boost their economies.
At a press conference, Florida Governor Ron DeSantis brushed aside claims that the spike in cases was being caused by businesses reopening, and said the state would not be closing parts of its economy again.
"We're not shutting down," he said. "You have to have society function."
US Vice-President Mike Pence has published an opinion piece in the Wall Street Journal saying that concern about the virus is "overblown".
President Donald Trump is expected to hold a public rally in Oklahoma this weekend, despite infections continuing to rise in the state.
Why you may not want to flush your loo with the lid up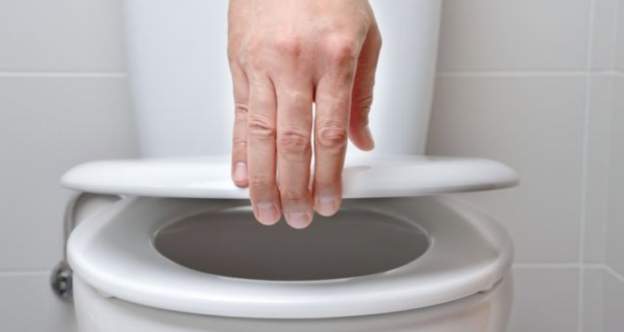 Flushing the toilet with the lid up creates a cloud of spray that can be breathed in and may spread infections such as coronavirus, say researchers.
Chinese scientists calculate that flushing can propel a plume of spray up and out of the toilet bowl, reaching head height and beyond.
Droplets can travel up to 3ft - or 91cm - from ground level, according to the computer model used by the scientists from Yangzhou University.
Shutting the lid would avoid this.
Coronavirus is spread through airborne droplets from coughs and sneezes, or objects that are contaminated with them.
People who are infected can also have traces of the virus in their faeces, although it is not yet clear whether this might be another way to pass the disease on to others.
Lagos suspends reopening of places of worship
The state government responsible for Nigeria's most crowded city, Lagos, has suspended indefinitely the planned reopening of mosques and churches this weekend as coronavirus cases rise.
Nigeria now has more than 16,600 cases, almost half of them in Lagos State.
The lockdown in the capital Abuja, Lagos State and Ogun State had been in effect since March but two weeks ago the authorities announced plans to reopen religious buildings and hotels.
Testing has increased to almost 100,000 samples in a population of about 195 million people.
The easing of restrictions is due to go ahead as planned in the rest of the country.
Read more about Nigeria's mega churches and how they're adapting to the outbreak