Summary for Saturday, 13th June


Leaked report says racism, stigma and social inequality may exacerbate Covid-19 risk to UK minorities

This may mean BAME individuals are less likely to seek care, the draft Public Health England report says

A virus outbreak in a wholesale market in Beijing leads to fears of a second wave in the Chinese capital

Forty-five cases have been recorded, after weeks without new infections; the area is put on lockdown

Brazil's death toll becomes second highest in the world, surpassing the UK's with more than 41,000 victims

Far-right President Jair Bolsonaro continues to play down the virus, focusing on the economic damage of lockdown

Outbreak from a wholesale market in Beijing leads to fears of a second wave of the virus in the Chinese capital

Hong Kong's iconic Ocean Park theme park reopens after more than four months of temporary closure

From today, people living alone in England and Northern Ireland will be able to form a support bubble with another household

The Queen's official birthday will be marked later with a new ceremony instead of the annual Trooping the Colour parade

British Airways' treatment of staff during the coronavirus crisis "is a national disgrace", MPs claim

Welcome to today's rolling coronavirus coverage. It's a sunny Saturday here in London.
If you're joining us in the UK, Africa and Europe - good morning, and good afternoon if you're in Asia or Australia.
Here are some of the latest headlines from around the world:


Over 7.6 million cases have been reported worldwide, along with 425,000 deaths, according to a tally by Johns Hopkins University

Brazil has overtaken the UK to become the nation with the second-highest number of deaths from coronavirus. More than 900 people have died during the last 24 hours, bringing the total to almost 42,000

India and Armenia have both reported their biggest daily jump in new infections - 11,458 and 723 respectively. India currently has the fourth-highest number of cases worldwide

Eleven residential estates in south Beijing have been locked down and a wholesale market closed due to a fresh cluster of infections. Over 40 new cases have been reported in the Chinese capital during the last few days

Meanwhile New Zealand has reported no new infections for 22 consecutive days. Earlier this week, Prime Minister Jacinda Ardern announced that nearly all the country's lockdown restrictions were being lifted

The picture in Brazil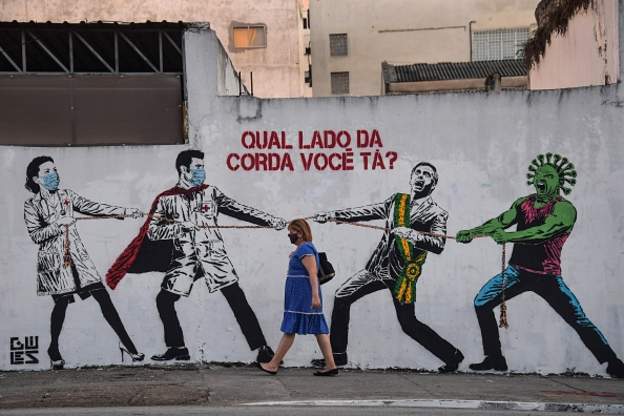 The Americas now account for about half of total confirmed coronavirus cases globally, with Brazil the epicentre of the epicentre.
The largest country in Latin America, it has 828,810 confirmed cases - the highest in the world behind the US. It also has the second-highest death toll in the world (nearly 42,000), having overtaken the UK.
But the numbers are thought to be much higher because of insufficient testing. It's also believed that the country is still weeks away from reaching the "peak".
What's happening in the UK?
Once again, eyes will be on cities across the country as more anti-racism protests are expected today. There have been warnings from the prime minister and others for people to stay home both due to the coronavirus pandemic and fears of violence.
The Metropolitan Police
has put restrictions in place on several groups across London
, with right-wing counter protesters also expected to be out in numbers.
All events will have to end by 17:00 BST following violent scenes last weekend.
In other news:
The famous chef feeding Covid-hit neighbourhoods
Chef and World Central Kitchen founder José Andrés has been delivering meals to food-insecure areas of the US that have been hit particularly hard by Covid-19.
Mr Andrés says that there are about 40 million Americans who don't know where their next meal is coming from.
More than 20 million people lost their jobs in March and April. Earlier this week, the National Bureau of Economic Research declared the US had entered an economic recession.
Trooping the Colour cancelled for second time in Queen's reign
Trooping the Colour, the traditional celebration of the monarch's official birthday, will not take place for only the second time during the Queen's 68-year reign.
Normally the event sees the Queen inspect the Horse Guards at Whitehall before being escorted by the Household Cavalry back to Buckingham Palace where she takes a salute before an RAF flypast.
It has only been cancelled once before during the Queen's reign - in 1955 during a national rail strike. But restrictions during lockdown have prevented the celebration from taking place in 2020 in its regular form.
Instead, the Queen, who has been staying at Windsor with the Duke of Edinburgh for the past 12 weeks, is taking two royal salutes at the castle from the Welsh Guards - under social-distancing rules and with no spectators.
Beijing district on 'wartime' footing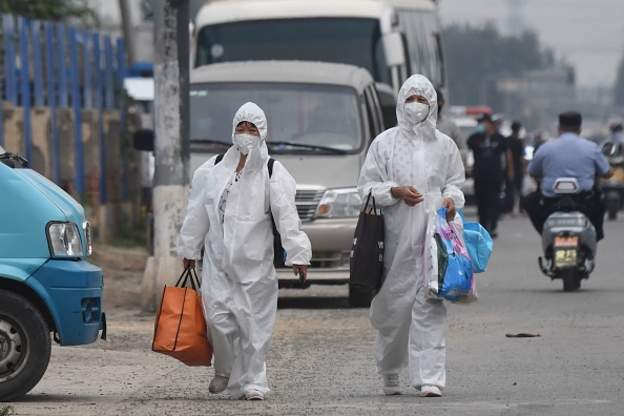 Two women wear protective suits as they walk on a street near the closed wholesale market in Beijing
An official in the Chinese capital Beijing says the city's Fengtai district is on a "wartime emergency footing" as lockdowns are enforced in 11 neighbourhoods over fears of a renewed coronavirus outbreak.
District official Chu Junwei confirmed there had been 45 new positive cases at Xinfadi market in the south-east of Beijing – though none showed symptoms of Covid-19. The market supplies 80% of Beijing's meat and vegetables, and authorities say traces of coronavirus were found on a chopping block used for imported salmon.
The surge in cases has led city authorities to ban sports fixtures and tourism from other regions, amid fears of a second wave of the coronavirus. More than 10,000 staff at Xinfadi market are also being tested for the virus.
Until recently, Beijing has gone for more than 50 days without a new case. The influence of markets on the pandemic is a sensitive issue in China - the first cases of the global pandemic were detected at a market in the city of Wuhan.
Those who live alone able to see loved ones in England and NI
Today is the first day in months that many people who live alone can spend time with loved ones as
new "social bubble" rules come into force in England and Northern Ireland
.
Adults who live alone are allowed to visit one other household and are even allowed to stay overnight. In England the same goes for single parents of under-18s.
The new measures open up the possibility for grandparents who live alone to visit and hug their grandchildren for the first time since lockdown began in March. Couples who live apart will also be able to be close to each other again.
Nicola Ellen told BBC Breakfast that a support bubble was the best present for her and her daughter's upcoming birthdays.
She said: "I have got one daughter, Ellie, she is so close to her grandparents and she is just desperate for a hug. There could possibly be some tears, I don't know if they will let go."
Protests held in Australia despite restrictions
Thousands of people have gathered in cities across Australia, rallying in support of refugee rights and Black Lives Matter.
The demonstrations have been held despite bans on mass gatherings to contain the spread of coronavirus.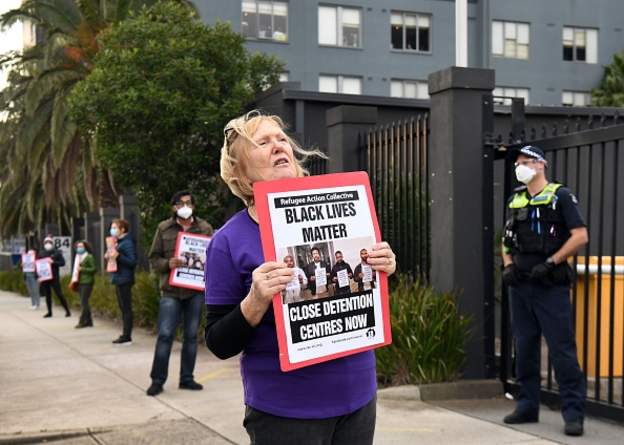 A group of protesters gathered in Melbourne while practicing social distancing
Meanwhile large crowds held rallies in Perth to support Black Lives Matter and protest against aboriginal deaths in police custody
Images show some demonstrators in Perth maintaining a distance, but many were crowded together
BA's treatment of workers a 'national disgrace'
British Airways' treatment of staff during the coronavirus crisis has been labelled
"a national disgrace" by MPs
.
A
Transport Select Committee report
accuses the airline of a "calculated attempt to take advantage" of the pandemic by cutting up to 12,000 jobs and downgrading terms and conditions.
BA said it was doing all it could to keep "the maximum number of jobs".
But the MPs said the airline's actions fell "well below the standards we would expect from any employer".
The aviation industry has been one of the hardest hit since the pandemic forced countries into lockdown, with airlines including EasyJet, Ryanair, and Virgin Atlantic, and suppliers Rolls-Royce and Airbus, announcing thousands of job cuts.
Overwhelmed Indian hospitals turn Covid patients away
India has continued to see record daily rises in Covid-19 cases after easing its strict lockdown this week.
The capital, Delhi, could have more than half a million coronavirus cases by the end of July, according to officials.
Meanwhile, the number of cases in the worst-affected city, Mumbai, has surpassed the total in Wuhan, China, where the virus first appeared.
Indian hospitals are struggling to cope with the number of patients they're getting. Many are dying without getting the treatment they need.
How will shopping change on Monday?
Non-essential shops in England will be able to reopen on Monday for the first time since lockdown started on 23 March.
For many people stuck indoors for weeks, and hoping for some retail therapy, it will be a welcome change of scene. But how will it compare to before the pandemic?


Shops will look different - social distancing measures will be in place and there will be hand sanitiser gel points around shops

Shopping will be a solo sport - advice is for people to shop alone where possible

Don't touch what you can't afford - shoppers are being advised to only touch what they plan to buy

Be prepared to wait - as with supermarkets there are likely to be queues to allow for social distancing

Shops in Northern Ireland have already reopened, while no date has been set for non-essential retailers to open their doors in Scotland and Wales.
Read more on how shops are changing the way they operate
Dalai Lama: Seven billion people 'need a sense of oneness'
'Compassion and humanity important during coronavirus pandemic,' says the Dalai Lama
The leader of Tibetan Buddhism
sees reasons for optimism even in the middle of the coronavirus pandemic.
People are helping one another, the Dalai Lama told the BBC's Justin Rowlatt. And if seven billion people on Earth develop "a sense of oneness", he said, they may also unite to solve the problem of climate change.
The important thing, the spiritual leader says, is to recognise that we are not individuals alone, we depend on the community we are a part of.
"In the past there was too much emphasis on my continent, my nation, my religion. Now that thinking is out of date."