Summary for Friday, 12th June


UK GDP fell by 20.4% in April, the largest fall since monthly records began in 1997

Asian financial markets have fallen following a US slump overnight over fears of a second wave

Attendees at Trump's election rally in Tulsa are asked to sign a waiver over the coronavirus

They are asked to promise they won't sue the president or organisers if they catch the virus by attending

Latin America has now recorded more than 1.5 million virus cases and 70,000 deaths

In India patients are being turned away from hospitals but officials warn the virus has not yet peaked

There have been 7.5m cases worldwide and more than 420,000 deaths according to Johns Hopkins University

Welcome back to our coverage of the coronavirus pandemic. As usual, our journalists from across the globe will keep you up to date.
Here's what you need to know this Friday morning.


Tickets to US President Donald Trump's upcoming campaign rallies will include a liability waiver, so people can't sue if they catch the virus

US stock markets saw steep falls on Thursday, as several states report rising Covid-19 caseloads. But shutting the economy in response to a new surge was not an option, the US government said

Asian financial markets fell on Friday morning following the US slump

The number of confirmed cases in Russia has passed 500,000, the third-highest in the world, behind the US and Brazil

Europe could face a surge of new infections in the coming weeks following recent mass protests, warn politicians, European Union officials and experts

Trump rallies come with liability waiver
US President Donald Trump has been eager to restart his large rallies and come next Friday, they are scheduled to get underway.
But tickets will come with a waiver - which means the organisers can't be held liable should anyone in the crowd catch the virus.
Trump's first campaign rally for the November election will be held next Friday in Oklahoma.
"By attending the rally, you and any guests voluntarily assume all risks related to exposure to Covid-19 and agree not to hold Donald J Trump for President, Inc; BOK Center; ASM Global; or any of their affiliates, directors, officers, employees, agents, contractors, or volunteers liable for any illness or injury,"
the ticketing website says
.
Health experts think large-scale public events could spark new virus clusters and increase the risk of a second wave.
The US has had more than two million confirmed infections since the outbreak began, and 113,000 deaths linked to Covid-19.
'The last gift you gave me was born today'
The wife of Chinese doctor Li Wenliang - who died of coronavirus - has reportedly given birth to their baby boy.
Dr Li was one of the whistleblowers from the Wuhan Central Hospital - the hospital at the epicentre of the city where the virus first emerged.
He raised the alarm to fellow doctors in December of an unknown respiratory illness. Screenshots from that chat group went viral online.
That prompted authorities to reprimand Dr Li and others for "spreading rumours", with online content then censored.
After his death there was intense anger towards authorities and an outpouring of grief.
He was later exonerated and since then, the official narrative in state media has hailed him a coronavirus hero.
Read more about how his death triggered online grief, rage and mistrust against the Chinese government.
  Global Times:

"Are you seeing this in heaven? The last gift you gave me was born today. I will love and take care of them," Li Wenliang's wife wrote on her WeChat moments after giving birth to their second child, a baby boy, on Friday, media reported.

Li Wenliang's wife Fu Xuejie reportedly gave birth to a baby boy on Friday morning in

#Wuhan

, according to Lizhi News.
Cuba announces gradual reopening
Will Grant - BBC News, Havana
Having registered no virus-related deaths for 12 consecutive days this month, the Cuban government is wary of giving up its gains.
As such, the three-phase plan it has unveiled for reopening was predictably gradual and conservative.
The first phase will begin next week or the start of the following week, said President Miguel Diaz-Canel. Tourism, on which a sizeable portion of the economy depends, will first only reopen to the domestic market – that is, Cuban tourism within the island.
Special measures will be in place for staff at hotels to work in week-long shifts, followed by a week of isolation to create a supposedly Covid-free bubble inside the resorts permitted to operate.
When international visitors do arrive in Cuba again, they will be given antigen tests and have their temperature taken at the airport. They will initially be limited to the cayos, the small islands off Cuba's northern and southern coast.
However, there was no clear date on when that will happen.
Beaches will reopen again to the national population, but with a new force set up to ensure large groups don't gather.
More than 900 new deaths in the US
The US has recorded 941 deaths linked to Covid-19 over the past day, taking the total to 113,803,
according to data collected by the Johns Hopkins University
.
The number of confirmed infections now stands at 2,022,488.
The country is the worst-hit globally in terms of deaths and confirmed cases, with almost three times as many fatalities as the UK or Brazil.
With US infection rates remaining high,
there's increasing concern that the reopening of the economy will lead to a new surge
of cases.
Sydney rally banned (again) due to health risks
More Black Lives Matter rallies in Australia are planned for this weekend
Australian police have again secured a court ban on a protest supposed to take place tomorrow afternoon in Sydney's centre.
The rally for refugee rights - expected to attract up to 200 protesters - is now "prohibited" because of the risk it poses in spreading the virus.
Police have threatened to arrest those who turn up to that rally, plus a separate one tonight for the Black Lives Matter movement where about 1,000 people could attend.
It comes amid strong criticism from the Australian PM this week, who blasted the tens of thousands of people who joined nation-wide rallies last weekend.
Scott Morrison said "selfish" protesters should be charged. Some protest organisers have already been fined. But opposition lawmakers, some of whom attended the rallies, say the government is unwilling to engage in the racism issues being raised by protesters.
Critics have also questioned why some gatherings are allowed - such as at football matches - while protests are being outlawed.
So far just one protester in Melbourne has tested positive in the week since protests kicked off. Australia has recorded fewer than 40 new cases this week.
Fears of second virus outbreak hits global shares
Global stock markets have fallen amid fears that a second wave of coronavirus cases could cause more economic damage.
Stock markets in Asia were down in early Friday trading, with benchmark indexes losing ground in Japan, Hong Kong and China.
Those declines follow big losses for US stocks, with the three main share indexes in New York seeing their worst day in weeks.
The Dow Jones Industrial Average lost almost 7%.
The declines falls came after the US Federal Reserve warned that the American economy faces a long road to recovery - as several states that have moved to reopen see an uptick in Covid-19 cases.
Socially-distanced return for golf's PGA tour
Justin Rose and his playing partners were trying to observe social distancing guidelines during their round
Golf's PGA Tour - the main tour in the men's game in North America - returned to action on Thursday with an event in Texas.
Gone were the spectator stands that frame many greens. That allowed television viewers to see more of the course - but they were also treated to some colourful language that may otherwise have been drowned out.
And while social distancing guidelines were in the main reasonably well followed, there were lapses, such as when Harold Varner III signed a ball after finishing his round and handed it to a woman who gingerly accepted it.
Brazil death toll tops 40,000
The number of virus-related deaths in Brazil now stands at 40,919, after another 1,239 over the past 24 hours.
More than 30,000 new confirmed cases were registered, taking the total to 802,828 - second only to the United States' more than two million.
Many experts warn Brazil's true numbers could be far greater - due to a lack of widespread testing.
Australia to allow 10,000-person gatherings in July
Prime Minister Scott Morrison has just announced the proposal - which will largely benefit sporting matches.
He said mid-sized stadiums would be able to have a quarter of their 40,000 seats filled - and the same goes for outdoor cultural events.
Crowds will be allowed if patrons are ticketed and seated, and maintain a 1.5m (4.9ft) distance. Australia's football codes have been lobbying hard in recent weeks for spectators to return to stadiums.
The allowance falls under Stage 3 - the final phase of the country's plan to come out of lockdown.
Authorities have also revised a 100-person cap for indoor spaces (workplaces, weddings, funerals) in favour of a four square metres per person rule
In the past fortnight, football matches have been played out in front of "crowds" of cardboard dummies
China's new infections remain single-digit
China on Friday reported seven new virus infections and one asymptomatic case - which officials count in a separate tally.
Six of the new cases were people who had returned from abroad, leaving only one locally transmitted case.
Despite occasional clusters, China has so far managed to avoid a surge - let alone a second wave of the pandemic.
Overall, China has had 84,215 cases, although almost all have recovered. The death toll remains unchanged at 4,638.
Opposition MP slams Ardern for 'lockdown lunacy'
New Zealand has been the envy of most countries for how well it managed to contain the virus. Since earlier this week, the country has no active cases, and
all domestic restrictions have been lifted.
While much praise went to Prime Minister Jacinda Ardern, one opposition MP has released a book criticising her "lockdown lunacy".
Chris Penk, from the conservative main opposition National Party, argues the success was largely down to luck, and that the harsh lockdown was unnecessarily harmful to the economy.
"Whole industries have been led like so many lambs to a no-longer-non-essential slaughterhouse,"
he says.
National's former leader Simon Bridges also criticised the country's virus response in April but was later replaced in May. New leader Todd Muller said the government's tactics were "overall impressive".
The country is headed for an election in just under 100 days.
Malaysia bars citizens from Hajj
Malaysia says it won't allow citizens to visit the sacred Muslim sites of Mecca and Medina for the annual Hajj pilgrimage in July.
Malaysia is a Muslim-majority country and many people wait for years for an opportunity to perform the Hajj.
Yet authorities said it was not safe for the more than 30,000 pilgrims who planned to go this year.
Indonesia, which has the largest number of Muslims worldwide, has already said it won't allow the pilgrimage.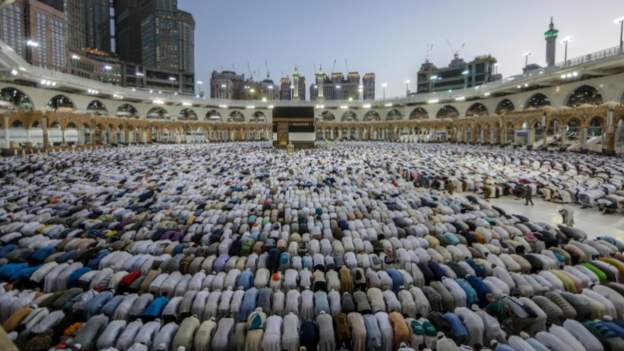 Mecca in 2019 - this year will be very different
Australia in a good place, says CMO
Australia's chief medical officer has just said: "It is fantastic that we have effectively achieved elimination at this time in many parts of the country."
The country had seen only "a tiny amount" of community transmission in recent weeks, said Dr Brendan Murphy, noting it was confined to Victoria, the second-most populous state.
New South Wales - the biggest state - has not recorded any local infections in over two weeks.
"We are in a good place," he said.
The nation has been praised for its quick action in closing its borders and enacting strict social distancing early in its fight. However, Australia also had time to prepare - and didn't see its cases escalate until March.
India has more confirmed cases than UK
New figures from India show the country now has the fourth most cases in the world, behind only Russia, Brazil, and the US.
According to the
Ministry of Health
, there have been 297,535 cases in India since the outbreak began. Of those:


141,842 are active

147,194 have been cured or discharged

8,498 have died

1 has left the country

South Korea extends distancing guidelines
South Korea says it will stick to its intensive prevention and sanitation guidelines until daily new infections drop to single digits.
The country, which did not have a lockdown, successfully restricted the virus, but has recently seen new clusters and around 50 new infections each day.
If cases did not drop, tougher social distancing could restart, Health Minister Park Neung-hoo said.
South Korea was the first epicentre of the virus outside of China. The country's overall infections stand at just over 12,000 while around 1,000 of these remain active.
Virus forces UK to rethink EU import checks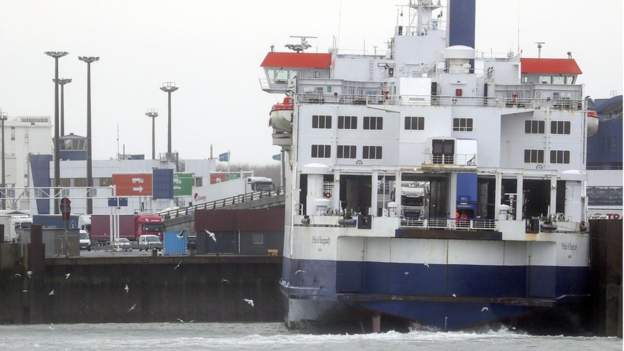 The new rules will apply to goods coming into the UK from the European Union
The UK government is expected to apply much less rigorous EU border checks on imports than it initially planned, after the Brexit transition period finishes at the end of this year.
The Financial Times
reports that ministers have abandoned plans to introduce full checks after pressure from businesses.
A government source told the BBC it would take a "pragmatic and flexible approach" due to coronavirus.
The UK had committed
to introduce import controls
on EU goods in January.
But the source said ministers recognised the impact the virus was having on businesses, and so pragmatism and flexibility on imports made sense.
The UK left the European Union at the end of January, but is in a transition period until the end of this year.
No spitting please, as Premier League returns
Players and coaching staff will not be required to wear masks at stadiums when the English Premier League restarts on 17 June.
But players will be encouraged not to spit or clear their noses - and not to break social distancing during goal celebrations.
There will be no ball boys or girls - a system of sterilised replacement balls will be used instead.
In Germany, Bundesliga players and staff have been required to wear masks at all times, except for during play, and players have become adept at socially distanced celebrations.
Given all the matches there are currently behind closed doors, it's not like you can really run towards the fans either...
United Nations warns of spike in child labour
The global virus crisis has put millions of children at risk of being pushed into child labour, the United Nations warned on Friday.
This could mark the first rise of the practice in two decades.
"As the pandemic wreaks havoc on family incomes, without support, many could resort to child labour," the International Labour Organization (ILO), a UN agency, warned.
Economists predict the pandemic will lead to a serious economic recession around the globe.
The worldwide number of child labourers has dropped to 152 million from 246 million in 2000, according to the agency.
Where in the UK has the most furloughed workers?
Faisal Islam - BBC Economics Editor
The Coronavirus Job Retention Scheme was created less than three months ago, but has already grown into perhaps the most expensive intervention by a British government to support the jobs market.
Just under nine million UK jobs are having their wages paid by the taxpayer through the pandemic shutdown.
And for the first time, the HMRC
has produced breakdowns
of precisely where and which employers are using the scheme.
Start UK Covid-19 inquiry now, say bereaved families
Relatives of 450 people who have died in the coronavirus pandemic in the UK are demanding an immediate public inquiry.
The families want an urgent review of "life and death" steps needed to minimise the continuing effects of the virus.
A full inquiry would take place later, says lawyer, Elkan Abrahamson, who is representing the families.
The government has said its current focus is on dealing with the pandemic.
But the Covid-19 Bereaved Families for Justice UK group say immediate lessons need to be learned to prevent more deaths, and that waiting for ministers to launch an inquiry will cost lives.
UK economy on pause
Katie Prescott - Today business presenter
The GDP fall shows just what happens when you essentially put an economy on a pause.
It also shows, as one economist put it to me earlier, the depth of the hole that we now have to get out of.
Sunak: Economic hit 'in line with other global economies'
Chancellor Rishi Sunak says the "severe impact" of coronavirus in the UK's economy is "in line with many other economies around the world".
"The lifelines we've provided with our furlough scheme, grants, loans and tax cuts have protected thousands of businesses and millions of jobs – giving us the best chance of recovering quickly as the economy reopens," he says in a statement.
"We've set out our plan to gradually and safely reopen the economy. Next week, more shops on the high street will be able to open again as we start to get our lives a little bit more back to normal."
Liberal Democrats: No time to exit EU single market
Acting Liberal Democrats leader Ed Davey says the figures showing that
the UK's economy shrank by 20.4% in April
"confirm we face the most serious economic challenge in generations".
Referring to Brexit and the UK government's intention to leave the EU's single market and customs union, he
tweets
that now is "not a time" for the UK "to exit the world's largest market", to "increase trade barriers" or to "deny business skills they need with a damaging new immigration system".
The UK left the European Union at the end of January, but is in a transition period until the end of this year.
Analysis: 'Devastating impact' will add pressure to relax rules
Nick Eardley - Political correspondent
Today's figures are a stark illustration of the economic challenge the government faces in the coming months.
The significant economic slump – combined with the huge extra spending to pay for unprecedented interventions in the job market – means the impact of this crisis is likely to be felt for some time.
The chancellor has said emergency schemes set up to respond to the crisis have given the UK the best chance of recovering quickly as the economy reopens.
But the devastating impact on sectors like hospitality will add to pressure from Tory MPs to relax the two-metre rule to give more pubs and restaurants a chance to recover when they reopen.
Labour, meanwhile, has repeated calls for the furlough scheme to be extended in particular sectors, warning that without such a move, the impact on jobs will be even more severe than is already likely.
In an attempt to avoid more pressure on struggling businesses, ministers are today expected to confirm the UK will apply less rigorous checks, initially, on goods coming into the UK than had been planned, when the Brexit transition ends in January.
A source said the government recognised the impact the virus was having on business and the need for pragmatism to help companies adjust to the changes.
There is still, however, the likelihood of checks on goods going from the UK into Europe, and uncertainty over whether a comprehensive trade deal can be agreed in the coming weeks.
'Dirty quarantine centres spreading virus' in Nepal
Quarantine centres are supposed to prevent the spread of coronavirus, but in Nepal, they have turned into infection hotspots, the country's National Human Rights Commission says. Around 170,000 people are currently in quarantine.
In a report, the commission criticises the government for failing to properly manage the centres to the standard set by the World Health Organization (WHO).
The WHO advises that spacious and ventilated single rooms should be provided with hand hygiene and toilet facilities, or if a shared facility is the only option, beds should be placed at least one metre apart.
The report also says that Nepal's government is not testing enough people and is using rapid diagnostic tests (RDT) tests, which are not effective.
The country has had 4,614 confirmed cases and 14 deaths from Covid-19.
Thailand to end curfew and sell alcohol again
Thailand has said it will lift its nationwide curfew on 15 June and allow restaurants to sell alcohol again.
On Friday, there were only four new cases confirmed and no new deaths. All four cases were Thais returning home from abroad and are in quarantine, officials said.
The current overnight curfew and alcohol ban are intended to stop group gatherings that could lead to a spike in virus cases.
Overall, the country has just over 3,000 cases, while 58 deaths have been linked to Covid-19.
The number of remaining active infections stands at only 80.
Japan, Singapore and Azerbaijan Grand Prix races cancelled
The Japanese, Singapore and Azerbaijan Grand Prix races have been cancelled because of the coronavirus pandemic.
Formula 1 tried to find a way to hold the events in 2020 but has now announced it is not possible in the uncertain global situation.
The race at Suzuka is off as a result of Japan's ban on many international travellers. The Grand Prix cannot be held in Singapore or Baku because the street circuits cannot be built in the current climate.
The cancellations mean F1 has lost a further three key Grands Prix to the Covid-19 crisis, which has already claimed the season-opening race in Australia and the blue-riband Monaco event.
Read more
Airlines launch quarantine legal challenge
Theo Leggett - BBC International Business Correspondent
British Airways, Ryanair and Easyjet say they have filed a formal legal challenge to
the UK government's quarantine policy.
The airlines say the policy, which came into force this week, will have "a devastating effect on British tourism and the wider economy and destroy thousands of jobs".
They have applied for a judicial review at the High Court, and asked for it to be heard as soon as possible.
The challenge claims that:


the quarantine rules for travellers are more stringent than those applied to people who actually have Covid-19

there was no consultation and no scientific evidence provided to support the policy

weekly commuters from France or Germany can be exempted

the government is preventing people from travelling to and from countries with lower infection rates than the UK

In a statement, the three airlines said they had not seen any evidence on how and when so-called "air bridges" - allowing quarantine-free travel between the UK and other countries with low infection rates - could be implemented.
They have called on the government instead to re-adopt a previous policy, where quarantine was limited to travellers from high-risk countries.
What's the latest in Asia?
India is now reporting more than 297,000 cases of coronavirus, surpassing the UK as having the fourth highest number of infections in the world. Indian authorities reported 10,956 new cases on Friday, the nation's biggest single-day increase.
Here are some of the other biggest headlines from around Asia:


Twitter has removed more than 170,000 accounts it says were tied to an operation to spread pro-China messages. Some of the accounts posted about the coronavirus outbreak. The tech firm said the network of accounts, based in China, had links to an earlier state-backed operation it broke up last year

The wife of Chinese doctor Li Wenliang, who died after contracting the virus while treating patients in Wuhan, has reportedly given birth to their baby boy. Dr Li was a key whistleblower trying to warn about China's coronavirus outbreak

Asian stock markets have fallen, a day after Wall Street suffered its biggest slump since March

Hong Kong has enjoyed remarkable success in tackling coronavirus, despite anti-government protests that have rocked the territory. But now it faces another existential challenge from China's plan to impose a national security law, as Grace Tsoi reports

Distancing rule decision 'crucial' to UK economy
After this morning's news of a 20% drop in GDP in the UK economy Sir John Timpson - a shoe repair chain owner and the head of an expert panel looking at UK high streets - says he is not "not surprised" but the important thing is where "we are in September."
Speaking to the BBC, Sir John said the government was being cautious at the moment in reducing lockdown measures because of the fear of fresh spikes in infections.
"A second wave would be a complete and utter disaster," he said. "We've now got to the stage where we are getting our businesses up and running and we don't want to go backwards again."
The government is under pressure from MPs and the hospitality industry to amend the 2m (6ft) rule for
social distancing,
to help businesses after they reopen.
"The distancing rule of one or two metres is a crucial decision," Sir John said. "I am glad I am not the prime minister having to make it. But it is going to make a big difference to the economy."