Summary for Wednesday, 3rd June


Travellers from most European countries will be allowed into Italy from Wednesday, with no quarantine

Italy is also lifting restrictions on domestic travel, allowing people to move between regions

The UK government defends its 14-day quarantine for travellers, which begins on Monday

The Lancet "raises concern" about a hydroxychloroquine study that caused the WHO to suspend trials

Brazil's death toll exceeds 30,000, the highest in South America

Globally, there have been almost 6.4m confirmed cases and 379,000 deaths

Welcome back to our rolling coverage of the global coronavirus crisis. We'll be keeping you posted on all developments from around the world as the day moves from Asia across Europe and Africa to the Americas.
Here's what you need to know this morning:


Italy is getting ready to open its borders today to travellers from most European countries. It's also lifting domestic travel restrictions between regions

Across Europe, new cases are steadily declining, the World Health Organization says. The only exceptions are Russia and other Eastern European countries where infection rates remain high

In the UK, a study has found that people from the black and Asian minorities are at a much higher risk of dying if ill with Covid-19. The UK death toll is now close to 40,000

In Brazil, the death toll has moved beyond 30,000. The country is the worst-hit in Latin America, the world's current hotspot of the pandemic

India has registered a new record daily spike of fresh infections, even as restrictions ease

Italy open for tourists again
As Europe gradually eases lockdowns and restrictions, Italy will open its borders to tourists from most other European countries in a few hours.
Travel restrictions within the country will also be lifted, so people can move freely between different regions.
"We're facing a calculated risk in the knowledge that the contagion curve may rise again," Prime Minister Giuseppe Conte said in May when announcing the plans. "We have to accept it otherwise we will never be able to start up again."
Tourism is vital for Italy's economy but had come to a complete standstill during the virus crisis. Some landmarks like the Colosseum in Rome have already opened over the past days.
Italy has been one of Europe's worst-hit countries with more than 230,000 infections and 33,500 deaths.
Australians warned to brace for recession
Australia's GDP shrank 0.3% for the first three months of the year due to bushfires and the early stages of the virus's impact, official data released this morning shows.
That means the country - which has been quite successful in containing the virus - will sink into its first recession in 29 years. The government has warned Australians to brace themselves.
The March quarter figures take into account the preliminary impact of border and business closures. But it's the June quarter results which will show the greater impact - the treasury has estimated a GDP hit of over 10% - which would be the largest fall on record.
The unemployment rate is also expected to reach over 10%. More than a quarter of Australia's workforce is currently on some form of welfare.
Australians most intense panic buyers in the world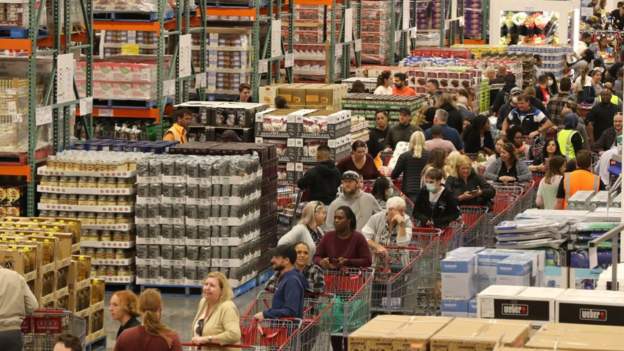 The scene at supermarkets in Australia in March
Panic buying was a phenomenon in many countries in the first stages of the virus lockdown – you'll remember that staples such as toilet paper, pasta and rice were all hard to get hold of.
But researchers have now assessed that Australians were most caught up in the rush – and for seemingly no good reason. Supermarket sales jumped 20% in March – the biggest increase on record.
"The experience of Australia is notable for the incredible speed and scale with which panic took hold," the University of New South Wales team found.
"Unlike in other countries, the escalation in panic does not appear to correspond with any significant increase in domestic Covid-19 cases."
Instead they argue that Australians, watching the crisis unfold in Italy and the US at the time, were reacting to overseas restrictions and the country's borders being shut.
The researchers created the "Panic Index" from Google search data across 56 countries.
Backlash in China after front-line doctor dies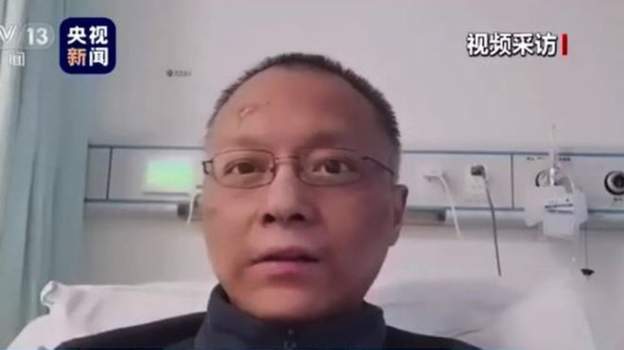 The death of a front-line doctor in China is provoking a backlash against the government's handling of the virus. Dr Hu Weifeng passed away on 2 June, after a months-long fight with Covid-19.
The news has triggered an outpouring of anger on Chinese social media sites.
He and a colleague made headlines in March, when their skin turned black "due to liver dysfunction" during the treatment.
They became known as "the two black-faced Wuhan doctors", and won nationwide praise for fighting back against the virus, as both had been critically ill.
The Communist Youth League called them "angels who had fought with death", and Weibo users sympathised with how much they had to endure.
First death in Bangladesh Rohingya refugee camp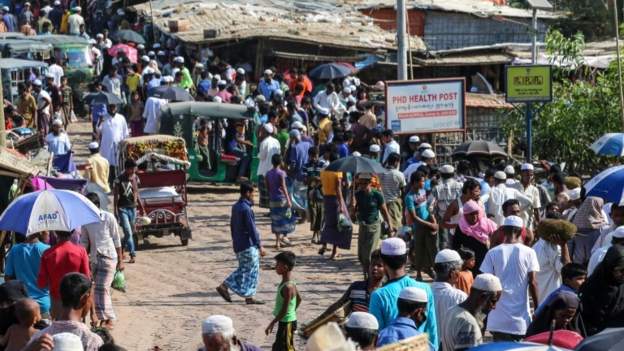 A 71-year old man has become the first Rohingya living in the refugee camps in south-east Bangaldesh to die of coronavirus.
The man died in an isolation centre run by the medical charity MSF. He had been living in Kutupalong, the largest of the camps in Cox's Bazar district bordering Myanmar.
So far at least 29 Rohingya refugees have been confirmed to have the coronavirus in the most densely populated refugee camp in the world. Officials say only 339 tests have been done.
"We are living in fear about what we are going to do if there is a big outbreak," refugee Mohammed Rafiq told Reuters.
"It is a ticking time bomb," says Alejandro Agustin Cuyar of Relief International. "Once the virus takes hold, it will be incredibly challenging to flatten the curve, so we are gravely concerned the numbers needing treatment will soon be overwhelming."
Nearly a million Rohingya Muslims who fled violence in Myanmar are living in Bangladesh.
Daily record toll puts Brazil deaths past 31,000
Brazil has registered another record number of new daily coronavirus deaths. The 1,262 new fatalities put its overall death toll at 31,199.
The jump comes as several major cities start to open back up. In Rio people were seen on the beaches and in Sao Paulo some commerce has opened.
Marcos Espinal, director of the Pan American Health Organization, said it was difficult to see how the virus would be contained in Brazil unless restrictive measures and more testing were used.
Brazil has 555,383 confirmed infections, second only to the US. The country is deeply divided over how to respond to the crisis, with health specialists and local governors arguing for a lockdown while President Jair Bolsonaro says an economic crisis would be more harmful than the virus itself.
Australia Treasurer says economy 'in recession'
The Australian Treasurer Josh Frydenberg is speaking on the just-released GDP figures - which showed a 0.3% contraction in the first three months of the year.
This was inevitable given the impact of the virus and ongoing drought and bushfire effects. But because Australia has dealt so well with the virus on the health front - essentially flattening the curve in March and April - the economic hit may not be as bad as predicted, he says.
Nonetheless, June figures are expected to show GDP fall over 10%, and unemployment around that level too.
The nation is certain to enter a recession (two quarters of GDP decline) on those numbers.
But with the country exiting lockdown last month and re-opening businesses, household spending is slowly rebounding, the Treasurer says.
The local share market is recovering, the Australian dollar has regained its losses, and most importantly, tourism and other service industries are kicking back into life.
"It's a challenging time but the economy is holding up comparatively well to other nations," says Frydenberg.
"What we were facing was an economist's version of Armageddon. We have avoided the economic fate, and the health fate, of other nations because of the measures we took."
Zoom sees sales boom amid pandemic
Natalie Sherman - New York business reporter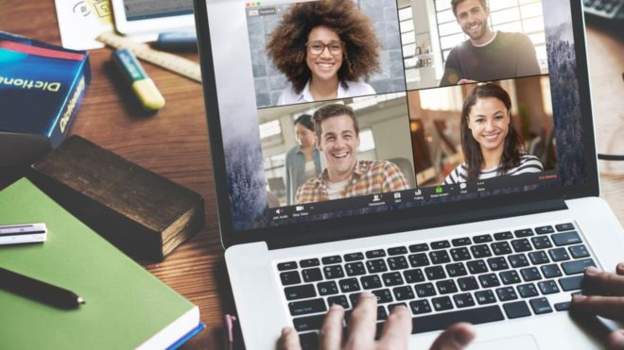 When it comes to its growth rate, video conference company Zoom has lived up to its name.
Use of the firm's software jumped 30-fold in April, as the coronavirus pandemic forced millions to work, learn and socialise remotely.
At its peak, the firm counted more than 300 million daily participants in virtual meetings, while paying customers have more than tripled.
Zoom said it expects sales as high as $1.8bn (£1.4bn) this year - roughly double what it forecast in March.
South Korea approves remdesivir
South Korea has approved the import of remdesivir, a drug that appears to shorten recovery time for people with coronavirus.
Remdesivir cut the duration of symptoms from 15 days down to 11 in clinical trials at hospitals around the world.
The drug is already approved for treatment of Covid-19 in the US, Japan and India.
Scientists around the world are rushing to develop a vaccine against SARS-CoV-2 or a treatment for Covid-19, the illness resulting from infection.
Remdesivir is an anti-viral medicine that has been used against Ebola. Other drugs being investigated include medication used for malaria and HIV.
Covid patients evacuated as cyclone nears Mumbai
More than 100 patients from a recently-built Covid-19 field hospital in Mumbai are among the 10,000 people to be evacuated as a cyclone approaches.
Cyclone Nisarga, which is approaching across the Arabian Sea from the south-west, would be the first serious cyclone to make landfall in the city since 1891.
With 20 million people, Mumbai is India's most populous city and its financial capital.
And with more than 40,000 confirmed virus cases, and almost 1,400 deaths, it is the worst-affected city in India.
G7 finance ministers to discuss virus fallout
The finance ministers of the G7 countries will hold a phone conference on Wednesday evening to discuss the economic impact the pandemic will have and how to combat that.
An actual G7 summit has recently been postponed. US President Donald Trump had invited leaders to Washington for a meeting in June but the summit was called off after some leaders said they would not attend in person due to the ongoing crisis.
The summit is now thought to be moved to an unspecified future date and Trump has suggested adding Russia, South Korea, Australia and India to the list of countries invited.
Pakistan city 'may have 670,000 asymptomatic cases'
Health officials have recommended that Pakistan's Punjab province be placed under a 30-day lockdown after a government sample survey suggested that 670,000 people in the provincial capital, Lahore, could be asymptomatic carriers of Covid-19, report local media.
Lahore, home to around 12 million, has more than 27,000 confirmed cases.
The report also warned that "no workplace and residential area of any town" is free from the virus
, reported the Dawn newspaper.
Earlier this week,
PM Imran Khan defended lifting the lockdown
amid rising cases and a devastated economy, saying Pakistanis would have to "live with the virus". The country has confirmed more than 76,000 cases and 1,621 deaths, according to Johns Hopkins University data.
New Zealand may shift to lowest alert level
New Zealand may drop its alert to the lowest level as early as next week, Prime Minister Jacinda Ardern has said. That would mean lifting all social distancing measures and a return to normal life - except international travel.
The country had only a few infections and deaths and for the past 12 days has not had any new cases. There is just one active case remaining.
That's more than two months after the government imposed a severe lockdown, closing most businesses and forcing people to stay home.
Ardern said that by next Monday she'll make the call on whether to take the country to the lowest alert level.
Premier League clubs given go-ahead for friendlies
The Premier League has given clubs permission to play friendly matches, with strict restrictions, before the restart on 17 June.
Top-flight sides made requests to face other teams in preparation for the league's return, which was accepted, according to
the Telegraph.
Premier League leaders Liverpool held an 11-a-side game in training at Anfield on Monday.
Friendlies can be played at either stadiums or training grounds.
However, the Premier League has outlined a number of conditions such as negative Covid-19 tests being returned by players involved.
Students might have to stay in 'protective bubble'
Sean Coughlan - BBC News, education correspondent
Students in the UK might have to stay in a "protective bubble" of the same small group, when university campuses reopen in the autumn.
University leaders suggested students would live and study with the same group to minimise mixing.
They were setting out safety measures for a socially-distanced student life - including a virtual freshers' week.
A survey suggested 71% of students would prefer to start the term later, if they got more in-person teaching.
University campuses have been closed since the coronavirus lockdown, with teaching switching online, and their representative body, Universities UK, has been setting out how they might bring students back for the autumn term.
Ibuprofen tested as a treatment
Michelle Roberts - Health editor, BBC News online
Scientists are running a trial to see if ibuprofen can help hospital patients who are sick with coronavirus.
The team from London's Guy's and St Thomas' hospital and Kings College believe the drug, which is an anti-inflammatory as well as a painkiller, could treat breathing difficulties.
They hope the low-cost treatment can keep patients off ventilators.
In the trial
, called Liberate, half of the patients will receive ibuprofen in addition to usual care.
The trial will use a special formulation of ibuprofen rather than the regular tablets that people might usually buy. Some people already take this lipid capsule form of the drug for conditions like arthritis.
Studies in animals suggest it might treat acute respiratory distress syndrome - one of the complications of severe coronavirus.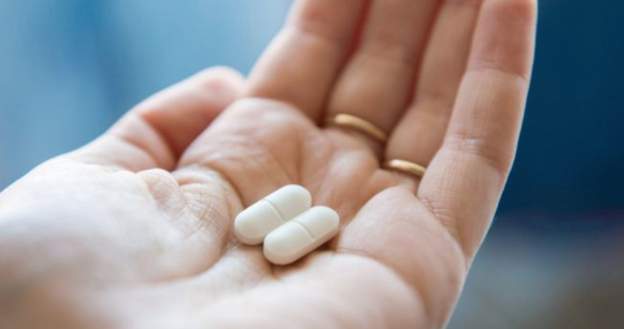 UK holidaymakers 'welcome' in Portugal
Tom Burridge - Transport correspondent
Portugal's foreign minister has said anyone in the UK thinking of going to Portugal this summer would be "most welcome".
Augusto Santos Silva said tourists will be warned how full beaches are so that they can avoided crowded spots.
Santos Silva told the BBC that an "air bridge" agreement between the UK and Portugal could be in place by the end of June.
Holidaymakers would not be subject to a 14-day quarantine under a deal.
He said any travel quarantine "was an enemy of tourism", but that he respected the UK government's decision to enforce one on almost all arrivals to the UK from next Monday.
Santos Silva said "rules" would ensure that people would be able to holiday safely.
F1 boss says positive test would not cancel a race
Andrew Benson - BBC Sport's chief F1 writer
A race would not be cancelled in the re-started season if a driver or team member tested positive for coronavirus, says Formula 1 boss Chase Carey.
The F1 chairman and chief executive was speaking after F1 announced the
first eight races of a rescheduled 2020 season
starting in Austria on 5 July.
"We will have a procedure in place that finding an infection will not lead to a cancellation," said Carey.
"If a driver has an infection, [teams have] reserve drivers available."
The season-opening Australian Grand Prix was called off in March after a McLaren team member tested positive.
But Carey told the F1 website: "The array of 'what ifs' are too wide to play out every one of them, but a team not being able to race wouldn't cancel the race."
Latest UK headlines
Good morning, and welcome to those of you joining us from the UK. We'll be keeping you updated on all the latest developments from Westminster and around the country.
Here's what you need to know this morning:


Prime Minister Boris Johnson has been accused of mismanaging the easing of virus restrictions in the UK by Labour leader Keir Starmer, who said the PM was "winging it"

Mr Johnson and Sir Keir will go head-to-head later at Prime Minister's Questions for the first time since the row erupted over the prime minister's chief adviser Dominic Cummings

The government will also give more details of its proposals to require the majority of those arriving in the UK from abroad to self-isolate for 14 days, amid criticism of the quarantine plan

Portugal's foreign minister says British tourists will be "most welcome" this summer. Augusto Santos Silva says Portugal is in talks with the UK and is hoping to reach an agreement so people returning from holidays in the country don't have to isolate

Universities are setting out plans for social distancing when campuses re-open in the autumn. Students may have to live and study with the same small group of people

Woolworths gives staff bonus worth $1,000
Woolworths supermarket is giving their full-time employees in Australia and New Zealand bonuses worth $1,000 ($645; £551).
The bonuses won't be paid in cash, but are made up of $750 of shares in the company and $250 in-store credit.
Chief Executive Brad Banducci tells local media that it's a recognition of the "critical role" their staff will play "as we all adjust to the new normal".
The company added that Woolworths will now have the largest number of shareholders in Australia and New Zealand.
Virus hits Australia's 'lucky country' status
Shaimaa Khalil - BBC News, Sydney
Australia has long been dubbed The Lucky Country. Not anymore, if this year is anything to go by. New official figures show it's headed for its first recession in nearly 30 years.
Australia has had steady growth for decades with a combination of abundant natural resources like coal, iron ore and natural gas and a steady demand from its biggest trade partner China.
Tourism has also been a big driver of growth. According to Tourism Australia, the year 2018-2019 saw a revenue of A$122bn ($85bn; £67bn) from domestic and international tourists.
Then the country was hit hard. Twice.
When the bushfires ravaged through more than 12m hectares of the country, tourism was pummelled and thousands of small business lost months of essential seasonal revenue.
Then Covid-19 became a global pandemic. Australia closed its borders and imposed strict social distancing rules to control the spread of the virus. Nearly a million people lost their jobs as a result.
The government has pumped more than A$200bn into economic stimulus packages including wage subsidy schemes. And while Australia has fared better than many in controlling the virus and in subsequent economic slump, this country of abundance will have to face a much harsher reality for a while.
Read more:
Australia set for first recession in three decades
South Africa lockdown rules 'unconstitutional'
Cigarette smoking is banned under lockdown measures
A South African court has found some coronavirus lockdown regulations imposed by the government were "unconstitutional and invalid".
The case was filed by a community group, Liberty Fighters Network, which challenged the response measures announced by President Cyril Ramaphosa.
The high court in the capital Pretoria ruled on Tuesday that "the regulations are not rationally connected to the objectives of slowing the rate of infection or limiting the spread thereof".
However it suspended the judgement for 14 days to give government time to overhaul the regulations.
The cabinet has said it will "review, amend and republish the regulations" but that the measures will remain in place "for now", according to a statement.
South Africa has some of the most stringent coronavirus containment measures in the world.
It eased a month-long lockdown on 1 May after dropping the alert level from level 5 to level 4, and to level 3 on 1 June.
Alcohol sales resumed this week
following a two-month ban. All gatherings, except funerals and for work, are still banned. Travel between provinces is also prohibited, and international flights are cancelled except for those repatriating citizens.
The country has the highest cases of coronavirus on the continent , about 30,000 confirmed so far and 700 deaths.
Read: Coronavirus in South Africa: Eight lessons for the rest of the continent
Sweden admits it should have imposed restrictions
Sweden's state epidemiologist, who was behind the country's policy of not having a lockdown, has admitted it should have imposed more restrictions to control the spread of the virus.
For months Anders Tegnell defended his approach as more sustainable, while criticising other countries for their lockdowns.
But this morning, when an interviewer on Sveriges Radio said too many people had died in the country, Tegnell agreed.
He then said: "If we would encounter the same disease, with exactly what we know about it today, I think we would land midway between what Sweden did and what the rest of the world did."
Sweden has a higher per-capita death rate from coronavirus than neighbouring countries that imposed tougher restrictions. More than 4,400 people in the country have died, while Norway, Denmark and Finland all have death tolls of fewer than 600.
French death toll moves above 100 again
France's daily death toll from coronavirus has risen above 100 for the first time in 13 days.
On Tuesday evening, authorities said deaths had increased by 107 to a total of 28,940, the fifth-highest official tally worldwide.
Like much of Europe, France is in the process of easing restrictions and restarting public life.
The French Finance Minister meanwhile told reporters the government now expects the economy to contract by 11% this year, a worse prediction than the previous estimate of 8%.
If that happens, the recession would be the worst since World War Two.
UK minister 'hopeful' for 2020 holidays
Junior UK health minister Edward Argar says he "hopes" British people will be able to go abroad on holiday this year, but the government doesn't want to risk a second wave of the virus.
The UK government currently advises against all but essential international travel. It will outline details later of its quarantine proposals - due to come in on Monday - which will require the majority of those arriving in the UK from abroad to self-isolate for 14 days.
Argar told BBC Breakfast: "I know that one of the many things that people will desperately want to do is have a holiday, but as a health minister I'm very cautious on this.
"I hope that people will be able to go on holiday at some point this year, but I can't make that promise as I have to be cautious and go with the science."
Big queues as McDonald's drive-thru restaurants re-open
McDonald's reopened some of its Scottish drive-thru restaurants on Tuesday, but it was a case of big queues as well as Big Macs for customers, as police were needed to direct cars waiting to order.
The fast-food giant closed all its outlets more than 10 weeks ago as lockdown restrictions came into force, but is aiming to reopen 1,000 of its drive-thru or delivery outlets by Thursday.
Last week the company said it would reveal the locations of the restaurants that were to open their doors on the day of each reopening to help manage demand. It said it was also working with police and local authorities.
McDonald's said Perspex screens, face coverings, gloves and social distancing measures were in place. It is offering a limited menu only and capping spending at £25.
Rival chains, including Subway, Burger King, Pret A Manger, Nando's and Wagamama, have recently laid out plans to rapidly open more sites as eateries get to grips with social distancing.
The latest from Europe
Italy reopens its borders as Sweden's coronavirus chief backtracks. Here's the latest from Europe:


Italy has reopened its borders and ended travel restrictions between regions, hoping to encourage tourists back in time for the summer. The country was the first in Europe hit hard by the outbreak and has recorded more than 33,000 deaths

Anders Tegnell, Sweden's chief epidemiologist, has conceded that too many have died in Sweden. The country is one of the few in Europe that has not imposed a strict lockdown. He told Sveriges Radio: "If we encountered the same disease with exactly what we know about it today, I think we would land midway between what Sweden did and what the rest of the world did"

The reproduction rate has risen to 1.95 in Berlin, authorities said – meaning each infected person in the German capital is passing the virus on to nearly two others. Berlin's health minister Dilek Kolat said it showed a "trend reversal"

The German city of Göttingen wants to test all 700 residents of a residential complex after an outbreak following private Eid al-Fitr celebrations

And Ukrainian football team Karpaty Lviv has been placed in quarantine for two weeks after 25 players and staff tested positive for the virus. The club's next two games have been cancelled

Quick test results 'essential' for test and trace - Hunt
Former health secretary Jeremy Hunt says his "biggest concern" with the UK's test and trace systems is the length of time it is taking for people to get coronavirus test results.
He says the government's scientific advisers have previously warned that for test and trace to be effective, the contacts of people who test positive have to isolate within 48 hours - but he says that is impossible if test results are taking 48 hours to come back.
He told Radio 4's Today programme: "I strongly welcome the prime minister's new 24-hour test turnaround target, but at the moment the government isn't saying how many tests are being met within that target, and for test and trace it is absolutely essential that they all are."
Hunt, who chairs the Commons health select committee which scrutinises the government, says some "teething problems" with the new system are inevitable as it was "set up in less than a month from a standing start".
8:53
US issues new travel alert on Tanzania
Sammy Awami - BBC News, Dar es Salaam
The US embassy in Tanzania has issued a fresh travel advisory for American citizens regarding the coronavirus pandemic in the country.
In a statement, the embassy suggested that the risk of contracting the virus in the commercial hub, Dar es Salaam, remained high, but gave no evidence to support its claims.
It suggested US citizens should avoid socialising and leaving their homes.
"Healthcare facilities in Tanzania can become quickly overwhelmed in a healthcare crisis," read the statement.
The advisory comes days after Tanzania's foreign ministry summoned the acting US ambassador, Inmi Patterson, to protest against a similar travel advisory issued by the embassy last month.
According to a statement released by the ministry after the meeting, Permanent Secretary Wilbert Ibuge told the US diplomat that its advisory contained false information and risked causing panic among Tanzanians and visitors.
Unlike many countries in the East African region, Tanzania chose to adopt a relaxed strategy in its approach towards coronavirus, avoiding lockdown and instead emphasising protection of the economy.
On Monday, Health Minister Ummy Mwalimu said there were only four Covid-19 patients in hospitals in Dar es Salaam.
High schools, colleges and universities were re-opened on 1 June and sport events allowed to continue.
London bus drivers 'spat at 60 times' during lockdown
Tom Edwards - Transport Correspondent, BBC London
If we needed more evidence that transport workers are on the front line of this virus, we got it at the Transport for London (TfL) board meeting yesterday.
One of the most shocking stats to emerge was that, since the lockdown began, there have been 60 reports of drivers being spat at - an offence classed as common assault, and which the police say they are using DNA tests and CCTV to investigate.
TfL says it has introduced sealed screens on all buses which it says should help protect drivers.
There have been prominent stories of transport workers being attacked in this way.
In April, railway worker Belly Mujinga died of Covid-19 after being spat at by someone who claimed he had the virus - although British Transport Police has now ruled the assault did not lead to her death.
Read the full story here.
China denies it was slow to share info with WHO
China says a news report claiming it delayed sharing information on Covid-19 with the World Health Organization is totally untrue.
During the government's daily briefing, foreign ministry spokesman Zhao Lijian strongly denied claims of "significant delays" by China and "considerable frustration" among WHO officials, as cited in the Associated Press report.
AP reported
that China "sat on" releasing the genetic map of the virus for more than a week, citing internal documents and dozens of interviews.
It contrasted this with the WHO's public statements at the time, which repeatedly praised China's fast response to the virus and specifically thanked the country for sharing the genetic map "immediately".
Top Ukrainian football team quarantines as 25 test positive
A top-flight football team in Ukraine has been quarantined for at least two weeks after several players and coaching staff contracted coronavirus.
Premier League side Karpaty's game against Mariupol on Sunday was cancelled after the positive tests, and the Lviv-based team's training sessions have also been called off during the period of quarantine.
Media reports said 25 members of the club had returned positive tests out of 65 who were tested.
Karpaty said in a statement that the team hoped to resume matches once the quarantine period was completed, and asked the recently-resumed league not to stop other fixtures. It called on clubs to be as responsible as possible in testing players, coaches and staff.
Russia battles world's third-highest number of infections
Russia has reported 8,536 new coronavirus cases and 178 deaths on Wednesday, bringing its nationwide infection tally to 432,277, the third highest in the world.
In total 5,215 people are confirmed to have died with the virus there.
In a statement on its Telegram channel, the Moscow-based coronavirus HQ said the majority of cases are in Moscow (1,842), the Moscow Region (736), and St Petersburg (380).
Residents in Moscow are now allowed outdoors again after restrictions were eased on 1 June, but regulations remain in place, such as wearing face masks and being given assigned times to go for walks.
Labour fears government has 'no strategy' for England's lockdown exit
Shadow Cabinet Office Minister Rachel Reeves has reiterated Labour's concern over the way lockdown restrictions are being eased in England - saying there appeared to be "no strategy to make it work".
Speaking on BBC Radio 4's Today programme, Reeves said the test and trace system in place was not yet "effective".
Echoing comments from Labour leader
Sir Keir Starmer in the Guardian, she added: "There are practical things that government can do to make the easing of these lockdown restrictions actually work and we're urging government to get a grip and put those things in place."
Her comments come after former health secretary Jeremy Hunt said his "biggest concern" with the UK's test and trace systems is the length of time it is currently taking for people to get test results.
Warm weather sparked lockdown breaches, London police say
There is a "strong" link between people breaching the lockdown, warm weather and holiday periods, according to analysis by the UK's largest police force.
The Metropolitan Police looked at data from 27 March to 14 May, when 973 people were issued fixed penalty notices and 36 arrested in London.
Peaks of police action in St James' Park coincided with warm temperatures in early April, the Easter Bank Holiday weekend, and on 15 April, after the temperature rose by six degrees.
But Assistant Commissioner Mark Simmons stressed that overall there had been "good compliance" when officers intervened and the force used enforcement for breaches such as gathering in groups only as a last resort.
'We've brought this on ourselves' - Jane Goodall
Renowned primatologist Jane Goodall has warned that humanity will be "finished" if we don't make drastic changes to our food system in response to the coronavirus and climate crisis.
Speaking at an online event held by Compassion in World Farming, she blamed Covid-19 on our exploitation of the natural world, saying that "we have brought this on ourselves".
"Our disrespect for wild animals and our disrespect for farmed animals has created this situation where disease can spill over to infect human beings," she added.
It's believed the coronavirus originated in a meat market in Wuhan, China late last year.