Summary for Monday, 1st June


Some pupils are returning to primary schools in England but many will stay at home

Other measures are also being eased in England - there are fears steps are being taken too quickly

Many European countries are lifting restrictions further - some even opening cafes, museums and cinemas

South Africans can buy alcohol for the first time in two months but the reopening of schools is delayed

The Philippine capital Manila, home to 12 million people, has exited a lockdown in place since mid-March

The number of confirmed cases in Brazil passes half a million

Globally, there have been 6.1m confirmed cases and 371,000 deaths linked to Covid-19

Hello and welcome back to our rolling coverage of the coronavirus outbreak. We're writing to you from Singapore this morning, and will be joined by our colleagues across Asia, the UK, and the US later today. For now, here's a quick look at what's happened overnight:


Metro Manila, the capital region of the Philippines, has finally eased a lockdown that has been in place since mid-March. More people will be allowed to work and shops will reopen - though many restrictions are still in place

In Brazil, the number of confirmed cases has passed half a million, the second highest total in the world

The US has sent Brazil two million doses of hydroxychloroquine, the unproven drug that was touted by US President Trump. The WHO recently suspended clinical trials of the drug over safety concerns

There have now been 6.1 million confirmed cases and 371,000 deaths linked to Covid-19, according to data from Johns Hopkins University

Manila finally comes out of lockdown
The Philippines' capital region of Metro Manila has today emerged from a lockdown that began in mid-March - longer even than the 76-day quarantine in the Chinese city of Wuhan, where the virus emerged last year.
Manila has moved into a state of general community quarantine (GCQ), which will allow more people to return to work, some shops and factories to reopen, and public transportation to run at a limited capacity.
However, public facilities like gyms, cinemas, karaoke bars and nightclubs will remain shut - and authorities have reiterated the need for the public to stay at home if they can.
Manila two weeks ago moved to the "Modified Enhanced Community Quarantine (MECQ)" - a slightly more relaxed version of its original lockdown, which allowed some people to do things like exercise outdoors.
The Philippines currently has 18,086 confirmed cases and 957 deaths, according to Johns Hopkins University.
Sydneysiders hit the pool - one person per lane
Simon Atkinson - BBC News, Sydney
The city has opened two council-run outdoor pools today for the first time since mid-March.
I was among the first to get back in the water - but swimming in the time of Covid is very different.
Before even being allowed to take up a booked 45-minute swim slot there was an online form.
Here I declared I was not unwell, agreed not to engage in any "unmeaningful or unnecessary conversations" and - tough one this - promised not to urinate in the pool.
To keep other potential sources of infection to a minimum, it's swimming costume and goggles only. No floats, kickboards or inflatable crocodiles.
Changing rooms are closed (plan your outfit carefully). Instead there's a chair with your lane number because - Olympic-style - you get your own lane.
While slowly splashing my way up lane 3, I spotted an employee thoroughly cleaning the steps that lead into the pool.
With just eight swimmers an hour - each paying A$6 (£3; $4) - the operation is running at a huge loss.
But on a crisp sunny winter morning it was absolutely glorious. And everyone I spoke to afterwards seemed grateful and glad to be back. Hopefully those counted as meaningful conversations.
Brazil has second-highest number of cases globally
Brazil has reported 16,409 new coronavirus cases on Sunday, bringing its total number of infected cases to 514,849 - the second highest case load in the world.
There were also 480 new deaths reported, bringing the death toll to 29,314 - the world's fourth highest death toll. Only the US, UK and Italy have recorded more deaths.
Despite this, President Jair Bolsonaro has consistently played down the outbreak, criticising state lockdowns for harming Brazil's economy and jobs.
Many experts believe Central and South America are now the major hotspots for increased infections.
A combination of under-pressure healthcare systems and a mixed response by governments to the severity of Covid-19 has meant the region cannot apply the same easing of lockdowns taking place in Europe and elsewhere.
Belgian Prince sorry for lockdown party
A Belgian prince who contracted coronavirus after attending a party during lockdown in Spain has apologised and "will accept the consequences".
"I deeply regret my actions," he said in a statement on Sunday.
Prince Joachim, 28, travelled from Belgium to Spain for an internship on 26 May, but went to a party two days later in the southern city of Córdoba.
Spanish reports suggest the prince, a nephew of Belgium's King Philippe, was among 27 people at the party.
Read our full story here.
Wuhan reports no new asymptomatic cases
The Chinese city of Wuhan - where the coronavirus first emerged - reported no new asymptomatic cases on Sunday.
It's the first time this has happened since Wuhan started releasing figures on virus carriers showing no symptoms.
China has recorded 16 new cases on Sunday - all of which were imported - up from just two cases the day before.
Of the new cases, 11 were recorded in Sichuan province, three in Inner Mongolia and two in Guangdong.
Read more about "silent spreaders" in this piece from our Science editor David Shukman.
US sends Brazil 2 million doses of hydroxychloroquine
The US has supplied Brazil with two million doses of hydroxychloroquine - despite medical warnings about risks associated with the controversial drug.
The WHO
had days ago suspended testing the drug in Covid-19 patients
due to safety concerns.
But the leaders of both countries have touted its use - US President Trump said he was taking the anti-malaria drug as a preventive measure, and his Brazilian counterpart Jair Bolsonaro said he kept a box in case his 93-year-old mother needed it.
There is no scientific evidence that hydroxycholoroquine is effective against the coronavirus.
Here is what we know for sure about the drug
.
Australia has only 21 cases in hospital
... and 92% of the country's recorded 7,200 cases have recovered.
With the health situation largely contained, today marks another significant relaxing of restrictions across the country.
Rules vary across states, but in New South Wales (the most populous state, which includes Sydney), the venues reopening include beauty salons, museums, libraries and public pools.
Leisure travel across the state is allowed, while pubs and restaurants can also have 50 patrons on site - as long as social distancing is maintained.
Twenty-person gatherings are also now allowed in Victoria, Queensland and South Australia - while Western Australia and the Northern Territory will allow even bigger groups later this week.
Japan mulls allowing visitors - report
Japan is considering relaxing its entry ban on visitors from Thailand, Vietnam, Australia, and New Zealand, according to sources quoted in local media.
An unnamed government official told Kyodo News that these four countries have low infection rates and strong business ties with Japan
. However, there's been no confirmation from the country's foreign ministry.
Japan, which has a ban on 111 countries and regions, including the US and Europe, barred overseas visitors in February to curb the spread of coronavirus.
On Monday, businesses will fully reopen and schools will resume classes in many of Japan's 47 prefectures. Some restrictions remain in place in Tokyo and six other prefectures.
Japan has confirmed nearly 17,000 infections and 898 deaths, according to figures from Johns Hopkins University.
Mexico nears 10,000 deaths
Will Grant - Mexico and Central America correspondent, BBC News
Mexico is taking its first steps to reopen from 1 June with a number of industries permitted to return to work.
They include car-part manufacturing plants and construction as well as beer factories and bike shops. However, the decision has been criticised as too hasty by some scientists who say the outbreak is still at its most acute in Mexico.
Almost 10,000 people have died from Covid-19 in Mexico. Meanwhile, the country's president, Andres Manuel Lopez Obrador, is due to embark on a tour of the nation.
President Lopez Obrador has defended his tour, saying he is not waiting to travel "because we must begin the new normal, while continuing to take care of ourselves".
Several top scientists have criticised the move as misjudged, among them the man who led the response to Mexico's A/H1N1 influenza outbreak in 2009. Alejandro Macías Hernández told the BBC: "It is not a good message that the first actions be presidential trips when we're still locked down."
But the start of reopening is welcome news for many in Mexico's stricken economy. As many as a million jobs may have been lost through Covid-19 and the economy is expected to contract by as much as 9% this year.
North Korea to reopen schools in early June
North Korea plans to reopen schools as early as this month,
according to a Yonhap news report quoting state media.
Schools in North Korea were reportedly due to open in early April, but school holidays have been repeatedly extended, though a handful of colleges and high schools were allowed to open in mid-April.
According to the North's state radio, "preventive measures" have been put in place so elementary, middle and high schools can start their semesters and nurseries and kindergartens can begin resuming operations in "early June".
The report said hand sanitisers would be provided in all classrooms, as well as thermometers.
North Korea still claims to have no virus cases in the country,
though experts have said this is extremely unlikely.
South Korea sees rise in church-linked cases
South Korea on Sunday reported 30 local infections - 24 of which have been traced to churches in Gyeonggi Province outside the capital Seoul,
says a Yonhap report.
The country is still grappling with cases linked to a logistics centre in Bucheon, a city near Seoul. Authorities say at least 112 infections have been linked to the logistics facility.
There are now concerns that the church-linked gatherings could lead to a new cluster.
It was a religious sect, known as the Shincheonji Church, that led to South Korea's biggest virus cluster in February. Thousands of cases were later found to be linked to a Daegu branch of the sect.
The country later moved to close churches - but they were reopened earlier last month as the country appeared then to have successfully contained the virus.
Iconic jeepneys won't be back on roads
Virma Simonette - BBC News, Manila
As early as 4am this morning, we saw people on the streets - some were riding their bicycles and waiting for the buses provided by the government, but most were walking.
Cesar Casipi is a plastic factory operator who lives more than 10km (6.2 miles) from his workplace.
He does not own a car nor a bicycle, so he woke up an hour early to walk the two hours to work.
Cesar told us that after 77 days without pay, today, he is more than grateful to be going back to work.
But it's a different story for Manuel dela Cruz, also a factory worker.
Manuel started walking at 3am. After an hour, he ended up at a train station. Though he wants to save his money, he decided to queue and ride the train to spare himself from exhaustion.
He told us that he fears for his safety in this uncertain situation, but does not have any choice but to go to work instead of letting his family starve.
While most are going back to work today, jeepney drivers like Julius Evangelista are not among them.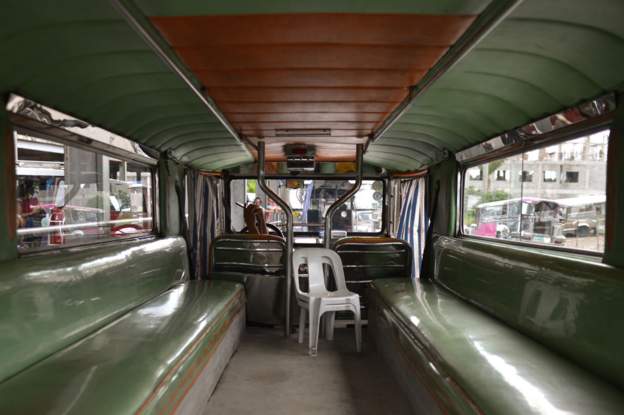 Authorities have said it will be difficult to social distance inside a jeepney (pictured)
After failing to pay rent, Julius and his family have been living inside their jeepney for more than two months now. They have been begging people for food or money.
Over the weekend, presidential spokesperson Harry Roque said it would be difficult to practice physical distancing inside jeepneys, so that's why these iconic and hugely popular little buses won't be back on the roads yet.
100-year-old woman recovers from virus
A 100-year-old woman in Indonesia has recovered from Covid-19, making her the country's oldest survivor, local media report.
Kamtim, who goes by her first name, was discharged from hospital this week after being treated for a month in the country's second largest city, Surabaya.
"I hope her recovery can motivate elderly people during the pandemic," East Java Governor Khofifah Indar Parawansa said.
The woman's daughter-in-law told AFP news agency that her recovery was due to her "discipline and persistence".
"Every day I checked her condition with nurses and they always told me that she was very strong and diligent about taking her medicine," Siti Aminah said.
"She was very motivated to get better."
Indonesia has more than 26,000 confirmed cases and 1,613 deaths, according to data from Johns Hopkins University.
If you're just joining us...
Good morning, and here are some of the latest headlines:


Primary schools in England are beginning to bring back more pupils but half of parents might not send in their children, surveys suggest.

The Queen has been photographed riding in the grounds of Windsor Castle - her first public appearance since the coronavirus lockdown began.

Open air markets and car showrooms will be allowed to re-open in England on Monday, with coronavirus-related measures in place.

In Brazil, the number of confirmed cases has passed half a million, the second highest total in the world.

Metro Manila, the capital region of the Philippines, has finally eased a lockdown that has been in place since mid-March. More people will be allowed to work and shops will reopen - though many restrictions are still in place

The Chinese city of Wuhan - where the virus first emerged - reported no new asymptomatic cases on Sunday. China recorded 16 new cases on Sunday - all of which were imported - up from just 2 cases the day before.

Some UK newspaper headlines - on schools, travel
Education is high on the agenda on the UK newspaper front pages.
The
Guardian
concentrates on a story about the number of children set to stay off school in England when classes resume for selected year groups on Monday.
The
Daily Telegraph
reports that some pupils will need to attend classes over the summer to stop them falling behind. The paper quotes the Children's Commissioner for England Anne Longfield, who is urging the government to set up summer camps for students.
Meanwhile
The Times
leads on a warning from travel firm bosses that the two-week quarantine due to be imposed on people arriving into the UK from 8 June will "destroy" the industry.
The five tests 'haven't been met'
The president of the Association of Directors of Public Health England says she is "concerned" about more pupils going back to school in England because the five tests the government said were needed to ease restrictions "haven't yet been met".
"A lot of people, including local directors of public health across the country, are increasingly concerned that the government is misjudging this balancing act and lifting too many of the restrictions too quickly," Dr Jeanelle de Gruchy told BBC Radio 4's Today programme.
She added that the R number - the number of people that one infected person will pass the virus on to - on average is between 0.7 and 0.9. While it is below 1, it leaves "very limited room for manoeuvre".
"We know how quickly this virus can spread. It is difficult to predict then, with quite a lot of the measures being relaxed all at once, what impact that will have on the R value," de Gruchy said.
Moscow loosens lockdown restrictions
Today in Russia's capital, people will be able to take their first long walks outside their apartments in nine weeks.
Moscow's Mayor Sergei Sobyanin told President Vladimir Putin that he would relax lockdown rules in the capital, opening shopping centres and giving more freedom for people to leave their homes.
Previously, Muscovites were only allowed out to buy food, walk dogs or travel to essential jobs with a permit.
Car dealerships, dry cleaners, shoe repair stores, bookshops and launderettes are also set to open on Monday.
Residents are now allowed out for walks three times a week on designated days, assigned according to the address they live at. People can also do sports outside, but only between 05:00 (02:00 GMT) and 09:00.
Moscow is still seeing a number of new infections, however. More than 2,590 were reported on Sunday.
Russia has more than 400,000 reported coronavirus cases and more than 4,693 have died.
School return is a challenge for teachers and parents
Dan Johnson - BBC News
There is a big case of "wait and see" around sending children back to school, and that is what you hear from parents - who perhaps do not want to be the first to send their children back.
Most of the schools have been open throughout lockdown for the children of key workers and those who are vulnerable. The aim today is to take back in the youngest and oldest kids in primary schools.
But not every school is able to open its doors to more children today. There are councils around England that say their schools aren't ready to do that yet.
It has been left to headteachers to manage this themselves. Unions estimate that only half of the kids eligible will return to take up their places today because of the worries of parents.
The practicalities of this are very difficult. We've seen schools have to reorganise the way they are laid out, the way people move around, introduce one-way systems, and reduce classes that would normally have taken 30 kids down in some instances to just five, to try and enforce social distancing on a group who may not always be able to manage it.
Protests flare in Brazil despite rising infections
Katy Watson - BBC South America correspondent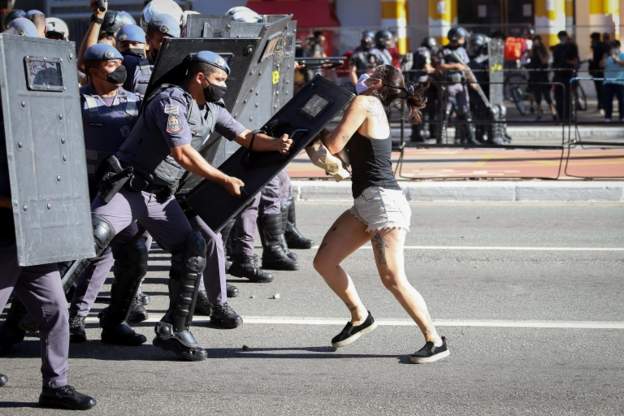 In Brazil, there have been clashes on the streets of Sao Paulo and Rio de Janeiro after protests both for and against President Jair Bolsonaro.
Over the weekend, Brazil overtook France in the total number of coronavirus deaths with nearly 29,000 people losing their lives.
Bolsonaro came out on a horse to join hundreds of supporters in the capital Brasilia. No attempt at social distancing - a display of defiance from the man who in the past has called coronavirus the sniffles.
The president's supporters are calling for military intervention and the closure of the Supreme Court. Tensions have been rising between Bolsonaro and the judiciary because of an investigation into political interference by the president.
Bolsonaro also accused the top court this week of censorship after it started looking into allegations of fake news and intimidation by his supporters.
Meanwhile in Sao Paulo, riot police threw tear gas – dispersing competing protests by Bolsonaro supporters and football fans from rival clubs marching for democracy.
The political chaos comes at a time when Brazil's death toll keeps rising and infections are growing at an ever-faster rate. It's a pandemic Brazil is struggling to control.
Fears of spike in cases following US protests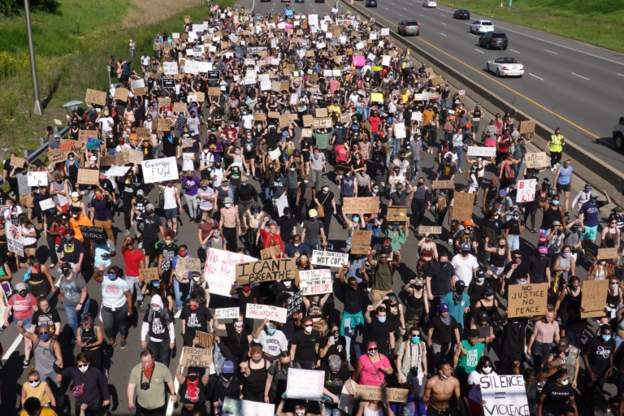 There have been concerns that protests in the US following the death in police custody of unarmed black man George Floyd could lead to a rise in Covid-19 cases.
More than 104,000 people have died in the US from the virus, and protests have taken place across the country.
Los Angeles Mayor Eric Garcetti warned the protests could become "super spreader events", while Atlanta Mayor Keisha Lance Bottoms advised those attending to get tested this week.
Dr Theodore Long, who is leading New York's contact tracing strategy, also advised protesters to get tested. He encouraged people attending rallies to wear a mask, practice proper hygiene and socially distance if possible.
However Dr William Schaffner, an infectious disease expert at Vanderbilt University, [url=https://www.nytimes.com/2020/05/31/health/protests-coronavirus.html?action=click&module=Top stories&pgtype=Homepage]told the New York Times[/url] that as the protests were outside, the virus would be diluted somewhat. He noted that many of those taking part were young, meaning they are more likely to make a recovery if they contract the virus.
"There was literally a lot of running around, which means they're exhaling more profoundly, but also passing each other very quickly," he said.
Easing lockdown 'not a dash', says minister
The easing of lockdown is "not a dash" and the government is taking "cautious steps", says UK Business Secretary Alok Sharma.
Asked on BBC Breakfast about concerns voiced by some of the government's scientific advisers, he says: "Their overall view is that you must do this cautiously - that is precisely what we're doing."
"What they've also said is that if people comply with the rules and the test and trace system is up and running, which it has been since Thursday, then there is a good likelihood that we will not reach the R value factor above one," he adds.
The R number
is the number of people that one infected person will pass the virus on to, on average.
He says easing restrictions is a "delicate balance" and that authorities will "take action" if parts of the country see higher levels of infection.
On the reopening of schools and businesses, he adds: "I'm confident that if guidelines are followed that people will stay safe."
When asked, he was not able to say how many people are being tested each day.
Armenian PM tests positive for Covid-19
Armenia's Prime Minister Nikol Pashinyan has tested positive for coronavirus.
"I didn't have any symptoms, I decided to take a test as I was planning to visit the frontline," he said during a Facebook live video. He added that his whole family was infected.
Last week, Armenia saw its biggest daily spike in cases on Friday - 460 - but Pashinyan said his government was not thinking of a nationwide lockdown. He added that the government will continue to promote social distancing and other hygiene rules set out by health authorities.
More than 9,000 cases and 131 deaths have been confirmed in the country
, which is home to around three million people.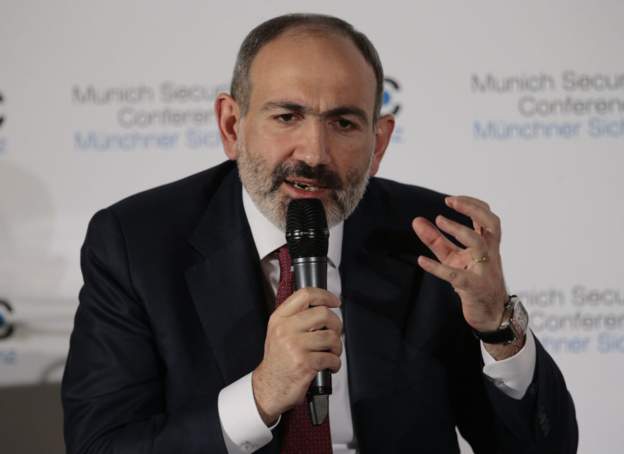 China calls US a 'habitual quitter' after WHO withdrawal
China's foreign ministry has hit out at the US for cutting ties with the World Health Organization (WHO) and called for the international community to increase support for the agency.
The foreign ministry said on Monday that the US has "revealed its pursuit of power politics and unilateralism". It also described America as a "habitual quitter".
President Trump said on Friday that the US was withdrawing from the WHO, accusing it of failing to hold Beijing to account over the coronavirus pandemic.
"China has total control over the World Health Organization," the president declared.
The WHO's Director-General, Tedros Adhanom Ghebreyesus, has promised a review of its response to the pandemic and defended its independence.
The EU has led calls for the Trump administration to reconsider its decision, warning it could hamper global efforts to tackle Covid-19.
Large crowds gather as India opens more rail services
There have been reports of overcrowding at some railway stations in India after a number of services resumed there on Monday.
More than 145,000 people are set to travel by train in just one day as the country opens following a long lockdown.
Two hundred trains will now operate, up from 30.
India's ministry of home affairs has issued guidelines for travellers. All passengers have to be screened, and social distancing must be followed at both the station and on trains. Only those with confirmed tickets will be allowed to travel.
However maintaining social distancing and cleanliness is proving a difficult task with huge crowds gathered outside some stations.
India's mammoth railway network usually carries 25 million passengers every day.
Read more here
South Africa delays reopening schools
South Africa has delayed the reopening of schools by a week to allow school administrators to prepare.
Final year students in primary and secondary schools will now report back to school on 8 June, according to the Department of Basic Education.
Unions had urged teachers and staff to stay away from schools, saying they were not equipped to keep employees and pupils safe.
South Africa is gradually easing its lockdown restrictions, with the sale of alcohol and movement within districts allowed from 1 June.
Churches, temples and mosques have been allowed to reopen provided they have no more than 50 worshippers.
The country's confirmed coronavirus cases stand at 32,683, including 683 deaths.
First spectator sport to return to the UK? Pigeon racing...
Live sport can resume in England from today for the first time since mid-March - albeit behind closed doors.
And while
snooker
and
horse racing
will both come later on Monday, the first spectator sport to return is... pigeon racing.
The first race organised by the Barnsley Federation of Racing Pigeons will see about 4,000 pigeons travel around 75 miles from Leicester to Barnsley.
And while new Royal Pigeon Racing Association (RPRA) rules will have to be observed, fans and owners just need a pair of binoculars to watch, meaning social distancing is less of a problem than in other sports.
"We all look forward to racing pigeons, especially some of the elderly who don't have partners," said Alan Catch, who will have 40 birds in the race.
"We had permission to start training two weeks ago. There are certain rules the RPRA have given us. You have to wear masks and keep your distance. You have to take them (the pigeons) and leave your baskets and somebody else takes them for the race. Then you just sit and wait."
Police ban Tiananmen vigil in Hong Kong
Cafes, pools... and the Colosseum: Lockdown eases across Europe
People in Moscow are allowed outside to exercise for the first time in nine weeks
A number of European countries are easing restrictions on Monday:


Moscow is allowing people outside for walks for the first time in nine weeks, under a rota system based on their neighbourhood. You can read more about the plans here

Primary schools reopen in Greece, as well as some hotels, open-air cinemas, public swimming pools and golf courses

Restaurants, cafes and museums open in the Netherlands, with bars serving customers again in Norway

Portugal's cinemas and theatres open their doors

Cultural sites are also opening. The Colosseum in Rome is once again allowing visitors, while the Grand Bazaar and Fatih mosque reopen in Istanbul

US baseball players reject owners' proposal
Major League Baseball players have rejected an offer from clubs over pay and the season schedule, according to reports.
Players had been warned by club owners that the effects of the pandemic, including a delay from the original 26 March start date and having to play behind closed doors, would require additional salary cuts.
The players agreed to be paid on a prorated basis on games completed in March.
They have now proposed that they receive a higher percentage of their salaries while committing to play a 114-game regular season starting on 30 June, instead of the 82 games proposed by owners
.
This would see the regular season end by 31 October and could extend the World Series beyond Thanksgiving on 26 November.
South Africans can buy alcohol again
Andrew Harding - BBC News, Johannesburg
In South Africa, long queues have formed outside shops selling alcohol, as restrictions on its sale are lifted for the first time in two months. Social media posts showed people cheering and clapping as buyers emerged clutching their bottles. Some said they had queued overnight.
Singing as they queue… South Africans standing in the cold with their shopping trolleys, anxious to take advantage of a partial lifting of the country's strict alcohol ban. Between Mondays and Thursdays, alcohol can now be bought for home consumption.
The ban was introduced in order to reduce alcohol-fuelled violence during the lockdown, and to relieve pressure on hospital casualty departments so they could focus on tackling coronavirus. South Africa is now easing some lockdown restrictions to help revive its economy. But there is concern that infection rates are beginning to rise sharply.
South Africans cheer as alcohol is back
How cities might change if we worked from home more
For many of us, our homes have become our workplaces over the past few months, and a full return to the office still appears a remote prospect.
Major tech companies say they are open to their staff working from home permanently. Employees are coming to realise remote working is not only possible, but in some cases preferable. A shift to a new way of working might already be under way.
Such a shift could have profound implications for our home lives, and by extension for the lives of our towns and cities: almost a quarter of all office space in England and Wales is in central London alone.
To understand those implications, we brought together four experts on city life, all of whom were working from home.
Large 'save rave' gathering in Berlin draws criticism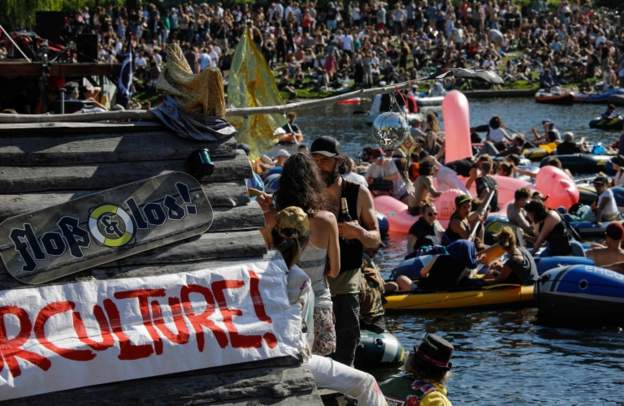 Large crowds gathered in Berlin on Saturday at a canal in Kreuzberg to take part in a "save rave culture" party.
Thousands congregated at the Landwehr Canal,
according to BZ.de
.
Rave clubs have been closed for months due to the coronavirus outbreak. It's not yet clear when they will reopen.
The gathering came on the day Germany allowed outdoor demonstrations without restrictions on participants again. However, the rules say people must remain 1.5m (5ft) from each other.
The event drew
criticism from people on social media
.
One person wrote on Facebook: "Do you seriously believe this campaign provides arguments for public funds for clubs, festivals and the people working there?"
Another person joked on Twitter: "Berlin is free from corona."