Summary for Thursday, 28th May


The US has recorded more than 100,000 deaths from Covid-19, figures from Johns Hopkins University show

Its 1.69m confirmed infections account for about 30% of the worldwide total

New York City, especially hard hit, is seeing a drop in the death rate but one study shows it rising in 20 states

A "track and trace" system is set to start in England and Scotland on Thursday

A row over the UK PM's aide's personal travel during lockdown is continuing

In South Korea, a new cluster has been growing linked to a logistics centre outside Seoul

Cyprus pledges to cover the holiday costs of anyone who tests positive for the virus after travelling there

There have been more than 5,690,000 confirmed virus cases worldwide and 355,000 deaths, according to JHU

Welcome back to our rolling coverage of the coronavirus pandemic. We begin with the grim news that more than 100,000 people have now lost their lives in the United States. Our correspondents and reporters will bring you analysis and insight into how we got here and what happens next.
Here are the other updates from around the world:


A new cluster of infections in South Korea has been linked to a logistics centre outside Seoul

Japan's government has approved a massive stimulus package to stop the pandemic pushing the world's third-largest economy deeper into recession

The EU has proposed a recovery fund worth €750bn (£670bn; $825bn). The package of grants and loans will be distributed among member states to help tackle the "unprecedented crisis"

Cyprus has pledged to cover the holiday costs of anyone who tests positive for the virus after travelling there

More than 100,000 lives lost
The US has passed 100,000 deaths in the coronavirus outbreak
in less than four months.
That's more fatalities than any other country, while its 1.69 million confirmed infections account for about 30% of all cases worldwide.
The country's death toll stands at 100,276, according to data from the Johns Hopkins University.
But on a per capita basis the US ranks ninth in its mortality rate behind the likes of Belgium, the United Kingdom, France and Ireland,
according to the university
.
Globally there have been 5.6 million people recorded as infected and 354,983 deaths since the virus emerged in the Chinese city of Wuhan late last year.
More Americans dead than in 44 years of war
Jon Sopel - BBC North America Editor
It's an uncanny and almost tragically perfect piece of symmetry.
The number of US servicemen and women killed in Korea, Vietnam, Iraq and Afghanistan - over an aggregate 44 years of fighting - is almost exactly the same as the number of Americans who've now lost their lives to coronavirus in just three months of America's war against the hidden enemy, as Donald Trump likes to refer to Covid-19.
Now I know you could replace the Covid-19 deaths with US cancer deaths or road crash victims and come up with similarly stark or perhaps even more dramatic statistics.
But sadly, fatal automobile accidents and terminal tumours have always been with us. A global pandemic has not.
And out of nowhere 100,000 American families are, this spring, mourning loved ones, whose lives have been cut short by this virus.
US deaths in conflict:


Korean War (1950-1953): 36,500

Vietnam War (1961-1975): 58,000

Iraq War (2003-2011): 4,500

Afghanistan (2001-today): 2,000

Covid-19 (Feb 2020- today): 100,000

Read more from our North America editor here
Only eight active cases in New Zealand
And the nation has recorded no new cases for a sixth consecutive day. However, one 98-year-old woman in Auckland has died bringing the toll to 22 cases.
The last time there were signs of community transmission in the country was also more than a month ago, said director general of health Ashley Bloomfield.
From tomorrow, New Zealand will allow gatherings to increase from 10 to 100 people.
It has also indicated it may open up its borders to Australia in July. A tentative plan is due next week.
Australia's rugby league returns to screens
One of Australia's most popular sports - the National Rugby League - is resuming play today with a game between a NSW and Queensland team.
Fans are very happy to have the sport back on their screens - even though they won't be able to attend games for a while under restrictions.
It's the first professional sporting competition to be begin again in Australia, and one of the only contact sports in the world. As one commentator described it to the BBC: "They've got to sweat all over each other, wrestle all the time; bursting breath".
But officials say that there are tough restrictions in places- and players and officials have to self-isolate outside of training and games.
How the US compares with rest of world
The death toll in the US became the highest in the world in early April and has risen dramatically since then.
President Donald Trump initially said "50 to 60,000" people could die during the outbreak but in May he said he was hopeful the toll would be lower than 100,000.
That benchmark has now been hit though and there are still about 1,000 deaths a day on average.
We've taken a look at how US figures compare to other countries around the world and how the situation could develop over the next few months.
Read the full piece from Mike Hills on our Visual Journalism team here
.
Sentencing delayed for Christchurch mosque attacker
Simon Atkinson -BBC News, Sydney
With New Zealand's borders shut for the foreseeable future, a judge has delayed setting a date for the sentencing of the Christchurch mosque attacker.
In late March, Brenton Tarrant pleaded guilty to 51 counts of murder, 49 counts of manslaughter and a terror charge. But at the time of the pleas, New Zealand was in level four lockdown with great uncertainty over when sentencing could be held.
With restrictions now eased considerably, most New Zealand-based relatives of victims and others impacted by the March 15, 2019 attacks will be able to attend in person. But Judge Justice Cameron Mander has acknowledged that some families are overseas and will be unable to get to New Zealand.
The court will now wait until at least 13 June before deciding on a sentencing date. In the interim it will ascertain how many victims families are overseas - and try to gauge how satisfied they'd be with using video conferencing technology.
Judge Mander said the sentencing date decision would "take into account the need to bring finality and closure to the majority of victims who are resident in New Zealand and the extent to which it may be possible for those unable to attend in person because of the pandemic to participate remotely".
South Korea sees new virus spike
South Korea has reported 79 new virus infections for the past day, the largest daily increase since 5 April.
At least 68 of the new cases were local transmissions and and come as the country struggles with a growing cluster linked to a logistics centre.
Around 69 cases have been traced to that new cluster so far. Over the past weeks, South Korea was already battling another cluster, linked to the capital's nightlife district.
The country was the first hotspot of the virus outside China but had managed to bring new infections down to a single-digit trickle before the new clusters emerged.
The age range of US deaths
The US Centers for Disease Control and Prevention provides an age breakdown of
Covid-19 deaths in the US.
The following data is from January to 20 May, and covers almost 70,000 Covid-19 deaths. It shows most deaths happened in the over-85s.
It is important to note the average age of Covid-19 deaths does vary from country to country.
According to Johns Hopkins University: "15% of Covid-19 deaths in Brazil have been in patients younger than 50 years old, and nearly a quarter of deaths in Mexico have been between the ages of 25 and 49 years."
'None were mere numbers'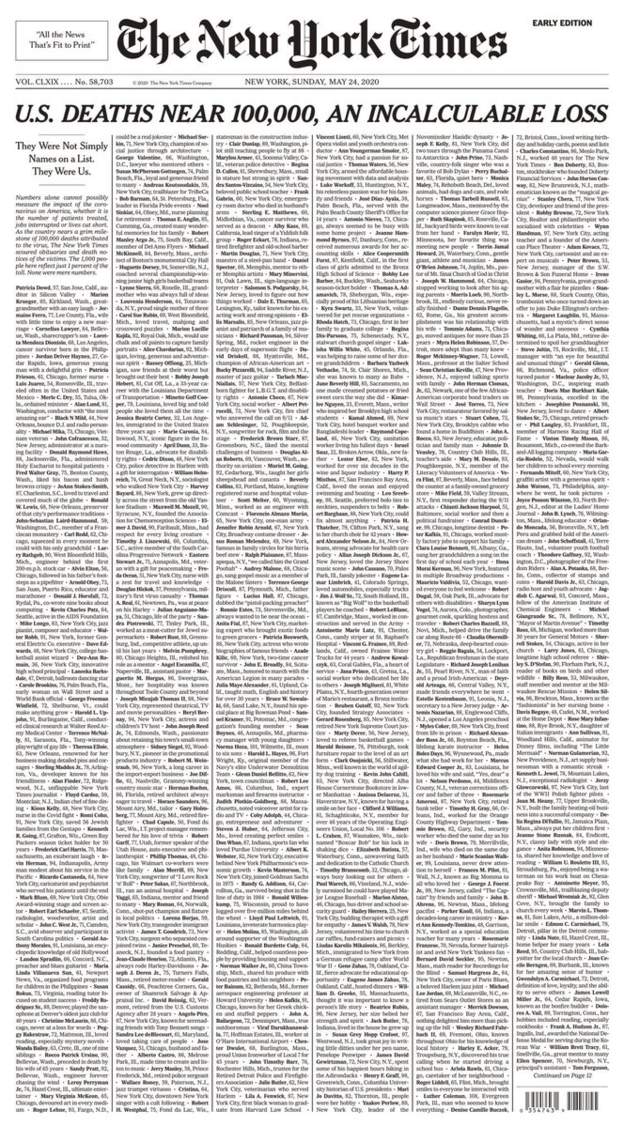 As the US passes 100,000 deaths linked to Covid-19, the New York Times' front page from Sunday is still being widely shared online.
As the death toll approached 100,000, the paper printed the names and basic details of 1,000 people who died with the virus in the US. Read the
online version here.
"Numbers alone cannot possibly measure the impact of the coronavirus on America...none were mere numbers," the paper said.
The Brazilian paper O Globo did something similar on 10 May after Brazilian deaths passed 10,000. Since then, the death toll has passed 25,000.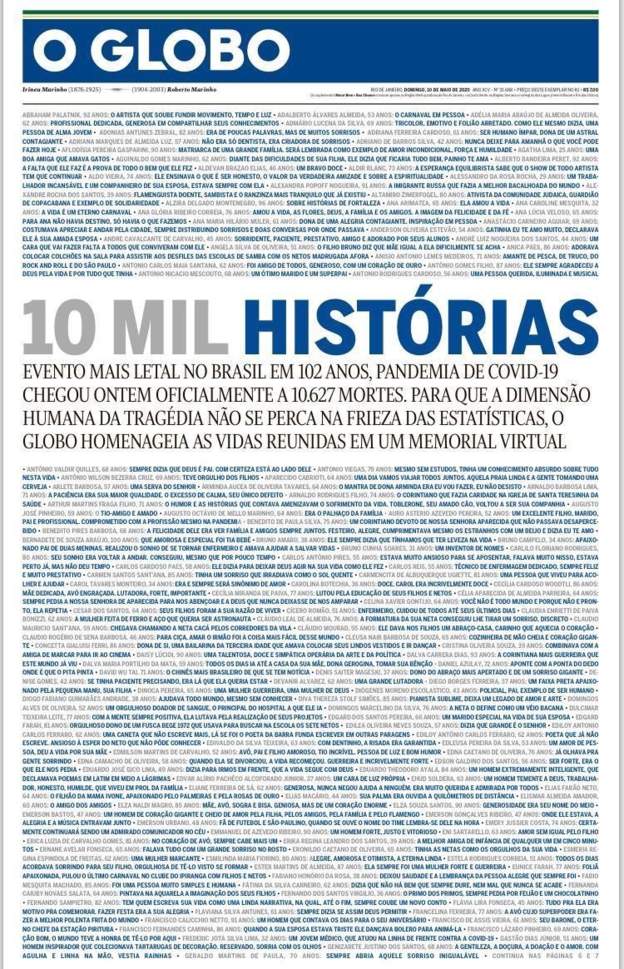 The six weeks the US failed to contain the virus
As the US death toll goes beyond 100,000, the question is whether the country could have done anything different to contain the virus.
Having watched Asian and European countries struggle against Covid-19, the US was slow to ramp up testing and order its residents to stay at home.
Earlier this months, we looked at this crucial time period and what exactly was done or not done to prevent the outbreak.
College students kicked off campus after party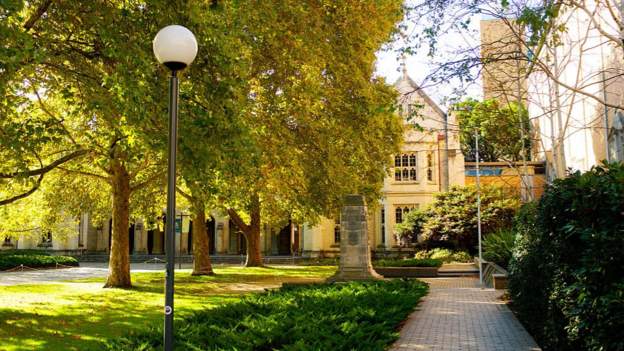 24 students have been asked to leave a University of Melbourne college
In Australia, two dozen students at one of the private colleges of Melbourne University have been kicked out for having a party.
Trinity College officials said the students - some of whom had returned to campus in recent weeks as lockdown eased - had clearly broken social distancing rules and would be banned for the rest of semester.
It said the majority of boarders who had stayed during lockdown - from overseas or remote towns - had abided by the rules. It costs about A$32,000 (£17,000 ; $21,000) a year to live at this college.
Currently only a maximum of five guests are allowed in a single household in Victoria. But from June, 20 people gatherings will be allowed.
Cyprus to pay holiday costs of infected tourists
Cyprus has pledged
to cover the holiday costs of anyone who tests positive
for the virus after travelling there.
It is part of a package of measures aimed at drawing visitors back to the island, which has reported few cases.
The government said it would pay for accommodation, medicine and food for patients and their families.
Tourists "will only need to bear the cost of their airport transfer and repatriation flight". The country has 939 confirmed infections and 17 deaths.
The pro-China network targeting the US
Hundreds of fake or hijacked social media accounts have been pushing pro-Chinese government messages about the coronavirus pandemic on Facebook, Twitter and YouTube, a BBC investigation has found.
The network of more than 1,200 accounts has been amplifying negative messages about those critical of China's handling of the outbreak while praising Beijing's response.
Although there is no definitive evidence that this network is linked to the Chinese government, it does display features similar to a state-backed information operation originating in China that Facebook and Twitter removed last year.
Click here to read the full analysis from our misinformation team.
Viral video sparks outcry in India
A heart-wrenching viral video showing a young child with his mother who has passed away at a railway station in India was widely shared on social media on Wednesday. But officials have denied reports that she died of hunger.
The video, reportedly shot at Muzaffarpur station in Bihar state, shows the woman's body on the platform while a toddler repeatedly tugs at a piece of cloth placed on her body.
The woman and her family were on board a special train organised by the government to take home migrant workers left stranded when India went into lockdown to curb the spread of Covid-19. Hundreds of thousands who suddenly lost their livelihood had no way to get back home to their villages as all transportation was halted.
The Indian Railways have said that the woman died of a heart condition
, adding that she and her family had access to food and water on the train, an official is quoted as saying to PTI news agency.
It come as India battles public backlash over its harsh lockdown and its effect on the poor and migrant workers. Many have pointed towards the video as the latest example of the growing humanitarian toll as a result of the lockdown, which was announced with just a few hours notice in March.
The worst affected places in the US
The US Centers for Disease Control and Prevention cautions against making state-to-state comparisons of cases and deaths, as "data timeliness varies by state" - that is,
some report quicker than others.
But it is possible to take a broad look at which places have been particularly affected. So far, New York state has more than twice as many reported cases and deaths as any other state, despite being only the fourth most populous.
Meanwhile, five states - Vermont, Wyoming, Hawaii, Montana, and Alaska - still have fewer than 1,000 reported cases,
according to CDC data.
Soldier and mother die within days of each other
Simon Zamudio - a 34-year-old sergeant in the US Army Reserve - died of Covid-19 complications on 22 May. Three days later, his 70-year-old mother died - also from complications with the virus.
Sgt Zamudio was born in Arizona but lived in Carpentersville, Illinois. He was married with an 11-month old daughter. His family
told local media
his own father died when he was one.
"He was going to care and love his daughter all his life," his sister Alicia said.
Sgt Zamudio became ill nine days after first taking his mother to hospital. He was previously healthy and expected to be deployed next month.
"From three months ago, not believing Covid really existed, it showed me in the worst way how real it is," said Alicia. "Don't think Covid is a lie because it's very real."
Nightmare spreads through Russia's care homes
Sarah Rainsford - BBC Moscow Correspondent
When Alexei Sidnev saw the horror caused by coronavirus in European care homes he knew he had to act fast. Way back in March, before any lockdown in Russia, he began sealing off the six homes he runs near Moscow and buying-up protective clothing for staff.
"I don't sleep much. It's probably the hardest time of my life and I've been through
perestroika
and all the crises," Mr Sidnev said, recalling the Soviet Union's reform and eventual collapse.
But while the businessman shares his own trials on social media, the struggle in Russia's state care sector plays out old-style, largely behind closed doors.
Japan's world-beating Covid-19 stimulus package
Japan is pumping another $1.1 trillion (£897bn) into its recession-hit economy to help cushion it from further damage.
On Wednesday Prime Minister Shinzo Abe's government approved the 117 trillion yen stimulus package for the world's third biggest economy, doubling the amount announced just last month.
The new measures bring the total of Tokyo's stimulus spending to $2.2 trillion, which equates to almost 40% of the country's annual economic output.
It makes Japan's government stimulus measures the biggest in the world to date, beating the $2 trillion stimulus bill passed by the US in March.
Washington is now weighing plans to spend another $3 trillion to support the American economy as it starts to emerge from lockdown.
Premier League return takes another step forward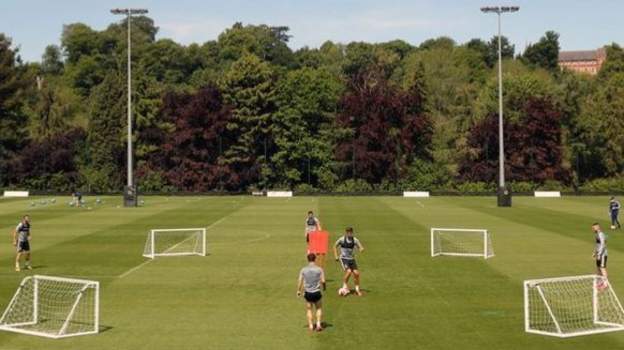 Premier League players have been training in small groups without contact since 19 May
Vegas gets ready to roll the dice
Like much of the world, US gambling haven Las Vegas had to shut because of the pandemic.
But now, things are gearing up to get plugged in again. Several of the big casinos will reopen next week after more than two months' hiatus.
The city insists that precautions - including capacity limits, table limits, and contact tracing if there are infections - will ensure that people's visit to the likes of the Bellagio, Caesars Palace and the Flamingo will be safe
"I don't think you're going to find a safer place to come than Las Vegas," said governor of Nevada Steve Sisolak.
Test and trace system kicks off in England
A team of 25,000 contact tracers will make their first phone calls within hours - to track down people who will be told to self-isolate under the new test and trace scheme in England.
Tracers will text, email or call people who test positive with coronavirus and ask who they have had contact with.
Any of those contacts deemed at risk of infection will be told to isolate for 14 days, even if they are not sick.
The prime minister said the system will "change people's lives".
The aim of the NHS Test and Trace system is to lift national lockdown restrictions and move towards more localised, targeted measures.
The contacts of people who tested positive on Wednesday will be the first to be chased by the NHS Test and Trace team on Thursday, Health Secretary Matt Hancock said.
See more on track and trace here.
More news from around the UK
Trouble ahead for India's fight against infections
Soutik Biswas - India Correspondent
On the face of it, things may not look bad.
Since the first case of coronavirus at the end of January, India has reported more than 150,000 Covid-19 infections and more than 4,000 deaths.
To put this in some context, as of 22 May, India's testing positivity rate was around 4%, the death rate from the infection around 3% and the doubling rate of infection - or the amount of time it takes for the number of coronavirus cases to double - was 13 days. The recovery rate of infected patients was around 40%.
All this is markedly lower than in the countries badly hit by the pandemic.
But India is now among the
top 10 countries worldwide in terms of total reported infections, and among the top five in the number of new cases
. And infections are rising sharply, outpacing any growth in testing.
What does test and trace look like in Scotland, Wales and NI?
A new test and trace system
is launching in England.
Tracers will text, email or call people who test positive with coronavirus and ask who they have had contact with. Any of those contacts deemed at risk of infection will be told to self-isolate for 14 days, even if they are not sick.
But what about test and trace in the rest of the UK?
From 'We've shut it down' to 100,000 US dead
We've been hearing how the number of deaths in the US has passed 100,000.
Our North America editor Jon Sopel has been tracing US policy over the course of the pandemic. His piece includes this timeline of President Donald Trump's quotes from critical weeks in January and February.
Jan 22:"It's one person coming in from China and we have it under control. It's going to be just fine."
Feb 2:"We pretty much shut it down coming in from China."
Feb 10:"Looks like by April, you know, in theory, when it gets a little warmer, it miraculously goes away. I hope that's true. But we're doing great in our country. China, I spoke with President Xi, and they're working very, very hard. And I think it's going to all work out fine."
Feb 11:"In our country, we only have, basically, 12 cases and most of those people are recovering and some cases fully recovered. So it's actually less."
Feb 24:"The coronavirus is very much under control in the USA. We are in contact with everyone and all relevant countries. CDC and World Health have been working hard and very smart. Stock market starting to look very good to me!"
Feb 26:"When you have 15 people, and the 15 within a couple of days is going to be down to close to zero, that's a pretty good job we've done."
South Korea to consider tougher rules if outbreak worsens
Earlier we reported on that spike in cases in South Korea - a bit more detail here.
Health officials say they'll consider tougher social-distancing measures if the current uptick continues.
There have been 79 new cases reported in the last 24 hours, the highest daily rate of new infections in nearly two months.
Most have been traced to two warehouses on the edge of the capital, Seoul. The centres are owned by South Korea's biggest e-commerce firm, Coupang.
Nearly 4,000 workers from the distribution centres have been tested and are in self-isolation.
More than 560 schools across the country have closed their doors and resumed online classes, just days after they reopened.
Social-distancing rules have been relaxed in South Korea in recent days, with museums and churches reopening.
South Korea has been widely praised for its aggressive track, trace and test approach to this pandemic which is credited with saving lives. Fewer than 270 people have died.
EasyJet to cut 30% of staff
British low-cost airline EasyJet says it will cut up to 30% of its staff - 4,500 jobs - and shrink its fleet to adapt to the collapse of air travel due to the global virus crisis.
The announcement follows similar moves by other carriers like British Airways and Ryanair.
Easyjet said it would launch a consultation with its staff over the next days to work out the details. The airline employs more than 15,000 people in eight European countries.
Airlines across the world have been hit by the almost complete stop of air travel during the pandemic.
Hancock confident of test and trace co-operation
Health Secretary Matt Hancock has been speaking to BBC Breakfast to talk about Thursday's launch of the
test and trace system
in England.
The 2,000 who tested positive on Wednesday will be approached by text, email or phone by tracers, and Hancock added he was confident they will co-operate by divulging information about who they had been in contact with.
He said: "The vast majority will say yes because if we all participate then we'll be able to, more safely, lift the lockdown measures.
"Where this works best is where the clinician and person who tested positive work together to work out who that person might have been in contact with. One of the very nasty features of this disease is that it transmits before you have symptoms - the conversation will be about what happened over the past few days before you became symptomatic.
When asked about a report by the Royal Society which stated the success of the system depended on how quickly contacts can be found, Hancock added: "We need to get test results as fast as possible - our goal is to have a turnaround of tests within 24 hours. We now have 84% of tests at drive-thru centres turned around in 24 hours."
How advertising industry is changing
Jonty Bloom
BBC Business correspondent
The first rule of advertising is that your adverts have to be seen to have any effect.
This is why if you have managed to get out of the house recently in the UK you might have noticed that there are an awful lot of adverts supporting the National Health Service, and key workers on billboards and bus stops.
As Anja Lambrecht, professor of marketing at the London Business School, explains, it is one of the signs that the advertising industry is struggling.
"It is most obvious outdoors with billboards - no-one is driving past them, so no commercial firms are advertising," she says. "That is why they all have adverts for the NHS."
On TV an ever-growing number of us are increasingly watching streaming services such as Netflix and Amazon Prime, which don't have any adverts. Meanwhile on traditional commercial TV channels, there are lots of advertising breaks with very few adverts in them.
In the UK,
ITV's advertising revenue was down 42% in April,
while Fox in the US has seen revenues halve. It is a similar picture in other markets, because there are many products that are just not selling at the moment. So why advertise them?
Test and trace system in everybody's interest, Hancock says
In a later BBC interview, UK Health Secretary Matt Hancock again stresses that he believes the "vast majority of people" will follow instructions to self-isolate if told to under the new test and trace system
being launched in England today
.
In an interview with BBC Radio 4's Today programme he was asked whether the
row over the PM's chief adviser Dominic Cummings
would make it harder to persuade the public to abide by these instructions.
He said: "I think that the vast majority of people will understand that it is in everybody's interest that those who are at higher risk follow these requests from the NHS, these instructions, and it's very, very important that they do."
"Frankly this is about how as a country we get out of this lockdown in the safest possible way short of having a vaccine or an effective treatment," he added.
We have more about how the test and trace system will work in England.