Summary for Wednesday, 27th May


Latin America has become the centre of the global pandemic, the head of the Pan American Health Organization warns

The region now has more daily reported cases of Covid-19 than Europe and the US

The numbers in Venezuela are almost certainly much higher than reported, Human Rights Watch says

UK Prime Minister Boris Johnson to be questioned by MPs later amid continued calls for his top adviser to resign

"Local lockdowns" could be introduced to tackle regional outbreaks in England, the health secretary says

The US is nearing 100,000 lives lost as a result of the pandemic

In South Korea, more than two million students return to school as a new cluster linked to a nightclub grows

Nearly 5.6 million cases and more than 350,000 deaths have been confirmed around the world, according to Johns Hopkins University

Welcome back to our rolling coverage of the coronavirus pandemic. Here are the latest updates from around the world:


Latin America has become the centre of the global pandemic, says Carissa Etienne, the head of the Pan American Health Organization

As Brazil's daily death rate climbs to the highest in the world, a study is warning its total toll could climb five-fold to 125,000 deaths by August

In the US, the New York Stock Exchange was opened by Governor Andrew Cuomo, who was cheered on by socially-distanced brokers wearing protective face masks

Australia will not open its borders "anytime soon", the government said, but there are discussions over a safe travel zone with New Zealand

Spain will begin a 10-day period of national mourning today, in memory of the almost 30,000 people in the country who have died

The total number of cases worldwide has now passed 5.5m, while more than 349,000 people have died

New cases in Australia as nation exits lockdown
As Australia manoeuvres out of lockdown people are nervous as more cases also appear, as per health officials' predictions.
This morning, it was confirmed a 30-year-old man with previous complications had died in rural Queensland - the youngest of Australia's 103 deaths.
Two Sydney schools are also temporarily shut after student infections were found just a day after students returned to classrooms full time.
And in Western Australia - a row is brewing between state and federal authorities over who allowed a ship with sick crew members to enter Fremantle Port.
Officials are urging the public to maintain distancing and health checks as restrictions lift even more in coming days to allow larger gatherings in public. Victoria has told its workers they must still work from home for all of June, while many other states are still keeping borders shut despite national pressure.
Six crew members on the Al Kuwait cargo ship have been quarantined in Western Australia
US bans foreigners who have been to Brazil
Katy Watson - BBC South America correspondent
The US has introduced a travel ban on foreign nationals who have been to Brazil in the last 14 days.
It comes as Brazil is now the second-worst hit country in the world after the US in terms of confirmed infections, with more than 390,000 cases. More than 24,000 people have died.
President Jair Bolsonaro sees Mr Trump as his political idol, the US and Brazil as regional allies.
Indeed, the two men have adopted broadly similar approaches to the pandemic – playing down the crisis and urging a return to normality, despite spiralling death tolls.
But the ban is a measure of just how serious the situation is here in Brazil.
The World Health Organization warned on Tuesday that Latin America had become the epicentre of the crisis and Brazil is the worst-hit in the region by far.
Experts say that with so little testing being done in the country, the true figures are far higher than official statistics suggest.
A study by the University of Washington found that Brazil could record more than 125,000 deaths by early August.
Millions return to school in South Korea
More than two millions students are returning to school in South Korea this Wednesday.
The country is opening different school years in successive steps so while some have already returned, another large batch will start today.
It comes as South Korea sees its highest daily spike in almost two months with 40 new cases in the past 24 hours.
After being the first hotspot of the pandemic outside of China, the country had been very successful in bringing infections down.
But a recent cluster around Seoul's nightlife district has driven numbers sharply up again.
New Zealand has no virus cases in hospital
The nation - hailed as a virus success - discharged its last virus patient from hospital last night, meaning it had no virus patients in wards for the first time in months.
It also reported no new cases for a fifth consecutive day. There are only about 1,500 reported case in total.
More than 420,000 people have also downloaded the nation's tracing app.
Officials are confident that they've stopped community transmission - but say their concerns now lie with their borders when they might reopen in coming months.
Where is worst affected in South America?
In terms of total cases and deaths,
Brazil
is by far the most affected country in South America.
But in terms of deaths per million people,
Ecuador
is actually most affected.
1. Ecuador (182 deaths per million people)
2. Brazil (116)
3. Peru (115)
4. Chile (42)
5. Bolivia (22)
6. Colombia (15)
7. Guyana (14)
8. Argentina (11)
9. Uruguay (6)
10. French Guiana (3)
The data comes from
Worldometers
, which collates national governments' figures.
It is worth noting that Human Rights Watch and Johns Hopkins University have said Venezuela's reported figures, which are low, are not credible.
Saudi Arabia to resume domestic flights
Domestic flights within Saudi Arabia will resume on Sunday, the country's aviation authority says.
Flights have been suspended since 21 March due to the Covid-19 pandemic.
The country will begin to gradually ease its pandemic restrictions this week and expects that by 21 June a curfew can end completely.
The city of Mecca however, home to one of the Muslim world's most important sites, will remain under curfew for longer.
How did the virus take off in Brazil?
Brazil did not confirm its first Covid-19 case until 26 February - more than a month after the first virus case was recorded outside China.
The patient was
a 61-year-old man
who had returned to Sao Paulo, the most populous city in Brazil, from Lombardy in northern Italy. Although research has suggested the
virus actually arrived earlier
, the number of deaths certainly did not explode until April.
By 11 April, though, Brazil was the first country in the southern hemisphere
to pass 1,000 deaths
. By 17 May it had
more cases than Spain and Italy
, and a week later the US had banned anyone with a
recent travel history to Brazil.
In March, President Jair Bolsonaro was still comparing the virus to a "little flu", while claiming the media was "deceiving" people.
Colombian football to resume in August
The Colombian sports minister has said football teams can begin training in June, with the aim of restarting the professional leagues by August.
Individual training will be allowed from 8 June. Group training is scheduled for July, with matches - behind closed doors - pencilled in for August.
Professional football across South America is currently suspended. Colombia has been less affected by the virus than some of its neighbours, with 23,000 cases and almost 800 deaths.
South Korea on edge after spike in cases
Laura Bicker - BBC News
South Korea has reported its biggest spike in coronavirus cases in two months, just as over two million school children return to the classroom. Forty new cases of Covid-19 have been reported in the last 24 hours which is the sharpest increase in daily infections in 49 days.
At a high school in Seoul, students are lining up to get their temperature checked. They're all standing at least a metre apart.
The temperature sensor is so sensitive that the alarm goes off after it detects a hot flask in a student's bag.
Most of these teenage pupils haven't seen their classmates in five months. Several jump excitedly at the sight of a friend, but they are stopped from hugging.
The latest spike in cases has put teachers on edge and they are being ever more vigilant. Health officials have double-checked the infection control measures being taken inside classrooms and all students have to fill in an app to prove they have no symptoms of Covid-19 before they are allowed back at school.
This country has been praised for its response to the pandemic and fewer than 270 people have died.
But even here, where each case is aggressively tracked and traced, they are struggling to prevent clusters of infection cropping up across the country.
India flyer tests positive after domestic flights resume
An Indian passenger who flew on a domestic flight to the southern city of Coimbatore is in quarantine after testing positive for Covid-19.
He was among the first lot of flyers to travel within India as domestic flights resumed on Monday after two months.
IndiGo airlines' operating crew have been grounded for 14 days and are alerting other passengers aboard the flight, the company said in a statement quoted by local media. It added that he, along with other flyers, were all wearing face masks, face shields and gloves.
India's aviation minister told local media that more than 41,000 people had flown on Monday and Tuesday.
But there was
chaos and long queues reported from airports on Monday
as hundreds of flights were cancelled last minute, leading to confusion.
India has just over 140,000 confirmed cases and 4,167 deaths.
Venezuela 'not prepared for pandemic'
Human Rights Watch are warning that the Venezuelan healthcare system is not prepared for the pandemic and that this will be both a danger for the Venezuelans as well as the entire region.
Venezuela has 1,211 confirmed infections and 11 deaths but HRW says the real number is "almost certainly much higher" due to limited reliable testing and a lack of transparency.
The situation in the country "may drive people to try to leave the country, further straining the health systems of neighboring countries and imperiling regional health more broadly," the NGO cites Kathleen Page of the Johns Hopkins University School of Medicine as saying.
Colombian president Iván Duque has called the situation in Venezuela "a time bomb".
Where is worst affected in Central America?
With remittances dwindling many Guatemalans have been relying on aid
If we define Central America as the seven countries between Mexico and Colombia,
Panama
, the richest country in the region, is the worst affected in terms of cases, deaths, and deaths per million of population.
1. Panama (73 deaths per million people)
2. Honduras (19)
3. El Salvador (6)
4. Belize (5)
5. Nicaragua (5)
6. Guatemala (4)
7. Costa Rica (2)
But although reported deaths are relatively low in most countries, the impact has been huge. Lockdowns and curfews are in place across the region, and remittances - that is, workers sending money home from wealthier countries - have dried up.
El Salvador president: Most world leaders taking 'Trump drug'
The president of El Salvador says "most world leaders" are taking hydroxychloroquine - the unproven drug President Trump said he was taking to "ward off" the virus.
Hydroxychloroquine is primarily a malaria medication. The WHO recently
suspended trials
of it as a coronavirus treatment because of safety concerns.
On Sunday, Mr Trump said he was no longer using it - but today Nayib Bukele said he, and other leaders, were taking it.
"I use it as a prophylaxis [prevention], President Trump uses it as a prophylaxis, most of the world's leaders use it as a prophylaxis," he said.
Singapore distributes masks at vending machines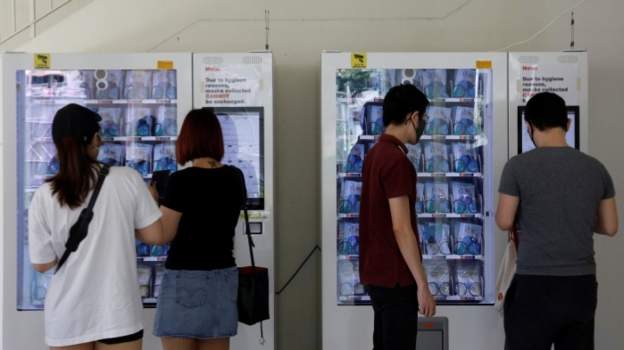 Singapore is giving out free disposable face masks to all residents and people can pick them up at around 400 vending machines across the city.
It's the third time the state is handing out masks to residents but the first time it's done via vending machines.
Singapore had initially managed to keep the virus in check but in recent weeks has seen an explosion of cases among its foreign workers taking the toll beyond 32,000 cases, the highest number in all of South East Asia.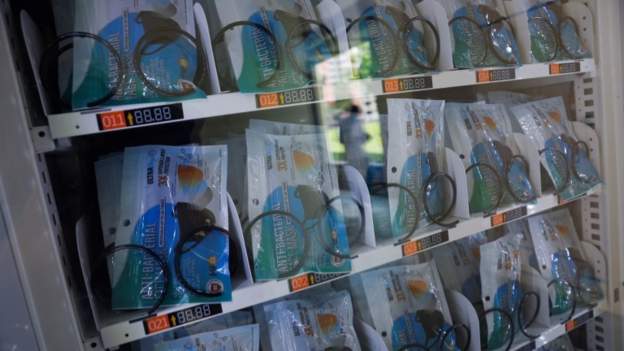 How Covid-19 has ravaged India's richest city
Yogita Limaye - BBC India correspondent
Mumbai has long been described as a city always on the run. It sounds like a cliché, but as someone who has lived here most of my life, I can confirm it's true.
Even during the 2008 attack, on a day when there were active gunmen in south Mumbai, in other parts of the city, trains were running, millions went to work, and restaurants and offices remained open.
But Covid-19 has turned the city into a ghost town as a stringent lockdown remains in place with no easing of restrictions.
It has also left its medical infrastructure on the brink of collapse.
Click here to read the full story
Australia and New Zealand plan travel bubble
Both countries have managed to bring the pandemic under control and are in talks over an agreement that would allow flights between the two to resume before normal International flights would be possible.
New Zealand Prime Minister Jacinda Ardern on Wednesday said a draft blueprint on safe travel between the neighbours would be presented to the two governments in early June.
"It won't be too long before we are ready," she said.
Last year, 1.5 million Australians visited New Zealand, making it the most popular travel outbound destination.
Roma director makes plea for domestic workers
Oscar-winning Mexican director Alfonso Cuarón has backed calls to ensure domestic workers laid off during the Covid-19 pandemic continue to be paid.
"It is our responsibility as employers to pay their wages in this time of uncertainty," Cuarón said.
He won the best director Oscar in 2019 for Roma, a film casting a spotlight on Latin America's housekeepers.
Many of Mexico's 2.3 million domestic workers have been left without wages because of the outbreak.
Read our story here.
Argentinian 'shantytown' fenced off entirely
The shantytown of Villa Azul, on the outskirts of Buenos Aires, was fenced off for 15 days on Monday. No one can enter or leave without special permission.
Around 3,000 people live in the neighbourhood, according to AFP. Barriers have gone up, and police are patrolling the perimeter.
There were at least 84 confirmed cases of Covid-19 in Villa Azul on Monday, with more suspected infections. Around 350,000 people live in
villas
- roughly equivalent to a Brazilian favela - in the Argentine capital.
The wider city has been under a lockdown since March, with some limited movement allowed. It was recently extended until 7 June.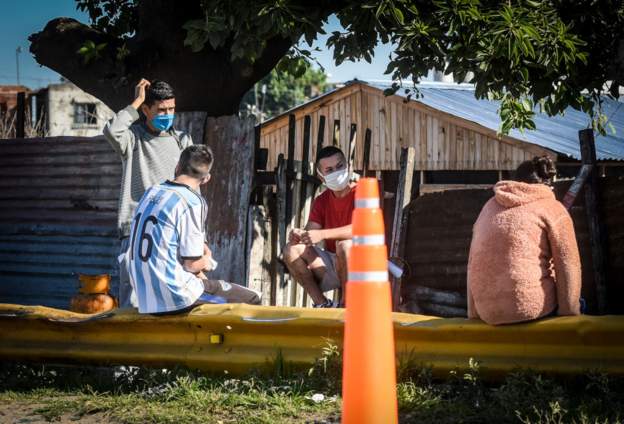 The latest from around the world
Good morning if you are just joining us in the UK, here are some of the latest developments:


UK prime minister Boris Johnson will be questioned by senior MPs later amid continued calls for his top adviser to resign. That's at 16:30 BST (15:30 GMT)

"Local lockdowns" will be introduced to tackle regional outbreaks of coronavirus in England in the future, says the UK health secretary

The charity which runs the UK's national domestic abuse helpline says visits to its website have spiked again during in the past two weeks

South Korea has reported its biggest spike in cases in two months, as over two million school children return to the classroom

Latin Americahas become the centre of the global pandemic. The region now has more daily reported cases than Europe and the US

The US has now introduced its travel ban on foreign nationals who have been to Brazil in the last 14 days

Reality Check: What's the deal with chloroquine?
Reality Check
As the WHO has suspended trials of the malaria drug hydroxychloroquine, what is the confusion all about?
The BBC Reality Check team has looked into the drug - which has been touted by Donald Trump and Brazil's President Jair Bolsonaro. El Salvador's president now claims most world leaders are taking it.
Johnson to face MPs' questions as row over aide continues
Later today, Prime Minister Boris Johnson will face questioning from a committee of MPs as he continues to face pressure over allegations that his closest adviser broke lockdown rules.
The video-conference hearing at 16:30 BST will be the first time he's faced the House of Commons Liaison Committee - the only committee of MPs that is able to question the prime minister - since he was elected in December with a majority of 80.
He's likely to face questioning about his government's handling of the pandemic, which has seen the UK experiencing the highest death toll in Europe.
We're also expecting more questions about his aide Dominic Cummings' 260-mile trip to County Durham during lockdown. More than 35 Conservative MPs have now called for Mr Cummings to resign or be fired.
Read the full story
Vicar 'disappointed' over UK lockdown fines decision
Today Programme - BBC Radio 4
The vicar who pressured Health Secretary Matt Hancock over a review of lockdown fines told BBC Radio 4's Today programme that it was "disappointing" to see the government row back on its offer to look into the matter.
After the prime minister's aide Dominic Cummings used childcare to justify a 260-mile trip during lockdown, the Rev Martin Poole from Brighton asked at the daily Downing Street briefing if that would mean other people fined for lockdown breaches who had been seeking childcare would see their penalties reviewed.
Mr Hancock told the briefing it was "a very good question" and that the government would "look at it", discuss it with the Treasury and make "an announcement from this podium". But later reports suggested that there would be no formal review, and Mr Hancock would just relay the concerns to the Treasury.
"I took him at his word. That was really nice to hear," said Mr Poole. "It's a little disappointing to hear that they've rowed back on that."
Scientists brand 5G claims 'complete rubbish'
Reality Check
5G masts continue to be the innocent victims
of the coronavirus pandemic.
Let's be clear: They're not to blame for virus. Who would blame 5G for a pandemic, you ask? Well, there's a conspiracy theory out there that somehow manages to link the two.
The BBC Reality Check team has checked out the false claim
and many others.
Time to 'move on' from Cummings row, says UK minister
UK Housing Secretary Robert Jenrick says it is time to "move on" from the row over Dominic Cummings' trip to Durham.
More than 35 Conservative MPs have called for the prime minister's chief aide to leave his job but, when asked about that, Jenrick told the BBC: "No, he shouldn't.
"He has given his explanation to the prime minister, who listened and concluded that he'd acted reasonably and legally.
"The prime minister asked him to give that statement on Monday to the public and to answer questions from journalists, he answered them for over an hour and now, I think, is the time for us all to move on.
"That's not to say this isn't an important issue or that people don't care about it, but I think there's a lot more that we need to focus on now."
Jenrick also said there will not be a "formal review" over fines for those travelling for childcare. "It's for the police to decide whether to impose fines under the law," he said.
Health Secretary Matt Hancock said he would look at the issue
with his Treasury colleagues on Tuesday.
What is happening in Ecuador?
In terms of deaths per million people, Ecuador is the worst affected country in South America. The country has a population of 17 million people, with around 3,200 deaths officially linked to Covid-19.
The country did not record a case until the end of February -
the first patient arrived from Madrid
- with no deaths until the middle of March.
But after Ecuador was accused of under-reporting figures, daily deaths increased sharply at the end of April, reaching a peak of 410 on 10 May. In April, the port city of Guayaquil
was one of the worst-hit places
in Latin America.
A number of reasons have been suggested for Ecuador's plight, including densely-populated cities, a slow response in places, and people returning from visits to Europe in February and early March.
Although the "death curve" is now flattening, Ecuador has imposed cuts to public spending,
leading to street protests.
French economy to shrink by 20% - statistics office
France's economy is set to shrink by roughly 20% in the second quarter as a result of the country's tough lockdown measures, the statistics office Insee said.
It contracted by nearly 6% in the first quarter, according to Insee.
Economic activity was functioning at 21% below usual levels after the easing of the lockdown, which was in place from mid-March to early May, it added.
But consumer spending improved to 6% below normal levels after shops were allowed to reopen after nearly two months. Earlier in May it was 33% below normal levels.
If activity were to rebound to pre-crisis levels by July, Insee said that France's economy could contract 8% for the whole of 2020.
Lockdowns in UK could be targeted on single schools or workplaces
Today Programme - BBC Radio 4
Housing Secretary Robert Jenrick has also been speaking to BBC Radio 4's Today programme about the plan for local lockdowns.
The could focus on "quite small" individual outbreaks, he explained.
He said the test, trace and isolate system to be unveiled later today is intended to be "sophisticated" and "able to identify flare-ups in particular places" such as "a school or a workplace, a hospital".
The government could then take action, he said, "which will be restrictive on the people who live or work there" and needed to be done "fairly". But that action would allow "greater freedom to millions of other people across the country", Mr Jenrick said.
He also said the government had "greater certainty today than I think we've ever had" that supplies of protective equipment were sufficient to meet demand in hospitals, GP surgeries and care comes, with two billion items being manufactured in the UK and a "more stable" international supply chain.
Read more about the local lockdown plan
Brazil death toll 'could increase five-fold'
More on Brazil, which is by far the worst affected country in South America.
A study by the University of Washington has warned that the country's death toll could climb to 125,000 by early August.
That's a five-fold increase from its current recorded tally of 24,500.
"Brazil must follow the lead of Wuhan, China, as well as Italy, Spain, and New York by enforcing mandates and measures to gain control of a fast-moving epidemic," wrote Dr Christopher Murray, who worked on the study.
The stark prediction came shortly after Brazil's daily death toll surpassed that of the United States for the first time. It recorded 807 deaths on Monday, while 620 people died in the US.
Health experts in Brazil have warned that the real number of confirmed infections may be far higher than the official records, due to a lack of testing.
And far-right president Jair Bolsonaro has been strongly criticised both at home and abroad for his handling of the crisis. He has downplayed the virus as "a little flu" and said its spread is inevitable.
Face masks wash up on Sydney beach
Having a hard time buying face masks? Thousands of them have washed up on a beach near Sydney. They are from a big cargo vessel on its way from China to Melbourne.
Bad weather forced the APL England to change course and head to Brisbane instead. But the ship still took a battering from the storm, and some 40 of the containers toppled into the sea.
Aside from household appliances and building materials, they also contained medical supplies - including the surgical masks.