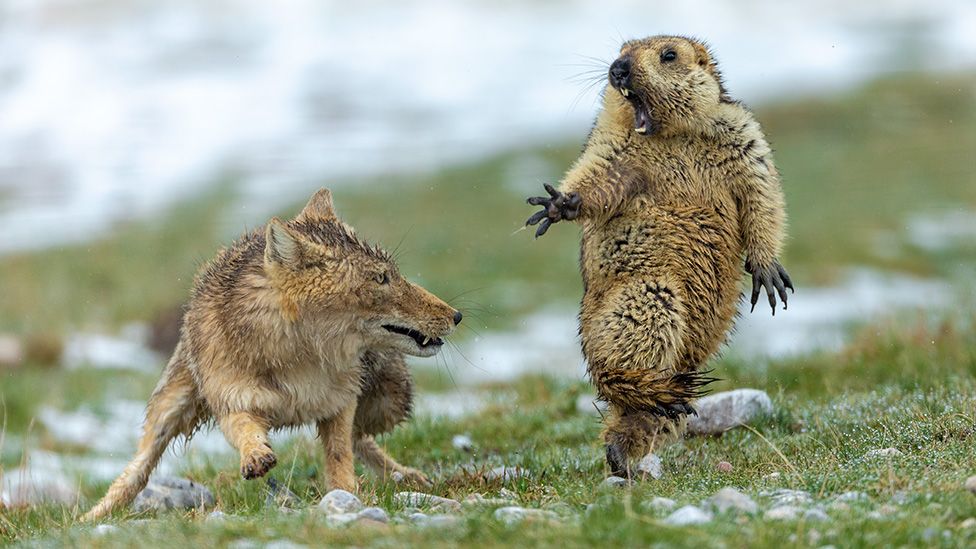 It looks like it ought to be the subject of a funny caption competition but this picture taken in China's Qilian Mountains is deadly serious.
The fox has surprised the marmot and a fight is about to begin that will result in the rodent being killed.
Not even the intervention of the marmot's mother can change the outcome.
"That's nature," says Yongqing Bao, who's striking image has earned him the top prize in the 2019 Wildlife Photographer of the Year competition.
The shot also meant Yongqing got to share the award for the best picture in the mammal behaviour category.
Persistence pays when you are a wildlife photographer, and Yongqing had to stake out an alpine meadow on the Qinghai-Tibet Plateau for several hours to be in position to catch the action.
The fox had lain very still, hoping to trap a passing marmot unawares. It worked a treat. In one of the more gruesome frames on Yongqing's camera, the fox has the young rodent's head in its mouth.
For other photographic beauties and previous winners etc
https://www.bbc.com/news/science-environment-50036823